The increased use of the internet has subsequently increased the risk of cybercrime. However, Google has its built-in security protection, incognito mode, and various mechanisms to protect your device. To make it more reliable and secure, switch to the real-time protection of Chrome antivirus, which we can add to the browser.
Most of us do take care of some security like making the payment from secure websites or checking the website URL before entering credentials. These measures are not enough with the extensive use of the internet. We do require some malware removal tools or applications to take care of all the risks involved. Chrome antivirus extensions protect you against online threats and also keep your system safe.
Best Chrome Antivirus Extensions to Protect Your Browser
We have listed the best Chrome antivirus extensions for your safe web experience along with the Chrome web store ratings. You can go through the entire list to choose the best one which fits you according to your internet usage.
1. Avast Online Security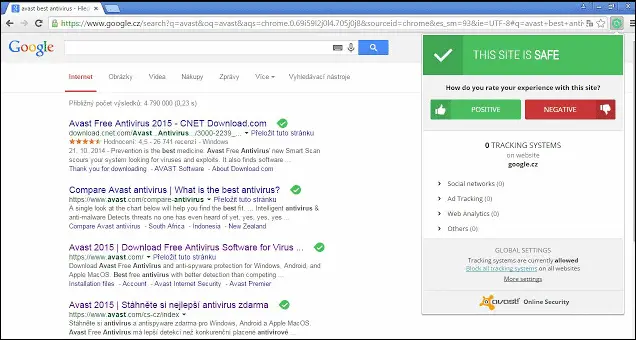 Avast Online Security is the most used Chrome antivirus extension with 400 million users. It protects you from mostly all types of attacks. Avast Chrome extension secures your browser from viruses and ensures that your data is not at risk while visiting any websites.
Features:
Blocks phishing sites trying to access your data
It gives you the ratings of the websites based on the ratings given by Avast users, so you can decide if it is worth visiting the site.
 Avast blocks the cookies that track your browsing activities.
It automatically gets on when an online transaction is done to give you secure online transactions over the internet.
Warns while visiting a reputed lousy website.
Avast online security extension is all in one package, which can block everything from cookies to phishing sites. If you want all the coverage except ad-blocks, then this Avast extension is for you.
Rating – 4.4 out of 5
Download Avast Online Security here
2. HTTPS Everywhere
HTTPS Everywhere is a Chrome antivirus created by EFF and Tor Project. We usually prefer the secure site to make online transactions, to purchase something online, or for banking transactions. This chrome extension does precisely this for you.
HTTPS Everywhere changes the insecure website to secure one. In simple words, it changes the website prefix from 'http' to 'https.' It removes the unsafe content from the website and is the best free antivirus for google chrome.
Features:
Switches insecure websites to secure one
Protect against account hijacking and surveillance
Gives you a secure browsing experience
Sometimes, a particular website won't look usual due to this extension. In such cases, you can disable HTTPS Everywhere extension for that website.
Rating – 4.5 out of 5
Download HTTPS Everywhere here
3. Blur
Blur is one of the best extensions to protect your passwords and payments. More than just a password manager, it also gives you improved privacy by blocking the sites which track you even when logged off. It secures all your personal information along with fixed password saving and improved sync time.
Features:
Creates strong passwords for you
Saves, encrypt and organizes passwords
Masks credit cards and emails
Stops websites from collecting your data when not logged-in
Blocks new and emerging threats
There are two versions for Blur extension, one is free, and another is premium. The free version covers password protection, masking emails, and private browsing, while the premium versions have credit card masking, phone number masking, and backup facilities. The premium version costs around $2 to $5.
Rating – 4.3 out of 5
Download Blur here
4. Adblock Plus – Free Ad Blocker
Adblock Plus is the Google Chrome antivirus, which blocks ads and stops viruses for you. As some of the ads can be dangerous and on clicking them, the malware may try to get into your system. So, to avoid such malware entries, you need an extension like Adblock Plus.
Features:
It blocks advertisements in videos and social media
Stops tracking
Blocks viruses
Supports Acceptable Ads (AA) initiative
Acceptable Ads (AA) are present on the websites which rely on advertisement revenue. You can disable AA if you do not want to see any ads on your screen.
Rating – 4.4 out of 5
Download Adblock Plus here
5. Unshorten.link
Unshorten.link is a Google antivirus extension that provides security for shortened links. We do get many shortened links through emails, messages, and other means. However, we are always scared to click on it as we do not know what hides in those short links.
Unshorten.link expands such shortened links for us. It also provides other securities that help us to experience safe browsing.
Features:
Expands short links like bit.ly
Analyzes malware
Block tracking cookies from URL
It has a list of 300 popular link shortening services and its timely updates
There is a basic version as well as a pro version available. The basic version is free, while the pro version costs $7.
Rating – 3.7 out of 5
Download Unshorten.link here
6. Click&Clean
Click&Clean is an antivirus for Chrome. It helps you clear the cache, cookies, and browsing history in just one click. Hence, instead of a lengthy procedure for deleting the browsing history, Click&Clean does it in one click.
Features:
Clears cache, cookies and browsing history
Scans PC for malware
Deletes temporary files
Clears download history
Delete client-side Web SQL Databases
Click&Clean cleans up your disk space and ensures secure file deletion using external applications like CCleaner and Wise Disk Cleaner.
Rating – 4.8 out of 5
Download Click&Clean here
7. TunnelBear VPN
As the name suggests, TunnelBear VPN chrome antivirus extension provides you virtual private network for safe browsing experience in public places. It is a light-weight extension that encrypts all your browsing traffic. With over 20 million users, it is one of the best free antiviruses for google chrome.
Features:
Encrypts browsing traffic to ensure security while using a public network.
Avoid censorship
Easily access blocked websites
TunnelBear VPN is a good antivirus for Chrome if you use the public network more frequently and want to ensure privacy.
Rating – 4.7 out of 5
Download TunnelBear VPN here
8. No-Script Suite Lite
Javascript running in the background of the website can sometimes perform malicious activity. It can get your data through snooping. However, we can disable javascript from the sites to be at the safer side.
No-Script Suite Lite can disable the javascript for the insecure and untrusted websites. This chrome antivirus adds an extra layer of protection to your system. As javascript is the backbone of many websites, there might be instances when websites won't appear normal.
If a particular website is solely working on javascript, then such websites would not function properly. You can add trusted sites to the whitelist and carry on browsing.
Features:
Allows you to block javascript from untrusted websites
It gives you an option to block images, objects, styles, and media.
Easy to add and remove websites from the whitelist
Some websites are already added to the whitelist by extension. You can remove or add websites from whitelist as per your choice.
Rating – 3.6 out of 5
Download No-Script Suite Lite here
9. Vanilla Cookie Manager
Vanilla Cookie Manager helps you to manage cookies and delete all the unwanted cookies from untrusted sites. You can manually turn-off the cookies altogether, but then this also stops the cookies from trusted websites that rely on cookies for better browsing experience.
As cookies can also track you, it is an excellent option to use this antivirus chrome extension to block cookies from the suspicious site.
Features:
Block cookies from an untrusted site
Easy to add or remove websites from the whitelist
Automatically delete cookies after 30 minutes of closing the browser
Option to manually delete cookies from unwanted websites.
If you want to manage cookies easily, then you can go for this chrome antivirus extension.
Rating – 4.5 out of 5
Download Vanilla Cookie Manager here
10. Netcraft Extension
Netcraft extension is the best free antivirus for Google Chrome, which can help you secure your browsing experience in many ways. It protects you from phishing attacks and gives detailed information about the websites.
Features:
Protects your system from phishing attacks
Give detailed site report as well as risk rating which can give you hints about the risk involved in visiting the website
Ensures you are visiting the secure sites by checking the SSL certificates
Checks URLs to find some suspicious words in it and block such sites
Netcraft extension is your antivirus for Google Chrome if you want all the features mentioned above.
Rating – 4.6 out of 5
Download Netcraft extension here
11. Disconnect
Disconnect is the best antivirus Chrome extension, which blocks invisible tracking websites. It ensures that your data and activity do not leak. It provides a virtual private network which gives you a secure browsing experience in public networks.
Features:
Blocks invisible tracking websites
VPN for safe browsing
44% faster page loading
It blocks third-party websites that track you.
Disconnect can be used if you wish to have a fast and secure browsing experience.
Rating – 4.4 out of 5
Download Disconnect here
12. Sneekr
Sneekr is an extension that saves browsing history for you even in incognito mode. It has a dashboard that is password protected and works best for parents, businessmen, and small organizations. It saves your browsing history irrespective of the users, and you can access it anytime by using your username and password. You can monitor the browsing activity of anyone who uses your PC without the fear of the user masking it in incognito mode.
Features:
Saves browsing history of browser
Username and password protected dashboard
Saved browsing history in incognito mode
Works best for parents (who want to monitor kids) and businessmen
Rating – 4.3 out of 5
Download Sneekr here
13. PanicButton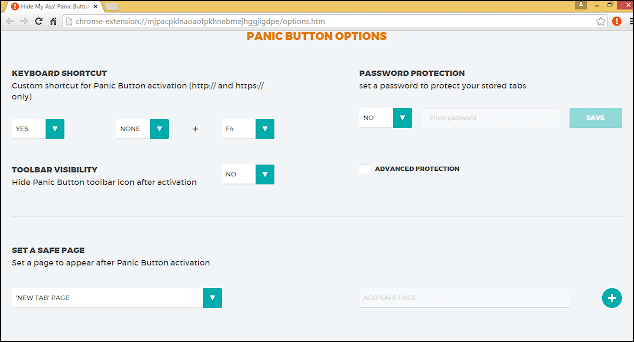 PanicButton is a chrome extension that can be used in a panicky situation for privacy concerns. For example, you are typing something confidential, and you don't want some passerby to read it, then you can press this button/extension to close all tabs. PanicButton can close and restore all the tabs in one click.
Features:
Closes all tab in one click
Restores all tab in one click
Keyboard shortcut available(F4)
PanicButton stores all the closed tabs in different bookmark folders named temporary panic. If you don't want to restore the tabs delete that bookmark folder.
Rating – 4.6 out of 5
Download PanicButton here
14. Windows Defender Browser Protection
Windows Defender Browser Protection is an antivirus for Google Chrome which protects you from online threats. It is a Microsoft extension that is currently available only in the United States. It warns you before visiting the site with warnings and provides real-time protection.
Features:
Protects from phishing attacks
Warns before visiting a threatful website
Has an updated list of malicious URLs
Windows Defender Browser Protection helps you against phishing links in the email as well. So, if you are always worried about the links you visit, then this chrome antivirus is for you.
Rating- 4.2 out of 5
Download Windows Defender Browser Protection here
15. uMatrix
uMatrix is an extension with a slight learning curve, as it gives you lots of information about the different websites and lets you decide which things to block on your browser. It is difficult for a beginner to decide what is to be blocked.
There are two modes in which uMatrix can work. The first one is the relax block-all/allow-exceptionally mode, and another is allow-all/block-exceptionally mode.
Features:
Full control over the browser, which includes where the browser should be connected and what type of data to be downloaded.
Allows you to decide what type of scripts are allowed to execute
It blocks different categories of ads on your request.
uMatrix can be a good Google Chrome antivirus for free if you want full control over the browser.
Rating – 4.7 out of 5
Download uMatrix here
16. CommonKey Team Password Manager
If you are running the company with a minimum of 10-20 employees, managing passwords for every login becomes tedious. With CommonKey Team Password Manager, you can easily manage passwords for any number of employees.
You can give and delete the access when and where necessary with a click. Passwords are stored in the cloud in encrypted form, so there is no need to worry about security.
Features:
Manages passwords
Easy control over user access
Passwords are stored in encrypted form for security purpose
It is the good-to-go password manager for growing companies.
Rating – 4 out of 5
Download CommonKey Team Password Manager here
17. Ghostery – Privacy Ad Blocker
Ghostery is the best Google antivirus that performs multiple tasks to protect you from online threats. A powerful privacy extension, Ghostery blocks ads from the website so you can see a clean website that helps you to focus on the website contents. It also blocks the trackers who invade your privacy and speeds up your system.
Features:
Block ads
Block trackers
Customized display
Speeds up page loading
Rating – 4.6 out of 5
Download Ghostery here
18. Perspective Guard
Perspective Guard is the first AI extension on the web-store. It warns you against negative and fake comments/news on social media. As AI runs locally on the browser, this extension does not have any access to your data, which gives you 100% privacy.
Features:
Warning against fake, negative and bias comments or news
It does not have access to personal data like other extensions
Tracks how much content is accessed by you over time
Controls your positive mindset
Perspective Guard is an extension if you wish to have a positive mindset and stay away from rumors on social media platforms.
Rating – 5 out of 5
Download Perspective Guard here
19. PureVPN: #1 Proxy Extension for Chrome
PureVPN is an extension that helps you secure your identity online. You can access the blocked sites using this PureVPN. It offers a 7-day free trial to try all the amazing features with uncompromised speed.
Features:
Safe and Secure browsing
Protection against IP leaks
Easy setup
Access to blocked sites
Does not keep your activity logs even on proxies
There is a premium version of this extension, which charges $3.3 per month.
Rating – 4.5 out of 5
Download PureVPN here
20. DuckDuckGo Privacy Essentials
DuckDuckGo is a simple Chrome antivirus that protects your privacy in a simplified way. It gives you a safe browsing environment and also keeps the trackers away from you. It is a simple extension that ensures privacy and protection.
Features:
Assures to keep trackers away
Gives a safe browsing environment
Protects your browsing activity from trackers
Rating – 4.4 out of 5
Download DuckDuckGo here
21. UltraBlock
UltraBlock is an all-in-one Google antivirus extension, which can block ads, trackers, and cookies to provide you protection from online threats. It also prevents the services used by websites which track your online behavior.
Features:
It blocks ads and trackers that invade your privacy
Blocks cookies
Loads web pages faster
Rating – 4.3 out of 5
Download UltraBlock here
22. Simple Blocker
Simple Blocker is a different extension from the list above. It is used to block the websites which distract you or annoy you. You can prevent the subdomain as well by using this extension. It was designed especially for students but is proving useful for many professionals who want to focus on their work.
Features:
Blocks domain and subdomains
Uses timer-based blocking
Password-based blocking is also available
You can use this extension if you get distracted while working or studying.
Rating – 4.3 out of 5
Download Simple Blocker here
23. Chrome's Inbuilt Malware Scanner
If you feel you don't need any antivirus extension to protect you from online threats, then you can go for Chrome's inbuilt malware scanner.
To use the inbuilt malware scanner, we need to navigate to Chrome cleanup.
Type chrome://settings/cleanup on your browser.
Then, click on Find next to Find harmful software.
It will find any harmful software or malicious file on your computer and remove it for you. This can also be an option for you as a chrome antivirus without the use of unwanted software.
Conclusion
However, one must note that you cannot eliminate the threat and danger while using the internet, even if you shift to another browser like Comodo. The best you can do is reduce the chances. You can choose the various extensions based on your needs.
If you use public networks more, you can go for VPN extensions. If you browse more than ad blocker and anti tracker extension can work you in a better way. You can also go for all-in-one package extensions for a safer browsing experience. You can also check how to install any Chrome Extension using Developer Mode.
If there is confusion between similar types of Chrome antivirus extensions, then you can check the web store ratings for each before you make a call.