Google Docs is one of the most used platforms for storing data for professional and personal purposes. With 15 GB of Google Drive storage, organizing and structuring the content gives the users a clear idea about the subject. To sort your data correctly especially in Google docs, you just need an add-on that helps and you can learn how to alphabetize in Google Docs just like that.
Learn How to Alphabetize in Google Docs and Manage The Data
Proper organization and structuring of the data is of paramount importance. If you are looking for a solution on how to alphabetize in Google Docs, no need to worry because we have you covered. To work with Google Docs, you must have a Google account to log in. If you have one, go ahead, or else create an account.
Now open an existing Google Doc or create a new one.
Once you are in Google Doc, click on Add-ons and select Get Add-ons.
This is the primary step to install a new add-on.
Now search for "sorted paragraphs".
Once you find the "sorted paragraphs", add it by clicking the +Free button.
While installation, give the necessary permission to the add-on to access your documents.
Once the add-on is installed, you are ready to sort any content alphabetically in Google Docs.
After the installation is done, it has tutorials and tips on how this add-on works.
To alphabetize in Google Docs, select the content you want to sort, go to Add-ons.
Select Sorted Paragraphs and choose either "Sort A to Z" or "Sort Z to A"
The choice is yours to have the content in ascending order or descending order.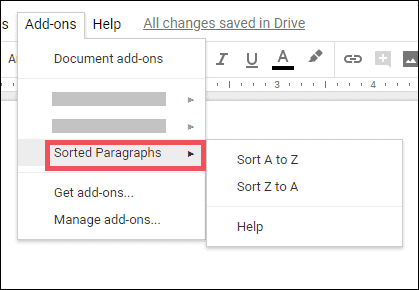 In case you want to remove any add-on, simply click on Add-ons and select Manage add-ons.
Click on the green Manage button and select Remove.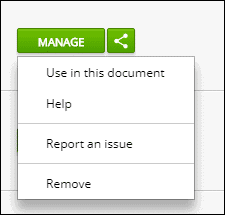 Sorted Paragraphs is the best add-on to have if you want to know how to alphabetize in Google Docs. Using this application is one of the easiest ways to organize your data as you wish.
How to Alphabetize in Google Docs
On Mobile
Unfortunately, it is not possible to sort the contents of a Google Doc on your smartphone, as the Sorted Paragraphs add-on isn't compatible with mobile devices. Hence, if you wish to alphabetize content in Google Docs, the best and the only way to do so is by doing it on a PC.
How to Alphabetize in Google Sheets
Google Sheets are a part of our daily lives. Be it a businessman or an employee, the application is used by millions for creating and managing databases.
Let's have a look at how we can sort and alphabetize content in Google spreadsheets. To start with, open Google Sheets on your PC. If you are not logged in to your Gmail account, the Google Sheets page will ask you for your Gmail username and password.
Next, open the spreadsheet which has the data you need to sort.
Select the data that you need to sort and click on the Data tab.
Then select the type of sorting you wish to use for your data and click on it. You can sort the sheet in an ascending or descending format. Also, this can be applied to a column or many columns.
You will see that the data is rearranged and sorted into the order you wanted.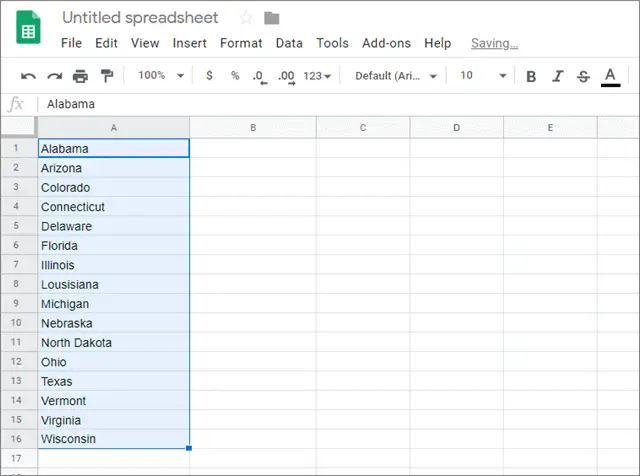 Apart from arranging columns alphabetically, you can also sort the data in descending order. You can also use Google Sheets spell check to make sure that there is no error.
Manage Content in Google Sheets on Mobile
Now that we have learned how to alphabetize Google Sheets content on a PC, let's see how we can emulate the same on a mobile phone. The process is super easy and hardly requires time to understand and execute.
Open the Google Sheets app and select the document you want to sort.
Next, click on the selected spreadsheet to open and view the content.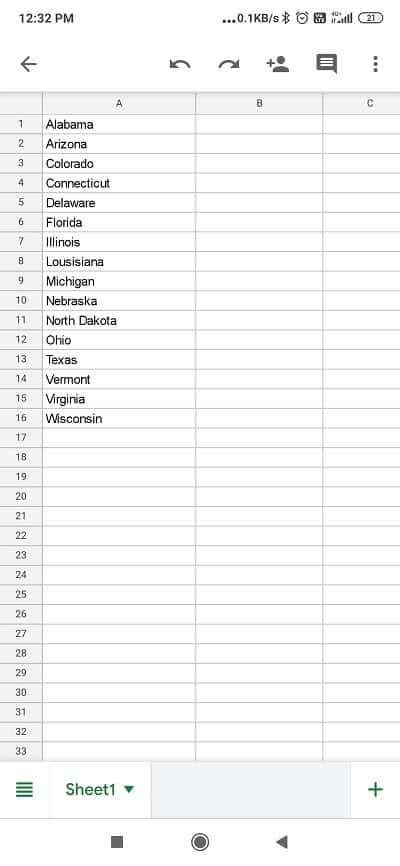 Now, click on the column alphabet to select the entire column.
Then, click and hold on the selected content for some time. In the menu that appears, click on the three dots.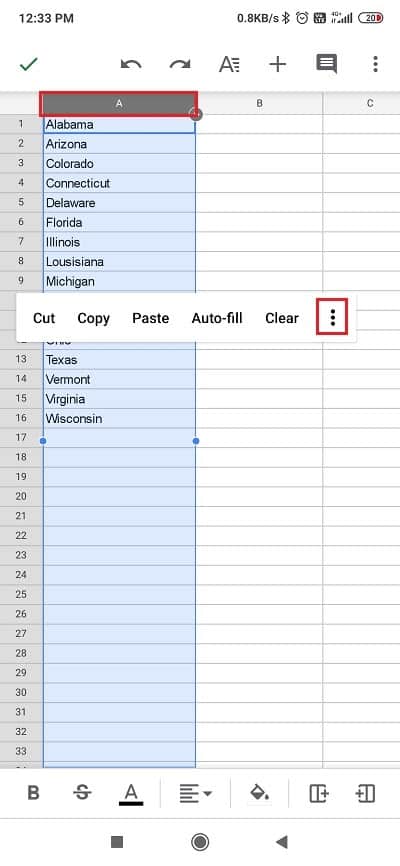 In the dropdown menu that appears, select the type of sorting you want to apply and click on it.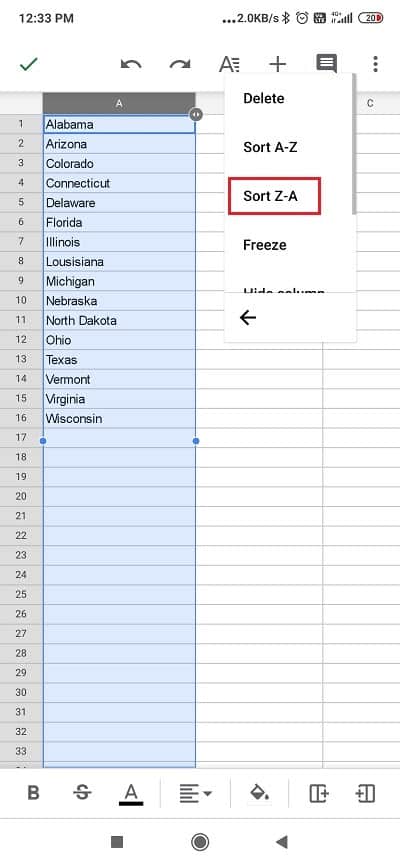 Once you click on the sorting option, you will immediately see results as your data rearranges itself.
Thus, to alphabetize in Google sheets is easy and can be done on the desktop and the mobile too.
Final Thoughts
Organized content has a lot of advantages. It saves your time and at the same time lets you extract some specific data that you are trying to filter from a big content file. For that matter, how to alphabetize in Google Docs is one of the most frequently asked questions on the Internet.
As it happens, there is only one method to sort out the content in Google Docs. Added to that, sorting of content can also be done in Google Sheets on PC and mobile. Since there is no second and simpler way of sorting available, the method shown in this article is the only option to go with. For smart and efficient work, you can also check out various Google Docs Tutorials which will further boost your productivity.
(Updated on 7th Dec 2020)