Multiple gadgets are fused into a smartphone and life becomes easy to multitask. Among the most crucial resources to be managed daily, time tops the list. Waking up early doesn't come easy! For the ones who hit snooze every time the alarm rings and the ones who wait for the alarm to ring to wake up, how about getting your hands on the best alarm clock app for android devices that does the job for you?
Almost every second person struggles to get out of bed in the morning. Waking up early in the morning is not an easy task, especially if you are a night owl. If you find yourself surrounded by tasks that require completion within a stipulated time, we'd recommend you to check out these Android clock apps that are superb time managers.
What more? These also ascertain your sleep cycle to ensure you are healthy and fit.
Waking Up can be Fun: 22 Best Alarm Clock App for Android Devices to Bookmark
Some of the alarm clock apps won't stop ringing until you solve a puzzle, and others will want you to go to a particular location to switch off the alarm. Also, there are some Android clock apps that will make your body spin a certain number of times to make sure you're awake. The choice depends on how difficult it is for you to wake up in the morning.
So, in no particular order, let's check the list of best alarm clock app options for your Android smartphones and device.
1. Timely
Timely is the best alarm clock app and includes a bunch of useful features, the most unique one being cloud sync. It integrates all your Google accounts and synchronizes the alarm you have set across all your devices.
If you make changes on one device, it will make the exact change on all your devices so that you don't have to set it individually. Interestingly you can set a 'Challenge' that needs to be completed to stop your alarm.
The challenge can be easy, like shaking your phone 'n' number of times or a tough one like solving a math task to pause the alarm. This will make your brain active and force you to wake up.
Download Timely here
2. AlarmMon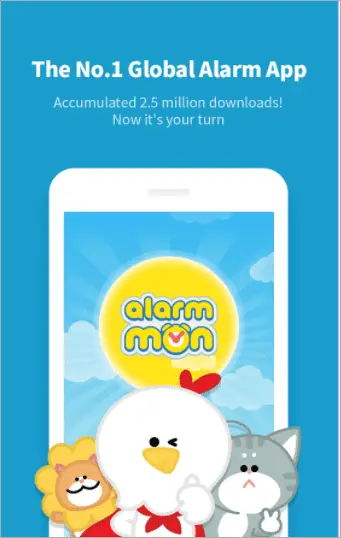 AlarmMon is a popular Android alarm clock. It has a versatile collection of alarm styles, which include setting a loud alarm or soft alarm. This feature makes the alarm sound like a loud alarm clock, which doesn't let you sleep once it starts because of its high volume.
It has various unique alarms like game alarm, video alarm, and voice alarm to wake you up. You can see your alarm history to know your wake up routine. If you need an alert while cooking something, this app is perfect. You can also get a weather broadcast in AlarmMon.
If you are looking for a loud alarm clock app, AlarmMon should be the best choice.
Download AlarmMon here
3. I Can't Wake Up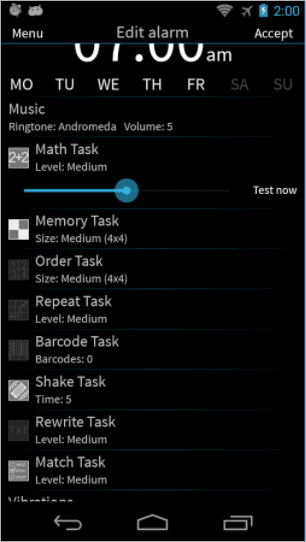 Can't wake up on time? Get hold of the best alarm clock app for android smartphones to ensure that you wake you up on time, every day. There are eight different activities (memory, order, math, rewrite, shake, match, barcode, repeat) to complete to stop the alarm.
It also has various cool features like a smooth wake up with dimmed screen light, a loud alarm, set music to play during snooze, set a particular application to start with after alarm's completion, etc. The interface is easy to navigate and it includes multiple features.
Download I Can't Wake up here
4. Alarm Clock Xtreme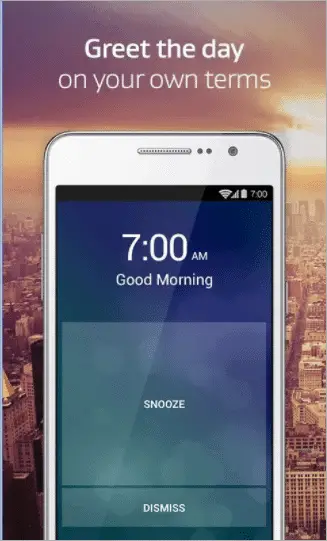 Alarm Clock Xtreme is like your best friend waking you up in the morning. It doesn't make you panic in any way. It simply lulls you awake. The alarm starts with a low sound and increases its volume with time.
The duration of the snooze decreases with time after each snooze, and you can even set the number of snoozes you want. You can choose your favorite music to set it as the alarm or set a math problem to be solved to stop the alarm.
It is the best alarm clock app for whoever likes to hit the snooze button often.
Download Alarm Clock Xtreme here
5. Alarm Clock by Alarmy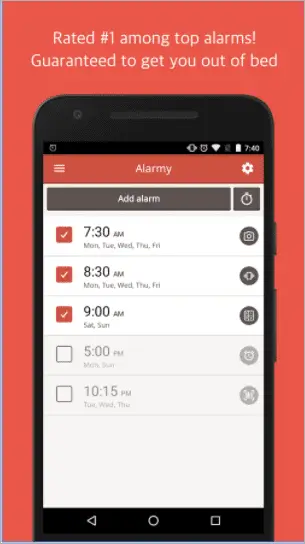 Alarmy has been titled as "World's most annoying alarm clock app" by Cnet, Gizmodo, and even Huffington Post.
To use the Android alarm, you need to set a "Registered place" to turn off the alarm. This means you have to get out of bed and go to that registered place to be able to stop the alarm. Sounds fun, right?
It is a great idea for those who find it challenging to get off the bed in the morning. If this feature is troublesome for you, there are options like shake to turn off or solve a math problem to turn the alarm off.
Download Alarm Clock by Alarmy here
6. Alarm Clock by AMdroid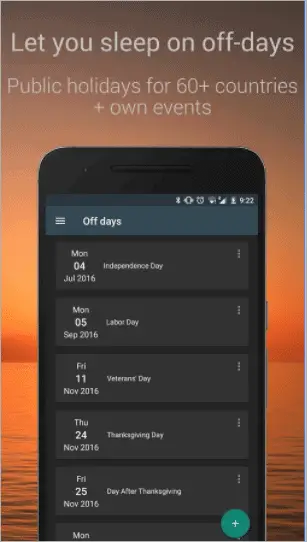 Do we have heavy sleepers here? Alarm Clock by AMdroid is the best alarm clock app for heavy sleepers and those with a problematic sleep cycle. It is beautifully designed with various tasks to be completed to stop the alarm.
You can sleep on off-days as the app has a list of public holidays, so it doesn't disturb you on days that you don't need to get up early. It differentiates itself from others by offering Android Wear support, and you can set your alarm on your wrist. You can also integrate your calendar with AMdroid.
Download Alarm Clock by AMdroid here
7. Sleepzy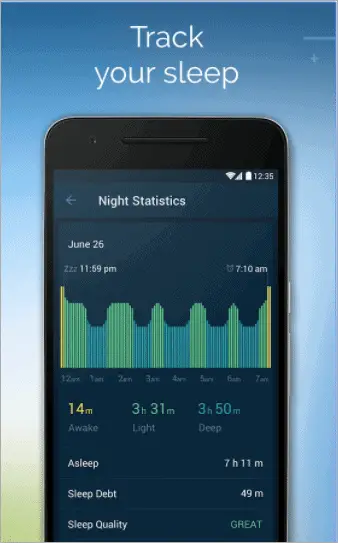 Sleepy not just helps you to wake up in the morning, it also takes care of your health. It wakes you up when you are in the light mode of your sleep so that you can get up naturally. It tracks your motions while you sleep to analyze the quality of your sleep to give you an alert for under or oversleeping so that you can make changes to your routine.
You keep your mobile phone close to you while sleeping for the app to monitor the movement of your body. You can download the best alarm clock app, Sleepzy, on the smartphones and gadgets used by the elders of the house, and keep a thorough check on their sleep cycles and health.
Download Sleepzy here
8. Sleep As Android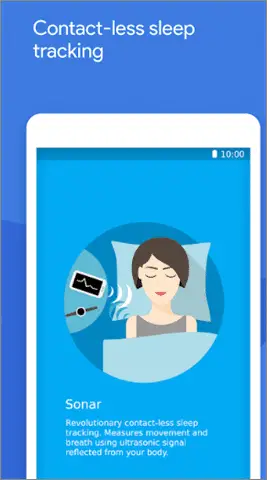 The free alarm clock app for Android wakes you up with soothing and natural sounds like that of the birds chirping and sea waves gushing against each other. It also tracks your sleep pattern cycle to make you aware of your sleeping habits.
Sleep As Android can be integrated with Google Fit, Samsung's S Health, Spotify, and supports Pebble smartwatches, Galaxy Gear devices, and Android wear. It records your words if you speak while sleeping, and keeps a record of your snoring patterns. One of the best free alarm clocks!
Download Sleep as Android here
9. Go Clock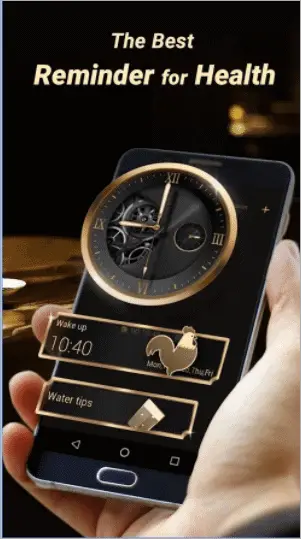 GO Clock is the best alarm clock app that also reminds you of your daily events to ensure you wake up in a good mood. It has unique features like a built-in calendar, health reminders, and a bedside clock display.
Health reminders include advice from experts to make a healthy timetable for food, work, and rest. There are clock themes, stopwatch and timer, and a clock widget as well. Are you ready to get your hands on the most intimate life assistant?
Download GO Clock here
10. SpinMe Alarm Clock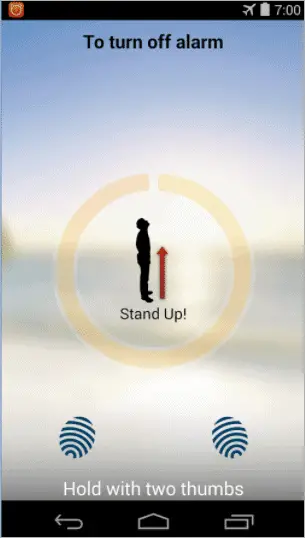 Now, this is the funniest and the best alarm clock app for Android. Like other alarm apps, it wakes you up with loud music and vibrations, but the craziness comes when you have to shut the alarm. It's not that easy. It doesn't shut off by shaking or solving puzzles. Instead, you have to spin around to stop the alarm.
Hold your phone straight and spin. The best part is that you cannot cheat it by spinning your mobile while on the bed it will not work; you have to get up from the bed.
Download SpinMe Alarm Clock here
11. Walk Me Up
Do not get confused with the name! Yes, it is Walk Me Up and not wake me up. It requires you to walk a certain number of steps to stop the alarm from ringing. You cannot fool it by simply shaking the phone as the app is smart enough to detect shakes.
It is the best way to wake up because it forces you to walk around 10 steps before it stops ringing. You can increase or decrease the number of steps, but it does not accept less than five steps. This is enough to wake you up so that you don't fall on the bed again.
Isn't Walk Me Up very different and the best alarm clock app?
Download Walk Me Up here
12. Alarm Clock Puzzle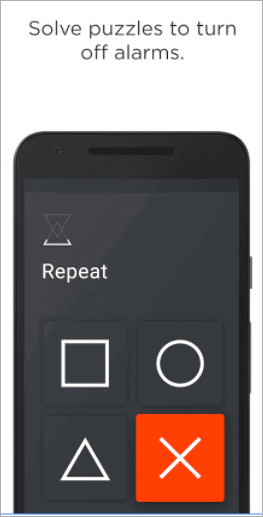 Alarm Clock Puzzle is the best alarm clock app since it helps you to wake up and activate your brain at the same time. As the name suggests, to stop the ringing alarm, you will have to solve a particular puzzle that is quite a challenge. How interesting is that?
There are memory puzzles, math puzzles, tough captchas, arrange-the-pieces of an image (which is a bit challenging), etc. The best alarm app for Android also has the common features of an alarm app like shake it off, capture a QR code, etc. to stop the ringing alarm.
The most interesting feature of the Alarm Clock Puzzle is that you have to pay for each snooze so that you get to know how much a five-minute snooze can cost you. Are you ready for it? Do not wish to overspend? Do not hit the snooze button!
Download Alarm Clock Puzzle here
13. Sleep Cycle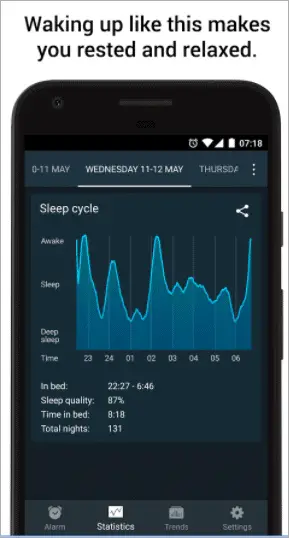 Sleep Cycle makes your wake up routine easy and relaxed as it wakes you up when you are in the light mode of your sleep. The clock is smart enough to analyze your sleep pattern and helps you get out of bed naturally. It has been featured on CNN, Wired, The Guardian, The Wall Street Journal, BBC, and The New York Times.
It monitors your movement while you are sleeping using the accelerometer on your phone. The best free alarm clock app was made after much research on the science of sleep. It analyzes your health and tells you what you need to change in your daily routine.
Download Sleep Cycle here
14. Sleep Time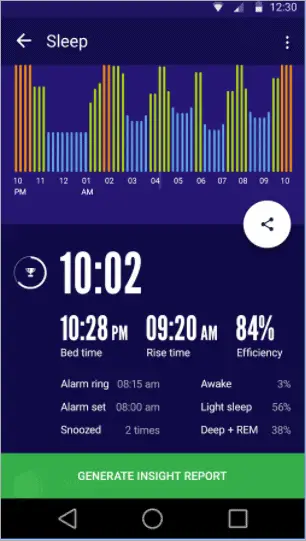 Sleep Time is an exquisite alarm app. It tracks your sleep pattern and movement using the accelerometer. It has advanced wake-up algorithms that wake you up when you are not in a deep sleep. You can set the alarm with a single tap. Its alarm goes on and rings even when the phone is in silent mode.
The best Android alarm clock, Sleep Time, provides you with the full history of your sleep habits and patterns. It enables users to compare it with a healthy routine and maintain weekly or monthly charts. So, get your hands on Sleep Time and wake up stress-free and naturally every day.
Download Sleep Time here
15. Talking Alarm Clock
You are going to love this alarm clock app since it says whatever you want it to say. You can wake up every morning listening to your or your loved one's voice. Beautiful, isn't it?
It has various customization options and a special feature called Personalized Sentence. It requires you to record a sentence that you'd love listening to when you wake up. Imagine starting your day with something you'd love to hear?
It feels as if the alarm is talking to you. It also tells you the exact current time. You can turn it off by merely shaking it. Different and creative is what makes Talking Alarm Clock the best alarm clock app you must get for your Android phone.
Download Talking Alarm Clock here
16. Digital Alarm Clock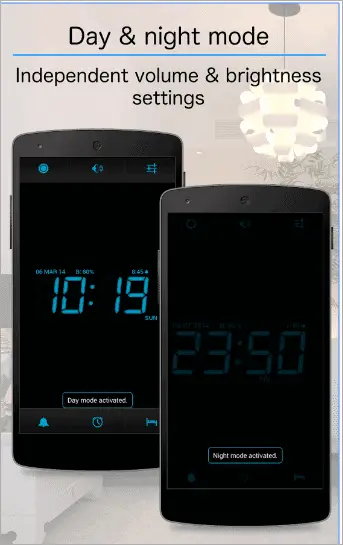 If you love stylish designs, then this app is good for you as it has beautiful widgets that you can customize as per your requirement. You can also personalize every alarm individually, which is a fantastic feature.
You need to simply shake your phone to put the ringing alarm off. There are different modes for day and night, and you can select your preferred date format by going into the settings. You just have to tap the widget to listen to the time. You can also set alarms in just two clicks to take a short nap.
Download Digital Alarm Clock here
17. Alarm Clock by Jamier Salmona
If you like cute cartoon images, then this is the best alarm clock app for you. Alarm Clock by Javier Salmona has multiple alarm features with cute characters like cats, dogs, crocodiles, ducks, sharks, and bunnies. It has three challenging levels to wake you up.
You can set the tone according to your choice. You also have a repeat and snooze button like the other alarm clock apps. The interface and gimmicks of this Android alarm clock would suit young teens the best.
Download Alarm Clock by Javier Salmona here
18. Alarm Clock For Me Free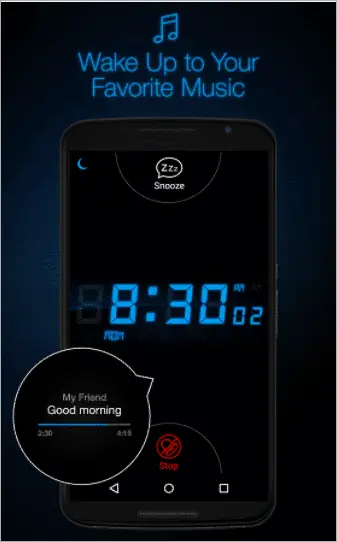 Are you a music-lover? With this app, you can make your device sing your favorite tune in the morning. Wonderful, isn't it?
There are beautiful themes, attractive widgets, and weather updates in this best alarm clock app. You will never miss out on your sleep as it reminds you to sleep at night at the right time. It has a background alarm support which rings even when the app is not working.
What more? The app also tells you the current temperature and acts as a perfect bedtime reminder.
Download Alarm Clock for Me Free here
19. Awesome Alarm Clock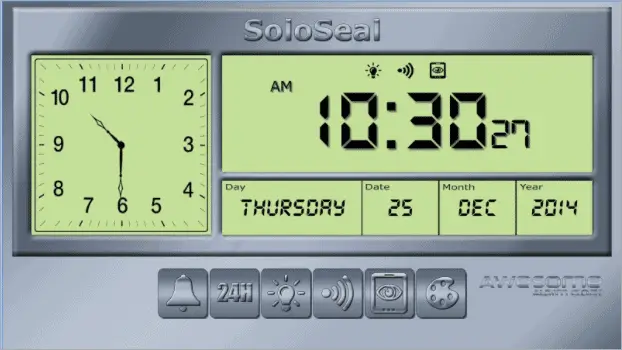 Quite true to its name, one of the best clocks for Android which is actually awesome. The interface is well-designed and simple to navigate. The font and style in which the numbers are written will remind you of an old-school digital clock.
It includes both; an analog and a digital clock. So, you can choose whatever suits you better. It has beautiful colors like red, pink, blue, gold, silver for the interface. You can also set multiple alarms with the app, which supports both portrait and landscape orientation modes.
Download Awesome Alarm Clock here
20. Simple Alarm Clock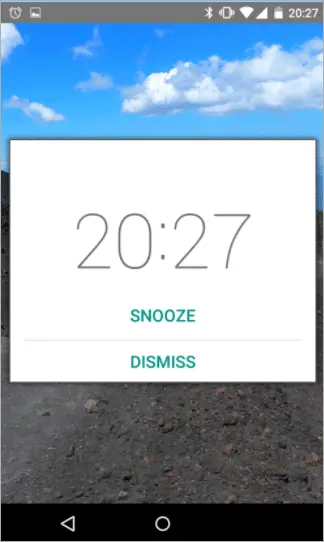 Simple Alarm Clock is an alarm clock with great features and a simple yet brilliant interface. It has no unnecessary features, but many useful options. The alarm starts with a low volume a few minutes before the actual alarm time.
It has the long click feature that switches off the alarm to prevent accidental dismissal. You can set multiple alarms with customizable snoozing time and alarm volume. If you are looking for something convenient for the elders of the house, this is the best alarm clock app since it is extremely easy to use and includes nothing fancy.
Download Simple Alarm Clock here
21. Music Alarm Clock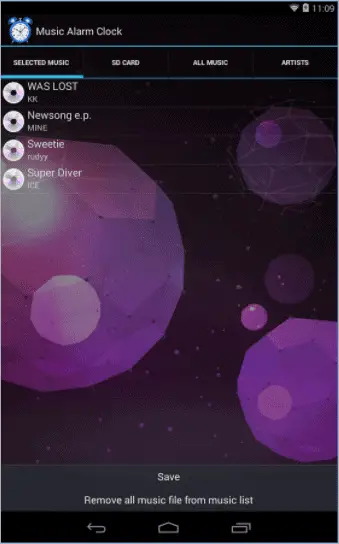 Music Alarm Clock is perfect for music lovers. The app looks simple when you first install it but is packed with some great features. Wake up listening to your favorite song as it allows you to select whichever song you want from your playlist.
You can set unlimited alarms with unlimited music. You can also add or delete an alarm by both long touch and single touch. It is the best alarm clock app option for anyone who has always dreamt of waking up to their favorite music.
Download Music Alarm Clock here
22. Alarm Clock Free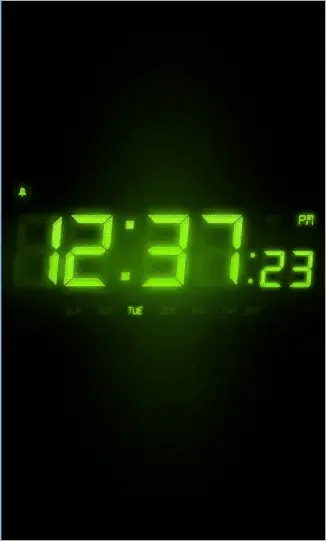 Alarm Clock Free is a beautifully designed alarm clock app with both analog and digital modes. It has an elegant-looking Green LCD with vertical and horizontal modes.
One exciting feature that differentiates this free alarm clock app for Android from the others is that you can slide/flick up and down to dim the screen light. The app also works on a locked screen and silent mode.
Download Alarm Clock Free here
Conclusion
Alarms are a must in our lives and there is no harm in adding some options through the best alarm clock app for your smart Android devices. Some require you to walk a few steps before you put the alarm off while the other needs you to pay a nominal amount each time you snooze. Did you know, you also have online alarm clock websites!
Our list includes an Android alarm clock that requires you to crack a puzzle before you start your day, and our favorite app wakes you up while playing the song you love. There are simple options for the elders and one for the young teens since the interface includes animals and bunnies.
Also, check: