Shakespeare once said, "If music be the food of love, play on." When we hear the magical strings of the guitar playing, we must have at least once pondered on the tune. Well, learning to play the guitar has become a lot easier than it was ever before. With a guitar app easily available on smartphones, who is going to wait!
From singing apps to various learning apps on a digital level, the learning curve has really gone high! Name an instrument and you will be able to learn it through apps.
The Best Guitar App – Time to learn all by yourself
With many music lovers hardly finding enough time to get started with learning the acoustic or electric guitar, the app can ignite the passion and desire by providing the appropriate amount of guitar lessons. Thanks to technology, many guitar apps can help you teach all the levels of the instrument.
Without further ado, let's dive in to know the best guitar apps that you can refer to learn the instrument and download from the google play store and the iOS app store.
1. Real Guitar Free – Chords, Tabs & Simulator Games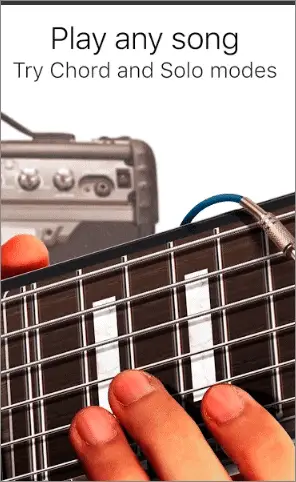 Real Guitar is one of the best guitar app simulators that is easy to use and can help you decide whether you want to learn the instrument. After all, no one will like splashing hundreds just to get bored a few days after they give up on an instrument.
It is the perfect guitar learning app to turn to if you are planning to learn a guitar to get acquainted with the instrument's basics. It supports multi-touch, which is crucial for playing the chords. Also, it offers 16 loops so that you can compose and record your tracks.
However, once you get a guitar and start learning it, this application will hardly be of any help. It is only useful as a great source of introduction to the instruments.
Download Real Guitar for Android
2. smartChord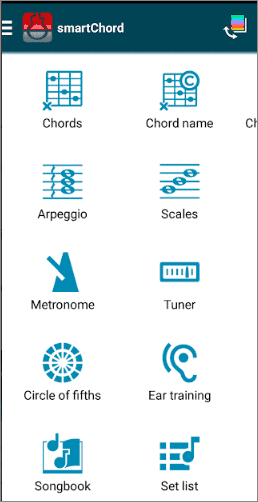 Do you know how to hold an F#m chord? Are you aware of how a Dsus2 should be played? Well, if not, check out SmartChord which is one of the best apps to learn guitar.
SmartChord has evolved into a comprehensive application in contrast to how it started. Initially, it was an app to be used only to learn guitar chord diagrams. It has a reverse chord finder, many predefined tunings, and a scale chart that teaches different scales, a metronome, and a virtual guitar. It also functions as a guitar tunes app since it has a tuner. An amazing guitar app that will help you master your favorite songs and chords in no time!
So if you want to change the tunings, learn chords, train your ears, practice rhythm, there's no better price free guitar learning app than smartChord!
Download SmartChord for Android
3. Metronomous

Playing with rhythm isn't a skill you can master overnight. You have to practice hard to get the beats right before you can play in front of an audience. No worries, because Metronomous is here.
Metronomous offers users a chance to practice over a variety of notes like the eights, the sixteenths, the quintuplets, and more. However, if you are a beginner, then this app might be overabundant for you.
Download Metronomous on Android
4. Guitar Tuna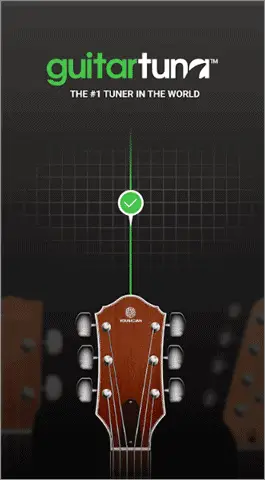 True, a guitar can be tuned if you know the technique of using the fretboard to tune it. But, that would be too much to ask of a beginner guitar player. You can also buy a tuner from the market, but instead of that, Guitar Tuna can be a massive aid.
This guitar app allows a guitarist to tune his guitar with the help of sensors in your phone. Just start the app, play a string on your guitar, and try to match the position of the pointer with the green line in the center.
Guitar Tuna can also be used for bass, ukulele, cello, and banjo. The application's versatility and ease of use make it the best guitar tuner app in the market.
Download Guitar Tuna for Android / iOS
5. Perfect Ear

As its name suggests, Perfect Ear isn't specifically built for guitarists, but it is a useful one nonetheless. This application is like a pocket school in which you can learn music on the go.
You can learn to read music language and music theory. Perfect Ear also offers various rhythm and ear training exercises. Plus, it also offers you various training exercises and scale charts for learning and practicing intervals, chords, and scales.
Note recognition is quite a tough task when it comes to music. But, Perfect Ear also has trainers for absolute pitch and note singing, helping you overcome that hurdle.
Download Perfect Ear for Android
6. Justin Guitar Beginner Lessons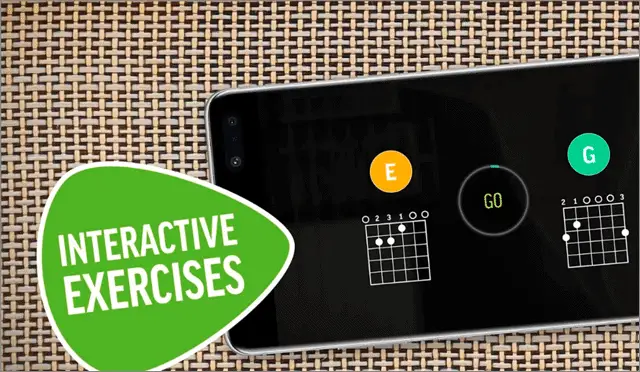 Beginners can have a hard time if they try to learn guitar tricks from music books. Justin Guitar Beginner Lessons makes it easy for novices to maintain track of their progress and learn the instrument at their own pace.
Justin Sandercoe, the man who teaches you the guitar, takes you through interactive step-by-step sessions in the app. Justin Guitar Beginner Lessons contains about 50 lessons and over 1000. It also contains a self-assessment system so that you can track your progress. It is hands down one of the best guitar applications for Android.
The interactive exercises make it easy for beginners to grasp and execute basic guitar playing techniques. If you are taking your baby steps towards learning the instrument, this guitar app could help you immensely.
Download Justin Guitar Beginner Lessons for Android
7. Amazing Slow Downer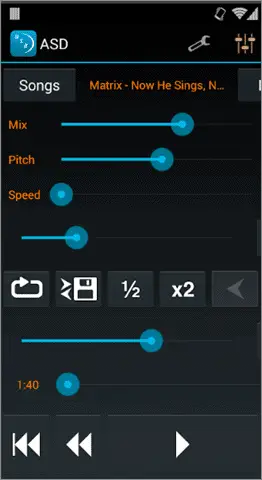 Be it beginners or intermediate level guitarists, we always tend to learn new songs by playing alongside them. Sometimes, we fail to match the tempo of the song due to our inaccuracies. Amazing Slow Downer is the best app to use in such cases.
As its name suggests, this guitar app slows down any song, and you can start playing along with it according to your convenience. You can also set seamless loops and change the song key if the need arises.
Amazing Slow Downer also supports Spotify playlists, although that is possible only if you own a Spotify premium account.
Download Amazing Slow Downer for Android
8. Yousician

Yousician is a digital guitar bible, period. This guitar app gives you feedback after listening to your guitar performance.
Versatility is one of Yousician's most significant features. It can also help you learn piano, ukulele, and bass. You can also improve your vocals and learn singing using this awesome app.
You can ask for anything you want, and Yousician will give it to you. It has over 1500 lessons and video tutorials for sheet reading, harmonics, chords, leads, strumming patterns, melodies, fingerpicking, and more. Users who wish to learn of fingerstyle guitar will also benefit from this application.
Yousician also offers many exciting missions and challenges to help you practice and grow. All in all, it delivers a fantastic learning experience for the users and stands out as one of the best guitar apps.
Download Yousician for Android / iOS
9. JamPlay

Imagine your favorite artist teaching you the hit songs sung by him? JamPlay has just realized that dream.
This guitar app offers thousands of lessons, backing tracks, and chords tabs for players of all skill levels. For beginners, there is a complete curriculum for learning the instrument. Users can avail lessons taught by several instructors and acquire the skill of playing the guitar.
JamPlay is more of a boon for the intermediate and advanced level guitarists. With this guitar learning app, you can take lessons from world-class guitarists and learn about several genres and harmonics of music. Not only that, but you can also interact with the instructors in live video sessions.
So, if you have heard Steve Vai electrifying audiences with his guitar performances, get ready to learn the technique from the man himself. JamPlay also offers music courses from famous alma maters such as the Berklee College of Music, The Musician's College, and much more.
All in all, you will definitely learn a thing or two about the guitar, irrespective of your skill level.
Download JamPlay for Android / iOS
10. Fender Play

Who better to turn to for learning a guitar than a brand which manufactures one? Fender Play is a guitar app that comes with several lessons on guitar, bass, and ukulele. If you start to learn guitar using this application, you could get the basics cleared and move to an intermediate level in no time. This application provides basic lessons for beginners containing a structured learning curve. There are short, step-by-step tutorials that help a novice in learning guitar on the phone.
It also offers lessons on hundreds of popular songs such as All Of Me by John Legend and Ain't No Sunshine by Bill Withers. It is your one-stop-shop for learning chords, riffs, strumming, finger-picking, and more.
Fender Play contains lessons delivered by several famous instructors you can interact with. You can also track your progress and learn guitar at your convenience. Being one of the best guitar apps in the business, it offers a 14-day price free trial with a monthly or an annual plan following its expiry.
Download Fender Play for Android / iOS
11. Ultimate Guitar

Well, beginners will quickly come to terms with the popularity of Ultimate Guitar. As for the advanced guitar players, you can't be thankful enough for the guitar chords and chord diagrams for the tonnes of songs from every era that this application offers.
It is a great guitar app for Android, given its mammoth library of songs and chords tabs functionality. Type any song in the search bar, and you will get versions of songs with chords mentioned above the lyrics.
Nowadays, Ultimate Guitar has also started handing out video lessons and tutorials on how to play certain songs. Also, it offers endless tabs of songs with which you can learn the leads of riffs or the entire song itself.
Download Ultimate Guitar on Android Android / iOS
12. Ultimate Guitar Tuner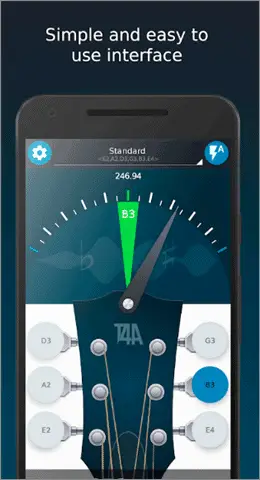 We checked all about the Guitar chords tabs and much more in the previous app, now let's see how its tuner app works.
The Ultimate Guitar Tuner app is a great guitar tuning app if you want accurately tuned strings for your guitar. It is responsive and easy to use. You can use the app to tune your guitar, bass, mandolin, and ukulele in seconds and start playing the instrument.
The application recognizes the sound through your smartphone sensor and gives a real-time output. The meter tells you whether you are tuning a chord too flat or too sharp. One of the best guitar tuner app that is easy to use by beginners and pros alike.
Download Ultimate Guitar Tuner for Android
13. Songsterr Tabs & Chords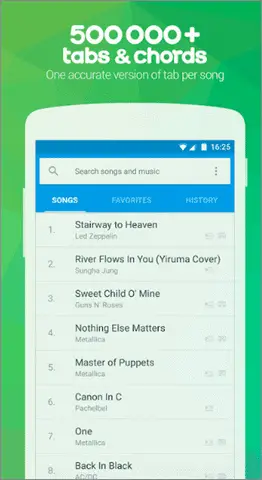 Songsterr is by far the best guitar tabs app on the internet. It Provides tabs to about 500,000 songs.
Songsterr is more than just the standard tabs application like Ultimate Guitar. Users can play the tabs in the tempo in this app and try to play along with it. The tabs are scrolled as per the part of the song that is being sung.
This guitar app has various useful features such as 'solo,' which allows the user to listen only to the instrument that he or she is learning. The 'count in' feature allows a user to get ready to play, after he or she hits the 'play' button.
Songsterr was also listed by The WallStreet Journal as one of the 'Best Apps to Learn Music.' Worth a try, isn't it? If you just eat, sleep, and breathe harmonies and melodies, here are some of the best Chrome extensions to quench your thirst for music!
Download Songsterr for Android / iOS
14. EarMaster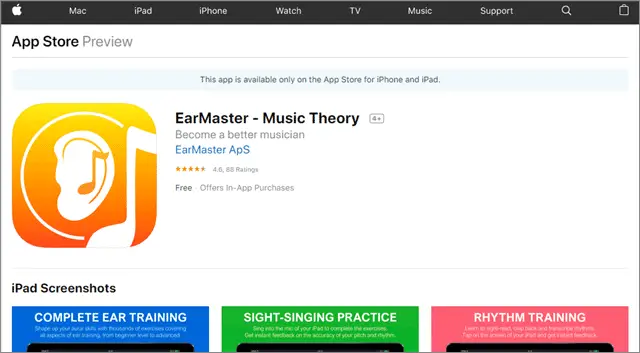 Strumming holds paramount importance when you play songs on a guitar. If you aren't precise with your strumming, it means you need to be properly trained in rhythm.
EarMaster can help you on that front. It has more than about 2500 exercises for ear and rhythm training. Oh, did we mention ear in the last sentence?
Well, the guitar app is also a great tool for ear training, especially for beginner guitarists. It helps you identify the right notes so that you can play the correct guitar songs. This guitar learning app is also used by renowned institutes like Berklee College of Music and the University of Toronto. It is compatible with PC, Mac, and iPad and well known in the guitar world.
If you want to strengthen your music theory, there are few options better than EarMaster.
Download EarMaster for Android
15. Guitar Bandit
What if we told you that you could use your Guitar like a video game controller and play a game?
Guitar Bandit enables you to do precisely the same!
All you have to do is kill the zombies and their leader, the sheriff, by playing the guitar. This exercise enables users and novices to have fun. Guitar Band also helps in the memorization of chords apart from enhancing the learning experience.
While playing this game, make sure your guitar is tuned correctly and delivers the required accuracy. Also, it is advised that you using a plectrum instead of fingerstyle playing would be more beneficial while playing Guitar Bandit.
Download Guitar Bandit for Android
16. AmpliTube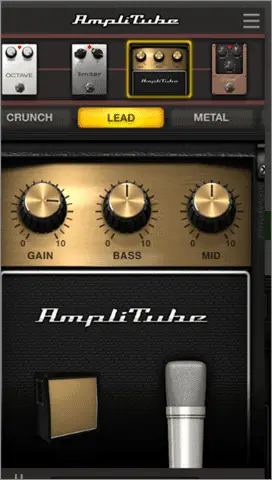 AmpliTube claims to be the first real-time guitar and bass mobile multi-effects app for all Android devices. It comes along with nine stompbox effects, five amplifiers, five cabinets, and two mics. The guitar app is also known to provide zero latency on any Android device when paired with iRig UA, its companion app.
AmpliTube has enhanced preset systems and also has a built-in chromatic tuner. It comes with 21 gear pieces, which can be increased to 43 with in-app purchases. Also, it provides nine sound effects, meaning users will have everything at hand to create a killer tone, irrespective of the genre of music.
Download AmpliTube for Android / iOS
17. PocketAmp
If you are an iOS user and love practicing guitar with your iTunes music, PocketAmp is one of the best guitar learning apps to go for. This tool comes with a support Pitch Shift and Slow Downer for learning.
PocketAmp has 4 amps, 4 cabs, and 7 great effects. It also comes with commendable stereo modulation effects. Additionally, users can also enjoy low latency processing with very short processing delay.
PocketAmp also has three quick presets; users can also make unlimited presets for themselves. Compatible with iPhone, iPad, and iPod touch, you can also play your iTunes music while playing songs with Pitch Shift and Slow Downer.
Download PocketAmp on Android
18. OnSong Pro
OnSong Pro is an excellent tool for storing a chord library and lyrics sheets for your band. You can transpose and highlight the chords or change the font of the lyrics. Songs can also be imported from the Dropbox or added from the system into the built-in editor.
OnSong Pro also allows you to play backing tracks and share the music with your friends or band via Bluetooth or Wifi. Also, it works with many foot pedals from AirTurn, iRig, Coda, PageFlip, and more. If you are searching for a guitar app that can help you manage your music sheets, lyrics, and chords, make sure you give this app a try.
Download OnSong for iOS
19. GarageBand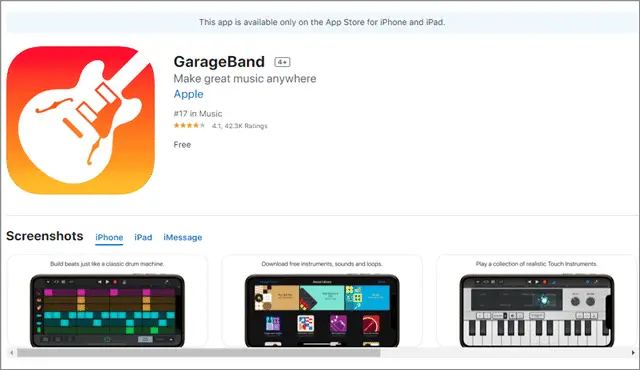 If you are fond of making music on the go, GarageBand could be your little set of instruments that helps you create your tunes. This guitar learning app comes with a bunch of features that will surely leave you impressed.
To start with, GarageBand offers multi-touch technology, which makes it easy to play certain instruments such as drums and piano on the app. You can also build your own Apple Loops containing your music and record it directly using any touch instrument.
Added to that, the Remix FX lets you perform DJ-style effects. From drummer to the bass guitar, all in all, GarageBand is the best application you could use when it comes to jam sessions, gigs, or composing melodies.
Download GarageBand for iOS
20. Anytune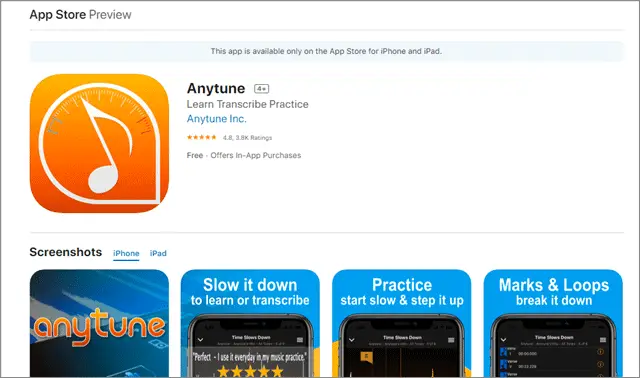 If you are aspiring to learn electric guitar and take baby steps regarding the same, make sure you start your journey with Anytune's free trial tool. One of the best learning apps for singers, dancers, and musicians, this app also helps you polish your skills to play the guitar chords in a given tempo.
Anytune helps users practice their songs by slowing down the tempo or reducing the pitch of the song. If you are want to learn to sing along with being a good guitarist, this tool will help you on your way to becoming one. Anytune helps you learn the transcribe and practice it with ease.
You can visualize your songs so that it is easy to find the portion of the song that you want to practice. Additionally, you can mark and loop song sections for practicing. Also, you can easily record and share your music with your peers without any hassle.
Anytune also offers a slew of features in its pro version.
Download Anytune for iOS
21. Play Guitar Hits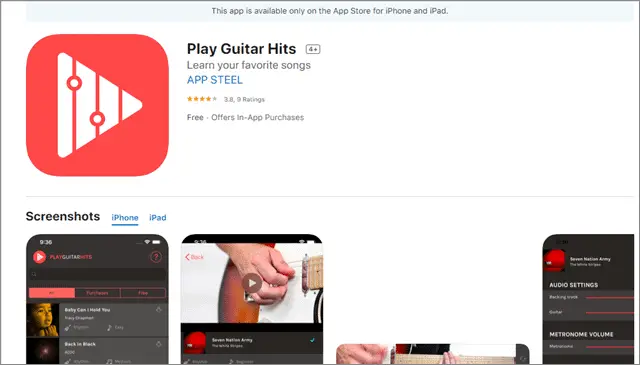 If you wish to learn your favorite songs on guitar, look no further than Play Guitar Hits. You get videos synchronized with the score display, which also happens to be a great measurement technique for your progress, as you learn to play along with your favorite tunes.
Like all other guitar learning apps, you can adjust the tempo, loop a section, use a metronome, chord charts, and the countdown. Plus, there are four levels of difficulty that will ensure that you always have the challenge to face. The songs are divided into sets of bars to make it easy for you to practice specific portions of songs.
This guitar app also comes with a glossary of guitar techniques and chord charts for explaining the music theory used in the lessons. All in all, Play Guitar Hits is easy to use and one of the best apps for guitar lessons.
Download Play Guitar Hits for iOS
Conclusion
Learning a guitar is a tedious process, and it requires patience and perseverance too. Luckily, technology has made it a cakewalk for people to learn it with ease and at their own pace through apps. A guitar app can help you on that front. We do not guarantee that you can become a professional guitarist by just trying out guitar apps. But you will surely get acquainted with the basics and move to an intermediate level with these apps.
While this list contains several guitar apps to help you learn, we recommend you to choose one in each of the following three categories.
Every guitarist, beginner or advanced, has to have a guitar app for tuning, which is mandatory. Following that, one needs ear and rhythm learning apps (Perfect Ear or EarMaster 7 Pro) as well as tabs and chords apps (Yousician or Jamplay). It's up to you to choose the apps in each category.
Also, if you are an avid music listener, here are some of the best Android music players and best iPhone music apps that can help you get into the groove.
(Updated on 11 August 2020)