Each one of us has a list of our personal favorite songs. The ones which we can listen to endlessly without ever getting bored. More often than not, we end up liking a particular song because of its rhythm or a catchy tune. But, when was the last time you loved a creation because of the song meanings and lyrics?
Have you ever stopped to examine songs with meaning or understand the chorus lyrical interpretations? Sure, it might cross your mind while listening to the same song over and over again, but have you ever wondered what exactly is the message? What is the artist trying to convey? Be it a tribute or a ballad,  what importance do the lyrics hold for you?
Best Websites to Find Song Meanings
With the advent of the internet, it is pretty easy to find out the meaning of songs. There are a few amazing websites where users can offer their own interpretations of the music they listen to and cover every genre of music.
Honestly speaking, a multitude of songs out there are ambiguous in nature. Although there might not be a definitive meaning, there can be various theories linked to it. It is always fascinating to gain perspective on something as decodable and riddling as song lyrics. Also, let us not forget the fact that people sharing their views and opinions about song meanings are big fans of the same music just like you. So, you are sure to be in good company.
Here are the best websites which will help you find song meanings.
1. SongMeanings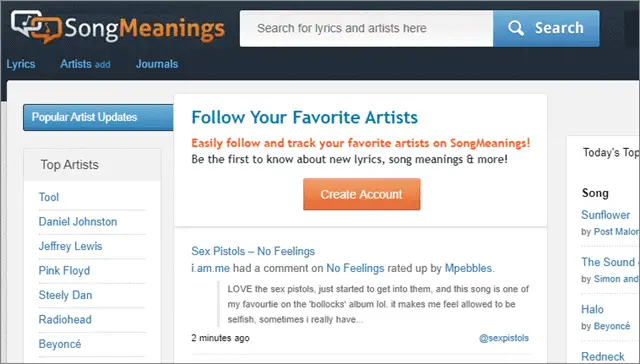 SongMeanings is not just another website stuffed with song lyrics. The website allows users to discuss their favorite music, interact with each other, and find out the meaning of songs.
It has thousands of songs listed with the number increasing on a daily basis. From the meaning of 'Green day' by Billie Joe Armstrong to 'Vampire lines' by Rolling stone, the database virtually covers every artist that you can think of and is ever-growing. Impressive, isn't it?
The website's community has generated millions of comments about lyrics interpretation and what those words mean to them. If you're a fan of music, you'd know what we are talking about.
You only need to type in the name of an artist of your choice and browse through the lists of songs. You will get to see the full song lyrics of each song and hopefully lyrics interpreted as the contribution of users in the form of comments.
Check out SongMeanings here
2. Songfacts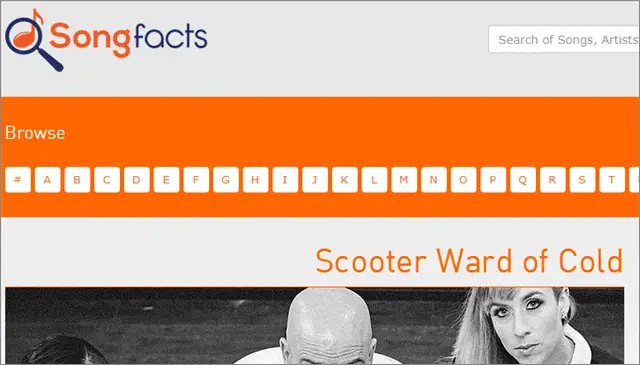 Songfacts is a simply done website that has a different approach. It is compiled by radio professionals, music enthusiasts, and people who've been visiting the site for ages. The old visitors have the maximum to contribute.
If you want to know what the song 'In the air tonight' by Phil Collins means, or how many types of love song has been released to date, you will find all the facts. The website is a database full of lyrical interpretations and song information. Apart from getting to know the meaning of the lyrics, Songfacts will give you interesting background stories about your favorite music and some fun facts about them.
As fans, you'd love to discover something new, isn't it? Every song page includes the album title along with the release year, full lyrics, and chart positions. You can also play and listen to them.
The 'Songfacts' are written and submitted by users. The website then reviews it before putting it up for others to read. The comments section allows fans to chime in about the song.
Check out Songfacts here
3. Lyric Interpretations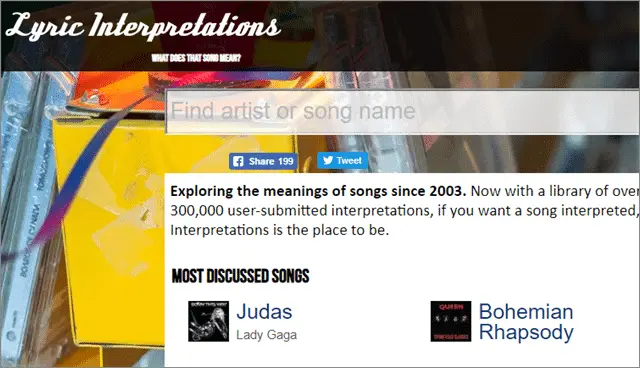 What is the song? What is it trying to convey? Have you ever looked for song meanings? Well, Lyric Interpretations is a website worth mentioning. Do not be fooled by its basic design. The content is exceptional as the site has a wide display of lyrics interpreted for the fans, and you would also find tool song meanings. From the Most Discussed of All Time to Song Meanings by an Artist, the website has been discussing the meaning of songs since 2003.
Bonnie Tyler, John Lennon, Linkin Park, Lady Gaga, Bruce Springsteen, Justin Bieber, or Nicki Minaj? Who is your favorite singer/artist? Well, we are also spoilt for choice just like you.
The site doesn't waste time in going straight to the point. The audience submits the explanation, metaphor, and songs with meaning, interpretation of the lyrics they love, and the website publishes it for the customers and visitors to read and review.  As a user, you can participate in the discussion and share your experiences.
Check out Lyric Interpretations here
4. LyricsMode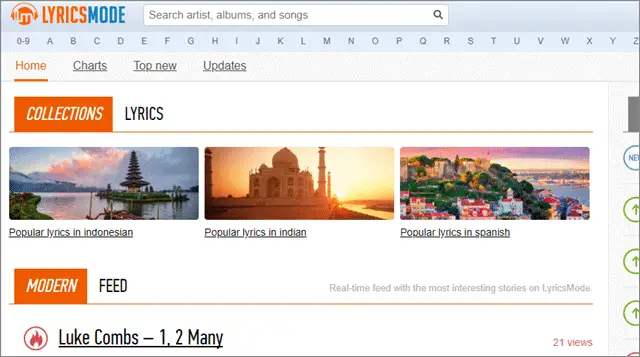 This website is an all-inclusive online music resource that provides lyrics and song meanings of musical compositions. Currently, they have over 700,000 songs from more than 30,000 artists from across the world, and the number grows day-by-day.
This huge archive can be used to search for the lyrics of a particular song and also to know the meaning of the lyrics. From breakup to a relationship, from life to death to vampires, every emotion has a version that can turn into a meaningful line. From Spanish lyrics to Indian songs,  the website covers albums from all across the world and also has a section of real-time feed with discussions, news, and stories.
Everybody who visits the site can post the songs with meaning, and also interpret the lyrics in their way. A person can also do so by creating their own blog on the website as well. So, you get to post, comment as well as see what others have posted.
LyricsMode also enables the artists to keep track via email or directly through the website. Users can register and have a personal profile.
Check out LyricsMode here
5. Lyreka
One of the best websites for discovering song meanings, Lyreka is an ideal platform for all music lovers to interpret and discuss the lyrics of their favorite musical compositions. You can share your thoughts too.
If you're hunting for songs with meaning, Lyreka is the right place. Be it Paul McCartney, Van Halen (the famous rock band), or Dan Wilson, you can search for specific verse and line if you're not interested in an entire song.
For those who like Tool music or are a fan of American classic rock, Lyreka is a one-stop-solution for finding tool song meanings. If you're a music lover, who'd love to express his/her opinion on your favorite song, check out this open social platform for you'd find fans just like you.
The website guarantees a personalized experience to every user complimenting his/her taste in music. Imagine coming across what someone's written and wondering if this is exactly what you were thinking!
Check out Lyreka here
6. Genius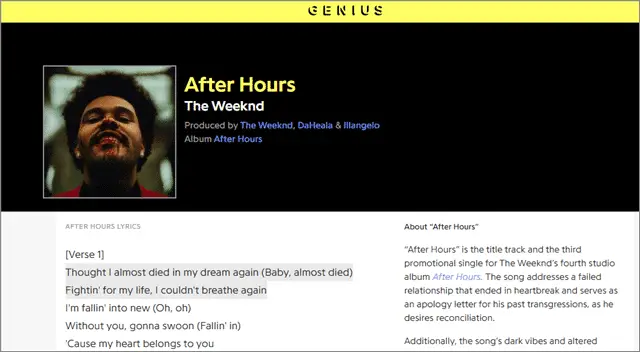 If you want to look for song meanings, Genius is an exceptional option. It has a library that consists of the meaning of songs that were made 2009 onward. During its initial days, the website concentrated more on hip-hop music. However, now it has branched out to every genre you can think of.
Be it 'The Who' song meanings, or songs by R.E.M. and John Michael Stipe, or the Closing time by Semisonic, you can use the top search bar to look up for a song or an artist. They also give you an account of the top tracks that are trending for the current week. So, anyone can get an idea about the hit ones. If you are a fan of any of those artists, click on the song/record. You will come across a page that displays the entire lyrics, including extra information or a story about the song's origins and recording.
Genius's most striking feature is that it allows users to interpret the lyrics of a song. Be it your optimism, your faith, your relationships, or the future, most of the time every piece of lyrics connects with the heart. So, you can also add anything that you feel about the song.
All the lyrical interpretations will be colored in grey. This makes it easy to show and for others to check them out. With trending news reports in the field of music to a newsletter, Genius covers everything from an interview to a debate.
Although you can check out all of this without creating an account, signing up for the Genius community enables you to access the full website. You can add your bit of knowledge in the field of music through various channels, and work with like-minded people in the community.
Check out Genius here
Final Thoughts on Song Meanings
Music is a way of life and a lot of it makes sense when you come to terms with it. We've listed the best sites which will help you look for song meanings, and you might just fall in love with the artist even harder. How about listening to some of your favorite musical compositions all over again after you've gained some perspective on the hidden meaning?
So, be it the Jack Diane lyrics by John Mellencamp, or Bad for Good by Jim Steinman, there is something profound hidden beneath the surface of the lyrics, and it takes only another fan to guide you through it. Music is for the soul, yes? Moreover, serving music knowledge to millions of people across the internet is a noble deed. Isn't it?
Related: Top Websites That Will Help You Find Song By Lyrics