Microsoft Sharepoint is a collaboration platform that allows users to save and securely share various files. It is used in organizations for the smooth functioning of projects and maintaining a seamless workflow within the team. However, Sharepoint is hard to use and maintain and has no website support, which creates the need to search for SharePoint alternatives.
Added to that, its pricing depends upon the customization and deployment, which doesn't always meet the needs and makes people look for suitable SharePoint alternatives. Sharepoint also doesn't offer a free version for beginners.
SharePoint Alternatives for Better Team Management
So before you think of committing to Sharepoint, here are a few SharePoint alternatives that you can try for better team collaboration and customer support. As a matter of fact, even Google has its own alternative to Sharepoint. Get ready to be surprised when you read it! Let's delve in to know what's the best low-priced and free Sharepoint alternatives available
1. Atlassian Confluence

If you are a JIRA or a HipChat user, Confluence by Atlassian is the best Sharepoint alternative. It is also regarded as one of the top Microsoft Sharepoint competitors in the market.
Confluence delivers the features it promises. From document management, to file sharing, from collaboration tool to allowing sharing various kinds of data, it ensures smooth content management and collaboration of teams. Confluence also offers customization while creating and organizing data fields that can be sifted through files for information. Also, it comes with many features that help users in tracking the progress of queries and bugs.
Coming to the pricing, Confluence offers a free version for teams up to 10 users. Beyond that, the monthly pricing increases to $5 and $10 per month depending upon the increasing number of users.
Get Atlassian Confluence here
2. SamePage
Opening up several tabs or windows for different functions is always monotonous. How about having a software that keeps all your chat boxes, documents, and to-do lists in one place?
Samepage just caters to the need we described above. It enables users to use just one window where they can chat with their teammates and access their documents at once. What's more, you can also draw in real-time using SamePage, and your team members can see it.
Samepage also comes with a lot of external applications that you can install as per your needs. It is one of the best alternatives to Sharepoint available in the market.
Samepage's free version is available for unlimited users. However, you are limited to 10 teams, 10 pages, 1 GB of storage, and 100 stored files. Beyond that, it offers a 1 TB storage with a monthly package billed at $7 per user per month annually or $8 per user per month when billed monthly.
Get Samepage here
3. G Suite
Very few people are aware of the fact that Gsuite also happens to be one of the alternatives to Sharepoint. It is probably the only software that comes closest to matching Microsoft Sharepoint's features and delivering the results.
It offers document management and storage through Google Drive, video chat through Google Duo, a presentation-making tool through Google Slides, and much more. From file sharing to project management in Google drive,  there's hardly any type of features G Suite doesn't have in its basket.
G Suite's document sharing features are loved throughout the globe. The Google Calendar also allows users to organize events and schedule meetings. Meanwhile, you can also create docs and excel sheets, meaning G Suite is the most potent competitor Microsoft has right now.
Google offers three pricing plans for G Suite. Basic starts at $5 per user per month, Business at $10, and Enterprise at $25 per month.
Get Gsuite here
4. Nuxeo
If you are looking for an open-source Sharepoint alternative, look no further than Nuxeo. This software offers all the basic features to build a standard content-centric project.
Nuxeo's interface has a steep learning curve, but once you get used to it, the software will work wonders for you. It allows users to have full control over various aspects of a project, business processes along with the proper organization.
Nuxeo can also work on multiple platforms as a desktop application like Sharepoint. It also offers many options for safeguarding and securing your data files. Apart from that, Nuxeo is easy to customize and deploy.
Get Nuxeo here
5. Alfresco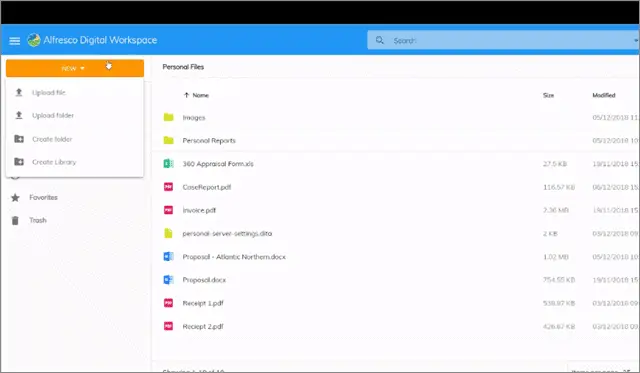 Alfresco offers business-class tools and services to its customers without asking for a penny in return. It is the best alternative that you should consider if you are on a tight budget.
Alfresco can be used by companies in multiple sectors such as healthcare, financial services, government, manufacturing, publishing, insurance, and much more. It provides open, scalable, and flexible Enterprise Control Management capabilities.
With Alfresco, you and your team can access the content from anywhere, making it a great software to use on the go. You can always stay connected to your team and business, thanks to its ingenious interface. Coming to its pricing, Alfresco charges $15.50 per user per month and comes in three editions viz. Starter, Business, and Enterprise.
Get Alfresco here
6. Slack
77% of the Fortune 100 companies use Slack, which tells us that this software could easily be labeled as the leader in the collaboration tools market. It is one of the most uncomplicated Sharepoint alternatives to use.
With the amazing features that Slack provides, you can plan your budget plans, review sales contracts, measure A/B tests, and do much more. Slack's communication service makes it stand out amongst its competitors. With this software at hand, you need not send or reply to a bunch of official emails. Just create a group on Slack, and you get a smooth communication system in place along with your team.
Slack also allows its users to conduct voice calls, video calls, and conference calls. Moreover, it has a simple and user-friendly interface, which makes it the top choice for most of the companies around the globe. Slack's premium version starts at $6.67 monthly, but it also offers a free trial.
Get Slack here
7. Bitrix24
If you are looking for an alternative to Sharepoint, free to use that can help in team task management, and provide seamless project management, get ready to be impressed by Bitrix24.
The software provides almost every tool needed for project management. . Free, time-tracking, subtasks, task templates, task roles, task reports, Gantt charts, and so much more. 4 million teams use Bitrix24 globally, which tells us that this software is a boon for power users.
Bitrix24 offers a full version at $39 monthly. Beyond that, it also has a free version and a free trial.
Get Bitrix24 here
8. Box for Business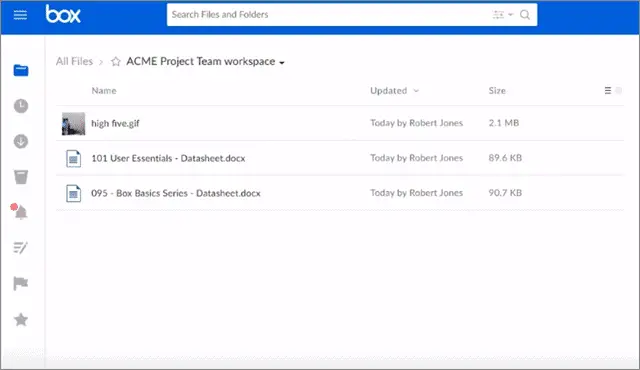 Why we call it multi-tasking is because Box for Business can act as a project management tool, a cloud storage software, as well as a Sharepoint alternative. It comes with a bunch of great features that you just cannot miss out on.
Box for Business is a powerful collaboration tool for the team and offers features like enterprise security, mobile synchronization, version control, custom branding, and much more.
Box for Business is majorly known for its security services. A quick single sign-on with your name, email gives users access to all modules of Box without compromising data security. Apart from that, Box can also integrate with third-party applications like Office 365. It is also one of the best cheap software available, starting at $5 per user monthly.
Get Box for Business here
9. Igloo
Igloo is a great cloud-based software that allows users to share files, manage office announcements, work collaboratively on documents, and improve communication. It is very similar to the way you use Sharepoint. It's the go-to app if you want to build a good culture.
Igloo helps massively in knowledge sharing and maintaining transparency amongst the team members using it. All of Igloo's infrastructure is social, meaning employees can like or comment on any conversation or post and be up-to-date with everything that's happening in the organization and team.
Igloo also provides features like seamless calendar management and knowledge base management, making it one of the best Sharepoint alternatives in the business.
Get Igloo here
10. Liferay
If you are searching for a Sharepoint alternative best for Enterprise, Liferay is the tool to turn to.
It is well-known for providing better integration, security, and modularity to businesses for enhancing better customer experiences.
Users can create and personalize across the web, mobile and social touchpoints using Liferay. Apart from providing the basic tools, this software also offers features like audio content sharing, image, and text editors, version control, and E-forms.
Liferay is the costliest alternative to Sharepoint amongst all its competitors. The premium version starts at $23,500 per year, while free and trial versions are also available.
Get Liferay here
Final Thoughts on Sharepoint Alternatives
There are dozens of Microsoft Sharepoint alternatives available on the internet. However, that does not mean you need to use every software. The choice of tool usually depends upon a user, team, or organization's needs. Slack is the most commonly used Sharepoint alternative, easy to use with a user-friendly interface, and affordable pricing. However, if you are an organization and searching for economical options, tools like Alfresco or Bitrix24's free version are made for you.
In the end, it is about selecting Sharepoint alternatives that meet your needs and requirements for maintaining a smooth workflow.
Related: SharePoint Tutorial and Courses: Learn At Your Own Pace