Many of us use a printer to print papers related to professional or personal life. The uses of the printer may differ from person to person, but the errors which are faced by all are quite common, especially errors like print queue not clearing. Isn't it frustrating to solve the issue yourself when in the middle of some crucial work?
If you use the HP printer and scanner, then you no longer need to solve printer and scanner related issues yourself, as HP print and scan doctor does it for you.
What do the HP print and scan doctor do?
HP has an HP print and scan doctor to solve all printer and scanner related issues. It is free software that comes to the rescue when stuck with problems with the printer or scanner. The common issues encountered while using any printers are print drivers issues, connectivity issues, firewall problems, printer offline, availability issues, stuck jobs, and many such more.
As the name of the software is HP print and scan doctor, it not only solves printer related issues but also scanner related errors for you. The use of the scanner is not as frequent as a printer, but it also has its importance. As it is used to scan papers of which we need to have a digital copy.
Some of the scanner related errors people face are scanner not found, scanner unreachable, scanner initialization problem, and scan to computer no longer activated.
Let's see how to install and use it.
How to Install HP Print and Scan Doctor in Windows 10?
It is easy and free to download and use HP print and scan doctor in Windows 10 by following the simple steps mentioned below.
1. Before installing it make sure your PC is connected with your printer, and you have access to the internet.
2. Download HP print and scan doctor from HP's official website, you can also use the link below.
3. Once the HPPSdr.exe file is downloaded, go to the file location. Click on the HPPSdr.exe file and run it.
4. Agree to the terms and conditions and complete the installation by following the wizard.
You can now use it anytime you want.
How to Use HP Print and Scan Doctor in Windows 10?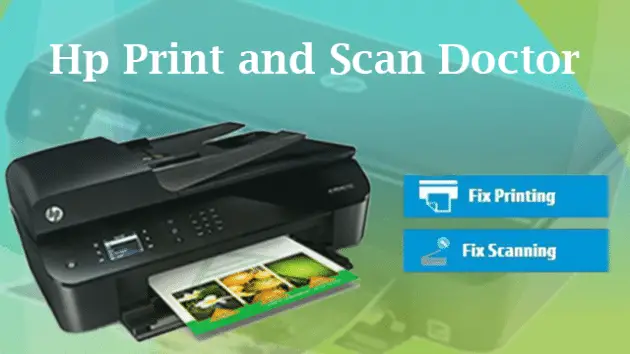 Once you finish with the installation process, you can now move on to see how you can use it.
1. When you see the welcome window, click on Start, and choose your printer from the list.
2. There are chances that your product is not listed. In such cases, turn off your printer and again turn it on, then click on Retry. If there is an issue connecting the printer, follow the instructions mentioned by the tool.
3. If you are facing scanner issues click on Fix Scanning and if there is an issue in the HP printer click on Fix Printing.
4. After you select one of the two options mentioned above, test results are displayed on the screen.
| | |
| --- | --- |
| Icon | Explanation |
| | The printer passed the test. |
| | An issue was found and fixed by the tool. |
| | Follow the instructions displayed on-screen and solve the issue. |
| | The test failed, and the user skipped one of the steps. |
You can carry out the test for both printer and scanner individually to find and fix the issues. If you wish to reuse it, you need to go to the file location and run the HPPSdr.exe file. You won't find it in the installed program list, as it is just an executable file.
Additional Features
It can fix your scanner and printer issue, so you can treat it individually as HP print doctor and HP scan doctor.
It can additionally solve the below-mentioned printing issues for you.
Printer offline
Print job stuck in the queue
Cannot print
It can fix the below-mentioned scanning issues for you.
Scanner unreachable
An error occurred communicating with the scanning device
Scanner not found
The scanner could not be initialized
Scan unsuccessful
An error occurred while communicating with the HP imaging device
Computer not found
Scan to computer is currently unavailable
No computer detected
Scan to computer no longer activated
How to Remove HP Print and Scan Doctor from Windows 10?
As mentioned above, HPPSdr.exe is an executable file, so it cannot be uninstalled. If you wish to permanently remove HP print and scan doctor from your Windows 10 machine, all you need to do is delete the file.
1. Go to the file location where HPPSdr.exe is present.
2. Right-click on it and click on Delete from the context menu.
With the above-mentioned steps, it will be removed entirely from your PC.
Related: How to Stop Windows 10 From Changing Your Default Printer
Conclusion
HP print and scan doctor for Windows 10 mostly solves all your issues quickly and easily. It individually solves the printer and scanner problems. If you feel the issue is beyond reach, then the HP support team is always available for rescue. You can visit the official site and get your issue solved with the help of their support technician.
A plus point of using the HP print and scan doctor is you don't need to have any technical knowledge to fix issues related to your printer or scanner. The simple user interface can help a not-so-tech-savvy person to solve printer-related issues with just a click of a button. You can also save your time by contacting customer support for minor printer and scanner issues.