If you are handling money well in your life, it probably means that you are conscious of the flow of finances that you have access to. If you are searching for better means of not only managing but also balancing out the income expenses versus expenditure, the budget spreadsheet Excel templates can help you.
Budget spreadsheets give you excellent options for managing your fixed costs and balancing them out with all your income sources. They also indicate how much you need to control your spending habits and maintain your credit score. Added to that, you can manage financial records on both personal as well as professional level.
Best Budget Spreadsheet Excel Templates to Bookmark
Spreadsheets are a blessing when you want to avoid the arduous task of managing complex and irregular data. These could include excel monthly budget template or bi-weekly budget template projects that involve managing an attendance sheet of workers, or labor costs, and even expenditures.
Most of the best budget spreadsheet templates in excel are deliberately divided rows and columns that make it easier to organize and record data of all kinds. Additionally, you can also perform complex calculations if you need to while creating a budget in excel.
Let's check out the budget spreadsheet excel templates.
Note: Vertex42 lists a good collection of Excel budget templates. The first seven templates in Excel have been picked up from Vertex 42 and we think they fit in the bill and the requirement for the best budget spreadsheets over various categories.
1. Personal Budget Excel Template from Vertex42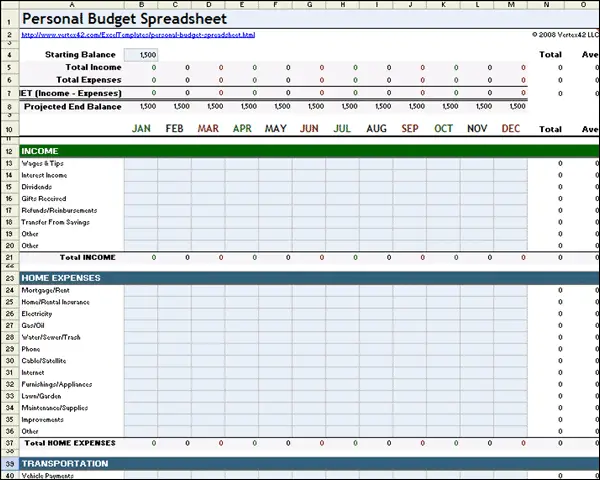 Amongst a vast variety of templates, Vertex42 has this simple budget sheet that will come to your aid, if you are just starting to get aware of finances. If you are setting out as an independent individual in your college or your first job, this template can help you plan your finances according to your preferences.
The Vertex 42 Personal budget template consists of various common categories, such as home expenses, transportation, health, entertainment, gifts, etc. You can easily add another category to the list without having to follow complex steps. Users can plan finances for an entire year and manage their expenses accordingly.
At the end of a month, you can match your projected balance with the actual spending to check if you have stayed in your financial limits or crossed them. Besides being free, this personal budget spreadsheet Excel template is where you can easily track your income as well as expenses. This is sure to help you balance your income and lifestyle equation.
What we like about the Personal Budget Spreadsheet:
Simplicity of use
Best planner for beginners
Allows yearly financial planning
What can be better:
It is not a detail-oriented template
Download the Personal Budget Spreadsheet
2. Money Management Template from Vertex42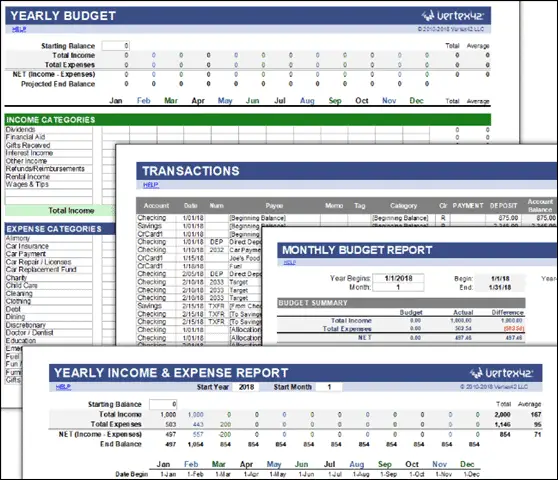 Another option provided by Vertex42 is the Free Money Management Template which is especially meant for business budgets. This template is a good alternative to any other money management software that is available today. You can record transactions for multiple accounts, balance out the cheque-books, and do many other things using this template.
The Money Management template works in 3 cyclical steps – planning, tracking, and analysis. It is a combination of the budget planner, checkbook register, and the monthly budget templates. This template will help you plan and track your income and expenses and analyze them to find loopholes and room for improvement.
Users can create a monthly budget, record transactions for multiple accounts, and balance their checkbooks. You can also track your monthly spending with a couple of features like bar graphs and pie charts.
What we like about Money Management Template:
Detail-oriented planning and analysis of income and expenses
The analysis helps in identifying the room for improvement
What can be better:
It is complex for beginners
Download Money Management Template
3. Weekly Budget Template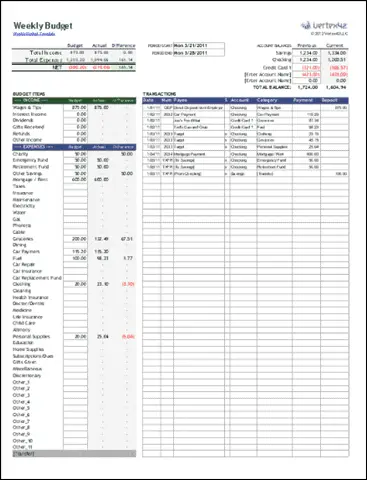 If the frequency is important, then there is an option of tracking your finances on a weekly basis. This weekly budget template allows you to track your accounts and record transactions. Also, this gives you a comparison data of your expenses.
Thankfully, this budget template for Excel also works well for weekly, biweekly, and monthly basic records. While customizing categories, you can track multiple accounts. You can find two weekly templates listed; Weekly Money Manager and Weekly Budget Planner.
Each of these templates serves a different purpose. The Weekly Money Manager focuses on helping users record their expenses for a week. On the flip side, the Weekly Budget Planner is a comprehensive version of the Money Manager template. It can be used for bi-weekly and monthly tracking purposes.
What we like about the Weekly Budget Template:
Offers a comprehensive approach to planning long-term finances
Can be used in tandem with a yearly budget to have a detailed idea about finances
What can be better:
Transaction data is split across multiple worksheets which makes it difficult to make a yearly plan
Download Weekly Budget Template
4. Project Budget Template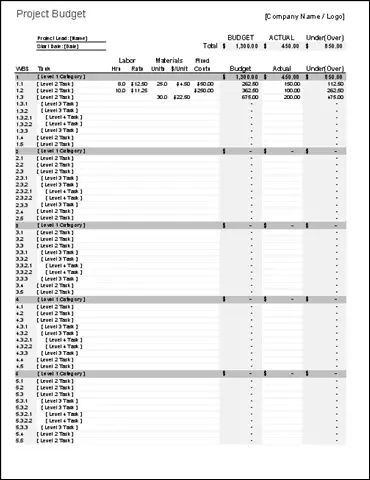 The most important thing about project planning is budgeting, and that's where this Project Budget Template comes in the role.
It helps you predict your costs and manage those expenses during the project execution. You can use this template for many small projects like home remodeling, small community service projects, big IT projects, or even contract work.
The categories in this project are laid out in a traditional work breakdown structure. Added to that, it is easy to define and categorize all the tasks and the required costs for the same.
What we like about the Project Budget Excel template:
Best template for small projects
The categories are in traditional WBS structure
What can be better:
It cannot be used for large projects
Download Project Budget Excel Template
5. Travel Budget Worksheet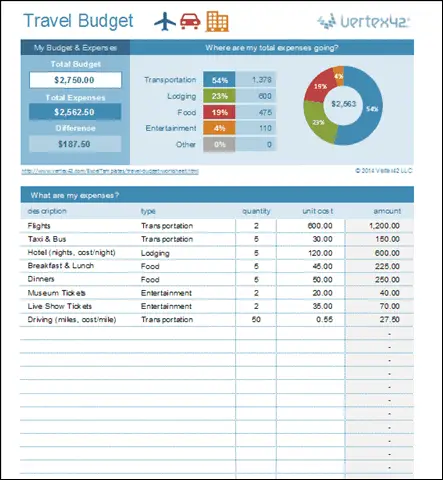 Budget constraint is always a concern when you are planning a trip. What if you had great fun on a trip, but when you return to your everyday life, there is a financial crunch? That's where the travel budget worksheet comes to your aid.
This is the best budget spreadsheet Excel template provides its users for noting down traveling expenses. The template is fairly simple to understand and use. You can enter your total estimate in the top section, and as you make your entries, you will be able to see where the money is spent. A simple budget template that can work wonders.
Users can enter unit cost and quantity for each entry. For example, if you are driving rather than flying, you can enter the total number of miles and the cost per mile figures in this free template. Also, it helps you to know how your planned trip will affecting your regular living expenses and household budget.
What we like about Travel Budget Worksheet:
Simplicity of use
Best free template for managing traveling expenses
What can be better:
Cannot make yearly travel plans in the same sheet
Download Travel Budget Worksheet
6. Wedding Budget Excel Sheet Template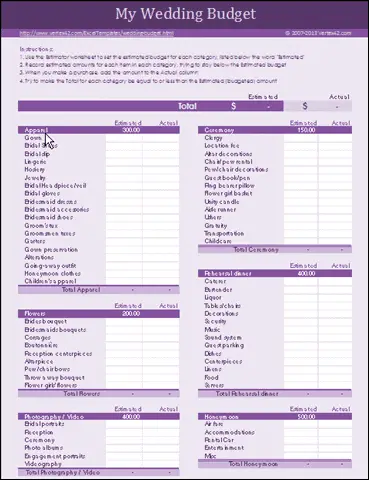 The name itself is self-explanatory. This wedding budget spreadsheet for Excel lists out possible items that you may need while planning your wedding. There is a wedding budget estimator that lets you decide your budget amount.
Regarded as the best budgeting template for wedding planning, it has two worksheets combined in a single spreadsheet. You can enter the estimated cost of each entity, then enter the actual cost, and compare the differences. Having the estimated and actual cost columns give users a better perspective of their investments.
You can adjust the percentage of the budget dedicated to a particular category, for instance, apparel, jewelry, or even flowers, using this budget spreadsheet. It is compatible with any popular spreadsheet program.
What we like about the Wedding Budget Excel Sheet Template:
Detail-oriented budget planning
Easy to use and understand
What can be better: 
Customization of categories isn't available
Download Wedding Budget Template
7. College Budget Template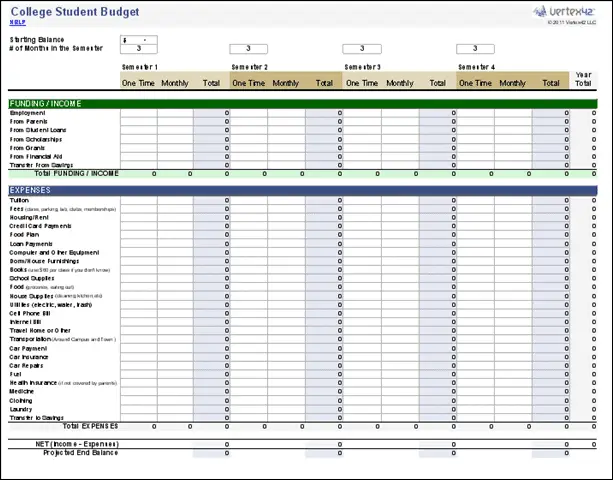 Every student must have a college budget plan to govern how they will pursue and afford their education. Not having proper financial management tends to scupper plans for the future; the best budget spreadsheet Excel provides for this cause is very easy to use.
Students can plan their monthly, half-yearly, and annual budgets using this excel personal budget template. You can make your budget plans for each semester, depending on different types of categories, as listed in the template.
A college student must know about the balance between the sources of income and types of expenses. This college budget template for Excel from Vertex 42 makes sure you have a brief idea about your expenses so that you can put a limit on expenses wherever it is necessary and helps in creating a budget in excel.
What we like about College Budget Template:
Budget planning for each semester
Annual budget planning can be done using this template
What can be better:
You have to use a weekly budget or monthly budget template to have better clarity while maintaining this spreadsheet
Download College Budget Template
8. Google Docs/Spreadsheets Templates – Online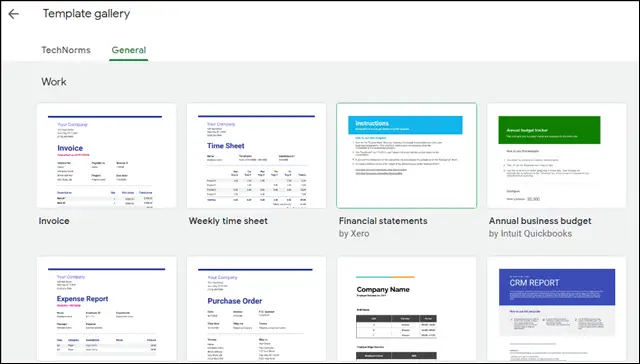 Google Docs has a decent collection of some sheets for annual and monthly budget templates which fits in the requirement for budget spreadsheet excel templates.
You can check out the Google Docs gallery to get unique ideas for planning a budget. In addition to the spreadsheet templates, there are some Google Docs templates that you can try.
The Financial statement template helps you record transactions and is a great way to keep a record of finances be it for personal finance excel template or creating a budget in excel. It is the best excel budget template with a dashboard and profit and loss sheets.
For those who love traveling or have a wedding coming, there are travel planner free blank spreadsheet templates and the wedding planner templates that will surely help you create a proper plan based on your requirements. From the expense report template to the purchase order template, there is a large variety of templates that you can choose from.
What we like about Google Docs/Spreadsheets Templates:
A slew of budget templates for various purposes available
Templates can be created with the click of a button
What can be better:
Customization of categories isn't available
Download Google Docs Spreadsheets
9. SpreadSheet 123 – Weekly Budget Spreadsheet Template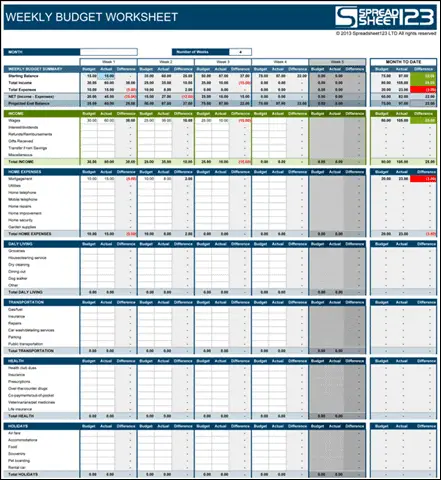 One of the best options on the list is the Weekly Budget Template by Spreadsheet123. The brilliant design helps in executing weekly or bi weekly budget template. You can allocate some fixed budget amount to a particular category and then at the end of the week compare them with the actual expenditure.
Different sections can include home, daily living, and transportation expenses. Furthermore, by creating a budget in excel, you can record your income, allocate the budget to every type of expense, track actual expenses, and get a good idea about how you're spending. If you are looking for a good weekly planner, this is the best budget spreadsheet Excel provides for you especially the excel personal budget template which helps you save and gives you financial security.
What we like about Budget Template by Spreadsheet123:
Detail-oriented budget planning
It can be used for various categories
What can be better:
The steep learning curve for beginners
Download the Budget Template by Spreadsheet123
10. Tidy Form
Tidy Form boasts some project related Excel budget spreadsheets. They not only help you have a well thought-idea about your project expenses but also let you adjust some resources to fit your budget.
With over 130 business templates in total, there is a huge option to choose and select from. Tody form has 3 Dave Ramsey budget spreadsheet templates to track your monthly income vs your monthly expenses.
There are various spreadsheets like Project Cost Tracking Worksheet, Basic Project Budget Template, Construction Budget Sample, and Construction Budget Sheet which are excellent options to look for if you are specifically searching for some project budget templates.
What we like about Tidy Form:
Best budget spreadsheet Excel template for managing project finances
Easy learning curve
What can be better:
Not a suitable choice for personal budget expenses
Download Budget template from Tidy Form
11. Microsoft Budget Templates and Planner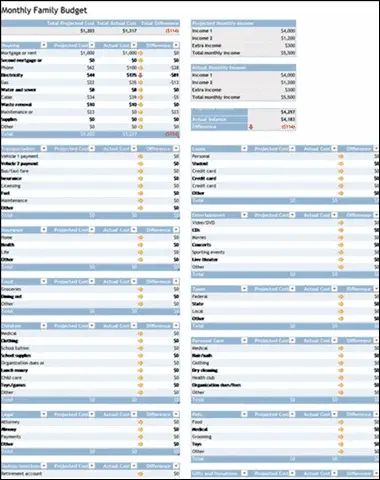 Microsoft has a superb collection of budget planner sheet that helps you calculate the difference between your planned and actual expenses and fits the requirements for the budget spreadsheet excel template.
Once you start using the excel monthly budget template, you will have the appropriate idea about how and where you are spending. Also, you can decide how to be more adhesive to your plans. It breaks down costs by category that simplifies the way you look at your expenditures.
From bi-weekly budget template to household budget template excel, creating a budget in excel was never this easy.
What we like about Microsoft templates:
Best spreadsheet for family budget management
Various categories of templates to check out
What can be better:
Most of the great Microsoft excel templates come under the premium plan
Download Microsoft Budget Templates
12. Household Monthly Budget Spreadsheet by Google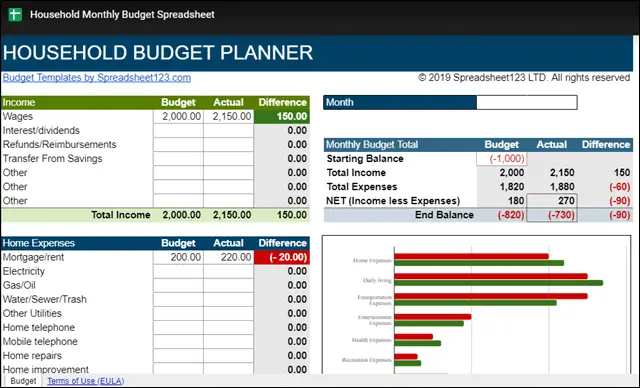 Household Monthly Budget Spreadsheet by Google is all that you need while planning and tracking the entire expense for your home. The excel monthly budget template helps you track the electricity bill, telephone bill, home repairs, gas, oil, and a lot more within this beautifully designed household budget template in Excel.
From personal finance excel template to monthly budget excel template, it helps you get a brief idea about your actual spendings and allocated budget. Furthermore, the excel spreadsheet is a simple, efficient, user-friendly, and effective way to get started with managing your money and expenses.
What we like about Household Monthly Budget Spreadsheet:
Best online budget spreadsheet Excel provides for home expense management
What can be better:
Cannot be used for any other purposes except family expense management
Download Household Monthly Budget Spreadsheet
13. Squawkfox Wedding Budget Excel Template
Weddings are one of the most awaited phases of everyone's life, and you would always wish this occasion to be the best. However, there is a world of difference in wishing and executing great ideas especially when it comes to wedding budgets.
The Squawkfox Wedding budget spreadsheet Excel template is the perfect way to start with planning your wedding expenses. With good planning and management, one can have every ritual and ceremony executed in a cost-effective and impressive manner.  If the planning goes over a month, you can also include excel monthly budget template to calculate the expenses.
Set your limits for stationery, attire, jewelry, and compare them with the actual money spent and determine every spending, whether it needs to be controlled or expanded.
What we like about the Squawkfox Wedding Budget Spreadsheet:
Detail-oriented planning for weddings
Helps maintain control over the spending
Simple and easy to use
What can be better:
There can be more varieties
Download Wedding Budget Sheet Planner by Squawkfox
14. Smartsheet Templates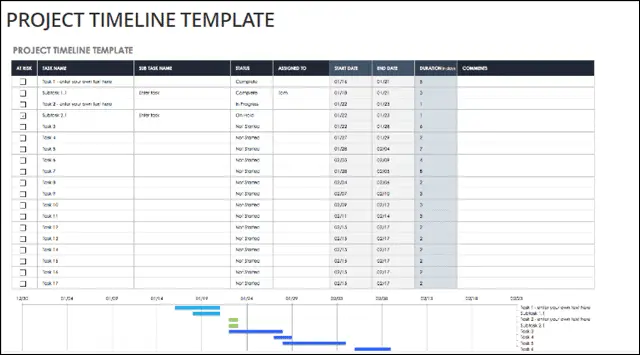 This planner is not just an Excel budget template but a substantial collection of some well thought out spreadsheets. The free Excel sheet by Smartsheet includes every category and whether it is a bi-weekly budget template, free blank spreadsheet templates, a project, a Gantt chart, businesses, events, or household budget template. There are 32 spreadsheet templates to streamline the process and improve your efficiency with regard to finances.
Have a look at this beautiful collection and pick up the excel monthly budget template that meets your needs in a best-suited way.
What we like about Smartsheet templates:
A collection of templates for different purposes
Download Free Spreadsheet Templates by Smartsheet
Final Thoughts
Managing finances is an important aspect of a happy and prosperous life. It is important to know the best way to manage and balance them out too. No matter if it's about managing your personal budget, wedding plan, or project expenses, these free Excel budget templates are now easily available at your disposal.
Having proper financial planning in place is always beneficial; it helps you control your spending limits and make sure you don't spend more than required. There are various free budget spreadsheets excel templates that provide for different types of financial management purposes.
No matter if you are planning for a wedding, college fees, or any other event, proper financial planning and budgeting templates will help you keep a tab on your spending.
Related: Best SharePoint Alternatives For Better Team Management