Videos are one of the best ways to consume digital content. Watching videos has created an evolution over the last few years and is consumed by people across countries and all age groups. The massive rate of video consumption is what creates the need to look for the best video player for Windows 10.
The viewer time is decided by the comfort of the features that will enhance this experience. A good video player will depend on the audio codec support for certain files, protection from bugs and performance lags, and the user interface.
The Best Video Player For Windows 10: Watch Videos With Outstanding Quality!
We have listed the best video players for Windows 10 operating system (and others, too) after thoroughly evaluating their features. From the ease of use, availability of playback tools, whether they are lightweight software, access to online TV, and even online video downloading, we have checked all the features.
1. Kodi
Kodi is an open-source media player software developed by XBMC Foundation and was formerly known as XBMC (Xbox Media Center). It is more of a Home Theater than a media player and plays almost all kinds of video and audio files. Kodi is the best video player for Windows 10 as it can stream content from the web, and you can manage your vast library of videos in a well-organized way.
It is designed to run on Big TV screens and is compatible with many other platforms including, Windows, and Android. You can extend the functionality of Kodi by using various plugins. Kodi has extended functionalities with add-ons. It is compatible with multiple drives and also offers easy customization. If you are looking to get a video player for movies, Kodi is the best option to go for.
Price: Free
2. VLC Media Player
VLC Media Player is often considered the best video player for Windows 10 and other OS too. It is a free and open-source multimedia player that works across many platforms including Windows, MAC, Android, and iOS.  The VLC media player can play almost all kinds of media files along with DVDs, VCDs, and much more. You can add skins to play, and the interface doesn't have ads or any spyware.
VLC has subtitle synchronization and filters for audio and video. The simple interface, absence of ads, spyware, and the option to customize with various skins make it probably the best movie player you could ever ask for.
Price: Free
3. PotPlayer
PotPlayer is another great tool to play videos on Windows. It is a free video player that runs on Windows XP to Windows 8.1. PotPlayer works great even if the hardware on your system is set to low. It uses hardware acceleration to give you the best video playback. If you are searching for the best video player for Windows 10, this movie player certainly won't disappoint you.
Unlike other similar applications, this free media player gives you an add on feature that supports 3D glasses to give you the best 3D experience at home. It supports various subtitle file formats and a variety of codecs. This OpenCodec helps you to easily add whatever codecs you want. You can preview the scenes with a screenshot feature and bookmark a scene you liked the most. It supports DVD, TV, and HDTV.
Price: Free
4. SMPlayer
SMPlayer is a simple free video player for Windows 10 that helps you play almost all types of popular video and audio file formats. It has its built-in-codecs, so it doesn't require external codecs. You just have to install it as you do with other apps, and you are good to go. You can resume the video where you left off last time with the same settings of audio, subtitles, and volume.
SMPlayer can play YouTube videos and has an optional plugin that lets you search for YouTube videos. This comes with various skins and icon themes to beautify the look of the player. In advanced features, it has video and audio filters, changeable playback speed, adjustable audio and subtitle delay, video equalizer and so much more.
In all, if you are searching for the best video player for Windows 10, don't forget to give SMPlayer a try.
Price: Free
5. RealPlayer
Real Player helps you watch, download, and save videos on your Windows PC for free. Not only can you watch videos on this player, but you can also share the videos on the cloud. It keeps your videos private and you can control who can access your videos by entering a PIN for privacy. You can convert the video so that you can play it anywhere: PC, phone, or tablet.
Although you get all basic features in the free version, the paid version gives you advanced features like storage space of 365 GB. You can play and burn audio CDs of your favorite videos, podcasts, and music. RealPlayer is a quick and simple solution if you are looking for options for the best video player for Windows 10.
Price:
Free for basic plan users
$4.99/per month for premium plan users
6. KMPlayer
KMPlayer is a powerful and free video player for Windows 10 which has its internal codec; you can play any media file without the help of a separate codec. It is a versatile software that plays all possible file formats like MPEG1, MPEG2, AAC, WMA7, WMA8, etc.
KMPlayer supports 3D, 2K, 4K, and UHD. You can customize libraries when you have a huge number of video and music files. You can also capture a scene and save it in any format. KMPlayer also works as a DVD player and performs all the functions of a normal DVD player. This is a good and versatile video player for Windows 10. It is also available for MAC, Android, and iOS users.
Price: Free
7. MPC-HC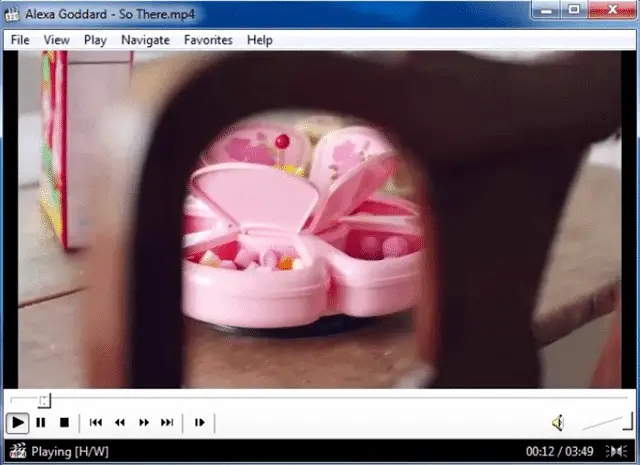 If you are looking for a very simple and lightweight movie player, MPC-HC would be the best pick for you. It is spyware free and shows no ads or toolbars when you are watching your favorite movie.
It makes it to the list of the best video player for Windows 10, as it supports all common video and audio formats. You can also use it as a DVB player. MPC-HC stands for Media Player Classic – Home Cinema and is absolutely free to use. It has a portable version and lets you install toolbars and skins according to your preferences. MPC-HC definitely fits in the list of great media players for Windows.
Price: Free
8. DivX Player
DivX Player is for those people looking for a free video player for Windows 10 that plays high-quality videos, including 4K videos and HEVC playback. It supports formats like AVI, MKV, and MP4 along with DIVX. It is must-have software if you appreciate watching high-quality videos.
The player lets you stream videos to any device which supports DLNA. The unique FF/RW feature lets you navigate to your favorite scene easily. It can also serve as the perfect classic home cinema player you want for your TV.
DivX Player has support for chapter points where you can access various scenes with a single click. With it's built-in Recently Watched Playlist, you can resume the video where you left off last time.
Price: Free
9. Plex
Plex is similar to Kodi and makes it to the list of the best video player for Windows 10. It lets you watch videos on different devices: a big TV screen in your home or with your smartphone. Apart from being a good media player, there are other interesting features too. If you are looking for the classic home cinema player, Plex certainly won't disappoint you.
With Plex Live TV and DVR, you can watch and record high definition television broadcasts with a digital tuner and antenna. It lets you enjoy almost all kinds of media. You can sign up for free and download Plex Media Server software. It has various apps with which you can enjoy the best media experience.
The player has a premium version with many more functionalities. The Plex Media player is more of a media server, hence a good 2-in-1 choice for you. You can also use Plex plugins that allow you to integrate all your media, including video, audio, images, and other online services, and enjoy it from any place you go. 
Price: Free with a premium version.
10. GOM Media Player
GOM Media Player is an advanced and customizable media player. It has built-in support for almost all popular video formats including FLV, MP4, WMV, MKV and much more. The video player for Windows 10 has various features; its 360 degrees play support is unique where you can watch videos from up, down, left, and right by just using the keyboard or mouse.
You can customize it by using advanced filter controls and download and apply different skins to enhance the look of the interface. One can also control GOM Player with the GOM Remote which includes functions like moving forward/back, play, and pause and some advanced options of opening files, searching, and PC power control.
Price: Free
11. MediaMonkey Player
MediaMonkey Player helps you manage your large collection of audio and video files easily. It can be termed as the best video player for Windows 10 as it is highly customizable with various skins, plugins, and visualizations. You can synchronize your video files across various devices and access your collection anywhere. You can easily manage around 100,000+ audio and video files; keep files without any limits.
Along with this, you can share via DLNA and convert MP3s, M4A, OGG, FLAC, WMA, MP4, AVI, and WMV to support most devices. MediaMonkey Player is free software but if you get the paid version there are additional features like automatic background media organization, disc burning, and advanced searching.
Price: Free
12. Media Player 10
Media Player 10 is an open-source Media Player that fits the bill as the best video player for Windows 10. It helps you play broken files, incomplete files, and almost all possible file formats. It has a variety of features to enhance its functionality. The player supports incomplete videos from BitTorrent and repairs audio sync issues. You can rotate, crop, adjust color, and add fantastic effects to your videos.
Media Player 10 has video effects like A-B repeat, slow motion, zoom, etc. This player helps you convert media into different formats to play it on various devices. It is the best media player for playing broken files, unlike other software.
Price: Free
13. ACG Player
ACG is one of the best video players which is specially made for Windows 10. It has unique features such as art font subtitle, music visualization art effects, audio/video effects, customizable gestures, and UI buttons that makes it stand out from the others.
The letters ACG stands for Art Computer Graphics, and it allows you to change the look of the player according to your choice. ACG has a touch screen swipe control, quick 9 buttons (long press), side gestures to make it more accessible.
Price: Free
14. 5K Player
An elegant and advanced HD video player, 5KPlayer is a combination of free (MKV) HD video player, music player, Airplay media streamer, and online video downloader.  It is the best video player for Windows 10, as it is a nice blend of DLNA controller, DLNA renderer, and DLNA server besides. It magically bridges billions of DLNA-compliant devices so that they can interoperate with each other.
You can play 4K/5K/1080p HD videos, DVDs, and radio on this player. It has a unique design and as an online video downloader, you can download videos from Youtube, Dailymotion, Vimeo, etc. The free video player provides you a big home to establish your multimedia library. 5K Player plays high-quality video, gives you a huge space to build your library of media.
Price: Free
15. Bomi Player
If you are looking for a powerful multimedia player with an easy and simple interface then Bomi Player can be your best choice. Formerly known as CMPlayer, it is a free video player software that you can redistribute or modify under the terms of GNU (General Public License).
It has an unlimited playback history which records all the playback history by default. The player has hardware-accelerated decoding to enhance the output by the software. You can take snapshots of a video. The screen position and alignment are adjustable. Bomi is worth a try for its easy to use uncomplicated interface.
Price: Free
Conclusion
Since video is the most crucial form of consumption when it comes to entertainment, the search for the best video player for Windows 10 requires attention. There are many video players in the market that can cater to the different requirements of the consumers.
You can use Kodi or Plex if you are searching for a classic home cinema video player that can play various file formats. PotPlayer is also a good choice to go with if you are looking for a simple video player. VLC Player is one of the best players for movies in the market, given its easy user interface and the ability to play several file formats. You can watch movies with good quality on your laptop or PC using this video player. Irrespective of the video players mentioned above, users can use any of the media players that fit their bill of requirements.
Article Updated on 13th January 2021