With the increase in technology, the use of servers is not limited to the corporate world, but it has now extended to our homes as well. Home servers serve many purposes; the common ones include sharing of files and streaming of videos remotely. To set up an amazing functioning home server, you need stable hardware and software support.
17 Best Home Server Software To Go For
Hardware hunt can be easy, as you just need a spare computer with a motherboard to handle the server. While selecting the best home server software from the list of options available in the market is a tedious task. However, we have done that for you. We have listed 17 best home server software to ease your work.
You can go through all the home server software listed below and find the best suite for you according to your requirements.
1. Plex Media Server
Plex Media Server is one of the most popular home media servers. It is available for all platforms. The list includes not only operating system platforms but also Android, iOS, and other such platforms.
Plex Media Server allows you to organize your media available in different formats easily. The easy install and setup feature can help a non-tech savvy person install and use the server with ease. After media server installation, you need to add media to the library to access it remotely with little work. Plex Media Server allows you to add multiple accounts and manage them centrally.
Features:
Centralized management of library
Multiple account management
Cross-platform compatibility
Mobile and cloud synchronization
Easy app installation on the server
Keep track of what you are watching
It adds currently watching TV shows to quick, handy access
2. Amahi Home Server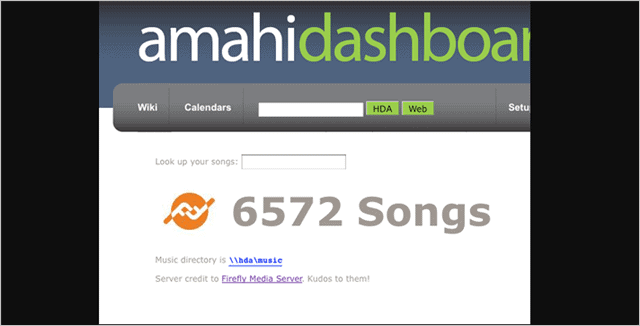 If you wish to make your home networking simple, then Amahi Home Server is the best option for you. You can organize, store, and share downloaded TV shows, music, and other media.
Amahi is also called as Home Digital Assistance (HDA). It helps to take the backup and store it on your server so that any of your PC dies in the network; you can restore it. Amahi also allows you to set up your VPN to access the internet securely. The added advantage of using Amahi Home Server is its largest app and web store, which make Amahi do anything you can imagine. The availability of Amahi in 20 languages and 35 countries makes it versatile home server software.
Features:
Backup all your PC, to restore them during emergency
Share videos and images with all the PC and other networking devices in the network
Easy VPN setup
Access to the shared calendar
Available in 20 languages
Largest app and web store
Can also work in a small office environment
You cannot download Amahi directly; you need to download and install Fedora to install Amahi Home Server. To get more details, click here
3. Windows Home Server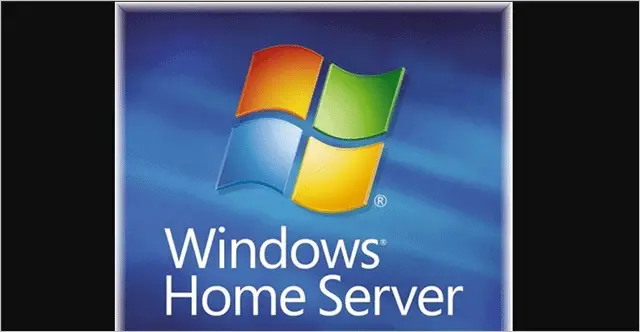 If you are familiar with Windows Environment, then you can consider Windows Home Server for your home network and small office network. It can be used in a network of 10 computers and also allows you to store the backup of all 10 PCs in a single interface.
However, there is a drawback of using Windows Home Server to stream media, as it can only stream media to the devices which support Windows Media Connect. Windows Home Server has an extensive list of add-ins to enhance Windows Server functionality. The last release of this server is Windows Home Server 2011 version, released in April 2011.
Features:
Centralized backup
Can manage up to 10 user accounts
An extensive list of add-ins
Allows remote access of the server via the internet
File sharing across all PCs connected in the network
Server Backup
Buy Microsoft Home Server from Amazon
4. FreeNAS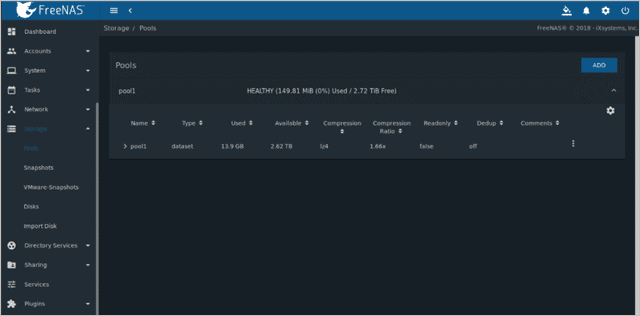 FreeNAS is one of the most famous names in the list of home server software. Although FreeNAS is classified as a storage operating system and not a home server, it does all that you need the home server to do.
FreeNAS makes it easy to store, share, and stream media. It supports the sharing protocol for all major operating systems like CIFS/SMB (Windows), AFP (Apple), and NFS (Unix). With FreeNAS, you can take the backup locally and remotely with just a few clicks.
It also provides security assurance by not sharing or storing the data on any third-party servers. It also offers encryption on ZFS volumes. The plugins allowance enhances the FreeNAS features from more than just a storage system.
Features:
Local and remote backup
Store, share and stream media
Security assurance
Plugins allowance
Supports sharing protocol for all main OS
5. Ubuntu Server Edition
If you are well versed in the use of Linux operating systems, then you can go for an Ubuntu home server. To use the Ubuntu server, you need to perform some steps that may not be easy for some users. Hence, if you wish to customize the OS as per your wish, then Ubuntu Server is a good option.
Ubuntu Server Edition is agile and secure. The deploy anywhere feature of Ubuntu Server makes it easy for fast-moving companies. It provides all the essential features like remote backup, file sharing, and media streaming. You can download Ubuntu Server from the link mentioned below and install it using the command-line interface.
If you have any problems while installing the server, you can go through the tutorials mentioned on the official Ubuntu site.
Features:
Agile and Secure
Deploy anywhere technology
Command-line installation
6. Kodi Open Source Home Theatre Software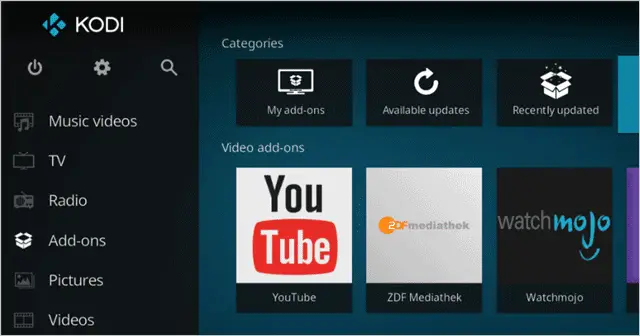 Kodi is a 100% free and open-source home media server option. It was previously known as XBMC and is an award-winning software media player and entertainment hub. At present, Kodi is managed by a dedicated team of volunteers and a vast community.
Kodi is a cross-platform software that can be installed on Linux, OSX, Windows, iOS, and Android. Its 10-foot user interface for the use of TV and remote control is an added advantage.
Kodi allows users to play and view most videos, music, podcasts, and other digital media files from local and network storage media and the internet.
Features:
Free and open source
10-foot user interface
Cross-platform
Support for hundreds of remote control
Download Kodi Open Source Home Theatre Software
7. Madsonic
Madsonic is a home media server built using java and available on most platforms like Windows, Mac, Linux, OSX, and Unix variants. It has an easy to use interface along with customization for user experience.
Madsonic can work well with constrained bandwidth. It allows you to set an upper limit for the bitrate of the music streams. It also has a local jukebox along with media streaming.
Features:
Easy to use interface
Availability of local jukebox
Cross-platform
Can work with constrained bandwidth
Flexible and adaptable
8. Emby Media Server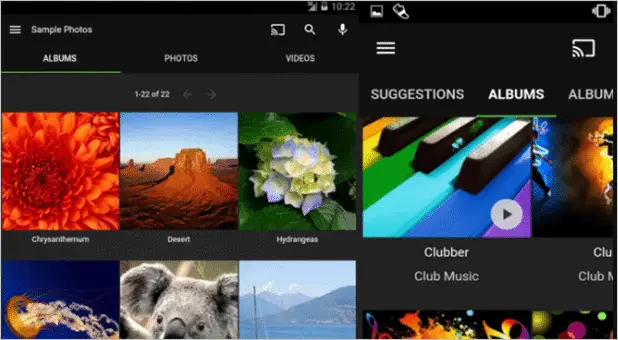 Emby Media Server lets you manage and stream your media on any device at your home. You can access the stored media remotely by just signing in to the Emby Media Server. It is the best home media server.
Emby Media Server allows you to stream Live TV on any device connected to the server. With Emby, you can monitor and control the content access specifically for your children. The elegant display makes your media look beautiful. One can store the backup on a cloud with its cloud sync feature.
You can download Emby Media Server from the link below for free. If you wish to use Emby Premiere, then the pricing starts from USD 4.99/month.
Features:
Easy media access
Cloud sync
Parental controls
Automatic detection of DLNA (Digital Living Network Alliance) devices
Chromecast
Download Emby Media Server and Purchase Emby Premiere License 
9. XigmaNAS
XigmaNAS is an open-source Network Attached Storage (NAS) designed for home and small business. In 2011 XigmaNAS was named as NAS4Free; from 2018, it is known as XigmaNAS.
It is a good and lightweight server software that can be installed on any hardware like compact flash, USB, SSD, and hard disk. XigmaNAS can also be booted from LiveCD/LiveUSB with a small USB key for config storage.
XigmaNAS has a fast, stable, and responsive web-based user interface. The disk encryption features provided by XigmaNAS ensures data security. The S.M.A.R.T monitoring feature notifies you with an email message if there is an issue with the drive.
Features:
WebUI
Supports data sharing with UNIX-like, Apple macOS, Windows, iOS, and Android systems
Open-source
Advanced storage features
Databases like PhpMyAdmin and MySQL is included
10. Universal Media Server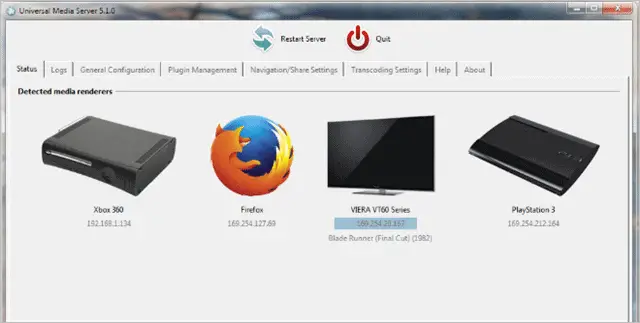 Universal Media Server (USM) is an open-source home media server. It can serve audio, video, and images to any DLNA (Digital Living Network Alliance) devices. Even though USM is free and open-source, it has more features than any paid home media servers.
USM supports all major operating systems, which include Windows, Linux, and Mac OS X. It is UPnP and HTTP/S Media Server.
Features:
Can stream to many devices like PS3, PS4, Microsoft Xbox One, and 360, many TVs, and smartphones.
Although it is free, it gets regularly updated so that you can get access to new features
You can find more about the device support on USM's official site.
Download Universal Media Server
11. openmediavault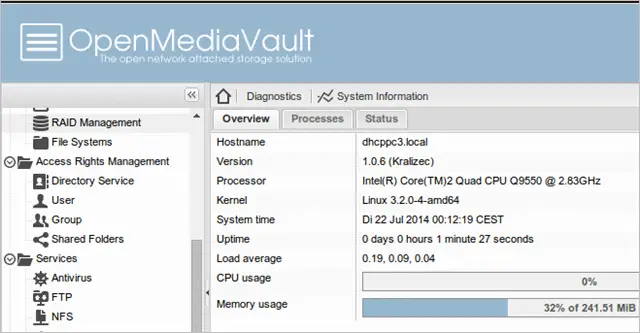 openmediavault is a NAS (Network Attached Storage) solution based on Debian Linux. It is specially designed for small offices and homes. One can use openmediavault without any in-depth knowledge about networking concepts.
The services offered by openmediavault include SSH, (S)FTP, SMB/CIFS, DAAP media server, RSync, and BitTorrent client. You can also enhance the existing features with the support of plugins.
Features:
Web-based administration
Email notification
Wake on Lan
Support for plugins
Volume management
12. OSMC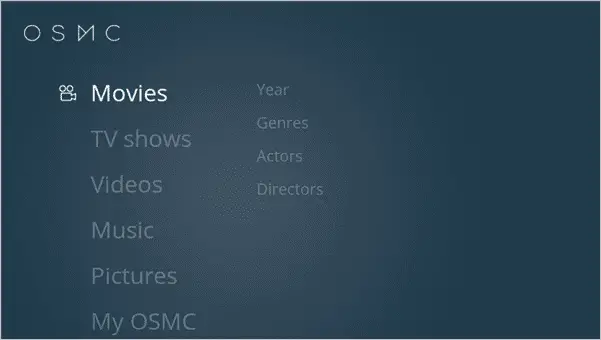 OSMC (Open Source Media Center) is a free and open-source media player. It can play media from the local network, the Internet, and the attached storage.
OSMC is Linux based, but you don't have to deal with Linux interface, OSMC provides its own easy to use interface. This feature can help people who are not comfortable using Linux OS.
With the support of a variety of sharing protocols, you can stream media on any device. However, for now, it only supports raspberry pie, Vero, and Apple TV.
Features:
Easy to use and install
Play on any device
Free and open source
Beautiful looking UI
13. OpenFLIXR Media Server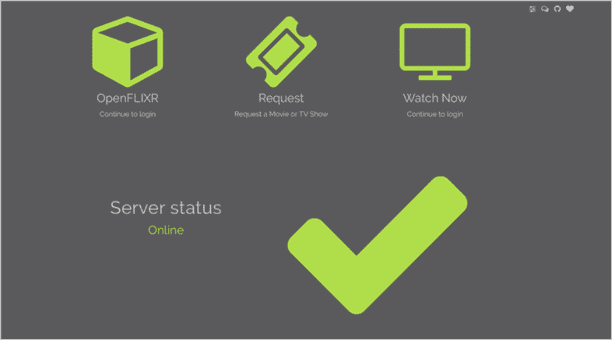 OpenFLIXR Media Server is a fully automated media server. It has multiple tools to support automated downloading and serving media. The tools like CouchPotato, SickChill, and Headphones are used to download. Plex media server works to display the downloaded media. OpenFLIXR is a virtual appliance; hence, it can run on any platform.
All you need is hypervisor like VirtualBox (Open Source), VMWare Fusion / Workstation / Player / ESXi, Parallels Desktop, KVM / unRAID, or Microsoft Hyper-V.
Features:
Free to download and use
Automated downloading and serving media
Web-based
Virtual appliance
Download OpenFLIXR Media Server
14. Serviio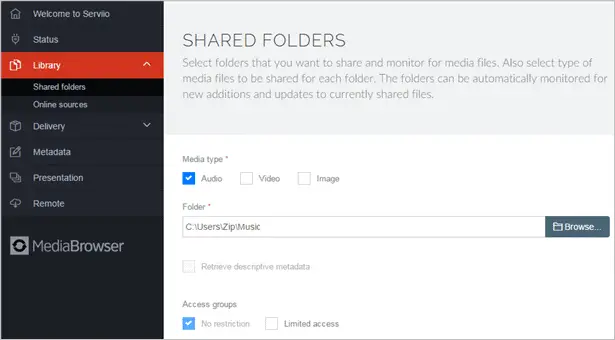 Serviio is a free home media server based on java technology. It can run on all major platforms like Windows, Mac, and Linux. Serviio allows you to stream media on all the devices connected to the network at your home.
The Pro edition costs around 25 USD allows you to share media with all the devices connected at home. An added advantage of using Pro edition is file sharing. You can also control the Serviio media server using your voice and Alexa device.
Features: 
Voice control feature
Support to Alexa device
Cross-platform
15. PlayOn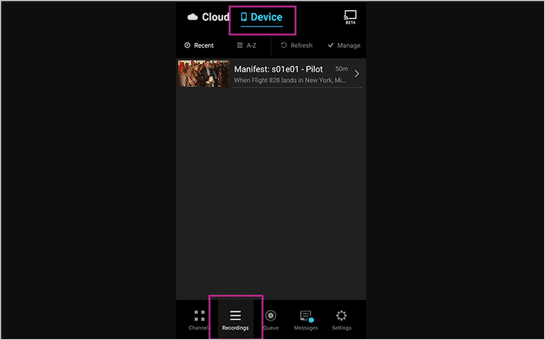 PlayOn has 2 variants to serve the purpose of a media server; one is PlayOn Cloud and the other is PlayOn Desktop. With PlayOn, you can record and stream movies from Netflix, Hulu, Amazon Video, HBO, and The CW.
The cost of recording videos on PlayOn Cloud is USD 39.99 USD per 250 recordings, and PlayOn Desktop is USD 39.99 for a lifetime. PlayOn Desktop free features include streaming all the media on the home TV and a dashboard to find all the media in one place. Its 24/7 email service can help you in case of any issues.
Features:
Available in cloud and desktop version
Offline streaming available
The downloads never expire
Skips commercials when watching video
Get PlayOn Cloud/PlayOn Desktop
16. ClearOS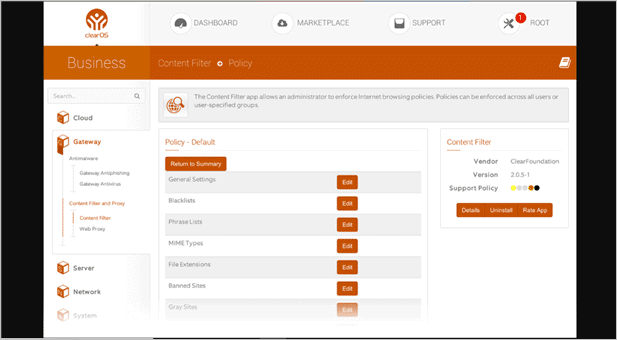 ClearOS is an option when you need only selected applications on your system, including your servers. It gives a platform for small IT offices to build the infrastructure with ease and suite the needs. ClearOS is easy to install and set up. It is also preloaded in some Small to Midsize Businesses (SMB) servers, so you don't have to pay any additional costs.
ClearOS has already 100+ apps on its store, which makes SMB browse and install the needed ones easily. There are 3 editions available for download; community edition is free to download and use, while home and business editions are free for 30 days, and then the charges are 36 USD onwards.
Features:
Ease of use
Can be tailored according to the SMB's needs
No additional cost if it comes along the server
17. Openfiler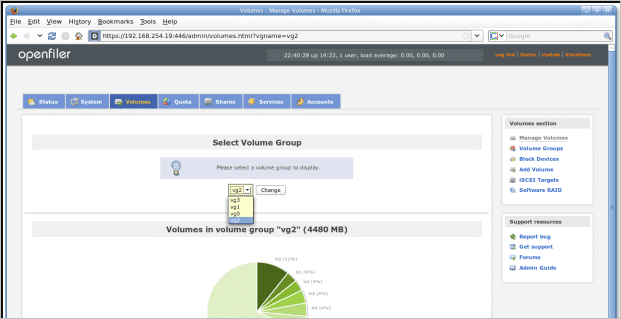 If you want something more than a home media server, you can opt for Openfiler. Openfiler provides you with file-based Network Attached Storage (NAS) and block-based Storage Area Networking in one software.
Openfiler has web-based management and can be set up in 15 minutes. Its file-based networking protocols such as CIFS and NFS, ensure cross-platform compatibility. It also provides you with cost-free storage capacity expansion. If you wish to set up an industry level server for your home, you can download the Openfiler ISO image and set it up.
Features:
NAS features
SAN features
Web-based management
Cost-free storage capacity expansion
Conclusion
The choice of the home server software depends on need and use. If you just need a home server for backup and media streaming, then you can opt for a  home media server software like Plex and Amahi. If your requirement list includes NAS, then FreeNAS and XigmaNAS is a good option. PlayOn can help you with recording and streaming the videos from famous sources like Netflix and Amazon.
Well, the choice of going for one home server depends on the hardware component you have, features you are looking for, and your purpose. You can also stream contents from other countries by using Proxy server and bypassing geo-locations. 
Related: Best DNS Servers For Online Privacy, Speed And Security