A DNS (Domain Name System) is used to convert the domain names into IP addresses. It is a huge database where all the domain names and their IP addresses get stored. The best DNS servers offer a slew of features like fast browsing speed, top security, and reliability. DNS server is also known for filtering specific types of websites and defending the systems from phishing attacks.
We normally use domain names to access the various sites. While we as humans can understand this, the computers view it very differently. They recognize the domains by their IP addresses and that is where the DNS server is useful.
How do DNS Servers Work?
When you want to access Google.com, you will simply type the domain name of the website in the address bar of your browser. After you type Google.com and hit enter, it goes to the DNS server and takes the IP address (8.8.8.8 for Google) associated with the domain name you searched for. Then, it connects to the webserver, loads all the content from there, and displays the relevant information on your web browser.
Here's a short overview of the working of a Domain Name Server.
Search Domain Name  >>  computer gets connected to DNS server  >>  ask IP address of the domain name you searched  >>  gets connected to web server  >>  loads content from the site  >>  display on your web browser.
ISP Default DNS Server Vs DNS Server?
If you are wondering why we use another DNS server rather than use the default ISP DNS server, then here is the answer. Using the best DNS servers means getting extra security, service, and much more in terms of features.
Speed: Default server lacks in speed, so using a public DNS server will enhance the speed of your internet, making browsing easy.
Stability: The Public DNS servers are specially optimized to take a huge amount of load without affecting the speed with no downtime to increase productivity.
Security: Some third-party DNS servers provide an extra layer of security like protection and filters. Thus, malicious and phishing attacks are easily avoided.
Geo-Protection: Using a DNS server can restrain the restrictions and various inspections so that you have access to the services regardless of the location. For example, if it says, "This video is not available for your country" on YouTube, you can still watch it.
Child Lock Feature: Many DNS servers help you to block adult or harmful sites from children.
Also, sometimes, with the default ISP provided servers you may face common DNS issues. In such cases, you may need to use another DNS server.
20 Best DNS Servers for Privacy, Speed, and Security
Given that there are multiple servers over which users operate the internet, each one of them has his or her own set of advantages and disadvantages. Let's have a look at the best DNS servers you can use for various purposes along with their DNS addresses.
1. Google Public DNS Server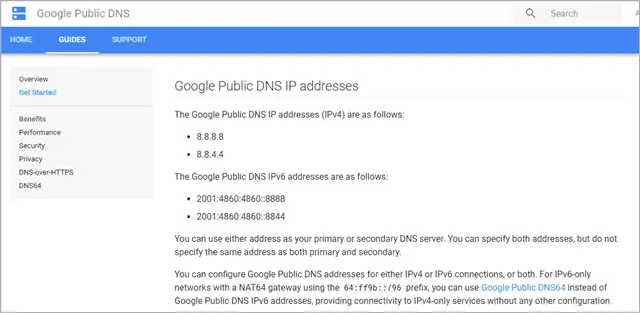 Google DNS server is one of the most popular and free DNS servers used by a maximum number of people across the globe. The DNS Server helps you increase the internet speed for a good browsing experience. It also provides security and gets immediate results without any redirection while browsing.
The reason why Google offers fast speed with their public server is that it is hosted on data centers all over the world. This means whenever you access a web page using the IP addresses mentioned below, you are redirected to the nearest server.
Google uses Anycast Routing for searching the nearest servers so that users can receive the searched information in the shortest time possible. Given that it also provides security against various phishing attacks and also provides commendable speed, Google Public DNS Server is one of the best DNS servers in the world.
Primary DNS: 8.8.8.8
Secondary DNS: 8.8.4.4
2. OpenDNS Server
OpenDNS Server is one of the best cloud-based DNS servers and is used by over 90 million users worldwide. It gives an extra shield of security to your computer and prevents malicious attacks.
OpenDNS offers two sets of servers – OpenDNS Home and OpenDNS FamilyShield. With OpenDNS Home, you can make an account with custom settings as it offers a lot of filtering options. The OpenDNS FamilyShield is used for parental controls and blocking adult content.
It also comes with self-healing technologies that can withstand a lot of damage and is also regarded as one of the most secure DNS servers on the internet.
Below are the IP addresses for OpenDNS Home
Primary DNS: 208.67.222.222
Secondary DNS: 208.67.220.220
The IP addresses for OpenDNS FamilyShield are
Primary DNS: 208.67.222.123
Secondary DNS: 208.67.220.123
3. Comodo Secure DNS
Comodo Secure DNS is a reliable and safe domain name resolution service that enhances your internet browsing speed. It does not require any software or hardware installation.
Regarded as one of the best DNS servers that block all the harmful and malicious sites, the Comodo Secure DNS boosts your system's speed. Although it provides you security, it is more focused to increase speed and is very popular with gamers. It is also a good DNS server for gaming. If you wish to use this server, just change your primary and secondary IP addresses.
Primary DNS: 8.26.56.26.
Secondary DNS: 8.20.247.20
4. CenturyLink DNS
CenturyLink is another popular public DNS Server that provides you with a secure and fast internet connection. It also has an enterprise version that offers some additional features to provide you with better safety and reliability.
This DNS server claims to improve the connectivity and provides built-in automation, adaptable management, and integrated security.
Primary DNS: 209.244.0.3
Secondary DNS: 209.244.0.4
5. Verisign DNS Server
Verisign DNS Server provides privacy as it assures that your public DNS data will not be misused in any way or even sold to third parties for any kind of ads. It protects your system from various malicious sites and provides stability too.
You can also check out the current server status by visiting the authorized DNS Cache page. Verisign DNS Server also promises stability and robust protection from malware and virus.
Primary DNS: 64.6.64.6
Secondary DNS: 64.6.65.6
6. Neustar
Neustar is one of the best free DNS servers that helps you to load websites quickly than your default DNS server. It ensures that the websites you are visiting are safe.
You can experience a good speed and better security with this DNS Server. It provides you with the flexibility to protect your network and is effective in terms of speed and safety. Neustar's proficient server is also a top choice for many Fortune 500 companies – an impressive fact to consider if you want to use it.
Primary DNS: 156.154.70.1
Secondary DNS: 156.154.71.1
7. OpenNIC

When you visit any site or check any ad, your personal data is usually marked and stored. This data is at risk as it can be collected by your ISP and used for marketing purposes. By using the OpenNIC DNS server you get to control all your personal data without being at risk.
OpenNIC stands out amongst its competitors because it offers four different servers that are the closest users who are using their servers. It's not a public server per se, it is more of a server that is run by a group of volunteers.
Regarded as one of the best DNS servers, OpenNIC is free to use and a good pick if you are looking for a reliable public DNS server.
Primary DNS: 156.154.70.1
Secondary DNS: 156.154.71.1
8. DNS.WATCH
For people who wish to browse the internet without any lag and content being restricted, DNS.WATCH is the best choice to go with on this DNS server list. There's no logging of data while using this server so users can rest assured about their data being passed on to ad agencies for marketing purposes.
DNS.WATCH solely dedicates itself towards providing unrestricted content to its users. The services they offer are free. However, you will have to make your own arrangements for protecting your system from phishing attacks and malware as this server doesn't provide good security.
Primary DNS: 84.200.69.80
Secondary DNS: 84.200.70.40
9. GreenTeamDNS
GreenTeamDNS is a cloud-based service that covers all the devices on your wifi network. They have 47 filtered categories from which you can choose the combination as per your requirements.
Users can use the admin panel of this server and access all the websites that have been blocked or allowed in their network. GreenTeamDNS also lets you set filters for specific websites that you visit while browsing the internet.
Primary DNS: 81.218.119.11
Secondary DNS: 209.88.198.133
10. SafeDNS
SafeDNS is a cloud-based free and fast DNS server. It is another great option that provides security from malware and cybercriminals so that your personal data is not at risk.
SafeDNS blocks all malicious and unwanted websites and provides you with a better browsing experience. It can be used for various purposes like home, organizations, software and hardware vendors, libraries, and many more.
Primary DNS: 195.46.39.39
Secondary DNS: 195.46.39.40
11. SmartViper Public DNS
SmartViper DNS is a company dedicated to analyzing web pages. It is regarded as one of the best DNS servers as it lets anyone use their services for free.
SmartViper Public DNS is a good DNS server that protects you from harmful phishing attacks and various malware sites. It lets you browse quickly and securely without worrying about any hidden risks.
Primary DNS: 195.46.39.39
Secondary DNS: 195.46.39.40
12. DynDNS
DynDNS, or Dynamic DNS, is another great addition to the list of best DNS servers and comes with a 7-day trial. It provides a wonderful browsing experience and prevents your system from all the malicious and phishing attacks.
The Dyn DNS allows users to choose a unique hostname and link it to any IP-compatible device. Each Remote Access service package of the DNS lets users create up to 30 hostnames per purchase.
Primary DNS: 216.146.35.35
Secondary DNS: 216.146.35.35
13.  Alternate DNS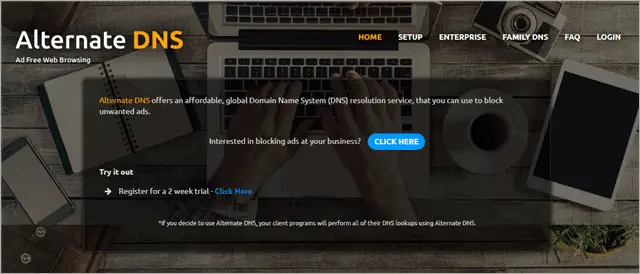 Alternate DNS server helps you browse the internet more conveniently since it speeds up the connection. It improves your overall internet security. While you are browsing, it prevents all unwanted ads from popping up on your screen.
Alternate DNS is focused on family browsing so it automatically blocks adult content. It is one of the best DNS servers to use if you are searching for a reliable server for using the internet at your home.
Primary DNS: 198.101.242.72
Secondary DNS: 23.253.163.53
14. Yandex.DNS
Yandex.DNS is another good addition to the list of best DNS servers. It is a free service that speeds up your internet and blocks all the malicious sites.
It has three modes of operation:
Safe: This mode provides protection from infected sites.
Family: It protects you from and phishing sites and blocks the sites with adult content.
One thing to note about Yandex.DNS is that it doesn't offer a lot of security features and hence users' details can easily be shared with ad agencies for marketing purposes.
Primary DNS: 195.46.39.39
Secondary DNS: 195.46.39.40
15. UncensoredDNS
UncensoredDNS server filters content on the website while you are browsing and the servers are physically located in Denmark. It blocks all the malware and increases the speed of your internet.
UncensoredDNS is one of the best DNS servers because it offers top-of-the-line security features, thanks to the fact that it hosts a private DNS. Also, it offers commendable reliability to the users, knowing that their information is not logged and cannot be shared with third parties.
Primary DNS: 91.239.100.100
Secondary DNS: 89.233.43.71
16. Hurricane Electric
Hurricane Electric is just like the internet backbone for you. With IP transit with low latency and good internet speed, it is an advanced network that has multiple exchange points across the globe. Recently, it has also added the CAA Record Support and the ALIAS Record Support to its geographically diverse servers.
One of the oldest and the best DNS servers in the business, Hurricane Electric promises a good speed of the internet for both personal and professional use.
17. CleanBrowsing
CleanBrowsing offers multiple options like a security filter, family filter, and an adult filter. These filters are updated hourly to avoid phishing attacks on the user's computers. As their names suggest, the adult filter (185.228.168.10) prevents adult content and the family filter (185.228.168.168) blocks VPN, proxies, and mixed adult content.
CleanBrowsing is also an effective solution for small businesses that wish to block malicious domains from harming their systems. The provision of redundancy through clustered environments and unique network pairs is the highlight of the CleanBrowsing architecture.
Primary DNS: 185.228.168.9
Secondary DNS: 185.228.169.9
18. Quad9
Quad9 DNS services offer great security services and protect your systems from phishing attacks. Also, it blocks unsafe websites automatically so users need not worry about unwanted malware entering their systems.
Regarded as one of the best DNS servers in recent times, Quad9 DNS keeps a real-time update on the threat analysis of websites. Further, its logs are also available for the users to view anytime. However, rest assured that this server doesn't let out any user information to third parties.
Primary DNS: 9.9.9.9
Secondary DNS: 149.112.112.112
19. AdGuard DNS
AdGuard DNS is a fine server to operate on if you are an avid gamer. This DNS server blocks ads in games, videos, apps, and web pages. The default servers also block the phishing attacks and malware from entering your computer, apart from blocking ads.
Default servers are nothing but the basic servers of DNS. The AdGuard DNS also comes with a family protection server that blocks adult content and everything else included in the default servers.
Primary DNS: 176.103.130.130
Secondary DNS: 176.103.130.131
20. Cloudflare
Cloudflare DNS is the fastest DNS server in the world at the moment. Also, it offers security features that are second to none apart from providing excellent speed while browsing the internet.
The company records no logs of visitors in their network due to their dedication to providing unmatched security services. If and when they collect data, it is deleted in 24 hours so as to abide by their policy and promise. In terms of providing top-notch security, Cloudflare is one of the best DNS servers in the market.
Primary DNS: 1.1.1.1
Secondary DNS: 1.0.0.1
Best DNS Servers for Gaming
Internet Gaming requires users to have top-notch internet speed if they wish to avoid any sort of disturbances or interruptions. These are the best DNS servers that will make sure you have no speed problems and ensure comfortable gaming time. We have explained them separately in the list above.
Conclusion
A DNS server is used to convert IP addresses into domain names that are understandable to humans. These servers can be judged on various factors such as speed, stability, security, and geo-protection.
DNS servers can be used for several purposes such as blocking adult content, blocking unnecessary advertisements, and protecting computers from phishing attacks from Malware. No single DNS server is capable of carrying out all the aforementioned tasks equally well; all DNS servers have their area of expertise.
The AdGuard DNS Server is one of the best DNS servers to go with if you wish to block ads while gaming. Cloudflare will hardly disappoint you when it comes to securing your system from phishing attacks and unwanted malware. CleanBrowsing is a great option for blocking out adult content. Irrespective of the suggestions mentioned above, users can try out different servers as per their convenience and requirements.
Also, check: