3D printing has come a long way from the clunky and messy printers of not-so-long-ago. The same technology is being used in 3D pens to create beautiful works of art. The printing pens have been around for some time now, but the latest ones happen to be technological marvels. The best 3D pen has the power of a 3D printer packed into a light-weight portable pen.
It is a great buying or gifting options for artists, children, hobbyists, and doodlers alike.
How to Select The Best 3D Pen
We've listed some checkpoints for you to consider before you buy 3D pens.
1) Type of 3D pen: If you are buying one for kids, it is best to buy a type that does not get overheated. Pens that use FDM technology are available in high and low-temperature options, depending on the type of plastic used. A pen with a lower temperature is safer for kids. Some pens that use technology similar to SLA resin printers, where the 3D printer pen uses a liquid plastic that sets under UV light. Although it's a safer process, it is time-consuming.
2) Type of filament: Just like 3D printers, 3D painting pens also use a wide variety of filaments to print. PLA and ABS are the most common filament-types used.
PLA is biodegradable and melts at low temperatures; therefore, safe for children. One that uses ABS filament is more stable and durable. However, it gives out fumes when it melts. So, it is better suited for older children, adults, hobbyists, and artists.
3) Easy to use: Most 3D pens are plug and play and extremely easy to use. However, make sure it is convenient and light-weight, especially if you are buying one for a child.
4) Unclogging mechanism: Some 3D printing pens can unclog the nozzle automatically. This is a great feature, mainly because it saves you a lot of time and effort. Otherwise, you have to clean up a clogged nozzle manually.
5) Temperature control: The best 3D pen will give you the option of controlling the temperature. This helps in extruding the filament evenly.
Best 3D Pen Options To Consider And Buy
3D pens work wonders for both children and adults, while others are targeted towards serious hobbyists and artists. Being compact and light, they can draw in the air or on any surface. We've listed the best 3D pens that are extremely easy to use and make great toys for kids.
1. SketchPro 3D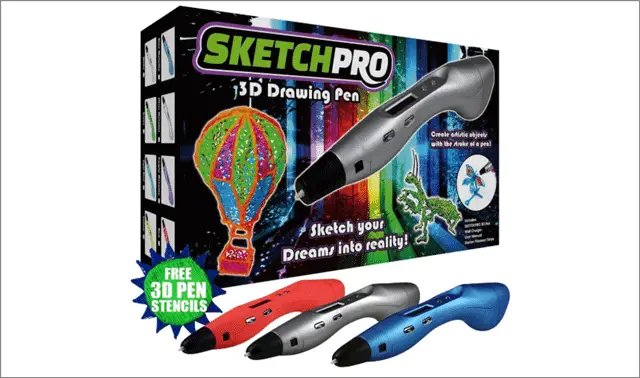 The SketchPro 3D printer pen is extremely user-friendly, and that is why it makes it to the top of our list. Perfect fit for the best 3D pen with a very comfortable and ergonomic design and accessible buttons.
The pen has a large LED display screen showing feed details, print temperature, and filament options. It has a self-cleaning mechanism, which makes switching between filaments very easy.
The SketchPro 3D product is designed to support both ABS and PLA filaments, though PLA is recommended over ABS. The kit comes with free 3D pen stencils to get you started.
Price: $34.99
2. MYNT3D Professional Printing Pen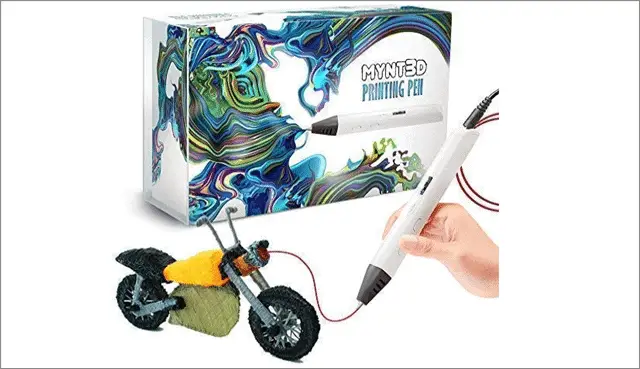 The MYNT 3D printing pen is one of the most popular ones in the market today. It is ergonomically designed, easy to use, and suits all. It has a large OLED display that displays the printer's temperature and lets you monitor and control the temperature.
The best 3D pen has some unique features, such as variable temperature and speed controls. You can change the temperature of the nozzle in 1-degree increments. This gives you more control over the overall consistency of the extruded filament. Similarly, the variable speed control lets you set it according to your needs.
It is designed to work with any standard 1.75mm filament, such as PLA, ABS, and even blended filaments.
Price: $59.99
Buy MYNT3D Professional Printing Pen
3. 3Doodler Start 3D Pens for Kids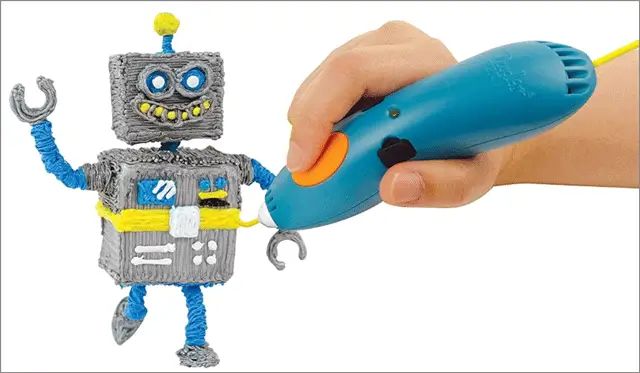 The best 3D pen for kids, this one is sure to get all the young ones excited. The rotund shape of the 3D doodle pen makes it easy for the kids to hold. There are minimal control options so that the young minds do not get confused. You will not see any hot components. This ensures that the kids do not end up burning their fingers.
The 3D Doodler Start 3D Pens gives you multiple stencils in the box. The little ones can give their imagination wings and explore their creativity. The kit includes basic components like an on/off button, one temperature setpoint, and one feed rate.
There are various tutorials in the pack for the children to get started with. They can simply plug in and play design. It is also a perfect toy for STEM learning.
Price: $49.99
Check out 3Doodler Pens for Kids
4. MYNT3D Super 3D Pen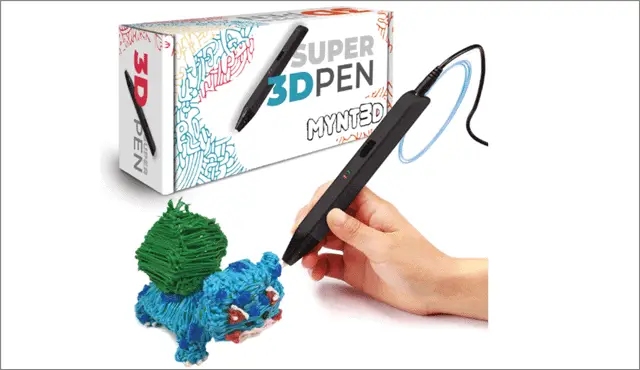 MYNT3D Super 3D Pen classifies as the best 3D pen since it takes your creativity to the next level. The latest version is clogged with features and clog-proof. From kids to engineers, it is suitable for one and all. You can use your imagination to elevate your designs and create stunning drawings.
The 3D drawing pen includes a glider that is fun to use. The product also ensures accurate and clean results because of the regulated ink flow. You can use the temperature adjustment screw to easily make a switch between color filaments, for example, from PLA to ABS.
The ergonomically designed pen is very convenient to use. There are various online tutorials as well that will guide you through. Although there is no OLED display, it features a replaceable nozzle design and a top-notch gearbox.
When you see the color of the flashing light change to red, it indicates that heating mode can be used. The pen comes with one year's warranty. It is reliable and durable. So, are you ready to convert your drawings into exquisite works of 3D art?
Price: $39.99
Buy MYNT3D Super here
5. 3Doodler Create+ 3D Printing Pen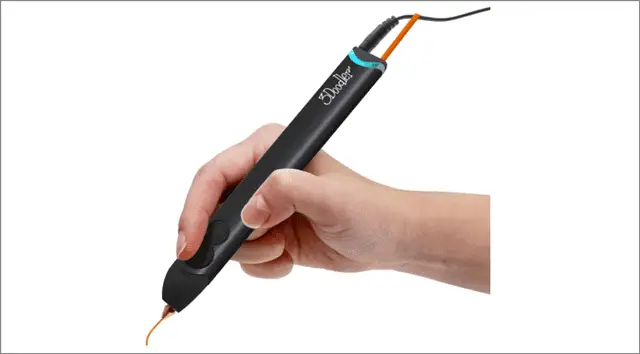 Do you love doodling? If yes, you must buy this best 3D pen and get more creative. Be it kids, teenagers, or adults, the 3D printing pen suits all age groups. The pen boasts of dual-drive technology that gives wings to your imagination.
The 3D pen is reliable and durable. It comes with improved power to ensure that users get a flawless doodling experience. The device is very easy to use, and you can enjoy several hours of creative fun. You need to plug in the 3D print pen, pick a color from the 15 different plastic refill options, and wait till the printing device heats up. Once your pen is ready, you will be able to extrude.
There is an activity guide and 15 filaments, so you can doodle as much as you want. The plastic filaments are non-toxic and safe.
Price: $79.99
Buy 3Doodler Create+ 3D Printing Pen
6. LESHP Professional 3D Pen
If you are looking for a professional-grade 3D pen, you must get your hands on this one. The top features include an LED light that indicates when the pen is ready to be used and 8 kinds of feed settings. You can also control the temperature of the pen, and there is a button for loading and unloading as well.
The beautiful 3D pen fits right in the hands of an adult and enables them to create finished products. You can texture and polish your designs as much as you want to. Although the 3D printing pen is powered by a battery and is large in size, it is not heavy. There will be no difficulties while releasing too much or too little material. So, go ahead and craft your skills to perfection.
Check price and buy LESHP Professional
7. AtmosFlare 3D Pen Set
Creating 3D structures and seeing your imaginative ideas convert into 3D products is no longer considered futuristic. AtmosFlare allows you to do exactly that without engaging in a cumbersome process or stress. You get to bring your creatively bent mind and designs to life effortlessly.
The best 3D best has unique features like a spot for special ink and blue LED light. Both of these allow you to create 3D figures mid-air. AtmosFlare 3D painting pens enable users to sculpt 3D renditions of animals, nature, and any object that you want. You can draw on surfaces that are both curved and flat and can even try your hands-on drawing with buttons and coins for visually appealing effects. Users can also sketch on any textured and non-sticky surface.
What more? Artists can make thin and thick lines, various kinds of shapes, even create art and texture on a finished product which you make your designs shine bright.
Check price and buy AtmosFlare
8. Kuman 3D Printing Pen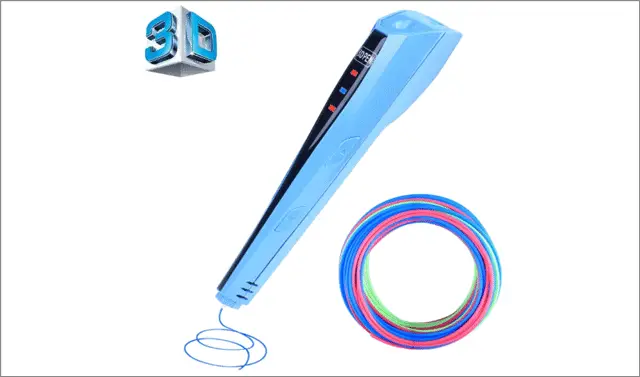 The best 3D pen by Kuman is made ergonomically and boasts of a noticeable design. The outer shell of the 3D print pen is made of plastic, making it safe for use. Since the outer shell is non-conductive, the heat from the interiors of the pen doesn't reach your fingers when you are holding it. This also qualifies Kuman as an apt pen for kids.
You can select from 3 speed options – low, medium, and light. Each speed option is indicated by a different color flashlight or indicator. You can switch from one-speed mode to the other by one click. The best 3D printing pen slims down at the tip, thereby making it easy to hold.
The pen includes a forward and backward button. These buttons command the writing device to go through the extruder. The back button enables you to withdraw the filament whenever you want to put the 3D pen on standby mode. This unique feature prevents the filament from jamming up.
Check price and buy Kuman 3D Printing Pen here
9. Scribbler 3D Pen V3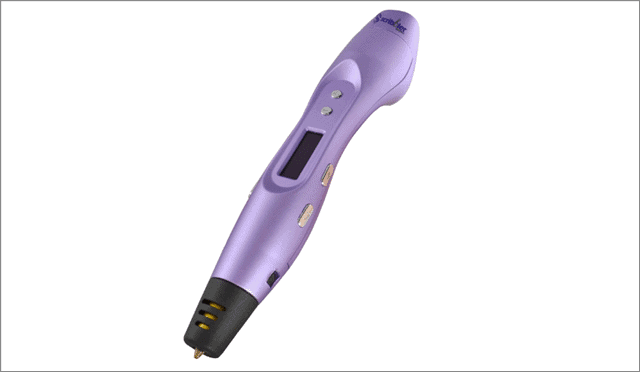 Scribbler fits into your hands perfectly. The ergonomic grip makes the 3D pen comfortable to hold. The design is modern, and the device is easy to use. Scribbler can melt various kinds of filaments, including metal-infused, wood-infused, Flex, ABS, and PLA. However, ideally, you should use this 3D pen with PLA filaments to get the best results.
The best 3D pen boasts an OLED display screen. You can monitor the status of your device here. The screen displays the filament type, feed settings, and temperature. Scribbler 3D Pen V3 is used by hobbyists and experts alike. The unclogging mechanism ensures the device does not get clogged. The auto-cleaning feature prevents the pen from jamming and cleans up the pen so that two colors are not mixed up.
The pen includes easily reachable speed control, thus making it an excellent choice for the little ones as well. You can adjust the temperature of the pen, ranging from 140 to 240 degrees Celsius.
Check price and buy Scribbler V3
10.  TIPEYE 3D Pen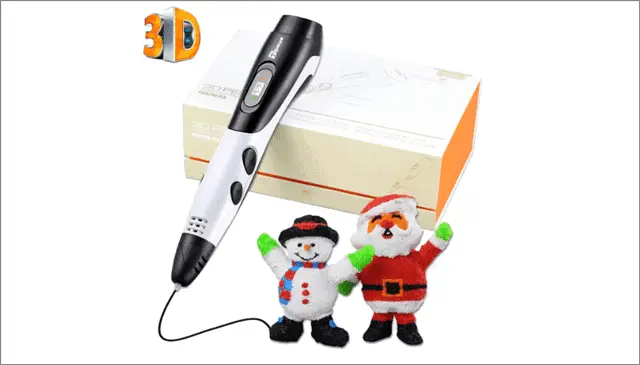 Irrespective of whether you are an adult, a professional, a hobbyist, or buying the pen for a kid, TIPEYE fits your budget. The 3D pen accommodates PLA and ABS filament types.
The device is made with children's safety in mind. The tough outer shell is made out of aircraft and acrylic grade aluminum. The acrylic cover ensures that the pen does not overheat. The best 3D pen is convenient to use and offers a good grip. The curving contours fit young and adult hands well.
TIPEYE uses PLA filament because the plastic is biodegradable and non-toxic. You can set the temperature from 170 to 230 degrees celsius. The pen comes with easy to use speed and temperature adjustment options. All the information is displayed on the LCD screen.
The nozzle is removable, and you can clean it up manually.
Conclusion
3D pens have found a niche for themselves. Children, artists, adults, and hobbyists use the device to create stunning works of art. Imagine not having any complex machinery and still being able to come up with tangible products succumbing to your creative expressions.
Every famous brand has dozens of unbranded clones that offer the same features for a lesser price. Though some clones work well, it is better to stick with well-known brands that are reliable and durable. We've brought you a list of the best 3D pen options that suit all age groups. Try these out and give wings to your imaginations.
Related: Cool Things To 3D Print That Can Be Used At Home