The magnitude of applications of a 3D printer is beyond imagination since it almost allows any individual to create a pint-size manufacturing unit in his or her garage. With the number of cool things to 3D print, it is probably the best technological innovation in the recent past.
From 3D pens to 3D modeling software, the usage depends on the need and category of users. In fact, for the ones who love it, there are options to learn 3D printing too. Also, one can check 3D animation software that is used for making movies, and creating characters. Creators are using 3D printing to produce creative work that is fun, trendy, and not very complicated.
60 Cool Things To 3D Print That Are Useful And Fun
If you are wondering what you can make with a 3D printer, then here are some wonderful ideas. The various cool things to 3D print that are mentioned below can be easily done with materials readily available at our homes. So, unleash your creativity and indulge in making stuff for your house and personal usage with minimal products.
Battery dispensers, bookmarks, cable spools, or jewelry boxes, what would be your pick first?
Furthermore, these are the most useful 3D printed objects and are sure to go a long way in making your life easier.
1. Smartphone and Tablet Stand
One of the cool things to 3D print, this phone stand is capable of holding a range of smartphones and tablets. Use it as a stand or hang the table stand to a wall. Moreover, it also comes handy when you wish to put your smartphone on the charge.
Download Smartphone and Tablet Stand
2. Cable Savers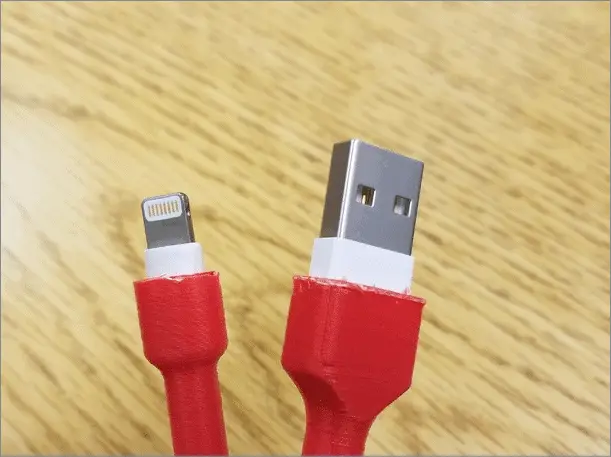 Are your phone chargers and other cables fraying out? Then this is one of the cool things to 3D print. Besides, being one of the best 3D printing ideas are these cable savers which will extend the lives of the wires by preventing them from being worn out.
3. Earphones Case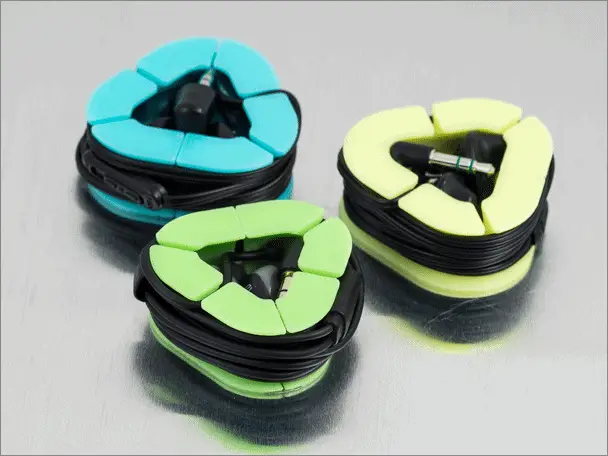 No matter how hard we try, our earphones do end up getting entangled. Here's a good solution to 3D print.
This cool 3D print enables you to keep the earphones safe and prevents them from getting damaged.
4. Battery Dispenser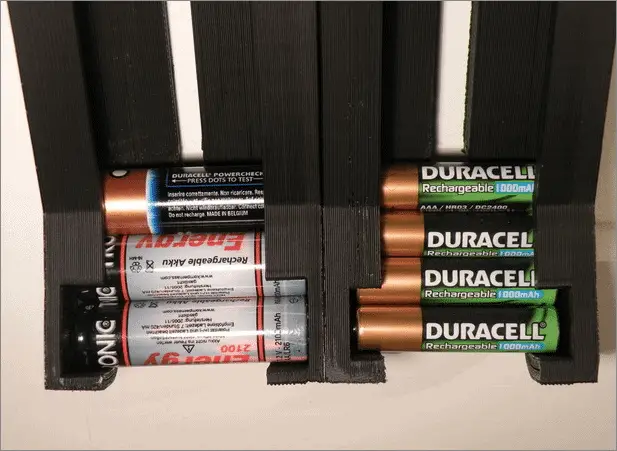 Aren't we always running out of batteries? Certain gadgets, wall clocks, and myriad other products need rechargeable batteries.
One of the cool 3D things to print is this parametric cylindrical battery dispenser. It will help you stock the batteries, and keep them handy whenever required. All you need to do is just hang them in a convenient place.
5. iPhone Amplifier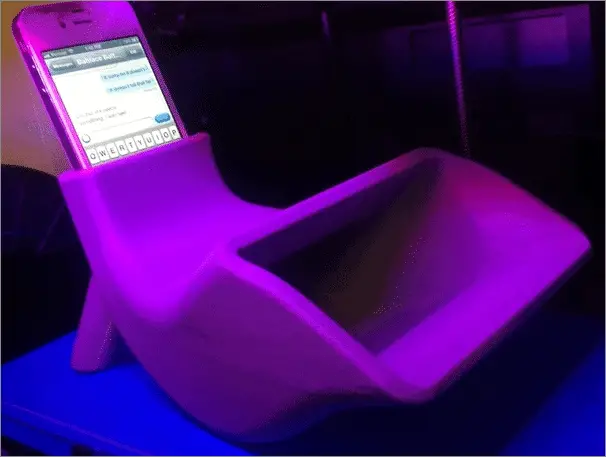 An amplifier, in simple terms, is an electronic device that comes in handy when you want to magnify the volume of the sound you're listening to. Furthermore, if you love loud music and don't have external speakers, this is one of the cool things to 3D print
Hosting a party but do not own speakers? Here's a quick great substitute to print out in 3D without spending on buying the gadget. In addition, this useful 3D print enables you to increase the volume of your iPhone, where no Bluetooth or batteries are required.
6. Strong Flex Door Carabiner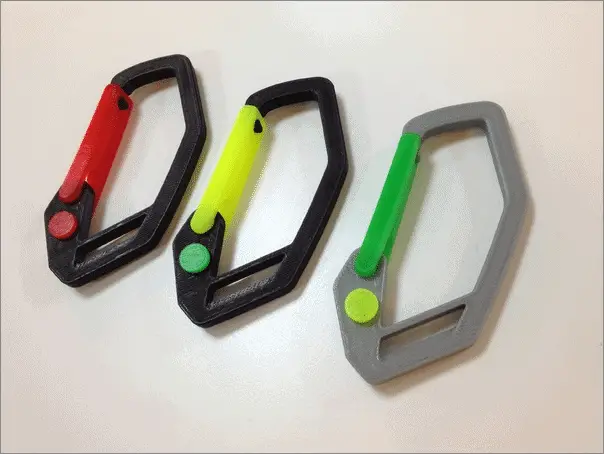 Of all the other cool things to 3D print, carabiners can be a really useful product. It is a specialized kind of a shackle that has a metal loop and is locked by a spring-operated gate lock.
Most importantly, these are usually needed while doing any activity that involves thick ropes like climbing, sailing, or even in rope rescue. A beneficial product for home utility, this strong door flex carabiner can keep several things organized. Be it your garage, toilet, or your room.
Download Strong Flex Door Carabiner
7. Bag Clips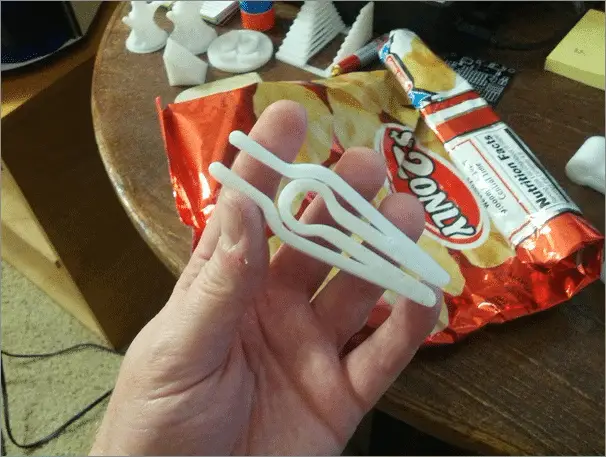 If you are wondering how to store a packet of chips or other snacks that are half used? The probable answer and substitute to zip bags is this clip.
One of the cool 3D print things, these bag clips make sure that anything that is stored in them stays tightly sealed. So now, no more wasting food because it goes stale or does not stay worth consuming anymore.
8. Blade Key- Key Organizer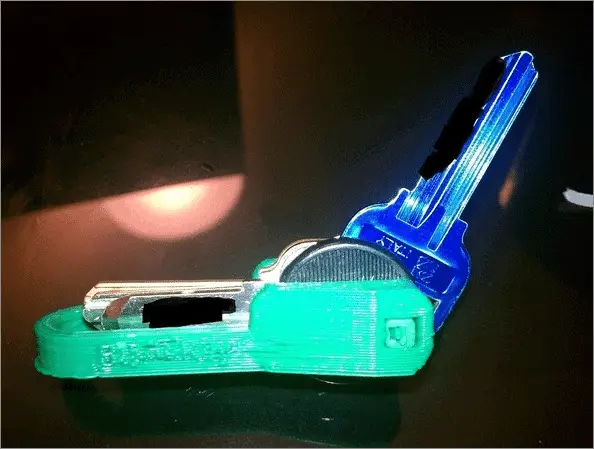 All of us require a lot of keys on a daily basis and on most occasions they are kept in a haphazard manner. How about putting them in an organizer?
You've always wanted to own this product, but never knew where to look out for, isn't it? Well,  one of the cool things to 3D print on your own. You customize the width, length, breadth according to your requirements.
Furthermore, the keys are clasped together in one zip-tie and come out like Swiss knives. This 3D printer project keeps all your keys organized in one place so your pockets won't be a mess now and also won't make a sound as you walk around.
9. Citrus Juicer
Are you a health-conscious person who'd love to have your daily dose of juices but feel too lazy to extract the same? Wondering why the juice extractors are so heavy on the pocket?
This useful 3D print will definitely make your life easier. All you need to do is juice out any citrus fruit of your choice and do not forget to wash the print before you use it.
10. USB Cable Holder
Cable holders are multi-purpose. They help you neatly keep all the multiple cable wires that are lying in an unorganized manner while making sure no wear and tear of the same happens.
Too many cables around your house or at your work desk? Well, then one of the cool things to 3D print is the cable holder.
All you need to do is fit the USB cable holder on the wall, and this cool 3D print will help you clear the clutter by keeping the cables organized.
11. Cable Spools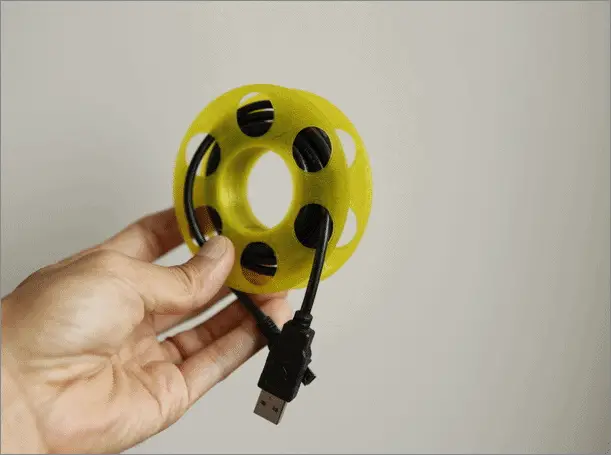 A cable spool is a circular object which is used to carry and put electric wires in. Known to be one of the most essential utility tools, this 3D printing idea will help you manage. This is for all your cables and makes them look neat and tidy too.
Moreover, you can roll them up if you do not need to use the full length of the cable or then extend it if you want the entire stretch. You can size it up to whatever length you want.
12. Bottle Opener
How do you usually open the bottles which come with a seal? By using your teeth? Or by trying to look for something pointed like a knife, maybe?
Have you lost the bottle opener that you once possessed? How about getting this stylish bottle opener done, without having to spend money on the product.
One of the cool things to 3D print, this bottle opener enables you to open the bottle using just one hand. Although you will require a small coin to print this, it is still easily done.
13. Phone Case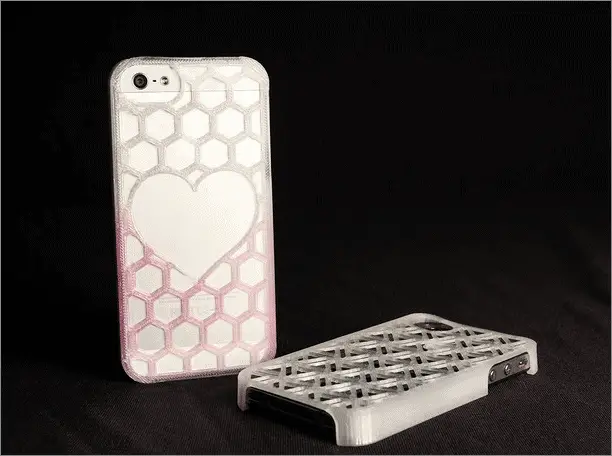 Don't we all love to change our phone covers regularly? Bored with your existing phone case? Now rest easy, since it is one of the cool things to 3D print plus you can customize your own.
This cool 3D print enables you to fabricate a new one as and when required with any creative design that you fancy.
14. Coral Lamp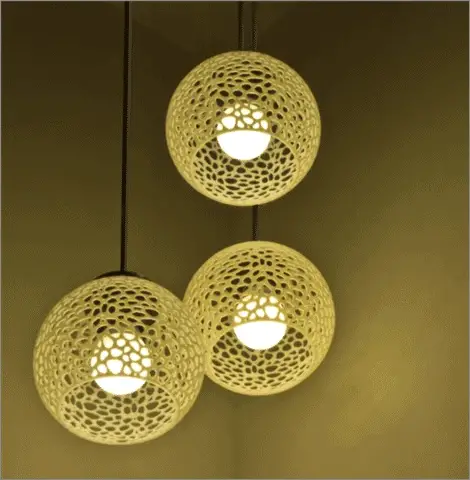 Firstly, if you think home decor products are too costly these days, then here is a good way to cost cut. Secondly, all you need to do is simply look for a good design that can be 3D printed.
This coral lamp looks stylish and can be either used as a bunch or just a solo piece to light up your house. Don't you think it is one of the most beautiful and cool things to 3D print? We vouch for it.
15. Toothpaste Tube Squeezer
Do not wish to waste the last bit of your toothpaste? One of the best 3D print ideas, this toothpaste tube squeezer makes life easy for us. Furthermore, it enables you to use the paste till the last ounce.
It comes with a lock to stop the tube from unfolding.
Download Toothpaste Tube Squeezer
16. Soap Dish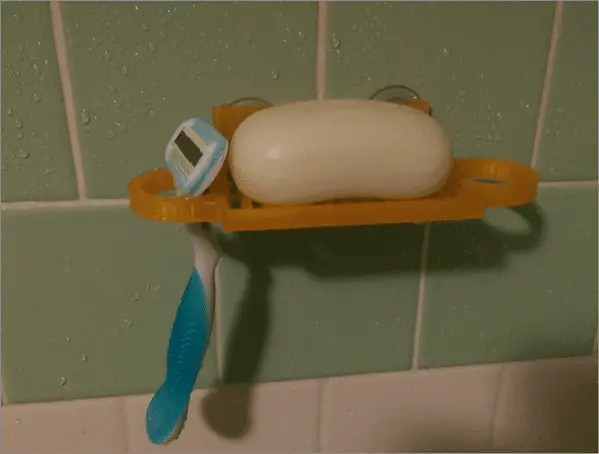 If you wish to add a soap dish to your washroom wall and are worried that the drilling thus required will spoil the tiles, then try this printout. And, the holes won't look good either. One of the cool things to 3D print is this self-mounting soap dish that can be stuck to your wall without drilling.
Two suction cups are required to fix this soap dish to the wall, and it can hold two razors, one on each side.
17. Pliers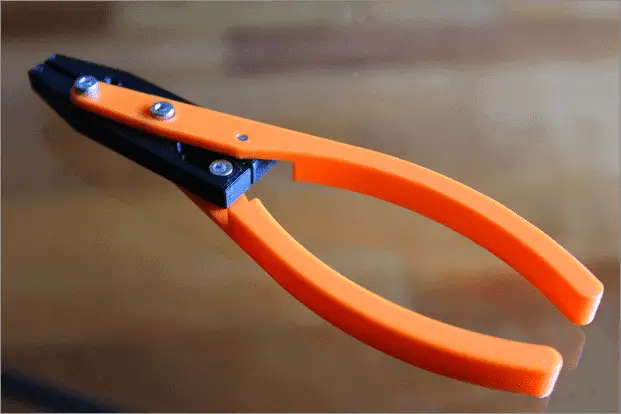 Pliers are a common home utility product you find in every household. Are you in the habit of wanting to fix things on your own?
Then try this parallel jaw plier that you can print at the convenience of your place. Although, you will require socket head screws to get the finished product. This useful 3d print saves you a trip to the hardware store.
18. Combination Safe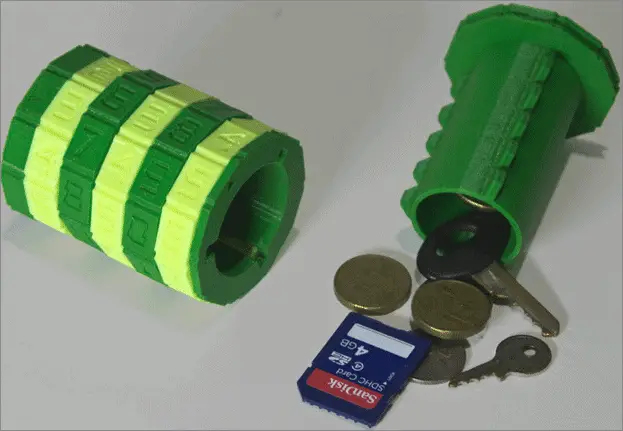 Here is an object that looks straight out of a Da Vinci mystery. A lock that doubles up like a numerical puzzle with a code as a solution.
A perfect place to keep your micro SD cards, USB drives, and other small valuable items are safe in this cool 3D print.
Consisting of a five or seven-digit combination, this combination safe keeps these tiny products secure in one place. One of the best things to 3D print, this combination safe requires no support structures and no cleaning.
19. Measuring Spoons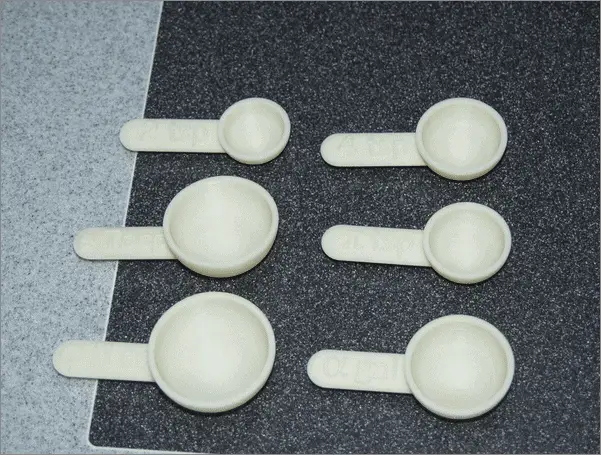 Are you a kitchen utility product hoarder? In the mood to try your hand at baking?
Did you lose one of the measuring spoons making your set incomplete? In addition, is it not feasible to rush to the market immediately? Then, no worries, just print your own.
One of the cool things to 3D print, you can custom make them in all sizes.
20. Tape Dispenser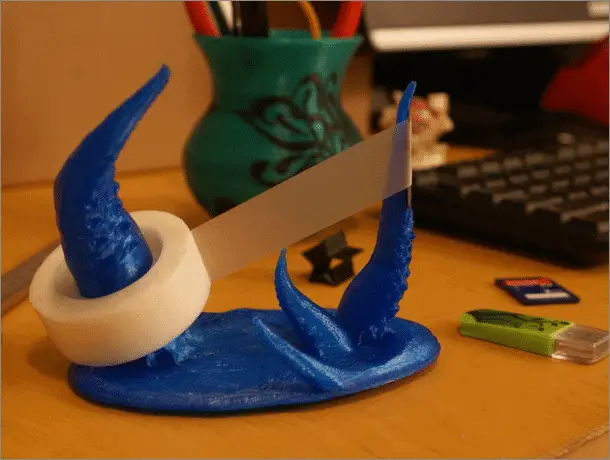 Haven't we all wasted too much time in finding the end of a sticking tape? Here's a solution that looks creative too.
This cool 3D print enables you to have something which is not available at the stores. The tentacles act as blades to cut through the tape.
In addition, this also looks like a stylish addition to one of the quiet corners of your home.
21. Shopping Bag Handle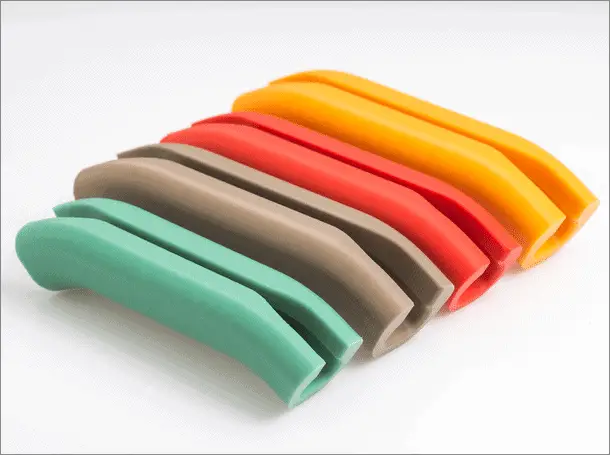 Do your hands hurt while carrying heavy plastic bags?
Shopping Bag Handle is an extremely useful thing to 3D print. Simply adjust the scale depending on your need for slim or thick handles and carry all your shopping bags with ease.
22. Bird Feeder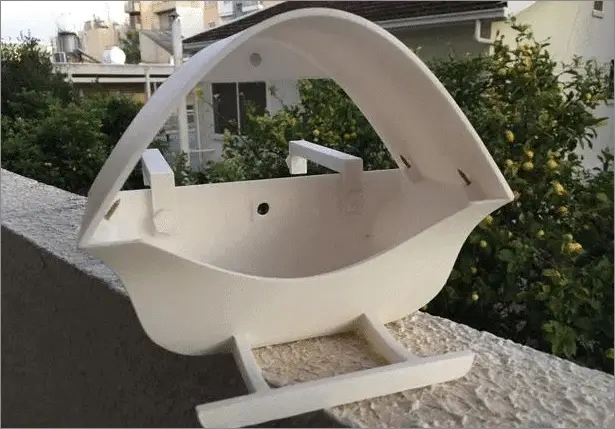 Love birds? They too feel thirsty, especially during the summer season. They need energy for migration and water is a natural resource providing the same.
How about being kind to them? Let's help nature restore its balance. Want to own a bird feeder without spending too much on it? Get this cool 3D print done and you're sorted. It sticks to your window and doesn't require special skills for installation.
23. Self Watering Planter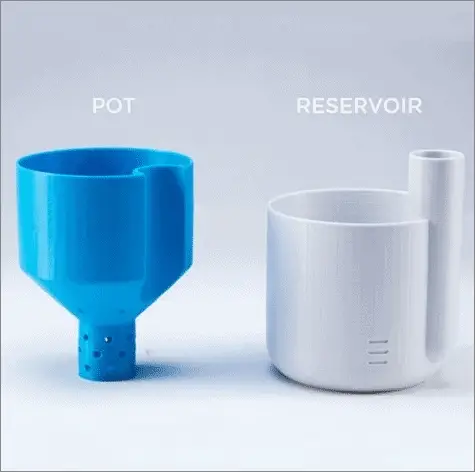 Do you forget to water your plants every now and then? This cool 3D print is exactly what your plants need.
One of the cool things to 3D print, this self-watering planter takes care of your forgetful habits. It provides flexibility in your watering schedule.
All you need to do is just fill it once a week and you're done. Furthermore, it is a way to save the dying greenery around us. Once you have the print handy, it is easy to set up and use. No cleaning required.
Download Self Watering Planter
24. Ball-jointed Frog Doll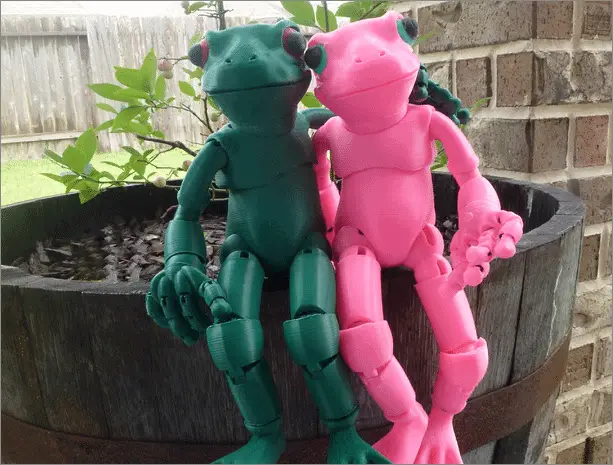 A ball-jointed doll, as the name suggests, is a doll made of plastic by putting together ball and socket joints. They are commonly called BJDs and are a rage among kids.
Is your kid demanding a ball-jointed doll too? Ball-jointed dolls are very expensive in stores.
You don't have to try hard to impress him/her by getting your own cool 3D print of a frog doll.
Download Ball-jointed Frog Doll
25. Zipper Handle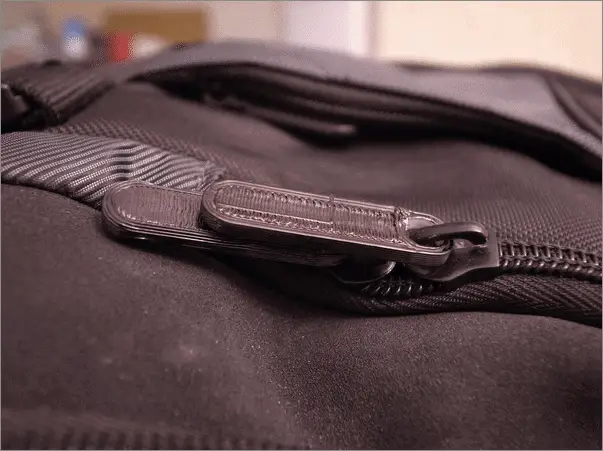 Did you lose the zipper pull of your favorite bag? No more worries.
One of the cool things to 3D print, this zipper pull replacement can be made without any fuss.
In addition, it can be made according to your size requirements.
26. Hair Trap/ Drain Cover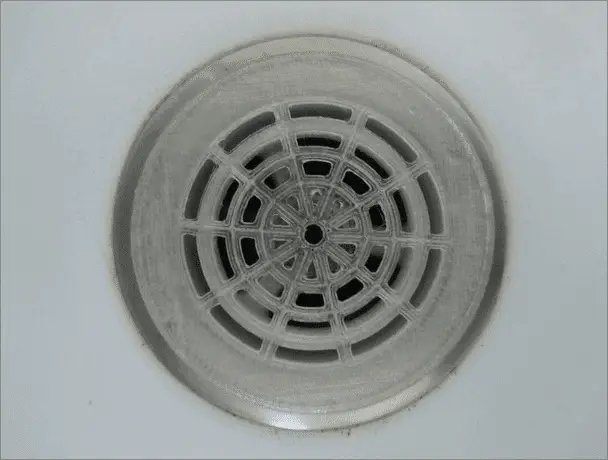 Hair getting clogged in the shower drain or the washbasin sink is the ugliest eyesore ever. How about getting a hair trap printed that will fix this issue?
Be it your shower, tub, or sink; this useful 3D print enables you to get rid of the mess by covering the drain.
27. Cylinder Textured Box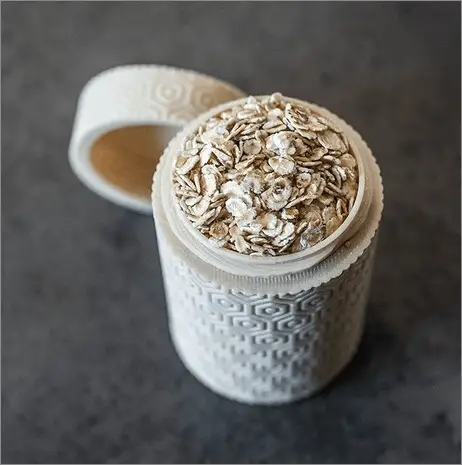 Don't we all like to collect beautiful objects? How about getting a box printed which can be used to store anything you like. Moreover, this 3D printer project will add a stunning storage pot to your existing collection.
Store oats, cereals, lentils, or whatever you wish to.
Download Cylinder Textured Box
28. Pen Holder
Besides being one of the most useful things to 3D print, a pen holder is also required by all of us at our homes and at work.
This cool 3D print enables you to keep pens, pencils, sketch pens, markers, gem clips, and any other stationery.
29. Card Holder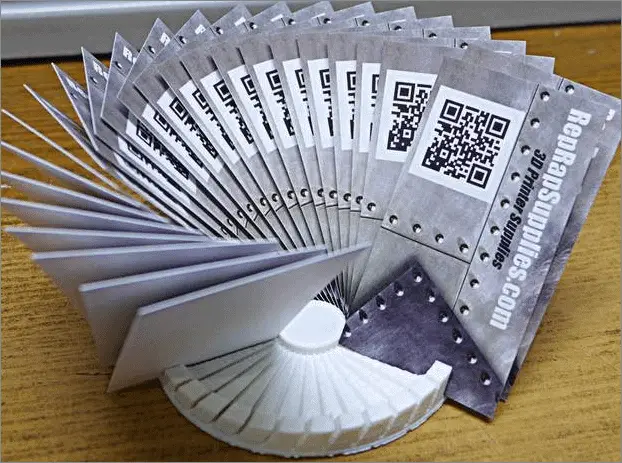 Business cards and visiting cards are not disappearing from the picture anytime soon. Do you own a bunch of them which are always kept in a disorganized manner?
Or, too many cards to keep but no proper place? This 3D printed item will stack them up neatly and help you stay organized.
This exquisite-looking card-holder is one of our most favorites when it comes to cool things to 3D print.
30. Sunglasses Visor Clip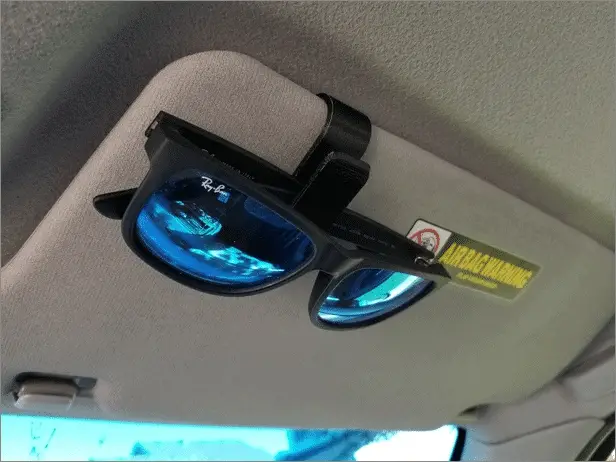 Do you forget to carry your shades every time you step out of the house? How about keeping an extra pair safely hanged to the sun visor of your car?
One of the coolest 3D prints, this sunglasses visor clip also comes handy when you do not wish to put them to use. In addition, you can always think of keeping a spare one for your dear friends or family too.
Download Sunglasses Visor Clip
31. Jewelry Box with Dividers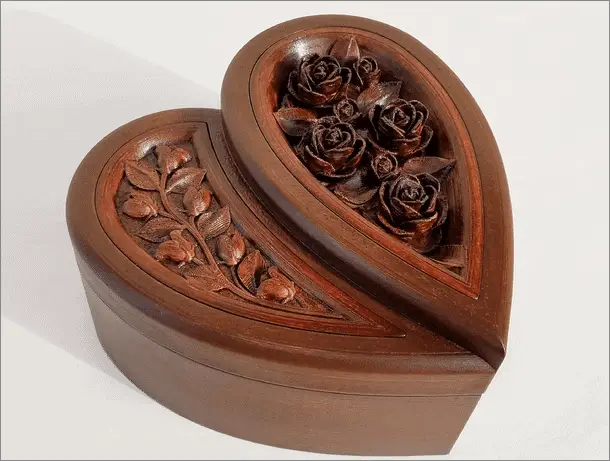 Small pieces of jewelry like rings and earrings are always prone to be lost. But if you have this as a handy decorative box, then it might not be so.
This 3D print idea is a blessing since it stores the knick-knack in one place. In addition, you know where exactly to look out for when you need one.
Download Jewelry Box with Dividers
32. Wall Flower Mount
Gloomy weather? No more worries. This 3D printing project will brighten up your home.
One of the most useful things to 3D print, this colorful wall flower mount will add a creative edge to your balconies and terrace gardens.
Pour water in the cloud which will convert it into raindrops and water the plants.
33. Coffee Sleeve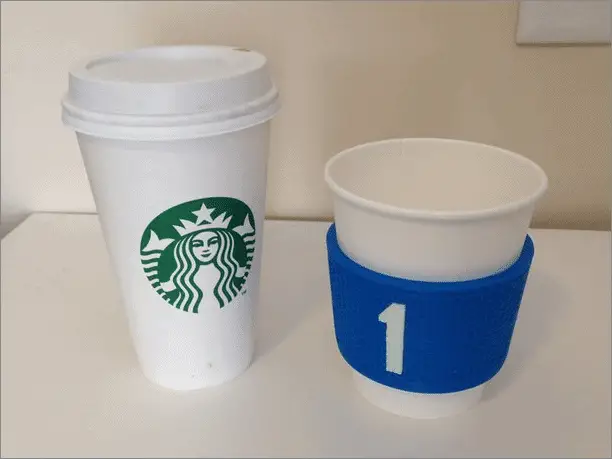 If you're a coffee-lover, this cool 3D print is ideal for you.
Most of the time your coffee is too hot to hold. Save yourself from the burn and get this coffee sleeve, thus providing comfort to your hands.
34. Pip Boxes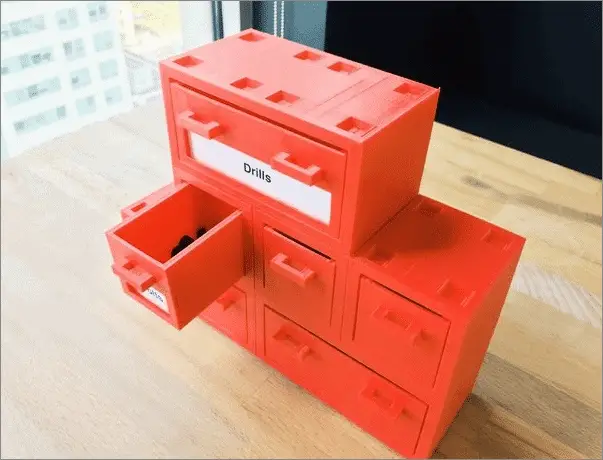 Irrespective of how many drawers we have, aren't we always running out of space? One of the cool things to 3D print, these boxes do not need any support and can be stacked one on top of the other.
In addition, put your drills, nuts, and bolts in one place so that you never run out of them.
35. Baroque Photo Frame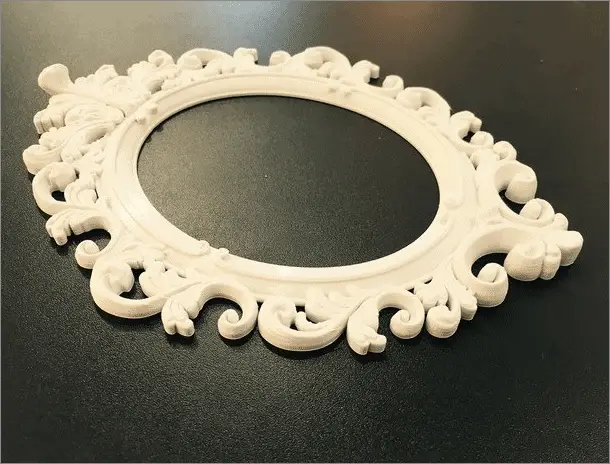 Don't we all love pictures? How about storing some of them as physically tangible copies rather than just having them on our phones?
This useful 3D print enables you to do so. In addition, this flamboyant design will give an antique look to your home decor.
36. Shark Comb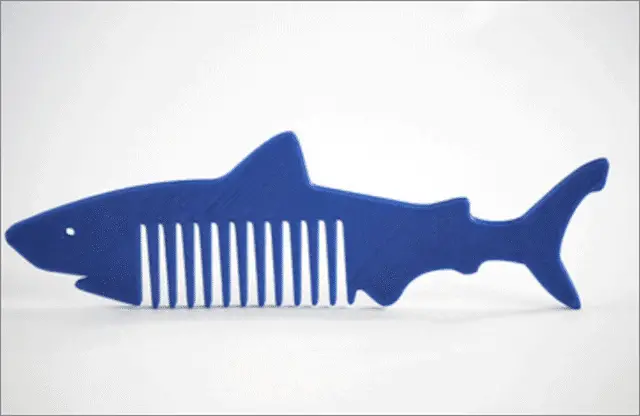 How about printing a product that we require on a daily basis?
This 3D printing idea adds a cool accessory to your utility items and takes care of your tresses.
37. Porcupick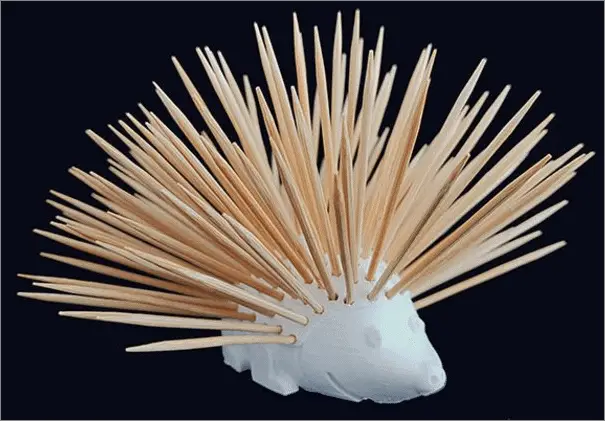 Looking for a fancy toothpick holder in the market? One of the cool 3D things to print, this toothpick holder looks like a porcupine.
Useful and innovatively designed, Porcupick will be a star attraction among your guests at dinner.
38. Rugged Waterproof Box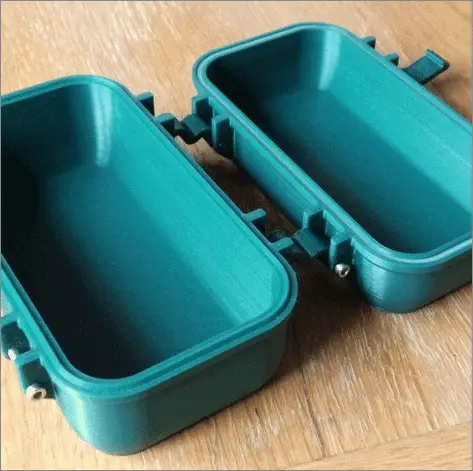 Multi-purpose boxes are a blessing. But, how many times do we end up spoiling our products because of submerging them in the water?
This 3D printer project enables you to print a customizable waterproof box that can store anything. Although you will need 8 screws in total to get the assembling done, it promises to be an easy project.
Download Rugged Waterproof Box
39. Shower Head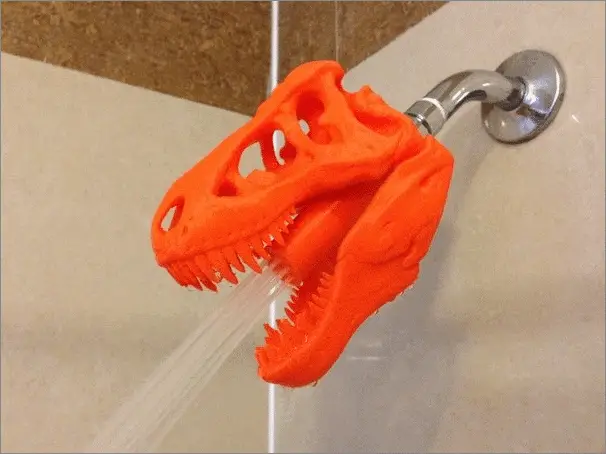 Are your kids bored of the regular fixtures at home?
Moreover, do you wish to add something completely out of the box to your kid's bathroom? Let's do it without spending a bomb.
One of the cool things to 3D print, this T-Rex shower Head is bright, funky, and will add craziness to your bathing experience.
40. Drink Coasters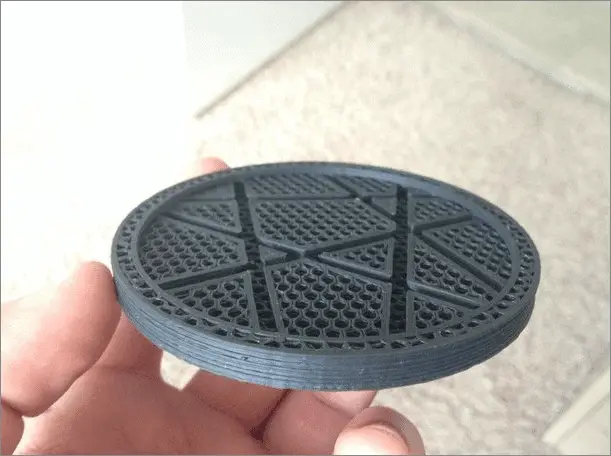 A drink or a beverage coaster is used to rest your drinks. Do not wish to stain your coffee table with ring marks of the drinks? Also, you can rest your glasses and cups on these coasters.
This cool 3D print takes only a few minutes to print.
41. Guitar Wall Mount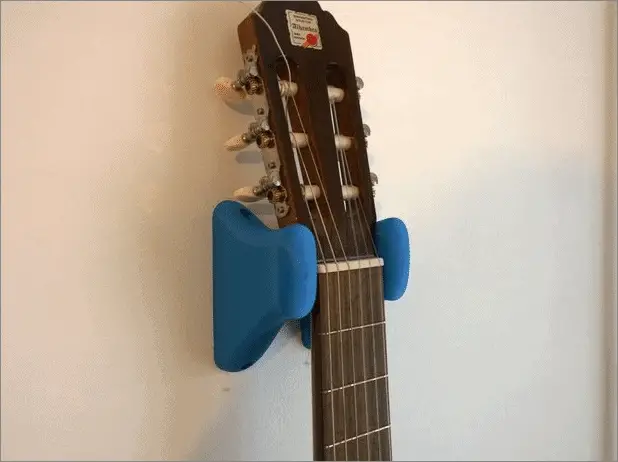 Thinking of a spot to place your guitar? Try this 3D printed item which can be customized according to the required size.
Convenient and space-saving, this guitar wall mount will keep your prized possession safely hung on the wall.
42. Measuring Cups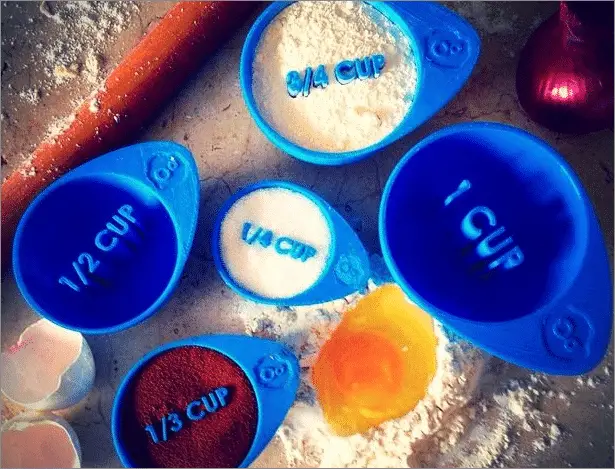 Home baker or not, these measuring cups are useful in your kitchen nevertheless.
A useful thing to 3D print, these measuring cups come in handy when you are short of a particular size since they can be printed in various sizes.
43. Dice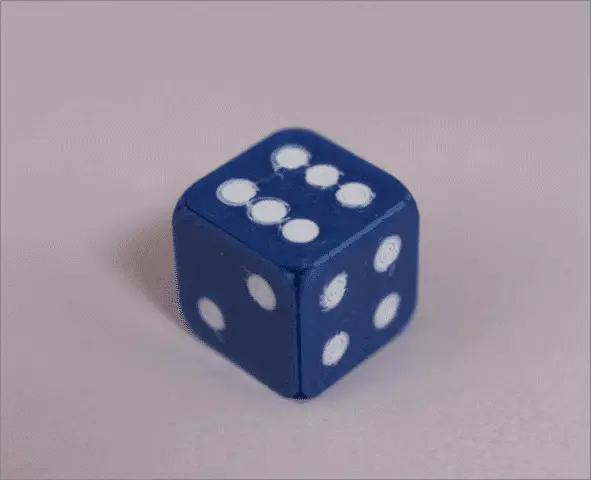 Love playing board games? If you cannot locate your dice, you can get it printed instantly.
One of the most useful 3D printed objects; this simple 16mm dice is flat, glossy and ready to roll.
44. Candle Holder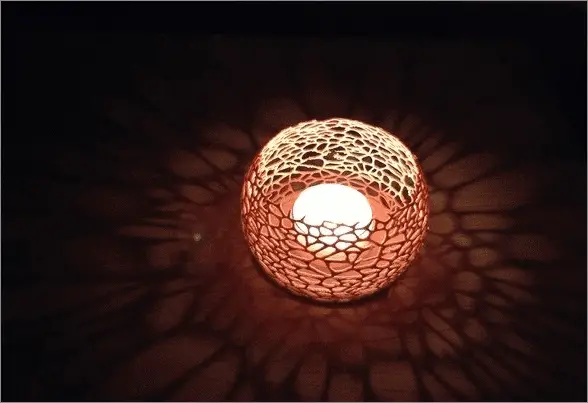 Do you love candles just like me? This 3D printing project enables you to light up your house creatively.
Out of the various options available, this coral-inspired candle fixture is our personal favorite. Although it works with small candles only, it still is very desirable to have.
45. Key Holder with Shelf
One of the cool 3D printed things; this key holder with shelf is simple and fast to print.
This multi-purpose 3D printed item enables you to hang your keys and also keep small items on top of the shelf.
Download Key Holder with Shelf
46. Watering Spout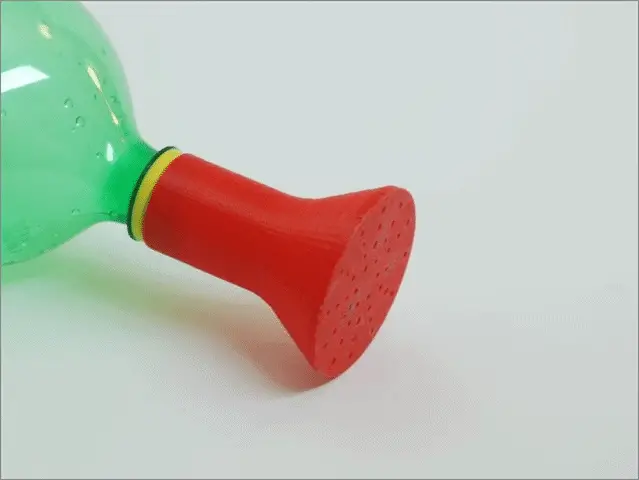 Let's put the plastic bottles you no longer require to good use. Don't we all love life hacks? How about making your own makeshift watering spout?
One of the cool things to 3D print, this product makes watering plants convenient.In addition, it productively uses the bottles you no longer use and helps with recycling too.
47. Vase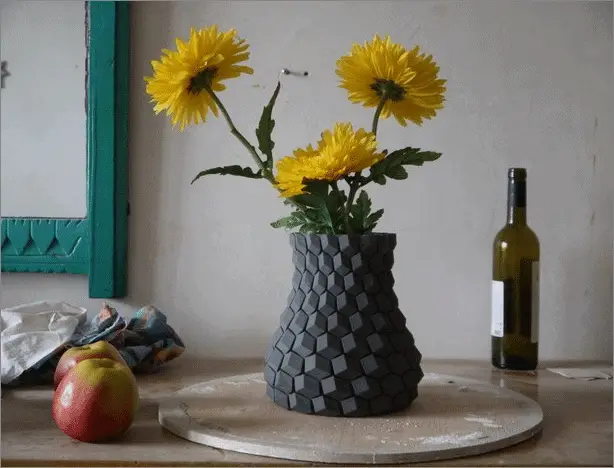 Love keeping fresh flowers at your place? Or, do you prefer artificial ones? In both cases, you will need a vase to hold them. How about trying out something new?
One of the useful things to 3D print, this curved honeycomb vase looks exquisite and will be a creative hand-made addition to your already existing home decor.
48. Doorstop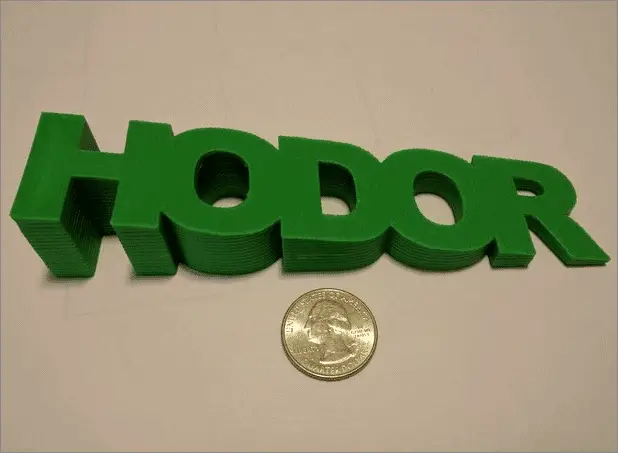 The doorstop is one of the products you always need but never end up buying, right?
This 3D printed item is quirky, functional, easy to print and of course, serves the purpose. It will stop the door from opening too wide, thereby preventing the adjacent walls from damaging.
49. Structure Clock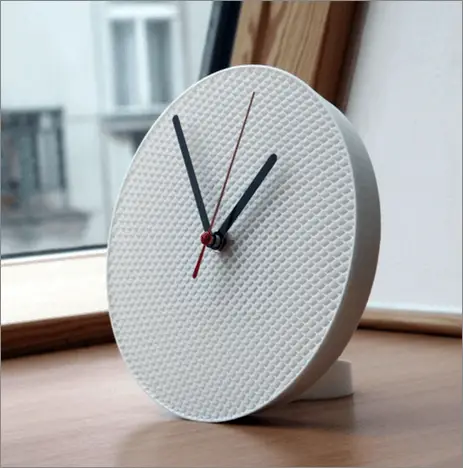 If you already have one for your study, get this done for the drawing-room and vice versa. One of the cool things to 3D print, this structure clock is filled with intricate designs.
After you have the cool 3D print handy, just add a clock mechanism, and you're sorted.
50. Tealight Holder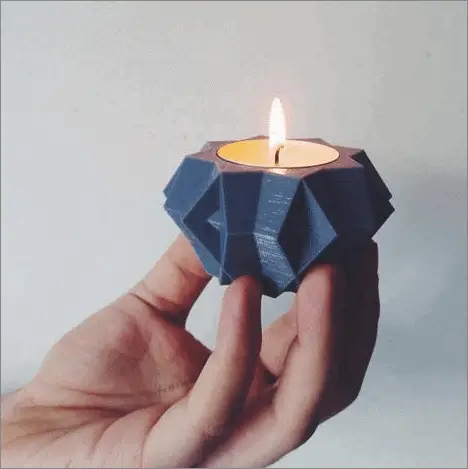 Tealights can be used as accent lighting to accentuate a spot or even to add a decorative effect on floating water.
One of the best things to 3D print, this tealight holder is classy and elegant. Even after the candle liquefies, it won't melt, as the flame is accommodated inside the metal foil.
You can never have enough home decor products, can you?
51. Superhero Keychains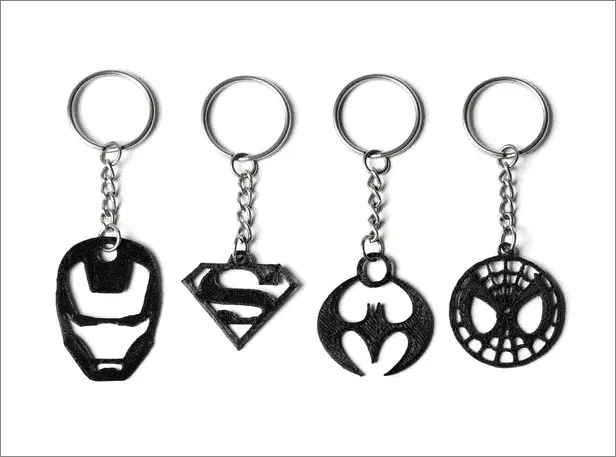 Love comic book characters and superheroes? Is your kid a fan of Superman and Batman?
Elegantly designed and easily identifiable, these superhero keychains are the best things to 3D print.
52. Earrings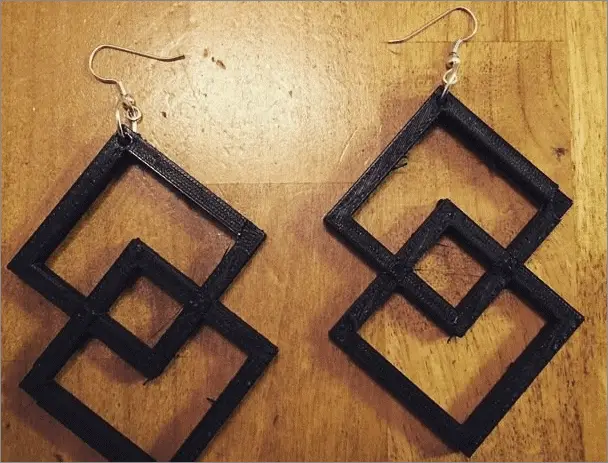 Are you a junk jewelry hoarder? How about creating one on your own?
Besides being one of the cool 3D printed things, these earrings are easy to print and light to carry and give you an added fashionable look.
53. One Hand Book Holder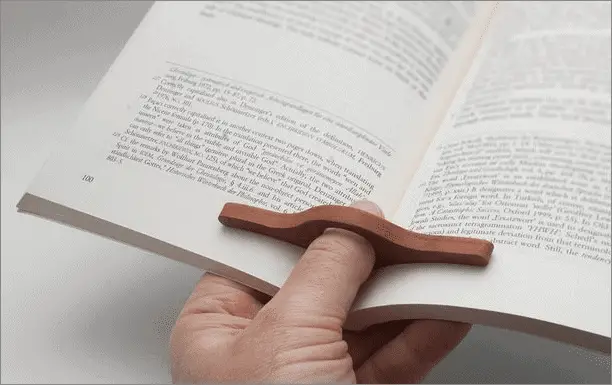 If you like to drink your coffee while reading, then there is something special for you. Or, simply, are you a book lover who loves nerdy accessories?
One of the most useful 3D printed objects, this one-hand book holder enables you to keep the pages propped open.
54. Four Elements- Fridge Organizer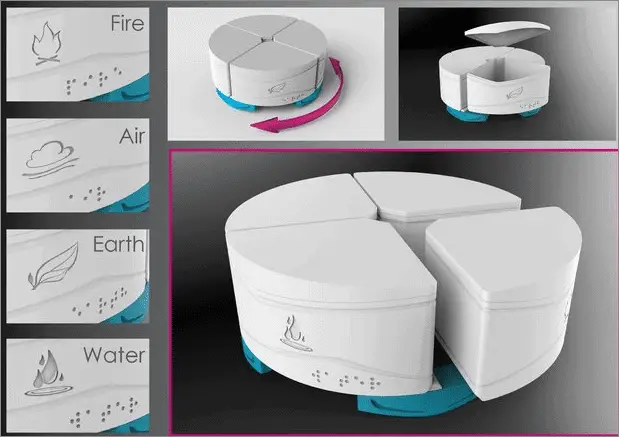 Always running out of space in your fridge? One of the cool things to 3D print, this fridge organizer provides you with more space in the fridge by enabling you to keep things in these little compartments.
Moreover, the beauty of this product is that it is made keeping in mind the visually impaired. The four containers are called Earth, Water, Fire, and Air and have symbols of the same drawn.
The users can keep whatever they like in any of the compartments and recall where's what by just touching the icons. The boxes also have the words (for example Earth) written in braille alphabets.
Download Four Elements- Fridge Organizer
55. Book Owls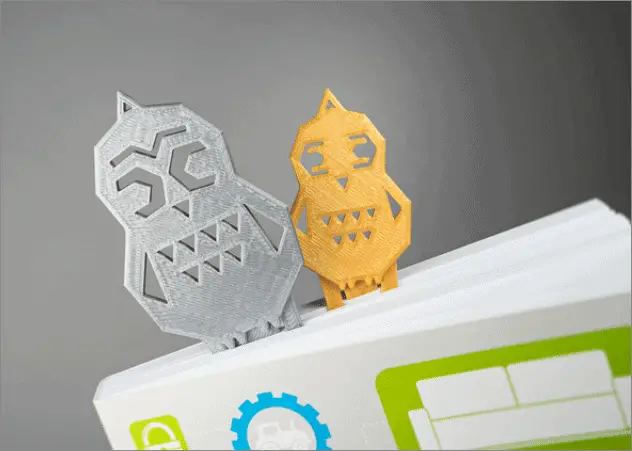 Love reading novels? Bookmarks are extremely convenient since it is not feasible to always remember the number of the page you last read. How about getting owl bookmarks printed? This useful 3D print comes in two sizes and is quick to print.
56. Flower Pendant
Show off your skills to your friends by getting this pendant done on your own.
One of the cool things to 3D print, this flower pendant symbolizes purity, looks classy, and is easy to print. Lastly, just add a string of your choice, and you're good to go.
57. Survival Whistle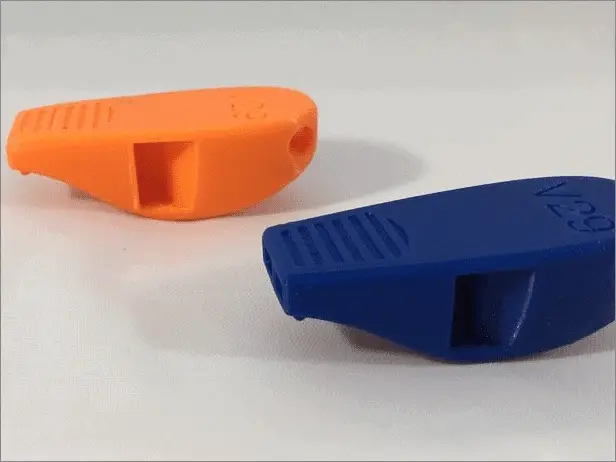 We have all seen traffic police officers, and school teachers use the whistle to make some noise, right?
The sound that comes out from a survival whistle is shrill and be heard in long areas of distance. Let's get one of our own. One of the coolest 3D prints, this V29 survival whistle is easy to make, convenient to carry, and very loud- emitting a pitch of 118db.
58. Toothbrush Holder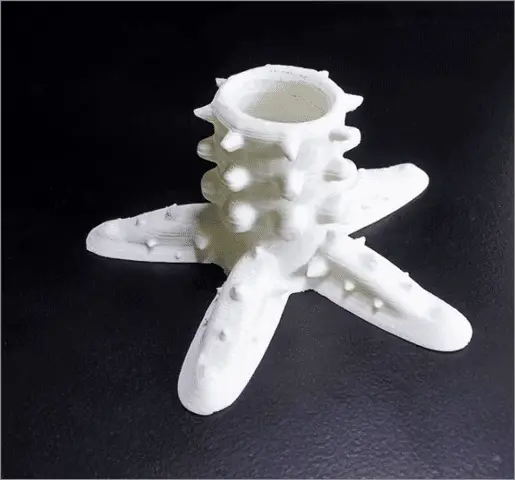 How about printing a home utility product that we require on an everyday basis? Are your kids leaving their toothbrushes at random places instead of one fixed spot?
Let's get them organized by getting this 3D print done. Either impress the little ones by showing up with it or maybe do it as a creative exercise with them. Go, get yourself this useful 3D print done in the shape of a starfish that is cool and funky.
59. Secret Shelf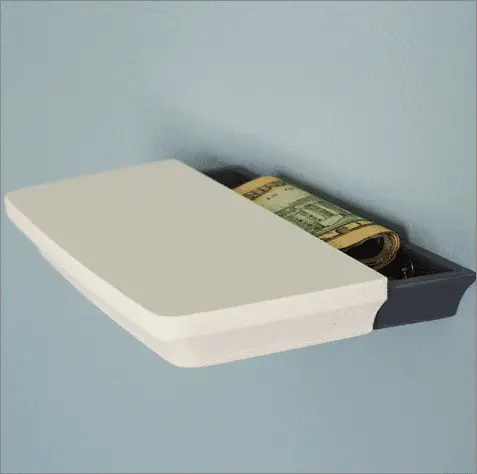 Up for a home decoration product with a twist? Let's get this quirky, unusual product printed.
One of the most useful 3D printed projects, this secret shelf enables you to keep your valuables, extra cash, and anything else you do not wish to fall under the human eye.
Furthermore, it gets printed in two parts, the base, and the cover. Not everyone who sees it with the cover on will decipher it's a shelf. Use it wisely.
60. Can Handles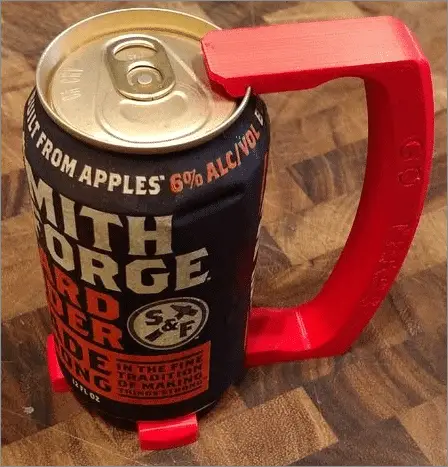 Do your fingers go cold while holding chilled drink cans? Let's get this cool 3D print done and boast about our creative skills to our friends.
One of the most useful things to 3D print, these can handles are a blessing. They provide a grip to the beverage can you're holding and of course, prevent your fingers from freezing. Do test them out before you spill the liquid on yourself.
Final Thoughts on Cool Things to 3D Print
We have listed some cool 3D printed things which exhibit that with some plastic materials, or screws and a 3D printer, you can create whatever you wish to. You no longer need to rush to the store to own products, get the cool things to 3D print in the comfort of your home.
Want to impress your girl? Gift her jewelry box, earrings, and pendants. Want to impress your children? Print them the survival whistle and the frog doll. Looking forward to adding cool 3D printed things to your kitchen? Print the citrus juicer, measuring spoons and cups or the bottle opener. How about adding cool 3D prints that make our lives convenient? The smartphone stand, bag clips, earphone case, and the toothbrush tube squeezer, serve the purpose.
Booklover? Get hold of the one handbook holder and the book owls. Car accessory? Get your hands on the sunglasses visor clip. If you're looking for home decor products, try printing the coral lamp, candle holder, vase, and the baroque photo frame.