All of us want to put our best foot forward when it comes to getting the best job. However, there is a step that comes before it, and most people tend to overlook the importance of it. No points for guessing, we are talking about having a well-made CV. Your resume is a part of the initial screening process every job candidate goes through. So, it is a must to check the best resume builder to up your game and stand out from the crowd
What information and details you include, how should the facts and achievements be enlisted, and whether the formatting should be basic or unique, are important decisions you must make while creating your resume. A resume builder answers these questions and helps you present your skills, talents, educational qualifications, and interests in the best possible manner.
12 Best Resume Builder To Choose From
There are a plethora of options available on the internet when it comes to the best resume builder. Well, our list consists of the top 12 best resume builder options that will give an edge to your CV. There are both free and paid picks that include handy ready-made templates for you to fill in your information. You can, of course, customize as well.
1. ResumUP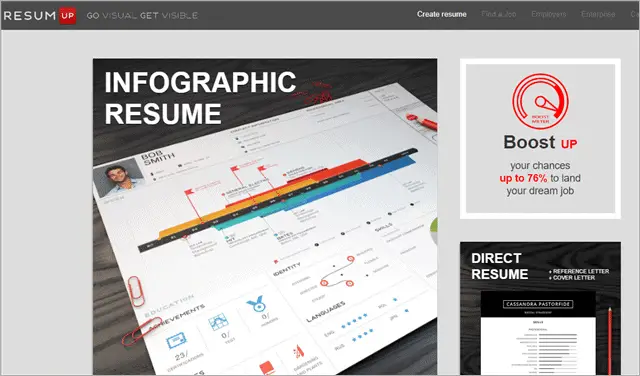 ResumUP offers you a great choice of templates that have multiple creative designs. This best resume builder definitely promises you a unique output. If you are comfortable using graphics, do try it as it includes infographics templates also.
Pricing: You can get one template for one month with $15 and one template for one year with $6 per month ($72 per year). It also has an option of a lifetime plan, priced at $149.
The free version gives you two templates, including a Facebook ad and a plain text version of your resume for Notepad. This has the additional facility of a cover letter builder with the premium version.
Visit ResumUP
2. Resume Builder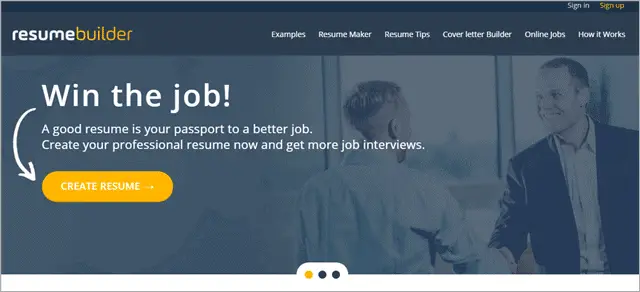 With Resume Builder, making your resume is a very simple process. In just a few clicks, you are done. Once you have filled in your occupation and experience, it will throw up suggestions for suitable templates. It helps you at every step with relevant ideas and words to make the end product stand out.
You also get multiple key phrases to select, customize, and choose from. The tool has resume templates for all jobs and industries with real-time preview designs. After you are done, simply save and export to PDF, or you can publish online.
Are you ready to avail of the best resume builder that will you win better jobs?
Pricing: $9.95 per month for a one-month plan, $6.95 per month for three months, and $3.95 for six months.
Visit Resume Builder
3. Great Sample Resume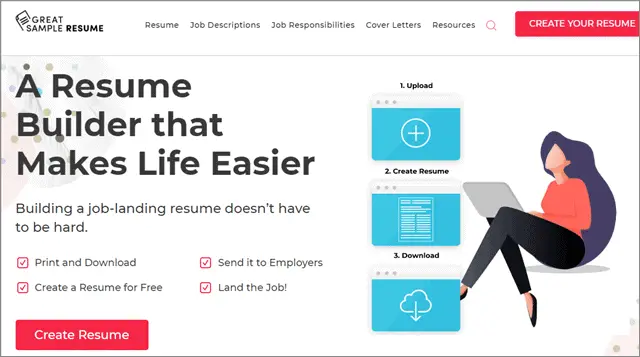 Great Sample Resume is the best resume builder that provides a free cover letter. It includes qualitative templates and samples. These are sure to meet all the requirements to make any resume look elegant and informative.
After you are done with it, you can share it on social media, including Facebook, Twitter, LinkedIn, and Google+. Let us make an exquisite and informative resume with this creative website.
Pricing: Free
Visit Great Sample Resume
4. Resume.com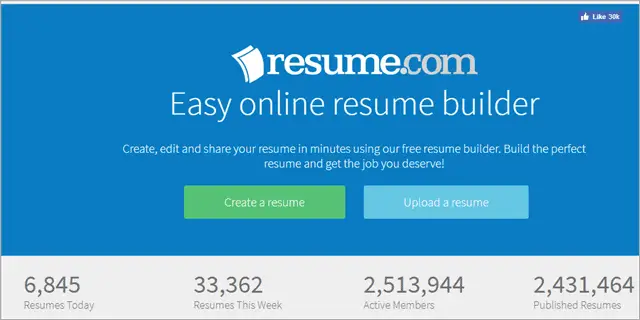 Resume.com lets you create, share, and post your resume with the ease of managing and editing anytime. You get a ready-made cover letter where you just have to fill in the blanks with this best resume builder. You can proofread, print, send, or export your resume as a PDF or Word document. The interface is simple to understand and work.
Pricing: Free
Visit Resume.com here
5. Kickresume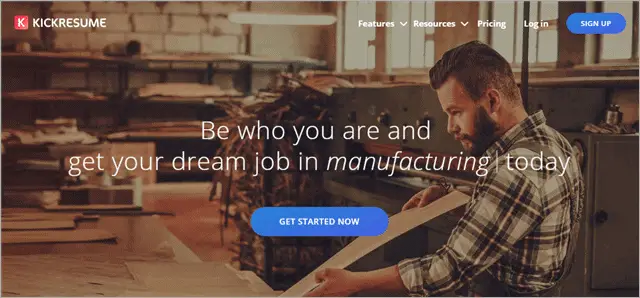 You could be a student, an engineer, or a scientist, Kickresume offers you all that you may need to build a compelling resume. Kickresume is the best resume builder that lets you customize your resume and then help you match it with cover letter templates.
The huge number of possible combinations with different colors, fonts, and formats help to make your resume look unique. Therefore it is definitely one of the preferred resume builders available.
Pricing: Free, premium options available. If you are a teacher or student, you get 6 months of free premium membership. Others can avail of the monthly premium for $19.
Visit Kickresume
6. Zety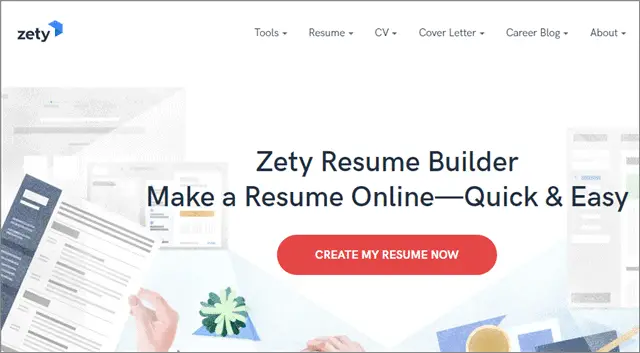 Zety is one of the fastest and easiest ways to build a professional and effective resume.
With this online resume builder, you can write the cover letter using the same templates as your resume. It includes very interesting 20 professional templates with a color choice of nearly 400. All this while being guided by an expert to build a better resume!
You also have a provision to track your resumes on the number of downloads and the 'read' status of your resume. The interface is easy to use, and this best resume builder comes with lots of tips and templates.
Pricing: You get full access for a fortnight by paying $2.70. After two weeks are over, you have to pay a monthly charge of $24.70.
Visit Zety
7. Resumonk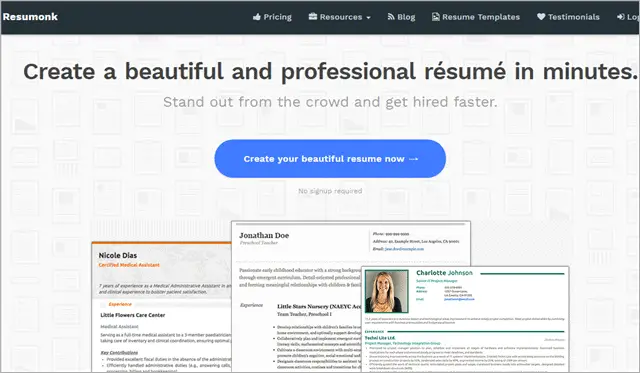 Increase the chances to get your dream job with a unique resume from Resumonk. Although it is a paid service, there is a free version that offers you limited features. The interface is elegant and simple to use.
The best resume builder, Resumonk, is an ideal choice for working professionals who want to up their game when it comes to presentation skills.
Pricing: It has a yearly payment of just $29, which is quite affordable. The paid version includes unlimited PDF downloads with tracking features. It also has a cover letter builder only with the premium version. Its free version has 4 templates to use, whereas, with the paid version, you have full access to all the features.
The lifetime subscription to all the features is priced at just  $89.
Visit Resumonk
8. CV Maker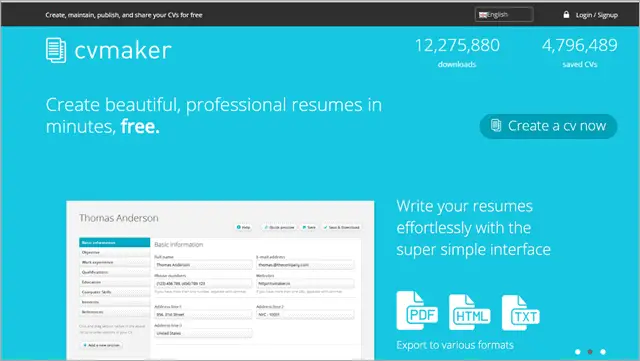 You can create an elegant, professional resume with CV Maker in just a few minutes. The interface of the best resume builder is quite easy to understand and works with a good range of templates.
With the free version, you get a regular text editor. You can move sections of the template, add sections as per your choice and need. This resume builder does not include cover letter builder or tips.
Pricing: The paid version costs you only $16 for a year and offers you a more enriched text editor with lots of fonts and colors. The Paid version lets you download your resume in TXT, HTML, and PDF form.
Visit CV Maker
9. VisualCV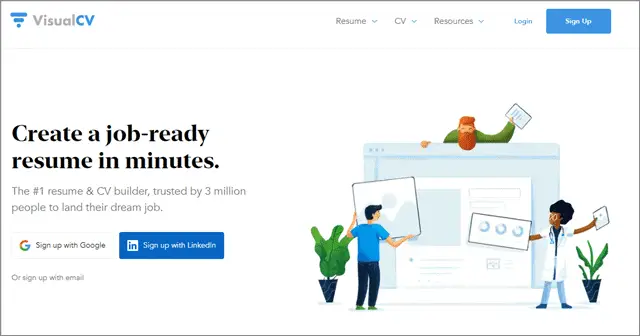 VisualCV is one of the more popular resume builders. Now you can build professional resumes, online portfolios, and personal landing pages with VisualCV in minutes.
It assures you of making the perfect first impression with the templates that are beautifully and logically designed. You can easily customize things and even track your resume in terms of the number of views and downloads.
When you start working with VisualCV, you will be given the option to import your data from LinkedIn or Word. Here, you can save and share your resume after you are done with working on the template. Let's get our hands on the best resume builder and create resumes that would stand out from the rest.
Pricing: Its free version has 3 templates, whereas the Premium version that costs you $12 per month lets you work with 15 templates. It does not contain a cover letter builder nor any tips, even if you go for the paid version.
Visit VisualCV
10. Resume Genius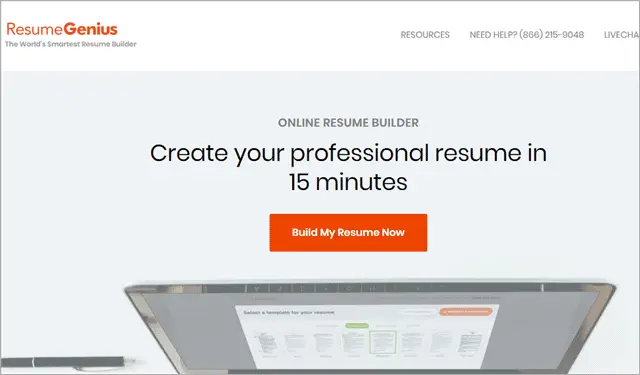 Resume Genius is the fastest and very professional way to build your resume that will get you noticed in the job market quickly. You don't need any prior writing experience to work with this online resume builder; simply click and create.
One important feature of the best resume builder is that it is ATS friendly so that your resume. This indicates that any HR software will not reject your resume. Good news, isn't it?
Resume Genius has very clear and easy to follow instructions. It includes tips and prompts that act as excellent guides.
Pricing: You get a 14 days trial period worth $1.95, which is self-renewed at $39.95 per month. The annual plan costs $95.40, which means $7.95 per month.
Visit Resume Genius
11. EnhanCV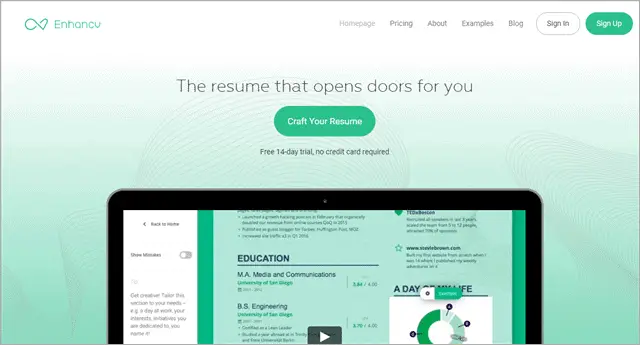 With EnhanCV, you can craft professional resumes with real-time suggestions. You can easily share your resume with friends to proofread. This can ensure the correction of misspelled words or even grammatical mistakes.
There are tips and examples included that make it easy to build a powerful resume. You get some limited features to experience in the trial period of one month. To unlock other features, you will have to upgrade the version.
The best resume builder provides a platform for creating different resumes for specific jobs as the requirement of different jobs differs from each other.
Pricing: Pro Quarterly which is billed every 3 months for $14.99/month, Pro Semi-Annual which is billed every 6 months for $10.99/month, and Pro Monthly which is billed once a month.
Visit EnhanCV
12. Resume Now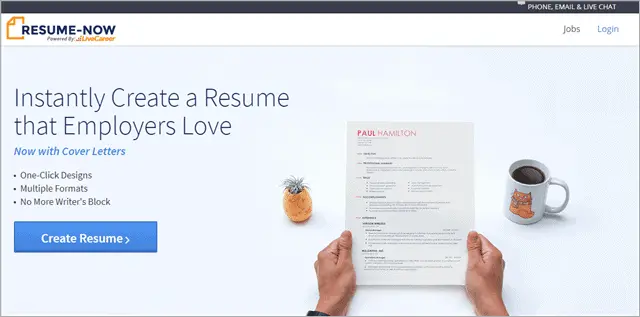 Resume Now lets you build resumes with one click designs and various formats. It has 20 templates to use, along with expert advice and writing examples. It is the best resume builder as it includes a cover letter builder that adds value to your resume.
Resume Now comes with a scanner. It quickly scans and highlights your errors and fixes them. The website enables you to reveal your talents and skills to potential employers. You can share your resume via Email, Facebook, Twitter, LinkedIn, etc. It comes up with full-fledged tools to format and makes your resume stand.
Pricing: For 14-day limited access, you have to pay $2.45; for 14-day full access, pay $2.85; and a charge of $10.45 for monthly access
Visit Resume Now here
Final Thoughts on Best Resume Builder
Striving to get the best job involves a lot of planning. No matter which field you work in, one wants to progress and be successful in life. The first step to that includes building the correct resume. An online resume builder is extremely essential these days as it will help to present your educational qualifications, skill set, and interests in a neat and concise format.
We have listed various online options for the best resume builder. These websites have ready-made templates that suit all professions, and you can also customize individual sections as per your need. These ensure you have an excellent first impression on your potential employers. Nice design and simple presentation with eye-soothing text go in a long way in making a mark. After all, you do not want to be just a name, among many others.
Related: Best InDesign Resume Templates To Make Your Resume Stand Out