No one loves being disturbed by matters related to their corporate jobs, right? After all, holidays are meant for fun, merry-making, and enjoyment, and we don't want our professional affairs messing up with it. Being disturbed by emails from your office on vacation is always boring, which is why we need to know how to set out of office in Gmail to ensure a peaceful time off work.
A Gmail Out of Office mail is an automated reply sent to the recipients who send you emails in the duration when you are on leave from work. The mail is meant to inform the recipients about your unavailability at an instant of time. It is very simple to set it up as
How To Set Out Of Office In Gmail
You can be unavailable due to various reasons. The out of office message could be for sick leave, vacation, public holiday, or even a family emergency. An autoresponder email can also come handy if and when you are facing network issues.
Let's check how to set out of office in Gmail when you are on a break from your work. It can be done on a desktop as well as on a smartphone.
How To Set Up Out Of Office Gmail Message On Desktop
Setting up an out of office message is one of the simplest features to use in Gmail.
To start with, open your Gmail account, click on the Settings icon in the top right corner, and select Settings.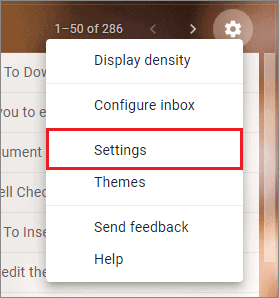 Once the Settings open, scroll down to the Vacation responder section and select Vacation responder on.
Now, you need to fill in the data range, subject, and message of the mail.
You can also choose to send the mail only to your contacts by clicking on the 'Only send a mail to people in my Contacts' option.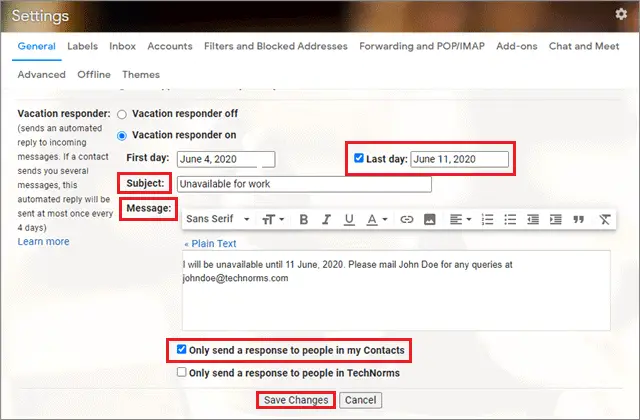 After you have made the changes and required adjustments, click on 'Save Changes' at the bottom of your vacation autoresponder. This will get the vacation responder running, and the messages will be sent to people in your mailing list.
Once you have returned from your break, you can switch off the autoresponder section. To do so, select Vacation responder off in the Settings.
After the vacation responder is enabled, you will see a banner across the top of any Gmail page, displaying the subject of your vacation response. To stop Gmail out of office response, click end now within the banner. Or, if you'd like to edit the response, click vacation settings.
As we mentioned earlier, using a Gmail autoresponder is a simple process and saves users the trouble of having to reply to their colleagues on holidays or any other special occasions. That's all about how to set out of office in Gmail on a desktop.
How To Set Up Out Of Office In Gmail On Smartphone
Setting up a Gmail out-of-office message is as easy on a smartphone as it is on a PC. Additionally, users can also access and make changes to the vacation response message anywhere and anytime using their phones.
To begin with the process of how to set out of office in Gmail, open the Gmail app on your phone, and tap on the Menu option in the left top corner.
Now, scroll to the bottom of the menu and click on the Settings option.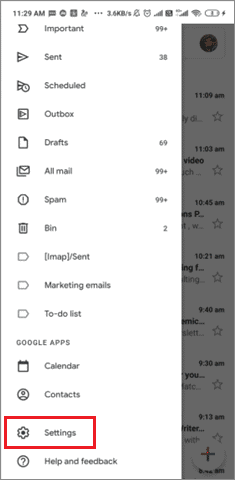 Next, scroll down and click on the Out of Office AutoReply option.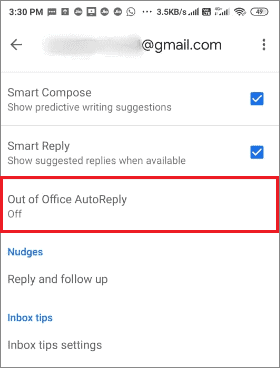 Turn on the Gmail Out of Office AutoReply option and fill the date range, subject, and message as per your requirements. If you want to send a response only to your contacts, you can check the box in front of Send to my contacts only option.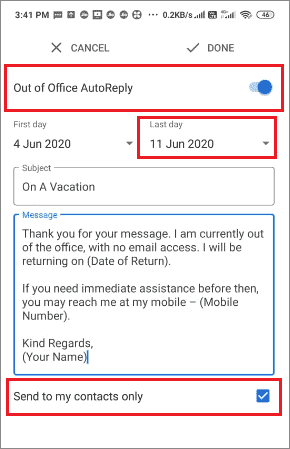 The Last day option offers users a specific date until which you want to run the vacation responder. You can also select a custom date by clicking on the Custom option in the menu.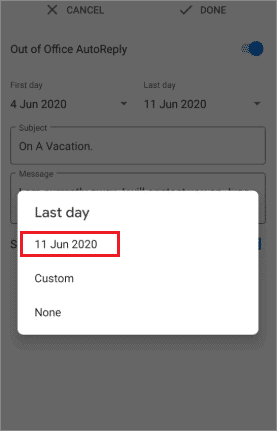 Once you have added your details, click on the Done option.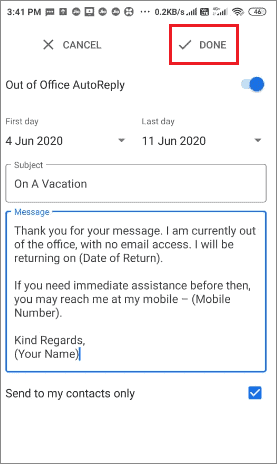 To turn off the AutoReply, you just have to turn off the Out of Office AutoReply option in the Settings menu. The best thing about using a Gmail vacation responder is that it gives us enough options for customization. Users can run the autoresponder for an instant of time as per their requirements, and craft a message as they wish.
Your Gmail away message reply starts at 12:00 AM on the start date and ends at 11:59 PM on the end date unless you end it earlier. Also, your message is sent to your contacts as many times as they mail you in the duration when the vacation responder is on.
Tips To Craft A Break/Vacation Response
Even though you are sending an informing message about your absence, you still want to make your out of message break or vacation response to look professional. To do so, it's always good to follow these practices mentioned below while learning how to set out of office in Gmail.
1. Humor
A humorous tone always helps in lightening the mood. However, you need to make sure that the humor you write in this message won't be offensive towards your recipient.
2. Important points to include
Irrespective of the tone of your message, make sure you always include the timeline of your absence when you send a response to people. Your recipients should know when you are gone and when you will be back
3. Message template
If you own a small business or you are a freelancer, having a nice Gmail away message is always a good sign of professionalism. It also helps in building trust with your clients and lets them know about your seriousness regarding your work.
4. Backup contact
In case you are absent at a time when important projects are going on in your company, mentioning a backup email address is always a good practice. The Gmail out of office vacation response helps your recipient to contact the next best person apart from you who can solve their queries.
5. Other systems
When you have set your vacation responder in Gmail on, make sure you don't forget to mark other systems such as the Google Calendar or any other project management tools, where you are listed as a resource. This will let people know of your absence, and they won't schedule meetings with you in the given time period.
Conclusion
When it comes to Gmail, there is a lot of flexibility. From deleting all promotions to changing phone numbers and to set up Gmail on outlook, all the process is straightforward and easy. How to set out of office in Gmail is an important feature and very easy and straightforward to follow. As we have seen above, this little feature can go a long way in helping users maintain professional ethics as well as set up a seamless communication with their colleagues in their absence.
Using the vacation responder in Gmail also allows users to take a good break from work without being disturbed by emails from their respective workplaces. The queries meant to be solved by them can be redirected to another source by mentioning an appropriate backup contact. The Gmail autoresponder can be set on a PC as well as a mobile device, so you need not worry about the availability of the right device. The choice of using the device for using this feature depends upon the user's needs and requirements.