Nearly every internet user has a Google Account, right? It is the most widely used search engine in the world and known for its services such as Gmail, Hangouts, Calendar, Docs, Sheets, and much more. When you open a Google Account, you also need to set a nice profile picture. However, if it doesn't match your expectations, you need to know how to change Google profile picture.
Learn How To Change Google Profile Picture
Your profile image serves to be a mark of authenticity. Also, the manner in which it is taken defines the type of account you hold. If the profile image has you giving a casual pose, your contacts might believe this is your personal account. If it has an image of you wearing formal clothes, your contacts will be sure this is your professional profile. Hence, if you have an image that is outdated, it's time to change the Google profile picture and assign a good image.
Note: Once you change your profile picture in Google, it will be visible to people on multiple applications, such as Youtube, Hangouts, but not on Gmail. You have to change the Gmail profile picture separately as mentioned below.
How To Change Profile Picture In Google
The process of changing a Google profile picture is relatively simple and easy to execute. It hardly requires time unless you don't spend it on choosing the best replacement for your current image.
Open Google Chrome or any other browser you prefer, and go to myaccount.google.com.
Now, click on the image of the camera that appears across your profile picture. If you don't have a profile picture, Google will show the first letter of your first name as your profile picture.
Next, you can choose to change the Google profile picture by uploading an image from your computer or choosing one from the photos you have uploaded on Google.
Here, we will upload an image from the computer.
Click on Select a photo from your computer. This will open a dialog box and allow you to select a photo of your choice.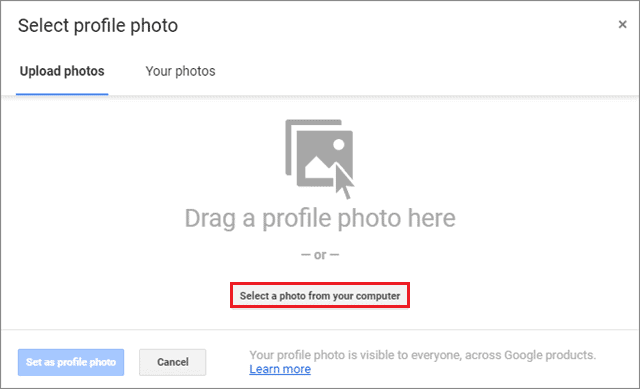 Once you have selected the photo, adjust and crop the image size according to your preferences, and click on the Set as profile photo button.
This is how your profile will look after you have changed the image.
If you don't see the change immediately, no need to worry. Sometimes, Google can take several minutes to hours to show such changes. However, if you are desperate enough, you can clear the cache and reopen the browser to see if the change has come into effect.
Users can also change the image via Hangouts, Calendar, and Drive using the same steps.
How To Change Your Gmail Profile Picture
We have seen how to change the Google profile picture through your Google Account. However, the image you select there doesn't necessarily get as your profile picture for your Gmail account. To learn how to change your Gmail profile picture, login to your Gmail account from a web browser on a PC or a mobile device.
Then, select the Gear icon in the top right corner and click onSee all settings from the dropdown list.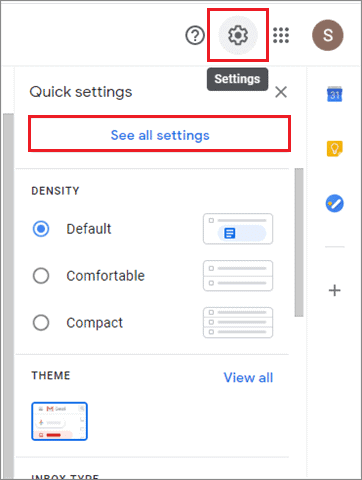 Now, select the General tab, select the About me option in the My Picture section.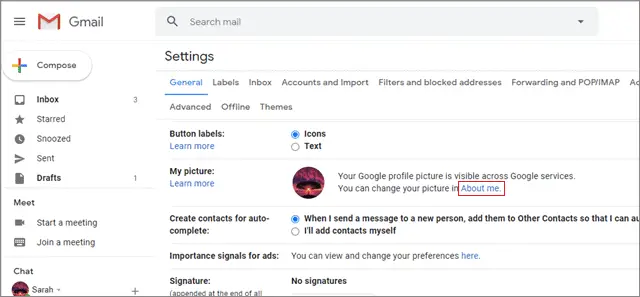 Following this step will take you to the Google Account page. From there onwards, you have to follow the same steps as mentioned in the first method.
Your image will now be visible to your recipients when you send them emails. If it isn't, then Google might require several minutes to process and display your profile image. That's all about how to change the Google profile picture. However, if you want to limit who sees your profile image, you can do that too.
Conclusion
Having a profile picture for your Google Account is increasingly becoming a necessity these days. A profile image symbolizes authenticity; also, users can easily predict if an account is being used for personal or professional purposes by seeing the profile picture.
If you don't have a good profile image, you can change Google profile picture to give your Google Account a nice and authentic look. A profile picture also serves to be the first impression to your recipients. According to data from Google, an account with a profile image increases the number of requests by 42% and website clicks by 35%. Users can choose to go for any method as per their needs and requirements.
Related: Learn How To Sign Out Of Google Account On All Devices