To have proper maintenance and ensure the smooth running of a computer, a user needs to have an excellent utility tool that can help him in this task. CCleaner is one such software used globally. However, since the automation feature is restricted and there are license limitations while using the free version, many users look for a CCleaner alternative.
Get The Best CCleaner Alternative That Fits Your Needs!
CCleaner alternatives can optimize your PC for better performance and also offer functions such as disk cleaning, PC optimization, file shredding and duplication, and much more.
Note: With several alternatives to CCleaner, it is necessary to check the compatibility of the tool with your operating system.
1. BleachBit
Bleach-Bit is an open-source CCleaner alternative compatible with both Windows and Linux operating systems. BleachBit can identify and remove Web Cache, HTTP Cookies, URL History, and Flash cookies for Firefox, Opera, Safari, and Google Chrome. It can shred files and wipe unallocated disk space to maintain data remanence.
Additionally, it can also improve the data compression ratio for disk backups. It is one of the best CCleaner alternatives and a free tool to use.
Pros:
Small size
Contains powerful tools
User-friendly interface
Cons:
Takes a long time to free up space
2.  System Ninja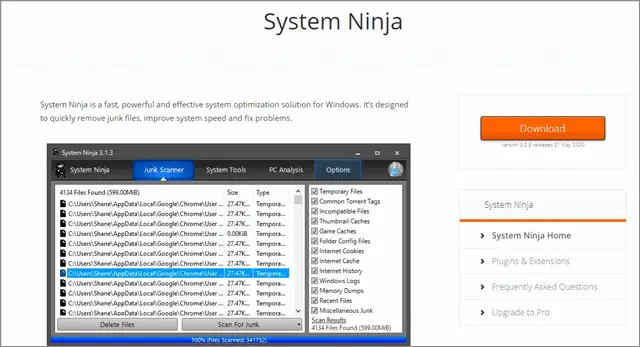 System Ninja is viewed as a replacement for Make, a tool known for slowing down while performing incremental builds. It offers tools like junk cleaner, process manager, system analysis, and so on.
You can also control startup times, manipulate the running process, and delete unwanted apps on your PC. Also, System Ninja provides one-click optimization and is a good CCleaner alternative if you wish to try a tool for getting a good speed boost. You can use the free tool or else join their Pro Club for $14.95 a year.
Pros:
Offers good speed boost
Simple interface
Cons:
Plugins are hard to install.
3.  CleanMyPC
CleanMyPC is yet another great CCleaner alternative that performs all the standard functions like cleaning junk files, boosting computer speed, fixing Windows Registry problems, and uninstalling multiple programs.
CleanMyPC has a simple interface and a smooth learning curve. Equipped with the ability to maintain a user's online privacy, you can also delete hibernation files using CleanMyPC. You can use the free tool or download the version with added features for $39.95.
Pros:
Recovering large files
User-friendly interface
Cons:
Cannot remove Secure Erase.
4.  Glary Utilities
Glary Utilities is the best CCleaner alternative in the market at the moment. It can remove junk files, fix crashes and errors, optimize memory and operating systems, and allow disc cleanup.
Glary Utilities, as the name suggests, is an all-in-one utility that has automated options for securing your PC. It also provides spyware detections for your PC. It is probably one of the best all-in-one CCleaner alternatives available. The Pro version of the software is available for $19.97.
Pros:
All-in-one utility
Optimizes memory and operating system
Cons:
It has a costly subscription.
5.  Clean Master
If you are looking for a CCleaner alternative for proper privacy protection, CleanMaster PC is a great tool to use. It can clear cache and junk files. Moreover, unlike any other utility, Clean Master has an in-built antivirus to remove viruses and malware.
CleanMaster PC also has an app lock, a game booster, battery saver, RAM booster, and many other features. Unnecessary programs are stopped, boot time is increased, and the system can be optimized using this tool. Clean Master Pro is divided into three types – $15.9 for three months, $29.9 for one year, and $49.9 for two years.
Pros:
Offers multiple utility options
Privacy protection
Cons:
The visual clutter affects user experience.
6. Advanced SystemCare
Advanced SystemCare is an excellent CCleaner alternative if you are looking for a tool that can offer good system optimization. It offers all the standard functionality like cleaning junk files, removing old files, and boosts computer startup.
With Advanced SystemCare, you can secure many things like your contacts and emails as well as block programs. Malware and Spyware are integrated into this tool. The Pro version of the software costs $23.98 for 1 year.
Pros:
Accelerates Internet
Removes unwanted registry and old files
Great system optimization
Cons:
Slows the computer while running
7. Avast Cleanup
Avast Cleanup is a decent CCleaner alternative for removing all the trash and fixing all the annoying problems that you face on your PC. To be specific, it removes broken shortcuts, registry, and automatically updates your applications.
Avast Cleanup is also well-known for detecting and removing third-party toolbars and ads. However, the most striking feature of this tool is the tuneup method, which puts all resource-draining applications to sleep to boost speed. The Pro version 1-year subscription is available for $53.99.
Pros:
Removes unwanted files
Tuneup method
Cons:
8. Wise Cleaner
Wise Cleaner has a straightforward interface and is known as a great system optimizer. The best functionality Wisecleaner offers is clearing junk files and freeing up space on a disk automatically.
It also proves to be a good CCleaner alternative for defragging and rearranging files. Also, Wise Cleaner has the ability to schedule automated disk cleaning. Beyond that, it offers low CPU usage when in use. Wise Cleaner comes with two licenses. The Pro version with Single Solution license is available for $22.46 for one year and $42.46 for a lifetime.
Pros:
Protects privacy
Great for defragging and rearranging files
Cons:
9. AVG PC Tuneup
Want to make your PC run faster? Give AVG PC Tuneup a try. This CCleaner alternative can fix bugs and crashes in the blink of an eye and optimize your system. It offers various tools such as Browser Cleaner, which can help you surf faster and Disk Cleaner, deep-cleans your hard drive.
Added to that, the AVG PC Tuneup also cleans the registry files automatically. It also helps you remove all the bloatware and keep your programs up to date with just one click. Make sure you don't miss out on this all-in-one utility tool. The Pro 1-year subscription is available for $19.95.
Pros:
Clears registry files automatically
Offers multiple functionalities
Cons:
10. TreeSize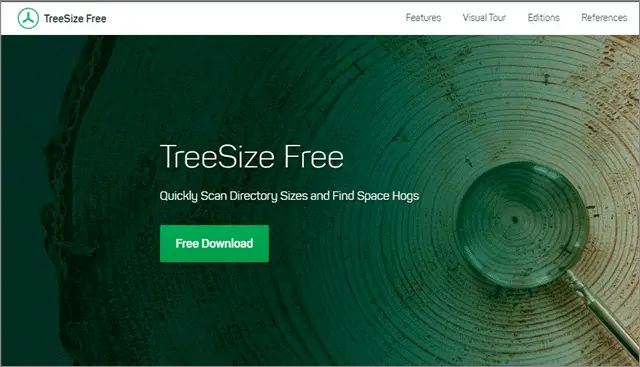 TreeSize is the best CCleaner alternative when it comes to hard disk space management. Apart from the standard functions such as junk cleaning, you can also use this tool to export files. You can copy, move, or archive files to ensure proper organization in your drive.
TreeSize can also help you analyze files and folders in detail. It scans SharePoint and FTP servers for any possible malware. TreeSize is also applicable for Android, meaning you can manage your files and folders on mobile devices. The personal version is available for $24.95 and the professional is available for $54.95.
Pros:
File exporting options available
Compatible with smartphones and mobile devices
It's a free tool
Cons:
Tad bit slow on startups for larger disks
11. Privacy Eraser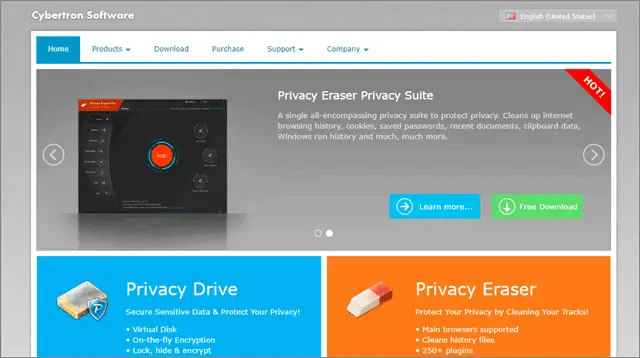 Privacy Eraser is one of the best tools for maintaining PC security. It is capable of erasing unwanted traces of past activity. It cleans Internet cache, cookies, history, saved passwords, and much more.
With the help of Privacy Eraser, you can also safely clean the areas of your drive. For cleaning traces, this software provides More than 250 third-party applications. It can also monitor the Windows system in real-time. It is free to use.
Pros:
Provides a host of third-party apps for cleaning traces
Provides top-notch privacy security
Deletes irrelevant registry entries
Cons:
Doesn't wipe out email conversations
12. Duplicate Cleaner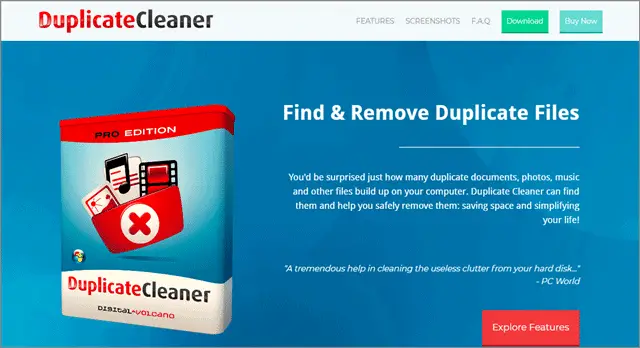 Duplicate Cleaner can help you increase the speed of your computer with just a few clicks. It clears cache and cookies to optimize your PC by freeing up space. You can sort out images as well as create duplicate files using this tool.
Duplicate Cleaner can also find duplicate files in zip folders, so you need not worry about documents getting left out. The Pro version 1-year subscription is available for $29.95. All in all, it's a great CCleaner alternative you must try out.
Pros:
Finds duplicate files in no time
A good tool for boosting PC
Cons:
The process of finding duplicate files is very long
13. Ace Utilities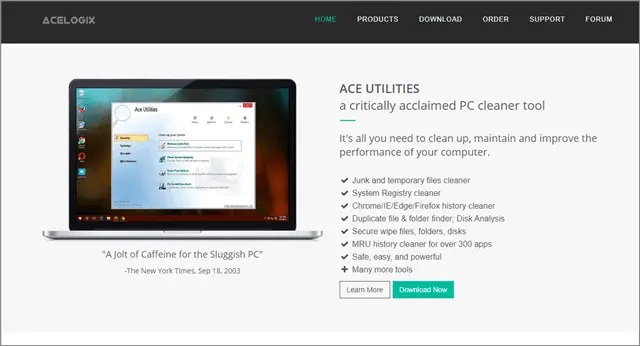 Ace Utilities is another decent CCleaner alternative if you are searching for a tool to boost your computer speed. This software cleans junk files to free disk space and also provides a detailed analysis of files and folders.
Ace Utilities can also clear invalid shortcuts on your desktop whenever necessary. It can also delete the registry files and clean the internet browser cache and history. You can purchase an Ace Utilities Pro subscription at $15 for one year.
Pros:
Provides analysis of drive contents
File duplication
Cons:
Exit option is too big and causes accidental clicks during navigation
14. Iolo System Mechanic
Iolo System Mechanic can help users to maintain the wear and tear of their computers. A great CCleaner alternative as it bolsters PC boot time, downloading speed, CPU performance, RAM, and drivers.
With solutions to over 30,000 problems, it is an automated program that can do everything from finding an unwanted file to deleting it. Iolo System Mechanic can remove over 50 different types of junk files and free up disk space. The Pro version subscription is available at $49.95 for 1 year.
Pros:
Solves multiple problems
Boosts computer performance
Cons:
Too many features and customization options that make it difficult to operate
15. FileCleaner
FileCleaner is a great all-round tool for PC optimization. Regarded as one of the best CCleaner alternatives in the market, this software cleans your PC automatically, fixes issues, deletes browser toolbars, and manages your files.
It is best known for file shredding – a technique through which your files are deleted in a certain way such that you cannot retrieve them back by any software or hardware method. With this CCleaner alternative, you can create and customize a scan schedule according to your convenience. All in all, FileCleaner is a fantastic tool that is free for use and has no subscription-based pro version.
Pros:
Customizable scan schedule
File shredding
Cons:
Tad bit slow on startups for larger disks
16. Systweak
Systweak is one of the most powerful tools for optimizing your PC and an excellent CCleaner alternative. It helps users reduce the system crashes, maintain the functioning of their PCs, and also protects your sensitive data from malware and phishing attacks.
If you are a gamer looking to update your drivers without any discrepancies or disturbances in gaming, Systweak is the tool to go for. It helps you switch seamlessly between the home computer and the game machine, thereby providing a disturbance-free gaming experience. You can purchase a Systweak subscription for $69.95.
Pros:
Good choice for gamers
Protects PC from malware and phishing attacks
Helps in reducing system crashes
Cons:
The pricing is subscription-based and not a one-time purchase
17. Jv16 PowerTools
JV16 PowerTools is known for optimizing computers by cleaning the Windows Registry and unwanted data. If your computer starts slowly, using this alternative to CCleaner could fix the problem. The best thing about Jv16 PowerTools is that it allows you to uninstall or remove a software along with its leftover files.
Jv16 PowerTools can be used in many languages such as English, Dutch, French, Deutsch, etc. Following a 14-day free trial, you will have to shell out $19.97 for a 1-year subscription and $49.50 for a lifetime purchase.
Pros:
Uninstalls software along with leftover files
Fixes the slow computer startup problem
Cons:
It can cause many programs to malfunction.
Conclusion
CCleaner is a widely used application when it comes to PC optimization and boosting operating systems. However, with the kind of limitations it has, a CCleaner alternative can prove to be good. These alternatives to CCleaner can provide many benefits. Various tools are also known for providing certain features that have the best possible outcome. For example, you can get a useful tool for file shredding and another for providing proper privacy protection. Almost every replacement tool has a smooth learning curve, making it easy to use for beginners.
However, it must be noted that the alternatives to CCleaner mentioned above aren't the only ones that you can use. A user is free to select any tool he finds befitting to his lists of needs and requirements.
Related: Best Chrome Antivirus Extensions for Proper Malware Scan