Smartphones are an indispensable part of our daily lives. However, do you feel the need to stay away from the prying eyes of people who intrude into your privacy? Be it, hackers with malicious agenda or businesses and websites that track our likes and dislikes; we are always under observation. The solution is to resort to the best private browser for Android and enjoy private browsing.
The browsers that you use are the primary medium of leaking your information and data. Even clearing cookies and cache regularly does not make us entirely free from advertising agencies and cybercriminals. The government, too, keeps track of our online activities. So, switching to anonymous browsers is an excellent solution. A private web browser does its best not to leak data and ensures that your browsing is safe and secure.
14 Best Private Browser For Android Users
An anonymous web browser cannot prevent you from all the traps but helps attain some browsers' privacy. We've listed the options for the most private browser, which keep your anonymity intact and enable you to indulge in online activities without leaving traces behind. So, it is time to bid farewell to your regular browser and choose the best Android browser that facilitates surfing the web securely.
1. Brave Privacy Browser
Brave Privacy Browser provides a wide range of privacy and security features that makes it numero uno on our list. The best private browser for Android devices, Brave manages your cookies well and blocks scripts and unnecessary advertisements. The most secure web browser boasts automatic HTTPS connection upgrades without compromising on the speed and has a native password manager.
You can customize your security settings, which act as a shield protecting you from prying eyes and unwanted attention. Brave enables you to see the blocking stats. If you are curious and interested in how it blocks trackers, you can view the details on the New Tab page. If you do not wish to customize your preferences, the default settings are good enough to block malware and nosy attention automatically.
Best Features:
Secure, fast, and keeps your searches private
No pop-up advertisements and other malware
Free ad blocker and individual tabs for browsing
Anonymous browsing history
Third-party cookie blocking
Primary Drawback:
Lack of add-ons and extensions
Download Brave Privacy Browser
2. Tor Browser
Tor is often considered as the best browser for privacy and is a common name in the niche. Anyone who has ever tried to get their hands on secure browsing must have come across the Tor network as one of the probable options. The best private browser for Android sees to it that websites do not track your online activities.Tor works exceptionally well for browsing and includes three levels of encryption for security.
The app manages trackers by deviating from your network and the developers of the app vouch for the users' online privacy and freedom. Tor takes care of your security concerns by automatically deleting cookies and browsing history. When you leave a full-sized window open, the browser sends you a prompt asking you to change it to a smaller screen version to keep hackers at bay.
Best Features:
Blocks advertisements and third-party trackers
Automatic defense against surveillance
Resisted fingerprinting so that you cannot be tracked
Triple-layered encryption
Deletes browsing data, passwords, and cookies
Primary Drawback:
Might make your browsing speed slightly slow
3. Cake Web Browser
Cake Web Browser's primary focus is to make sure that websites and advertising portals do not track the users' browsing habits. There is a privacy mode, which, when switched on, enables you to be anonymous online. Nothing that you do will be recorded, therefore, making you untraceable. The best private browser for Android also includes passcode protection.
You can use voice search to hunt for what you are looking for. There is a dark mode that reduces eye strain. Cake Web Browser boasts a swipe search function. You type in something and then swipe through to results to locate what you want. This feature comes in handy while online shopping and when you are looking for images and videos. The results are presented to you after skimming through various online search services.
Best Features:
Blocks trackers and advertisements
Comes with passcode protection
Includes HTTPS Everywhere that keeps your privacy intact
Supports a mode called Do Not Track
A private tab time bomb that facilitates anonymous browsing
Primary Drawback:
Does not allow you to add privacy extensions
4. DuckDuckGo – The Best Private Browser For Android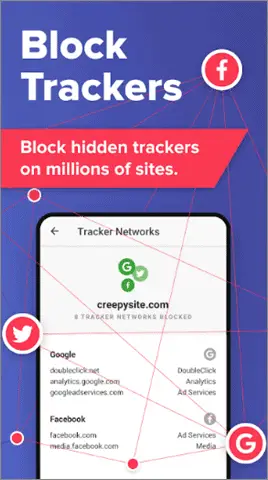 DuckDuckGo for Android is a famous private browser app and used by millions of people worldwide. What started as a regular search engine is currently regarded as the best private browser for Android. It blocks all third-party cookies, does not save your browsing information, and protects you from the prying eyes of ad networks and data leakage.
The best privacy browser ensures that every website uses encrypted connections wherever the option is available. DuckDuckGo's most striking feature is the privacy grade put next to every website. It ranges from A-Z and helps you decide whether or not a specific site is safe for browsing. The developers of the best Android browser believed that attaining online privacy should not be complicated and ensure that the speed does not slow down.
Best Features:
Clear all your browsing data with a single tap
Automatically block third-party trackers and escape online tracking successfully
Search privately
Sees to it that internet service providers and people with malicious interests do not track your browsing history by forcing websites to use encrypted connections
Check out the privacy grade assigned to every website before visiting them
Primary Drawback:
Does not allow you to personalize settings or preferences so you are stuck with what they offer by default only
5. Snap Search
Every website that you visit and all the pages that you go to follow you back. You leave online traces behind and give too much information to the websites, trackers, and portals. Snap Search ensures your search is private, secure, and no prying eyes can check your browsing history and other details. It is easy, free, and protects you from snoopy agencies and the government.
The incognito mode automatically deletes all history, cookies, data, and browsing sessions making it the best private browser for Android. There is a VPN mode which enables you to change your location to any place you want. The ad blocker and tracker blocker keeps hackers at bay. Snap Search boasts a super-fast search engine and exciting features like the reading and dark modes.
Best Features:
The incognito browser ensures utmost privacy and requires zero permissions
Switch on the VPN mode to change locations and hide your whereabouts
Automatically delete browsing history and cookies
Edit any website's content while staying incognito
Private bookmarks that enable you to save web pages offline
Adblocker to give you a smooth user experience
Tracker blocker to keep your online identity secure
Avail of unbiased news delivery and do not let others know your interests
Primary Drawback:
Limited search options if you are accessing the free version and the browser might crash sometimes.
6. Ghostery Privacy Browser
Ghostery Privacy Browser is well-known, and you must download the app to protect your privacy. It provides you with a fast and uninterrupted browsing experience and removes junk code from websites. Ghostery blocks advertising networks from following you and makes sure your browsing speed does not slow down.
The best private browser for Android uses smart blocking technology to keep hackers at bay. It flags various web pages as dangerous, so you know exactly which ones are safe to visit and which ones are not. The ghost mode prevents personal data from getting saved, thereby preventing leakage of information. You can manage any specific website's trackers and also resort to an ad-free browsing experience.
Best Features:
Check who is keeping an eye on your data by tracking the websites you visit
Use the built-in ad blocker to unwanted attention, advertisements, and clutter
Get your hands on AI-based technology to go anonymous
Avail of enhanced privacy features like smart blocking
Turn on anti-tracking for added protection and safe browsing
Built-in private ghost search that uses anonymization techniques to ensure to browse securely and privately
Does not store any information that helps to identify an individual personally
Use ghost mode's incognito mode browsing to stop the sites you visit from showing up in your browser history
Phishing protection prevents fraudulent websites from stealing data, information, and passwords
Primary Drawback:
Gets bulky and often crashes
Download Ghostery Privacy Browser
7. Dolphin Zero Incognito Browser
Dolphin Zero is an excellent incognito browser and the best private browser for Android. The app is lightweight and comes with a Do Not Track mode that enables you to go fully anonymous during online browsing. This mode also ensures that none of your information gets stored or saved. You do not leave any digital footprints.
Dolphin Zero includes an in-built ad-blocker. Other attractive features that make it different from the apps we've listed so far are the facilities to create customized themes and to come up with personal gestures for the websites you browse, for example, using the letter P to go to Pinterest.
The user interface is clean and supports fast navigation. Anyone looking for the safest Android browser that allows you to go private and does not track you, Dolphin Zero, is ideal.
Best Features:
Incognito browsing that does not track you
Go private, and no do leave any history, traces, or cookies
Personalized search between different search engines
Comes with Sonar, which lets to use voice search and talk to your browser
Ad Blocker which blocks advertisements, pop-ups, videos, and banners
Primary Drawback:
You cannot personalize settings and preferences.
Download Dolphin Zero Incognito Browser
8. Webroot SecureWeb Browser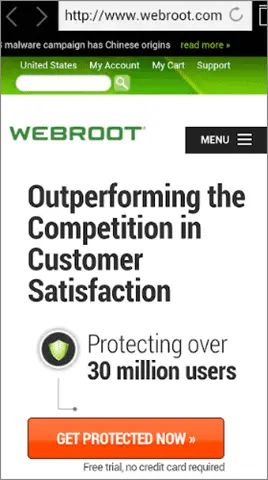 Webroot brings you a secure web browser that gives you excellent antivirus protection and comes with spam filtering options. The best private browser for Android includes parental control and firewall protection, as well. The app protects users from malicious websites and prying eyes of hackers, governments, and advertising agencies.
Webroot was initially known for its security tools and antivirus suite. The company has successfully launched its browser, which is slowly gaining popularity and does its job well. Webroot SecureWeb Browser also has a password manager. You can sync it across multiple devices. Once you have the app installed, you can be rest assured that about maintaining online privacy and identity protection.
Best Features:
Powerful enough to reverse ransomware attacks
Fastest scan in testing
Excellent antivirus protection
Full-featured Android security
Password manager that can be synced across various devices
Primary Drawback:
The password manager comes with limited functionality and does not add significant value.
Download Webroot SecureWeb Browser
9. Epic Privacy Browser
A popularly-rated choice on Google Play, Epic is the best privacy browser for Android devices. Most people are well-versed with the desktop version of the same, and you must get your hands on the app that is primarily geared for privacy, security, and protection. Since Epic Privacy Browser uses Chromium as a base, you will find similarities with Google Chrome. You get a similar browsing experience with specially added privacy features.
The HTTPS Everywhere functionality, and the ability to go incognito when browsing works wonder with users. It also includes an ad blocker and tracker counter, enabling you to see who is watching over you. You get access to an encrypted proxy network through the VPN that connects to eight servers worldwide. Some other unique features include a reader mode button, bookmark support, and built-in video downloader.
Best Features:
Encrypt files before downloading and protect your privacy
Strict no-logging encrypted proxy and access to the VPN
Incognito mode with no browsing history
Adblocker
Fingerprinting protection
Website-based privacy setting controls
Tracker counter
Password saving support
Primary Drawback:
Some websites might not work.
10. Aloha Browser
If you are looking for the best private browser for Android that does not compromise on the speed, Aloha is an excellent choice. It boasts a free in-built VPN that ensures you browse privately and securely. The VPN also blocks trackers and compresses unnecessary traffic. Aloha is known to enable users to browse the internet with 2x speed when compared to any regular browser. This is made possible because of an optimized rendering search engine.
You can download and save videos to be seen later. It is a fully-featured web browser that provides maximum privacy while private browsing. The app gets exciting upgrades quite frequently. The user interface is convenient to use and easy to navigate for first-timers.
Best Features:
Surf the internet freely with no advertisements because of the built-in ad blocker
Take your online security to the next level with the help of the VPN
Lock private tabs with fingerprint
Leave no trace of your online activities
Use a passcode to keep stuff to yourself
Block spammers and prying eyes
Primary Drawback:
The VPN expires after a trial period, and you might face issues while downloading specific content.
11. Frost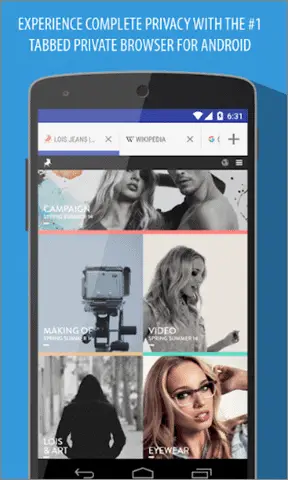 Frost is a well-known name when it comes to providing privacy. It is one of the best private Android browsers and completely deletes all your browsing history and data as soon as you close the tab. It has an active pop-up blocker that keeps spammers, prying eyes, and dubious websites at bay. The anonymous browser for Android also includes a built-in ad network manager which functions exceptionally well.
Frost has a secret vault that you can use to save all kinds of images and videos and also have them bookmarked. Apart from being hidden and secure, the secret vault is protected by a passcode. Only someone who knows the password can get access to the content of the vault.
What more? The browser does not allow users to capture screenshots.
Best Features:
Go incognito and browse privately
Get access to an in-built ad and pop-up blocker
Use the vault to keep your folders secret
Clear all browsing history automatically
No capturing screenshots, thus taking privacy to another level
Primary Drawback:
The browser might freeze randomly.
12. Firefox Focus – B
est Private Browser For Android
If you are looking for the best private browser for Android that is free, popular, and works exceptionally well, Firefox Focus is ideal. The brand name is well-recognized as a mainstream browser and hence trusted by most users. Firefox Focus keeps trackers away, blocks advertisements, and ensures you are browsing privately.
The app has a button that deletes your private browsing history and data in just one click. It does not host a multitude of features, but only the ones required to keep your online activities secure. You do not leave any traces of what you used the internet for, thereby being untraceable for people with malicious motives and dubious intentions. It is one of the best Android browsers with an extraordinary browser privacy policy.
Best Features:
Blocks a wide range of trackers
Deletes history, passwords, cookies, and other data
Removes advertisements pop-up banners
Leaves no traces of your online activities
Primary Drawback:
You can only access one website at a time
13. InBrowser
InBrowser is the best private browser for Android and has been there for quite a few years now. It comes with robust privacy features and does not save your data at all. InBrowser works on similar lines as Tor network, and every time you shut your tab, the app erases your browsing history. So, there is no record of what you did in between online sessions. Clicking on the exit, tap, and home button also deletes your digital footprints.
The app is privacy focused and offers you five search engines to choose from. You can pick from Bing, DuckDuckGo, Yahoo, Google, and StartPage. InBrowser is an excellent choice for both regular browsing and private browsing. Since it functions with Tor support, the multiple layers of encryption ensure privacy.
Best Features:
Saves no data whatsoever
The onion router provides utmost protection via multiple levels of encryption
Automatically deletes cookies, saved passwords, and other browsing details
Does not allows trackers and third-party prying eyes to trace you
Primary Drawback:
Creates issues when you try to download something
14. Yandex Browser with Protect
Yandex might not be the best private browser for Android, but it makes it to our list because it offers some security features that make it safer than the other mainstream options. It protects your data from leakage. This is done via Yandex's active system security protection. You can also hide unrelated interface elements, such as widgets or side menus, if you find them annoying. You can customize your Yandex browser and even bookmark your favorite websites and pages.
Best Features:
Enables you to integrate with a third-party ad blocker to block advertisements
Go incognito and do not leave your online traces, history, cookies, and passwords behind.
The system security protection ensures none of your personal information is leaked.
Primary Drawback:
There is no in-built adblocker.
Download Yandex Browser with Protect
Final Thoughts
Online privacy and security is a significant concern. While we are using a regular browser for indulging in online activities, we are prone to be traced and tracked. Various sources with malicious intent and prying eyes have their eyes on us as they watch our moves online. Do you wish to be safe from them? Getting your hands on the best private browser for Android is the first step towards attaining digital safety.
We have enlisted the best Android browsers options for you to choose from. All the privacy browsers are available for a download in the Google Play Store. You will see some good old ones like DuckDuckGo, Brave, and Tor and a few new entrants like Webroot, Aloha, and Cake. These keep you safe online and leave no browsing history. So, let us switch to a privacy-focused browser on Android devices and keep our data safe.