Have you ever come across audio or a song you like, and just want to save it?  A streaming audio recorder tool can come to your aid in such cases. Recording the streaming audio is one of the best options to go for, as it can record various types of sounds in different file formats.
Users can record talk shows, music, or any other audio and listen to it as and when they wish. The audio capture software can also be used to record sound coming through a sound card, microphone, or record the sound of streaming services. Along with streaming recorder tools, you can also use a music visualizer to enhance your audio with visual effects.
11 Best Streaming Audio Recorder Tools To Save Sound For Later
Before choosing the best streaming audio recorder tools, it is essential to determine the purpose and the type of recording. Many software can do the usual recording of the sound that comes through a microphone, but not all recorders can capture the streaming audio.
Let's check the  about using a streaming audio recorder is that it
1. Aktiv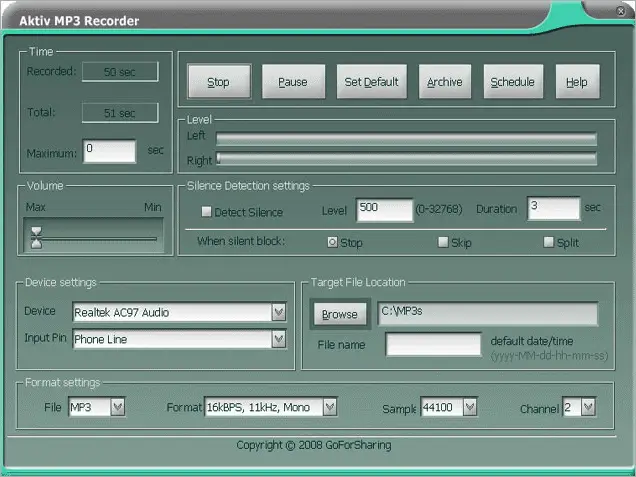 Aktiv can easily be a versatile audio software that helps convert TV, internet radio, live performances, DVDs, CDs, and video games into audio files. These files can be stored permanently on your computer.
Using Aktiv, you can record streaming audio easily. The software supports several formats like MP3, WMA, OGG, AIFF, AU, VOX. You can select the format you want and click 'Record CD.' The chosen format conversion will be executed using smart caching to prevent duplicate conversions.
You can customize settings by adjusting the recording quality, volume, and sound source. It has an easy user interface. Furthermore, this streaming audio recorder tool allows you to perform various operations with your audio, such as filtering it and applying multiple effects. It has an equalizer to enhance the quality of your audio.
The tool also lets you schedule recording tasks (the best option to record your favorite TV show or internet program). The best feature of this tool is that you have unlimited recording time. You can rename the file as per your choice and save it in the directory of your choice. When you install the tool, it may be bundled with extra software that you can disallow.
2. Screamer Radio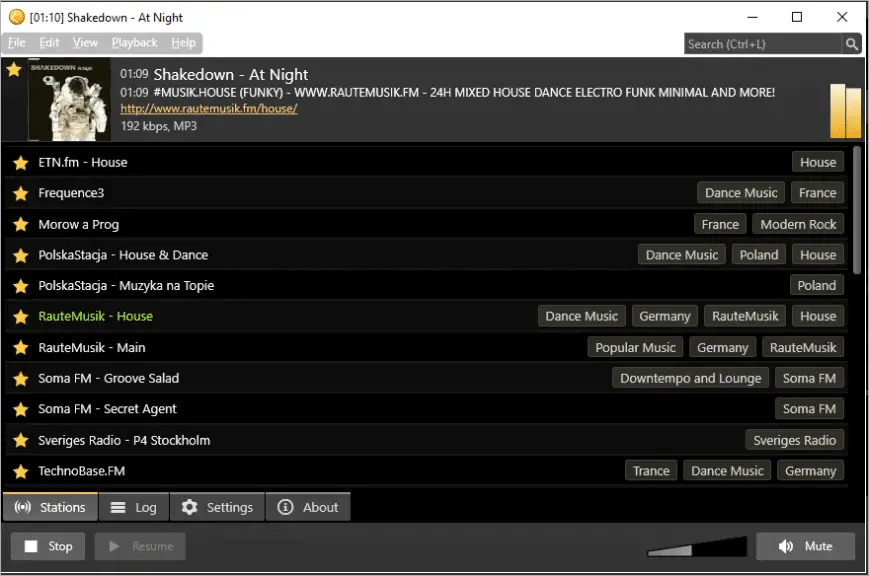 Screamer Radio is compatible with all versions of Windows. This streaming audio recorder has its presets, but you can provide URLs to listen to various streaming services. Screamer Radio uses the MP3 format to record, and you can customize the bitrate up to 320 Kbps. It is straightforward and easy to use.
With Screamer Radio, you can record your favorite song playing on your internet radio and listen to it anytime. You can record various radio stations. This free streaming audio recorder is the best-recommended tool to listen to and record internet radio since it does not require a web browser to stream audio. You can also search for particular songs by name, genre, or country.
 3. Free Sound Recorder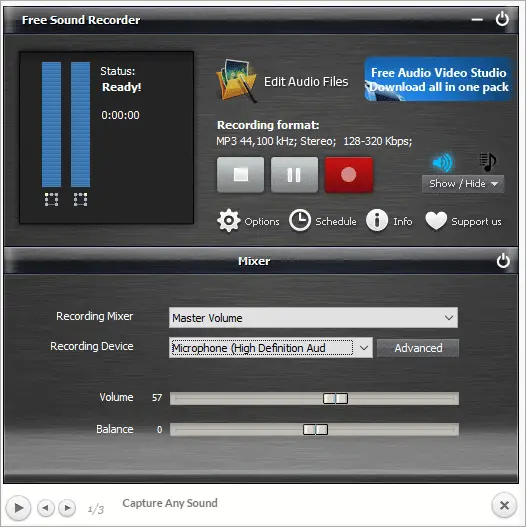 If you are searching for the best free streaming audio recorder, here's the best choice for you. With Free Sound Recorder, you can record sounds from any audio source like a mic, line-in, online streaming, and LP/cassette/CD/VHS.
Any sound you hear can be captured with this streaming audio recorder and saved in your audio list. You can also edit the recording by applying operations like cut, copy, paste, mix, and trim. Free Sound Recorder allows you to add several effects and filters like fade in/out, and echo to enhance your audio. It supports all versions of Windows higher than Windows XP.
Free Sound Recorder can create formats like MP3, WMA, and WAV. While installing, you may find some extra software coming your way that you can always refuse. If you wish to get the output you desire, this audio capture software won't disappoint you.
4. Streamosaur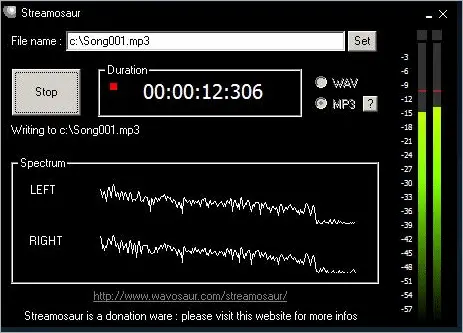 Streamosaur is an audio recorder software that records sound from the microphone, web streams, and audiotapes. Any type of sound from any digital source can be recorded using this Windows 10 streaming audio recorder.
Streamosaur also digitizes analog sources (e.g., audiotapes, etc.). It easily captures the sound and saves it on the hard drive. You can consider Streamosaur as a portable device without any entry in the registry. The tool does not need an installer; you just need to unzip it in a directory and launch the .exe file.
Streamosaur records audio as WAV files, but you can create MP3 files by installing Lame Encoder. If you are looking for a tool to record online audio, Streamosaur won't disappoint you.
5. Audacity
If you are looking to capture audio in the highest possible quality, you can record streaming audio with Audacity. This software records live audio via a microphone or a mixer and digitizes recordings from other media sources.
Volume levels can be set before, during, or after recording through level meters. It has a timer record and sound-activated recording features.
You can even apply multiple effects like changing pitch, changing the tempo, and adding echo. Audacity is versatile in terms of functionalities and features and allows you to create audio files according to your preferences.
It is the best streaming music recorder for music lovers who want to experiment with their audio. To check out the features Audacity offers, you may refer to the official site Audacity Manual.
6. VLC Media Player
The VLC media player streams media but also lets you record streaming audio with it. It is available both for desktop OS and mobile platforms. The software is also available to download on App stores like Apple's App Store, Google Play Store, and Microsoft Windows Store.
The best part of VLC is that it efficiently streams online radio programs to your PC as MP3 files. It records streaming radio shows as audio files to access and listen to later.
You can configure VLC to download live radio shows to your PC even when you are busy. The VLC media player is an excellent audio streaming recorder and one of the best in the business at the moment.
7. Apowersoft Free Online Audio Recorder
If you are wondering how to record streaming audio, here is a solution. With just one click, you can record any sound you want using the Apowersoft streaming audio recorder.
This free audio recording software allows you to record audio on Windows or Mac. There is no need to install any other extra plugins or services. It has an easy user interface, and you can record any sound without compromising on audio quality. You can record from any source like system sound, microphone, or both.
If you are looking for a streaming audio recorder online, Apowersoft Audio Recorder is the best pick. It is a great tool to record critical online conferences and podcasts.
Download Apowersoft Free Online Audio Recorder.
8. Movavi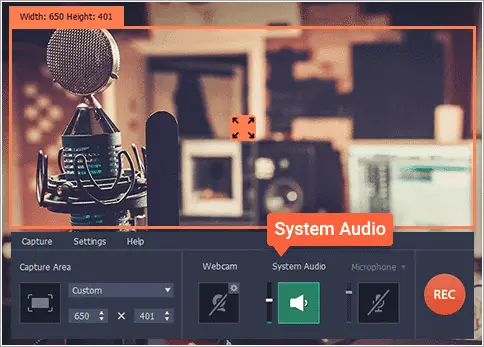 Movavi is a great tool and the best streaming music recorder for music lovers. If you are listening to a song/audio on the internet and want to record it, look no further than this software.
Movavi easily captures audio streaming online with high quality and speed. It doesn't require any extra tool or hardware for functioning smoothly.
With the help of Movavi, capture your favorite radio show or song and convert it into audio files. This audio capture software is compatible with Windows and Mac. You can visit the link given below to download and know how to record audio using a streaming recorder for free.
9. Streaming Audio Recorder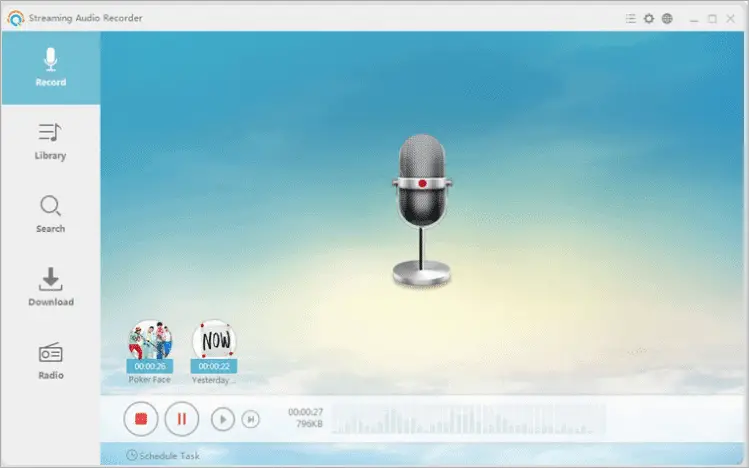 The Windows 10 Streaming Audio Recorder captures the internet radio sound and enhances your music experience.
This audio capture software allows you to record streaming audio from music websites, video websites, radio stations, and audio chats. It provides a variety of output audio formats like MP3, AAC, and WMA.
You can capture sound from any sound source for the best quality recorded audio l, which can be stored anywhere and played on an output device.
Download Streaming Audio Recorder
10. Stream Recorder.NET
Stream Recorder.NET is a free audio recording software used for recording audio and video streaming. If you are listening to your favorite talk show or song online but don't have the time to continue with it, you can simply record it and save it.
Apart from its essential feature of recording files streaming online, you can also schedule recordings to avoid missing any important stuff. One disadvantage is that you cannot record streaming audio from Youtube and Vimeo. You have to connect the Stream Recorder.NET to .NET 3.5SP1 to make it work.
11. Wondershare Streaming Audio Recorder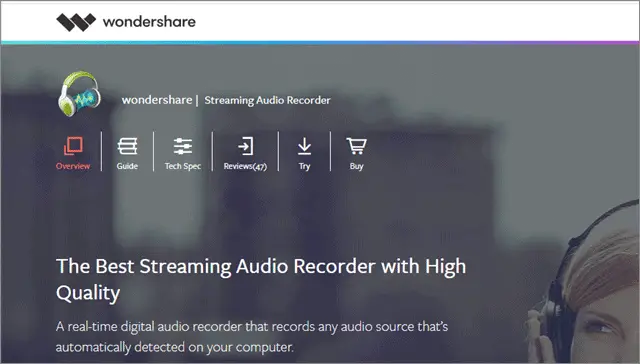 If you want a sound recorder specially for recording music streaming online, look no further than Wondershare Streaming Audio Recorder. Users can record any type of music from streaming websites using this recorder.
Wondershare Recorder supports ID3 tags. Also, it comes with a built-in ringtone maker that can help you create tunes for various purposes for your smartphone personalization. The best thing about Wondershare is that it can assign labels of details such as artist, genre, composer, album, etc.
It allows recording streaming from websites like Spotify, BBC Radio, iTunes, and much more. Have a happy time recording your favorite music or podcast using this recorder!
Download Wondershare Streaming Audio Recorder
Conclusion
A streaming audio recorder tool is used to capture audio coming through a microphone or a sound card and save it in various file formats. It is mostly used to capture music or large audio files so that users can listen to the content later.
Streaming audio recorder tools are a great option to go with if you don't want to download audio files from the internet. However, it must also be noted that the commercial use of such recordings can land users in serious legal issues.
If you are recording copyrighted streaming audio, make sure you don't share it with people for commercial purposes. Coming to the recorders, we hope that the options we have suggested will help you fulfill your objectives.
(Article Updated on 22nd April 2021)