Android TV is a Smart TV platform that Google built around the Android operating system some years ago. It allows users to stream paid or free content to the TV via apps, only by using an internet connection. Using Android TV, you get to navigate through menus, using your phone as a remote control and a guide. But, have you tried getting your hands on Android TV apps?
Ever since its launch Android TV has ruled the mobile entertainment world and is still growing in popularity. Previously Android TVs were made by TV manufacturers adding the operating systems into them. However, now you can convert your regular TV into an Android one using an HDMI port, and cutting the cost of a new Android TV box, too.
Top 14 Android TV Apps You Must Check Out
Since 2014, Android TV apps have been ruling and gaining momentum as a platform. If you battle them out against other popular names with smart TV options like Samsung, Sony, or Philips, Android TV apps have managed to dig a place for themselves in every household. To enhance the functionality, we have listed the Android TV apps that you must try out.
1. Amazon Prime Video
Amazon Prime Video is one of the best free Android TV apps that allows you to stream and download movies and TV shows without any hurdles. You can also get IMDb data about popular actors, songs, and trivia relevant to your videos during playback with X-ray.
Although its free version is quite good, you get the additional advantage of streaming videos from channel subscriptions like HBO, STARZ, and much more with the paid version. For the people in the US, UK, there is a catalog of videos that include new movie releases and current shows that you can easily rent or buy.
2. Google Play Music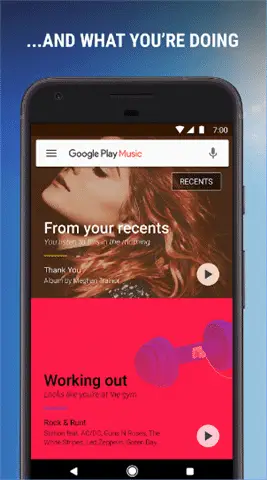 Google Play Music is extremely popular and one of the best Android TV apps for music lovers. It does offer a mobile phone version, although it works better on an Android TV. It allows free access to the 50,000 songs that you can choose to upload and play on your Android, iOS, or the web. You also have a choice to listen to the radio that is curated by experts.
With the paid version, you can get access to over 35 million songs and listen to them uninterrupted sans any advertisements. Look at the bonus! Get the free membership to Youtube Red that is YouTube ad-free and available offline.
3. HopWatch for Reddit
Reddit is a favorite and well-loved Android TV app that boasts millions of users. With HopWatch for Reddit, it gets easier to browse for images, GIFs, and videos. HopWatch will show you all the recently upvoted posts, and you can choose all your favorite media subreddits.
It comes with a built-in search feature that allows you to search for various images, videos, and GIFs, and you can also get recommendations on your home screen of all the latest videos.
Price: $0.99
4. Hulu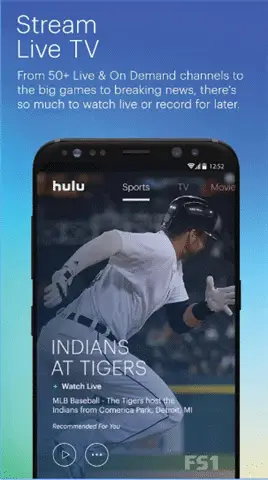 Being one of the best Android TV apps, Hulu is packed with exciting features. It allows you to stream TV, movies, and much more. It has an intuitive interface that includes 50+ top live and enables you to access on-demand channels like FOX, ABC, NBC, CBS, ESPN, FX, and NBCSN. Hulu's streaming library has a popular present and past seasons of various shows.
If you choose the paid version, you get to enjoy an excellent TV experience that will intelligently know your choices and cater to meet your requirements. Your experience gets finer as you use Hulu since it adjusts to your taste. Hence, the more you watch, the better and intuitive the app gets. You can add networks, movie shows for quick access from any device of yours. This app is super cool and a must- add to your collection of Android TV apps.
5. Haystack TV: Local & World News – Free
Several Android TV apps that stream movies and shows, but this one is dedicated to the news pieces. Haystack is all about the news updates, be it political news, local news, international news, business news, financial news from various companies about stocks, and sectors or even news from the sports world. It also caters to tech news in terms of the latest information about different gadgets, cars, etc.
The news is presented from top organizations like AP, MSNBC, CNN, NYTimes, and the BBC.
It also includes recent updates about your favorite video games.
6. Netflix
When it comes to watching TV episodes and movies, Netflix needs no introduction. It is one of the popular Android TV apps for streaming used worldwide. You need to sign up and be a member of Netflix to use the app. Once you get the monthly membership, you get access to unlimited TV shows and movies.
It has a free trial month to help you decide if it fulfills your need to be continuously entertained and be a part of Android TV. Are you ready to get your hands on some award-winning and critically acclaimed series and films?
Price: Varies
7. Kodi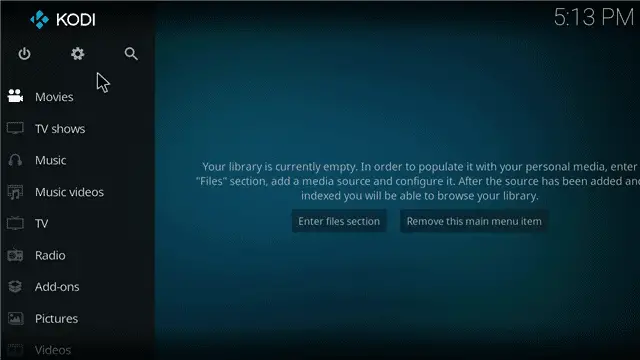 When it comes to Android TV apps, Kodi has its place on the list. Kodi is probably the most popular and powerful open-source software as a media player and entertainment hub.
It helps you manage your media collection in any way that you choose so that it can be accessed remotely.
It is best for large media stored on your Android TV as it helps you organize it better. Once you set up Kodi, any addition of media to the list will be automatically managed and put in the relevant section and location that you prefer. It comes with a very easy to manage interface.
The only hitch is that it doesn't come with any default content, so you have to manually add media via any media carrier like a DVD, Blu-Ray, etc.
8. Google Drive
It's not a bad idea to access all your files, including documents, images, etc. via your Android TV. You will not find the Google Drive android TV app in the Play Store, but you can sideload it easily. Sideloading is a process to install an app that is not available on the Play Store by allowing your device to install software that is offered other than Play Store.
Google Drive helps you store all your essential files on the cloud that offers you the advantage of enormous storage and never lose data. Having Google Drive on your Android TV will help you to view your files on your TV.
9. Pandora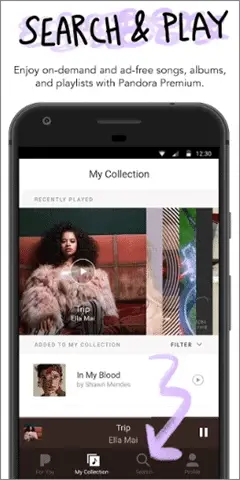 Pandora is one of the most popular apps to help you discover new music and listen to your favorite numbers. You can browse free radio stations and playlists according to your favorite songs, artists, and genres (Rap, Pop, Rock, etc.). Pandora has fantastic music features and deserves to be in your collection of Android TV apps.
You can go for the premium version for $4.99/month if you prefer on-demand entertainment. It assures you of high-quality songs, unlimited skips, and replays. If you are a hardcore music lover, then you should not miss out on Pandora.
10. Spotify
Spotify is also on the list of a must-have Android TV app. Again an incredible app for music lovers where you can immerse yourself for hours in the massive collection of its songs. Spotify is a popular music streaming service that also has podcasts and few videos. You can listen to your favorite artists, albums, or create your playlist.
If you go for a premium version, it allows you to download music and listen to it offline too. Since it is free, you can cancel the subscription at any time. So, are you ready to indulge in some of your favorite music numbers all day? Download one of the best Android TV apps and start listening.
11. VLC For Android
VLC offers you an incredible video player for your Android TV. The best thing about the VLC Android TV app is that it supports almost all video codec. It is not only an ultimate video player but also plays any audio file and works as network streams, network shares and drives, and DVD ISOs.
You can customize your audio files using an equalizer and filers. It comes free with no advertisements or zero in-app purchases. It is an open-source program that is made by passionate developers. So, get hold of VLC, one of the best Android TV apps, and create your own media library consisting of audio and video files.
12. Sideload Launcher
As we've mentioned earlier, many apps are not directly available on the Play Store, and we need to sideload them. Sideloading is not an issue, but because we cannot view the sideloaded apps in our default Android TV launcher, it becomes rather inconvenient to download the Sideload Launcher to solve this issue.
Although there are various similar apps designed for the same purpose, this one goes well if you are going to sideload apps. One of the best Android TV apps that makes all the existing apps compatible with your TV, Sideload Launcher, is a must-have for facilitating seamless integration.
13. ES File Manager
If you thought that managing your official files on your Android TV was impossible and that all Android TV apps were primarily for entertainment purposes, you were wrong. Using the ES File Manager app lets you do just that. You must have this Android TV app, which allows you to transfer files between your various devices like a mobile, laptop, or PC.
ES file File Manager allows you to store you any file, including Music, Documents, app, Images, Movies, etc. If you check the reviews on the Play Store, it has millions of users appreciating this powerful tool.
14. CBS Sports App
CBS Sports is an Android TV app that is designed for sports lovers. It has a massive source from NBA, NFL, NCAA sports news, scores, videos, and many more. CBS provides you with the fastest scores, stats, news, tweets, and push notifications for everything connected to sports.
You can customize news alerts according to your choice. You can listen to live streaming radio that includes popular sports anchors and hosts like Jim Rome, Doug Gottlieb, Tiki and Tierney, and Bill Reiter. CBS sports lets you watch sports and games in real-time and keeps you updated on all the live scores of the games and matches.
Are you ready to get your hands on one of the best Android TV apps designed to fulfill your sports needs?
Final Thoughts on Android TV Apps
Besides its powerful streaming capabilities, the Android TV can play emulators, run apps, work as a media player for your digital files, use Kodi, and connect to a TV tuner. We have enlisted the best Android TV apps that cater to different tastes and offer you the choice of a sideload launcher app. Although there are bound to be more choices on the web, we have tried to be versatile in terms of knowledge and entertainment.
These apps will work well for you if you own an Android TV or plan to purchase the Android TV box. You can stream shows and films, listen to music, play games, and use the internet whichever way you want. Users can also stay updated continuously with news and have the best experience with their smart TV because of the increased number of possibilities.
Related: How To Control TV With Alexa (For All Major TV Brands)