Comic books and graphic novels are a big part of the literary landscape. They transport you to magical worlds of unimaginable creatures and their lives. In today's digital world, you can easily read comic books in their digital format. You can store and read comic books on your PC, but it is not as easy as you read a regular book since it contains a lot of images and graphics. Have you tried using a comic book reader?
Irrespective of which platform you are using, we've got you covered. Our list of comic book readers works on Windows, Mac, and Linux computers. Online comic books have become a rage these days and gained popularity in the recent past because of digitization and easy availability.
Top 10 Comic Book Reader For All Platforms
In simple layman terms, a comic book reader or CBR is specially designed software that enables users to read comic books. To simplify your comic book reading experience, we have put together a list of the best comic book reader options to turn your book reading experience into an immersive and beautiful one.
1. MComix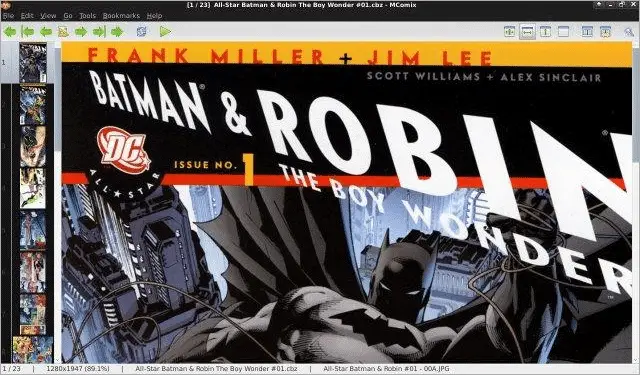 MComix is an open-source image viewer specifically designed to read comic books, both Western Comics or Manga. It is a fork of the Comix project. The comic book reader supports all popular formats, including CBR, CBZ, CBT, LHA, and PDF.
MComix is written in Python and is compatible with both Linux and Windows. All the formats are needed only if you want to run it on UNIX-like systems. The all-in-one Windows package has all that already. To read RAR/CBR archives, you need to have rar or unrar installed.
Comix was not developed further after its creation by Pontus Ekberg, MComix developed it by fixing bugs and improving it where required.
There are a series of images in the left pane that you can navigate with arrows available on the top left panel. The large area on the right is to view the selected image.
Minimum Requirements (For Linux)
To install and run MComix, you need the following programs and libraries:
There are package management services that include Comix, so it will just take a terminal command to enable it in Linux.
Available on Platforms: Windows, Linux.
Pricing: Free
2. Simple Comic
If you are looking for a comic book reader for Mac, then your search ends here. Simple Comic is a spontaneous and straightforward CBR reader for Mac users. Its interface is highly configurable, and you can fully control your viewing experience. You can either choose a single page or double page view for your convenience.
One can adjust the page to fit the window or fit horizontally and you have a full-screen view to enhance your reading experience. Simple Comic supports all popular formats including .cbr, .cbz, .zip, .rar, tar, 7z and much more.
You can see multiple comics at once before choosing your favorite one. It automatically saves the page where you left off last time. If you like something, you can even capture a page.
It's free and open-source, and you can donate at their Github Page.
Available on Platforms: Mac
Pricing: Free
3. Astonishing Comic Reader
Astonishing Comic Reader is a beautiful comic book reader with a variety of stunning features. With its natural and straightforward interface, it allows you to read all your favorite comics on Chrome Browser with its Chrome Extension and Android with its app.
Astonishing Comic Reader supports CBZ and CBR. You can organize your comics easily and keep them in a collection. It has a smart suggestion system that lets you quickly shortlist your favorite cartoons. It's easy to read comics digitally on this comic reader with a simple navigation system and a powerful zoom feature.
Available on Platforms: Chrome, Android
Pricing: Free
Download Astonishing Comic Reader on Android | Windows
4. MangaMeeya
MangaMeeya is an ideal pick for you if you are looking for an excellent comic book reader for Windows. As the name implies, the reader is fantastic for people who read Manga (read right to left). It's not just good for Manga; it is also an excellent reader for all comic types as it allows you to read multiple pages at once.
MangaMeeya is a great image viewer where you can see images in a particular sequence, even if you are not reading a comic. It has customizable key commands to browse images and supports RAR and ZIP archives.
Available for Platforms: Windows
Pricing: Free
5. ComicRack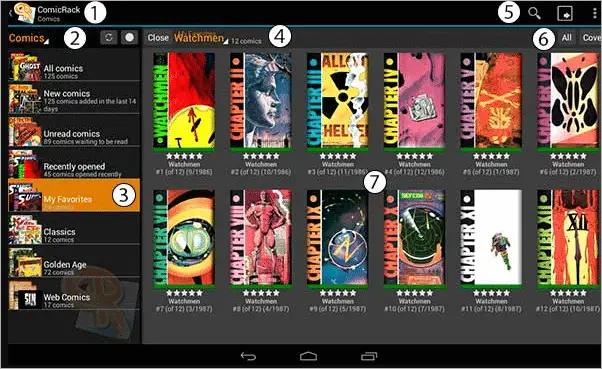 ComicRack is a popular and versatile comic book reader. It has exciting features, including different display modes, full screen, information overlays, magnifier, color adjustments, automatic color matching, and much more.
This comic book reader will meet all your comic book reading requirements. You can easily browse and search for your favorite comics in the library, create folders, and list them.
It supports all popular formats including CBZ, zip, CBR, RAR, CBT, tar, cb7, 7z, pdf, djvu comics. You can custom display grouping, sorting, stacking, and filtering, which is great and makes your list more accessible and organized. It supports languages like  English, German, French, Spanish, Portuguese, Chinese, and others.
Available Platforms: Windows, iPad, Android
Pricing: Free
Download ComicRack on Windows | iPhone | Android
6. CDisplay EX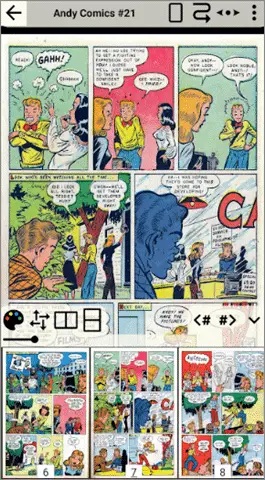 CDisplay Ex is an effective, lightweight, free, and best comic book reader for Windows. It reads all popular formats, including CBR, CBZ, PDF, and much more and even Manga. The interface is designed to give you the best reading experience and loads comic books in no time.
It has an advanced resize technique to give you a smooth reading experience. All functions can be assigned to one or more keyboard shortcuts. CDisplay installs a thumbnail plugin in Windows to help you find your comics quickly.
Available on Platforms: Windows, Android
Pricing: Free
Download CDisplay EX on Windows | Android
7. MadeFire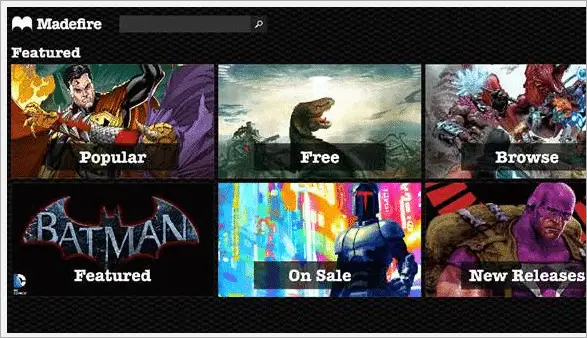 MadeFire will immerse you in the world of graphic novels and blow your mind with its wonderful features. Reading comic books using your hands is a thing of the past. Now you can read comic books on your PC, tablet, or phone without even touching it.
MadeFire is a free comic book reader with a unique and stunning feature called Motion Books. This format takes the reader to an interactive environment with motion, sound, and depth.
The app features 360 panoramic views, sound effects, music, and options to control the story's pace. You also get free comics to enjoy within the app.
Available Platform: Windows
Pricing: Free
8. Cover – Comic Book Reader
Now you can read your favorite comic book on Windows PC with Cover-Comic Reader, the best comic book reader for Windows. The free app supports the popular and widely used formats, including  CBZ/ZIP, CBR/RAR, 7Z/CB7, CBT, PDF, and EPUB.
You can customize your reading using single and dual page reading mode, whichever is convenient for you. You can change the width and height, and the background color to make it more attractive to read.
It has a night mode to lessen the stress on your eyes while reading at the night. You can enjoy Manga, European comics, and other graphic novels. With the download, you get 25 free comic books without ads or future restrictions. Take your Comic book reading experience to the next level with Cover-Comic Reader.
Available For Platforms: Windows
Pricing: Free
9. Ebook Reader
IceBook Ebook Reader is a comic book reader with a simple and easy interface. It's an easy CBR reader to navigate, and you can customize it by arranging your comic books in libraries.
You can add bookmarks and choose the color scheme of the interface for an immersive comic reading experience. It has both single and dual display modes. You can zoom in on the images for a more unobstructed view as it supports CBZ and CBR formats. One can check how many pages are left to read and continue from where you left off.
It has a decent and user-friendly interface so that you have a good experience of customizing as well as fascinating reading at the same time.
Available Platforms: Windows
Pricing: Free, Pro version worth $19
10. Sumatra PDF
Sumatra PDF is a powerful and versatile software that supports various formats and documents, including comics. The interface is quite simple and does not use your computer resources much so that the system's speed does not get affected.
With this comic book reader, you can choose view modes, zoom in or out, add bookmarks, and do much more. The software is open-source, and you contribute to it on its GitHub page.
It is robust, portable, and runs at a decent speed. It supports various languages. The software has a quicksmart manual and extensive documentation for more information.
Available on Platforms: Windows
Pricing: Free
Final Thoughts on Comic Book Reader
Comic books are widely loved by readers and have been around for decades now. There are various comic book reader software that runs on both old and new machines to provide you smooth user experience. Our list of the top 10 comic book readers is an excellent resource if you are looking for the best comic book reading experience. They run on Windows, Mac, Android, and Linux systems. All of them are free to download.
All the above-mentioned comic book readers are worthy contenders; you can choose one with the interface and features that are most attractive to you. Some include exciting features like single and double-page display modes, while the others come with zoom-in and zoom-out capabilities. You can also use page rotation and the full-screen mode. So, what's your favorite? Spider-Man, Superman, or manga series?
Related: Comics All Comic Book Fans Should Read