Staying digitally organized goes a long way in ensuring the longevity of your phone's software. And well, who doesn't want their phones to work faster and better? Maintaining your Android phone well is not a necessity, but it isn't a bad idea either. There is no harm in cleaning your phone with the best Android cleaner app that will warn you before things go wrong.
It finds the junk files on your phone, deletes them, and accounts for more storage space and improved performance. Android cleaner apps also improve your phone's battery life and unclutter the device.
Best Android Cleaner Apps For A Bloat-Free Smartphone
The phone cleaner apps are available at the Google Play Store and perform a digital tune-up for your gadgets. If you end up picking a worthless app, it might waste your phone's memory and infect the device with malware. So, let's check the best Android cleaner app to get rid of your phone's cache, unwanted files, and junk.
1. CCleaner for Android Phones
Ccleaner is multifunctional and tops the list of the best Android cleaner app. It quickly cleans up junk files, saves precious phone space, and analyzes what is causing your phone to slow down.
It comes with an App Manager with an easy to use interface. You can open it and select various apps for uninstallation. Ccleaner also includes a System Info page as it monitors your phone's RAM and CPU. Therefore, you get a glance at what's on with your device. Ccleaner for Android phones also deletes cache from apps and removes empty folders and browsing history.
Related: Best CCleaner Alternative That Fits Your Needs
2. AVG Cleaner
AVG Cleaner and battery booster optimize the speed of your device to ensure it works fast. By deleting junk and unwanted files, the app makes way for more data space. It is the best cleaner app for Android that deletes cache files and makes your phone perform better. You also get rid of apps that are pre-installed but never used.
What more? AVG detects apps that are causing the device to slow down. The phone cleaner also enhances battery life by putting the infrequently used apps in hibernating mode. The System Info page displays everything you want to know about the device on the screen. The File Manager analyzes files, folders, and other data to maximize your phone's performance.
3. Avast Cleanup – One of the Best A
ndroid Cleaner App
Avast makes it to the best Android cleaner app and has been providing internet security applications for decades now. The app optimizes our phones effectively as it cleans and boosts Android devices' performance in quantifiable terms.
It is capable of improving your device's performance by 20%, freeing up to 12 GB of space, and increasing the phone's battery life by 70%. However, please note that the Avast Cleanup is an excellent option for cleaning up the phone and making for storage space, but is not a security app. Want to know which apps are consuming the maximum space? Avast will tell you that as well.
4. Norton Clean Master App
Norton has been a trusted household name for cleaning and protecting our PCs and other digital gadgets against malware for almost three decades. With the advent of mobile devices, Symantec has come up with an Android cleaner app as well.
Apart from deleting junk data, the app acts as a virus cleaner and boosts overall performance. Since the company is well-known for fighting viruses and other information technology hazards, this best Android cleaner app is fully recognized by users.
Want to reclaim storage and optimize phone memory? Get your hands on Norton, and won't be disappointed.
5. 1Tap Cleaner
As the name indicates, the best Android cleaner app cleans the junk files stored in your device with only one tap. With just one touch, the storage cleaner optimizes your phone by making space boosting performance. It comes with a cache cleaner, a log cleaner that deletes calls and texts, and a history cleaner to remove the browsing history.
1Tap Cleaner has an additional feature called the Default Cleaning Option. This feature automatically deletes all the default actions performed by all your apps. What more? You can also set a cleaning interval routine. Once set, the cleaning app for Android phone cleans the device at regular intervals without disturbing you by seeking permission.
6. SD Maid
SD Maid is primarily used as a file maintenance app and also acts as a notable file manager. As the best phone clean app, SD Maid tracks all the folders, data, and files left behind by the uninstalled apps and then deletes all of it to free up the phone memory.
Download SD Maid if you are looking for an app that goes beyond the regular clean-up functions. It works as an excellent system maintenance app for Android. No more worrying about widowed folders. SD Maid will purge your phone of them.
SD Maid includes a collection of tools that will help you manage your phone's content, files, and apps better. Anyone looking for a simple app to clean and tidy your device must avail of SD Maid.
7.
Bitdefender Mobile Security & Antivirus
If you are ready to shell out some cash to protect your phone from harmful files as well as keep it free from junk files, Make sure you give Bitdefender Mobile Security & Antivirus a try. This application allows users to perform reliable scans and protect other apps on their phones. It scans new apps and websites that you have visited, automatically to eradicate the faintest possibility of a virus entering your smartphone.
Apart from cleaning junk files, Bitdefender offers features like WearON, Anti-Theft, App Lock, and much more. The WearON feature allows users to extend the Bitdefender services to their smartwatches. The Anti-Theft feature can help you lock, track, and wipe waste files from your phone quickly
8. Files by Google
If you are looking for the best Android cleaner app that is trustable and simple to use, get your hands on Files by Google. When the app screens the phone for deleting junk files, it recommends getting rid of old memes and removing pictures and unused apps.
Files by Google is an exceptional File Manager. It offers users a quick offline service for transferring files and data. The Android cleaner app has a user-friendly interface that accounts for easy management of folders and files. Files by Google send you alerts before it cleans up a file, so you can select what you want to be removed. It also ensures you do not run out of phone memory.
9. Ace Cleaner
If you want to get rid of the junk in your phone, get your hands on Ace Cleaner, the best Android phone cleaner app. It is also a robust optimization tool. The app focuses on maximizing the performance of your Android device. Ace Cleaner removes APK and junk files from your phone. It also deletes RAM junk, cache, and the residual data left behind by apps.
It ensures that all the auto-start apps run smoothly by boosting it with one tap, and optimize your Android device's performance Ace Cleaner also gives you the option to uninstall unused apps and states which ones are occupying the maximum amount of space.
The best Android cleaner app scans for photo duplicates and deletes them. You can even manage all your notifications with just one click.
10. All-In-One Toolbox
The best phone cleaning app, All-In-One Toolbox, is multifaceted. It works as a great booster, app manager, and cleaner. It improves the speed and the overall performance of your device.
You can get rid of all the stored app cache with one click. All-In-One Toolbox declutters your Android device so that you save memory space. It achieves so by finding and deleting junk files.
The best Android cleaner app also boosts the charging speed. You can uninstall the apps causing your phone to slow down and manage your SD card.
All-In-One Toolbox ensures that your privacy is intact. The app also prevents your phone from overheating. Its unique photo compression feature helps users in making extra space in Android devices.
11. Cleaner for Android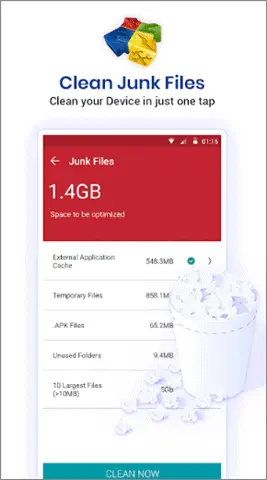 The phone cleaner is developed by Systweak and comes in handy for deleting cache and junk files. It is also extensively used for improving the speed and performance of your Android devices. The Cleaner for Android is also an excellent battery optimizer. It comes with unique features like a file manager and a duplicate file detector. You can use the app to scan through your data and delete duplicates and stuff you no longer need.
As the best Android cleaner app, it also improves the gaming experience of its users by enabling them to free up RAM space. The hibernation module can be utilized for saving battery life by putting the infrequently used apps on hibernation mode.
The WhatsApp module feature facilitates you to delete redundant files saved through the messaging app. The hidden module allows you to get rid of wanted junk files stored in the device. What more? You can also schedule an auto-cleanup.
12. 
Nox Cleaner
The Nox Cleaner is an all-in-one Android cleaner app that offers multiple services to safeguard your phone. It claims to have a vast user base of over 50 million users. 
Nox Cleaner can clean junk files, remove cache, and free up storage space to boost the phone operating speed and performance. What's more, it also offers an ads cleaner and an effective virus scanner for protecting your phone from malware and suspicious files.
The CPU Cooler tool in this app helps users to detect apps with high battery usage and reduces the CPU usage, thus keeping the phone temperature in check. This is a useful feature if you watch videos or play games frequently on your smartphone. Truly one of the best cleaners for Android phones out there, you will definitely not be disappointed if you go for this application.
13. Powerful Phone Cleaner
Powerful Phone Cleaner, quite right to its name, is a robust cleaning app for Android devices. It removes cache, junk, and unwanted notifications. It also boosts your device's performance, frees up RAM, and acts as a game booster.
The best Android cleaner app, Powerful Phone Cleaner, includes battery saver and CPU cooler features. The smart cleaner deletes residual files with just one tap. The professional cleaner boasts a beautiful UI design and gets rid of the redundant folders that are saved in the SD card.
It gives you better battery life by automatically closing the high power consuming apps.
Download Powerful Phone Cleaner
14. Droid Optimizer
If you are looking for the best Android cleaner app that comes without advertisements, you must get your hands on Droid Optimizer. The interface is very convenient to use, thereby making it ideal for newbies.
You can get rid of all the junk files, residual data, and cache with only one tap. Droid Optimizer also declutters your phone and helps you in reclaiming phone memory. It ensures privacy by not leaving traces of your browsing history.
The best feature of this cache cleaner is the Good Night Scheduler. You can set a fixed time, and every day the app disconnects your phone from mobile network connectivity and Wi-Fi. So, no more wasting unnecessary time fiddling your phone during wee hours.
15. Cleaner
The phone cleaner app is fast, consumes little space, and a fantastic speed booster. Cleaner deletes junk files in a jiffy, ensures that your Android device performs better, and saves battery.
Are you sick of the Android system files that involuntarily get stored in your device? No clue about how to remove them? The best Android cleaner app, Cleaner, helps you in getting rid of them all.
What more? You can also disable unnecessary apps and make adjustments to your battery draining settings. The app also enables you to lock your gallery, various social media sites, and contacts; if you so wish. So, what are you waiting for? Get hold of Cleaner and get a permanent solution to stop the background apps from consuming too much space and power.
16. Greenify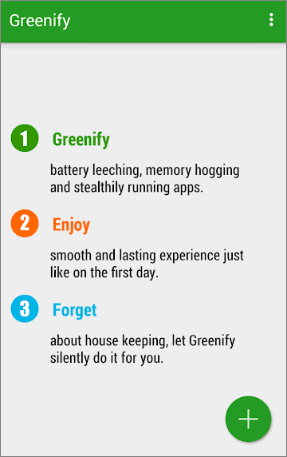 Greenify is very different from the ones we've listed so far. It puts your Android device on hibernation mode. It enables the app to access system resources that get collected as a by-product of apps and activities. Greenify also ascertains the background processes consuming maximum space and causes the phone to slow down.
You can run Greenify in the foreground and watch the app work wonders without creating any extra fuss. If you have memory and space issues, and there are battery hogs that drain your Android device, do not opt for a task killer. Get your hands on Greenify, and be rest assured that your phone is safe. Isn't Greenify the best Android cleaner app? Well, we think so.
17. Safe Security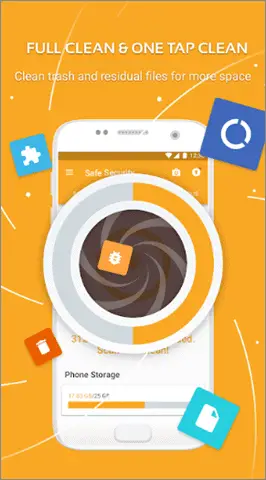 Safe Security is the perfect junk cleaner and speed booster that you are looking for on your Android device. It also works as an exceptional virus remover and anti-spyware tool.
The smart all-in-one cleaner makes way for more memory on your phone by optimizing background processes and apps. The cache cleaner notifies you to get rid of apps that are not put to use frequently but drain your phone of battery.
So, you will no longer have residual cache depriving you of precious phone space. Also, no more worrying about malware and adware. Safe Security also gives you an app lock feature. You can use it to put a lock on your photo albums, call log, or social media. What more? The best Android cleaner app boasts of millions of downloads.
Conclusion
Our Android devices require a clean-up at regular intervals. While this isn't mandatory, it ensures that your phone runs smoothly and fast. So, how would you maintain your phone? This list of best Android cleaner app options listed above look for junk and residual files and delete them.
These apps also improve the overall performance of your gadgets and make way for more memory. They detect the apps that are causing the phone to slow down and recommend that you get rid of them. The Android cleaner apps also delete cache and browsing history, thereby making sure that your gadget is not bombarded with unnecessary junk.
(Updated on 7 May 2021)