One major difference between a feature phone and smartphone is that the latter is capable of using messaging apps which are a lot more functional and feature rich when compared to the default stock app that comes with the Android OS. The stock messaging apps in general, are pretty basic and don't offer anything more than just sending, receiving, replying and reading SMSes.
Another issue is that more often than not, you're stuck with the same boring theme or skin that comes with the stock Android SMS app. You can't really do much about it and accept what it has to offer. Every Android user knows how customizable Android OS really is. Why compromise when you can customize like there's no tomorrow?
The best way to enhance the SMS functionality of your Android phone is through third-party messaging apps which offer more flavor, functionality and better looks than the default messaging app. Here, we've rounded up the best messaging apps available for Android.
This article is a part of the Beat The Stock series that explores the best replacements for your stock apps. Other articles in this series include –
Messaging (SMS) Apps (Currently viewing)
We will update the links as we publish other articles in this series!
The Stock Messaging App for Android
As mentioned, the stock messaging app of Android is a fully functional app, as long as your requirements are basic.  It does its purposes of letting you compose, send, receive, reply and read SMS. Other things that you can do with the app include a search for specific messages, change settings and delete threads.
For its design, the messaging app usually takes a simple background. Sadly, there is nothing you can do to change the looks of the app. With its simplicity in terms of presentation, we are all probably going to get bored with the messaging app.
Besides, if you are an advanced user, you will be frustrated by a lack of features. There is no provision for backup and restore, message security, customizing the looks, scheduling and so many other advanced options. The stock messaging app is usable at best and you would do well to shift to a third party messaging application.
Best SMS Messaging Apps for Android
1. Handcent SMS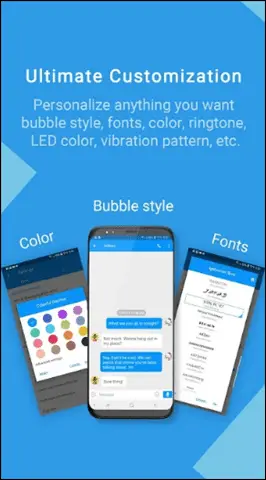 Handcent SMS is perhaps the most popular third-party messaging apps for Android. I've used Handcent previously and I can say that it is perhaps the most feature-rich among the many Android messaging apps.
The app is powerful, customizable and best of all, free. It works for both SMS and MMS. It allows you to use various themes and skins and even change the look of the text bubble and conversation thread. The app really shines when it comes to design and presentation.
One feature that I really like about Handcent is the SMS scheduling feature. It lets you compose an SMS and have it sent on scheduled time and day. Besides you can secure your messages using the Privacy Box, apply filters and backup all the SMS, MMS and even the app settings. Its a full-featured package to meet all of your messaging requirements.
2. GO SMS Pro
Go SMS Pro is perhaps the best SMS messaging app for Android. It's fast, highly functional and has tons of settings that you can tweak that makes your phone's default messaging app pale in comparison. Aside from supporting SMS and MMS, the app also features Go Share, Go Chat and Facebook Chat.
Like Handcent SMS, GO SMS Pro has a scheduling function, batch mode, pop up with quick reply, privacy mode, and yes – tons of cool themes and skins that you can use to make messaging on your Android phone truly an enjoyable and fun experience. Additionally, the app has a DIY theme and a Theme Maker plug-in.
What gives Go SMS Pro an edge over Handcent is the responsiveness of the Go Dev Team and the frequency of updates.  Based on user feedback, Go SMS is continuously evolving but too many features make it seem bloated.
With both Handcent SMS and GO SMS Pro sporting the a lot of same features, choosing between one of them as your Android messaging app will be a tough call. So, how about trying out something different? We have few more cool options listed below.
3. ChompSMS
Let's see. Chat-style bubbles, contact pictures, emoji icons, signatures, text snippets, passcode lock, blacklisting, scheduling, themes, and other customization features – ChompSMS is yet another awesome messaging app for your Android phone.
Best feature of the app is the quick reply feature. It's free but you'll have to bear a small "ad banner" that shows up 14 days after you've installed the app which is quite understandable since the app developers need the funding to continue updating the app with more features.
One particular feature of the app that others don't have is the ChompSMS credits that you can buy to send much cheaper SMS messages. ChompSMS is a solid app and a strong contender for replacing your stock messaging app.
4. Messages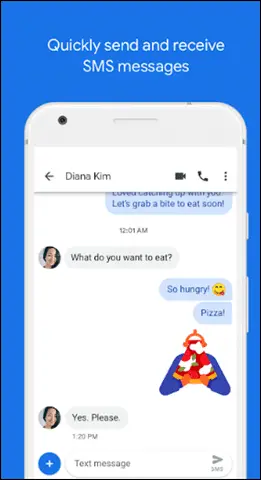 Messages is an official Google texting app that allows you to send SMS and MMS. The feature-rich app has a lot of plus points that turn a simple conversation into a richer chatting experience.
Keeping it minimal at the design level, Messages app has basic features like limited theming options, backup features, and yet a powerful search to jump to a particular message history.
This app also supports RCS that allows you to send and receive messages over Wi-Fi or mobile data network. Use this simple app to stay in touch with family and friends by sending them pictures, emojis, GIFs, audio and videos.
5. SMS Organizer – The Official Microsoft App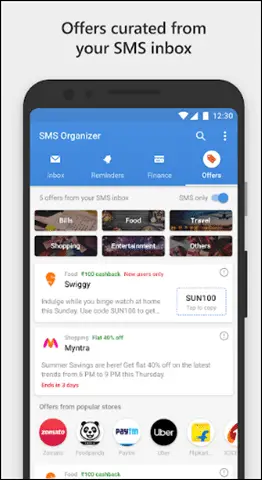 SMS Organizer by Microsoft may not provide you with those fancy emojis and stickers but is definitely a solid alternative to your stock messaging app. The reason why it comes among the best stock messaging apps for Android is its nifty set of features that are unlikely to be found in other apps.
It multitasks in various ways as it also serves as an SMS cleaner, reminder, backup; ultimately giving a boost to your productivity. The UI is kept at its simplest form, but the way it gives you relief is by filtering important and unimportant messages and placing them in the correct tab makes this app worth trying.
If your phone has become a mishmash of promotional, transactional and personal messages, the SMS organizer comes to your rescue. It organizes all your SMS messages into the Personal, Transaction and Promotional category and makes sure you never miss an important message.
Other features that need a mention are Smart Reminders, Smart Assist, Smart Backup, Smart Personalization, and Offline flexibility.
One feature is recently added by the Microsoft to the SMS Organizer to elevate the privacy and protection of your finance-related messages. The new feature offers full protection to your Finance messages by adding an extra level of security where you can only access those messages using your fingerprint or PIN.
6. Mood Messenger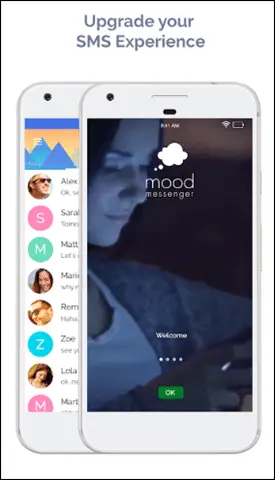 Mood Messenger is one of the few messaging apps that are free from any in-app purchases and advertising. If you are bored using the default messaging app of your phone, Mood messenger is a decent alternative.
Not only the entire app but you can also customize the interface per contact including the font size, notifications, background, and themes.
You can apply a dark mode if the current one looks dull to you. There is chat encryption feature between the premium users that will keep your messages safe and secure from any unauthorized access. Other highlighted features include group conversation, spam blocking, and animated GIF library.
7. Pulse SMS
Pulse SMS is one of the best messaging apps for Android that is secure and packed with all the necessary features and customization options. It makes sure the texting is easy with its materialistic design and deep integration.
Some of the features that may convince you to download this app are dual-SIM support, preview web links, password protection, per-conversation theme options, powerful search, and automatic backup and restore.
It is not limited to your mobile device, but you can also exchange message via PC, tablet and other devices provided if you have the premium version. The app is free for forever on your phone with no ads.
There are other subscriptions to choose from if you are looking for something more. Currently, they have four plans available; $0.99 / month, $1.99 / three months, $5.99 / year, or $10.99 for a lifetime.
8. QKSMS
QKSMS is definitely among the best messaging apps for Android that is simple yet powerful. It is a free and open source, and that makes it perfect for our list.
QK works well like other SMS apps with some good features like dual-SIM support, per-contact customization, backup and restore and high contrast black theme support.
It is lightweight and leaves you with a never-ending blissful texting experience.
9. Signal Private Messenger
Despite being a chatting app like Facebook Messenger, Hangout and WhatsApp, Signal Private messenger is still one of the best texting apps for Android. First of all, it supports end-to-end encryption that is perfect for people looking for high security while messaging.
The second thing that sets it apart from other messaging apps is its ability to send messages to a phone which does not have the app installed.
Yes, you can use it with your phone number and send a message to another number where the recipient is not required to download the app. If privacy is your primary concern, Signal Messenger should be the one you pick.  
10. Textra SMS
If there is a texting app for Android that can beat the best for its elegance and stylish interface, then undoubtedly it is Textra SMS.
It is powerful, beautiful and one of the most popular texting apps that has the highest ratings on Google Play Store. You have access to all the latest 2900+ emojis from Android, Twitter, Emoji One, and iOS.
When it comes to adding more feature to its functionality, the Textra app is compatible with Pushbullet, MightyText, Android Wear, and Android Auto (car).
The app is absolutely free with some ads where you can choose to make a single in-app purchase to remove ads forever.
11. Yaata SMS
Scheduling messages have become the most-demanding feature of any messaging app, and that's where YATAA SMS app stands ahead of all.
It has a ton of features to offer like Group chat support, converting SMS to MMS facility, backup and restore, send delay, and more.
The app has some fantastic set of features to deliver if you choose to go for a premium version like Scheduling messages, auto-forward, auto respond, blacklist numbers, night mode, speakerphone mode.
YATAA SMS falls under some of the best texting apps for Android that is lightweight yet highly configurable.
12. Messages by Gather Media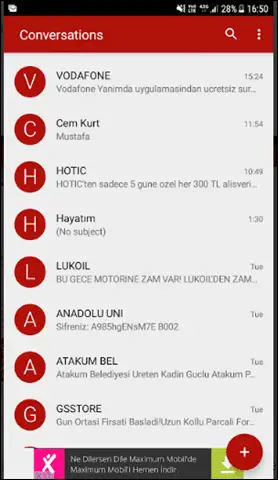 Messages app by Gather Media is a fresh treat for people looking for some beautiful messaging app with material design.
Currently, it has 200 themes to choose from along with a night mode if you love to have dark themes.
When you are running out of words, send MMS to make your messages meaningful and lively.
Well, it's not the best SMS app for Android, but worth a try.
13. 8SMS
8SMS app is a basic messaging app that is a port of the Android stock messaging app with some added features. It is just an enhanced version of the Android stock messaging app with quick reply pop-ups, emoji support, dark theme and out of the box MMS support.
It's not the free app but has a premium version with a 14 days trial period.
Once the trail is over, you may start getting ads that you can remove by making an in-app purchase.
14. Telegram
Telegram has been around for a long time and is constantly updated by the developer making it cleaner and a subtle messaging app for Android.
With over 200 million active users, Telegram is the fastest, secure, and powerful messaging app that makes texting fun.
You can sync all your devices and start typing a message on the phone and finish it on the tablet. Telegram is free.
People interested in ultimate privacy have the option to have Secret Chats that are programmed to self-destruct automatically from both the devices (sender and recipient).
Your stock messaging app can be perfectly replaced with Telegram where the security is assured by its 256-bit symmetric AES encryption, 2048-bit RSA encryption, and Diffie–Hellman secure key exchange.
15. Privacy Messenger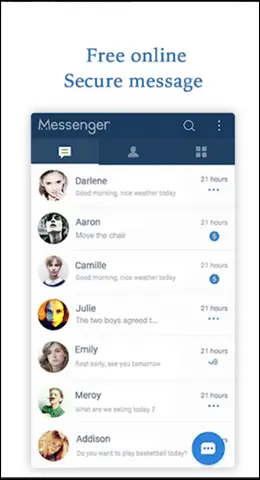 Privacy Messenger is a perfect blend of elegance as well the security. If you are of replacing the stock messaging app with the most reliable one, then this is the one for you. The Private Box encrypts your messages that prevent your messages from being snooped.
The Caller-Id feature identifies the numbers in real time like True Caller. Other features that surely need to be mentioned are dual-SIM support, dealy SMS, schedule SMS, animated GIF, Android wear compatibility, backup and restore, SMS-blocker.
16. Facebook Messenger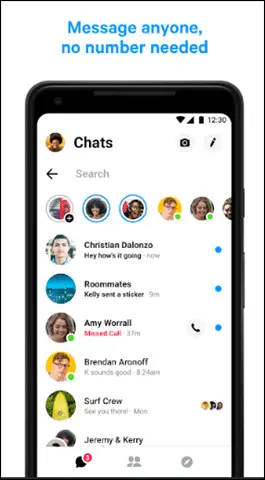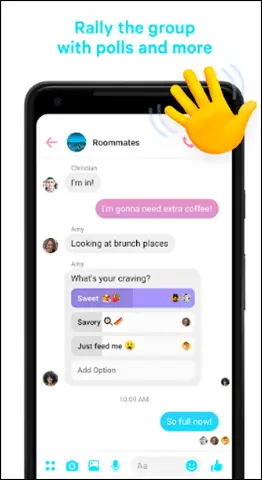 Yes, Facebook Messenger can also be your default messaging app in Android, if you wish it to be. But be forewarned that it's not among the best Android messaging apps, with lots of ads, in addition to the fact that it consumes a lot of battery, RAM and storage.
The reason we mention the Facebook Messenger in the list is that there is a chance that you already have this app on your phone. Maybe you are already using it.  Now you just have to enable the SMS support in the app, and it is good to go.
If you use it frequently then it's best to enable the SMS feature so that it's easy to check on Facebook as well as text messages on a single platform.
Final Thoughts
There you go – the best messaging apps for Android that you can use to replace the stock app.
We have consciously left out Google Voice out of this list. Its a pretty awesome app but has one major drawback – it is available only in the US. Besides that, I think we got all the best messaging apps available today.
(Article Updated on 11th Feb 2019)