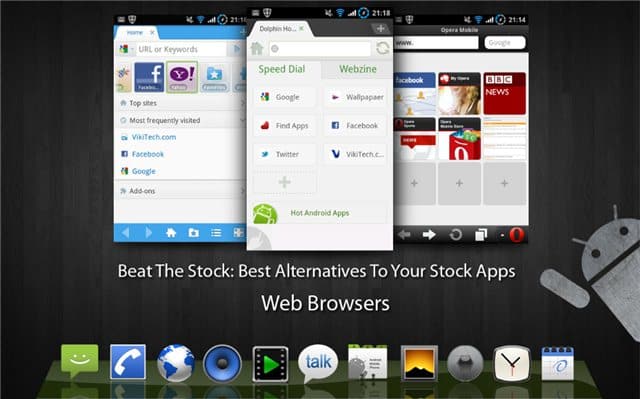 Undoubtedly, one of the most used apps on an Android device, or for that matter any smartphone, would be the mobile web browser. Thankfully, the stock Android browser is a pretty good and useful app. But this shouldn't stop you from trying out other alternative browsers on Android.
Third-party, alternative browsers on Android offer more functionality, better features, and great user interface that could make you forget the stock browser app. Here, we've rounded up some of the best alternative browsers on Android to help you choose the one that best suits your mobile browsing needs.
This article is part of the Beat The Stock series that explores the best replacements for your stock apps. Other articles in this series include –
Web Browsers (Currently viewing)
We will update the links as we publish other articles in this series!
The Stock Browser for Android – Internet
As mentioned before, the stock browser for Android,simply called Internet, is a pretty good and useful browser. In fact, it is good enough for the average Android user to not seek out other Android browsers. The app is a toned-down version of the Google Chrome browser and gives you most of the features needed on a smaller device like a smartphone.
Performance wise, the Internet browser app for Android is fast, and renders page quite swiftly. Even graphics-heavy sites load as fast at it would normally take to load the same site on a regular desktop.
One thing that you'll probably won't like about the Android Internet browser app, is the fact that when it comes to layout and design, the app doesn't give you too much customization options. And important and much needed feature which is not yet supported by the default Internet browser app for Android is "multi-tab" browsing. This is a major drawback and could be a deal-breaker for many Android power users.
Best Alternatives to the Stock Web Browser
Dolphin Browser HD
We intentionally put Dolphin Browser HD on top of the list because, this browser is quite powerful and quite advanced among the current crop of alternative browsers on Android.

This app offers a fast and elegant web browsing experience on Android that not only lets you browse websites on your Android phone but interact and engage with web content via an intuitive interface.
Dolphin Browser HD has a plethora of nice features that you'll look for in an Android browser. You can customize it to make it look and feel the way you want it through the use of add-ons. It's also gesture-controlled through the use of your fingertips, which is perfect for a touchscreen smartphone. The browser also supports tabbed browsing just like in a desktop browser.
Two of the major features of this browser that you'll surely love are Webzine and Sidebar. Webzine are just like bookmarks or favorites done in a magazine-style, while sidebar is an extended display feature which allows you to access the Toolbar or bookmark list and folders. Overall, Dolphin is an excellent browser that should meet all your browsing needs.
Firefox
Firefox, Firefox! What can the browser industry do without you? And what good this list of alternative browsers for Android will be if we don't include you. As you may all know, Firefox has been around the browser business for quite some time now. Mozilla has consistently updated its browser making it even more powerful and more useful.
For its Android iteration, Firefox offers some of its best and most useful desktop features on the mobile web browser. Hence you have a browser with an awesome screen, robust synchronization between your desktop and mobile browsers, great add-ons, tabbed browsing, social sharing, location-aware browsing and a very nice customization feature called – Persona. Persona allows you to dress up your browser the way you want it to look and feel.
Performance wise Mozilla Firefox is pretty great on Android. Firefox, time and again has proven that it's one of the fastest-performing and most reliable browsers around.
Opera Mobile Web Browser
This is the premium version of the other Opera browser available on the Android Market, Opera Mini. Opera Mobile Web Browser is ideal if you have a fast 3G/4G or Wi-Fi connection and is a pretty good alternative to the stock browser on Android. It runs smoothly and renders page better than most Android browsers around.
The many nice features of this browser include – pinch-to-zoom, smooth panning, bookmark synchronization, speed dial, Twitter and Facebook support as well as access to games and free apps via the Opera Mobile Store.
Even before the days of Android and iOS, Opera built it's mobile browser to become one of the most reliable browsers for mobile phones and they have lived up to their reputation with Opera for Android.
Skyfire Web Browser
Another celebrated and highly praised browser for Android is Skyfire Web Browser 4.0. While evaluating the browser we couldn't help but agree with those praises were indeed well deserved. Skyfire is a pretty amazing mobile web browser packed with several unique features.
One of these features is the "Video" icon that lets you play millions of Flash videos around the web. Skyfire transcribes Flash videos into HTML5 through the Skyfire servers, letting you view Flash videos at once. This feature seems to work better on a Wi-Fi connection than on 3G. Although the performance can vary according to the quality of the 3G connection.
Some of the other features of Skyfire that you may enjoy using are – user agent switching, fireplace feed reader, one touch search, related ideas, Facebook like button and Twitter integration. Just a quick note about related ideas feature – It analyzes your current web page and gives you a list of related topics which you can then explore. It's a pretty nice feature that lets you explore related content on any topic.
Maxthon
Three features that make this Android browser stand out among the browsers we've listed so far are – sync to cloud, quick back or caching technology that reloads previously visited webpages fast, and its download manager which lets you easily sort, schedule and grab the downloads you need. In addition, you also have all the regular sharing features which support Facebook, Twitter, Email, SMS and other social media sites.
The app also supports touch screen commands which it call Super Gestures. It's tabbed browsing capability is also pretty commendable as it puts your Android phone's screen to optimum use. And did we say that Maxthon loads webpages faster if not as fast as other browsers for Android? No wonder this Android browser has received quite a good response in the Android Market.
BOLT Browser
Update: Bolt Browser team has closed shop and has pulled the browser from the Android Market. We recommend that you to check out the other browsers in this list.
Bolt Browser may not be as popular as Firefox and Dolphin Browser HD but that doesn't mean that it is not as good. In fact, you'll be surprised to know that this app has a lot to offer in terms of functionality and features. We have previously reviewed BOLT browser in detail.
Among the features of BOLT that you'll appreciate is its deep integration with Facebook via social tab, URL auto-complete, ability to save web pages for offline viewing, and its data compression feature which lets you save data usage without sacrificing performance and speed. If you like playing Java and web-based games, BOLT browser has got you covered.
I've been testing this browser for quite some time now and so far, I never had any major problem with it. But you may want to read some of the reviews posted on the app's page on the Android Market since not all of the user reviews are positive.
Download Bolt Browser
Boat Browser
Honestly, among the Android browsers that we've listed so far, Boat browser is the only one that I haven't used before. I wasn't expecting the app to be fast and powerful since I rarely read anything about it. So, I was pleasantly surprised on reading the highly positive feedback it got from the users.
True enough, while I was trying out Boat Browser, I was surprised at how quickly it rendered webpages. Its speed and performance is further strengthened by its other features including multi-tab browsing, bookmarks manager, speed dial function, smart address bar and search box, among other features.
One feature which is unique to Boat Browser is the fact that it is said to be the first Android browser that supports voice commands. To use this feature, you need to install "Google Voice Search" Android app on your device.
Miren Browser (Update: Pulled from App Store)
The last Android Browser on our list is Miren Browser which we can say is a pretty simple and yet very functional. It gives you a very intuitive browsing experience on your Android phone with full tab browsing feature and an added smart full-screen mode which you can toggle on/off by a touch.
It also features Flash support, multi-touch pinch zoom, top site navigation and smart suggestion, bookmark management with folders, and the ability to import/export your bookmarks via SD card. When it comes to performance and speed, Miren Browser can go neck to neck with the other browser apps on Android.
Download Miren Browser
Final Thoughts
There you go. These are the best alternatives to the stock browser on Android. There is stiff competition among the browsers for the top position and it is really difficult to pinpoint the best one. Choose the one that is most appropriate for your needs!
Did we miss any good alternative browser on Android? Which one will you use to replace your Android phone's stock browser? Feel free to let us know in the comments.