Emails play a vital part in our lives. Not only do they keep a permanent record of all the communication, but they also can be accessed from any device that is synchronized for your email account. Be it for personal or professional purposes, email management is vital, so having a Gmail app for Windows is essential.
It is not unusual for people to have multiple email accounts, but keeping a constant vigil over them can be quite tiresome. Thankfully, we benefit from choosing any of the top Gmail Desktop App that will help us manage these accounts efficiently.
Gmail App For Windows: Manage Your Emails Efficiently
When it comes to having a primary email account, Gmail is one that rules the roost. Despite being the most popular and flexible email service, many Gmail users still want different features. Here is a brief list of the best Gmail apps for Windows 10 you should check out.
1. eM Client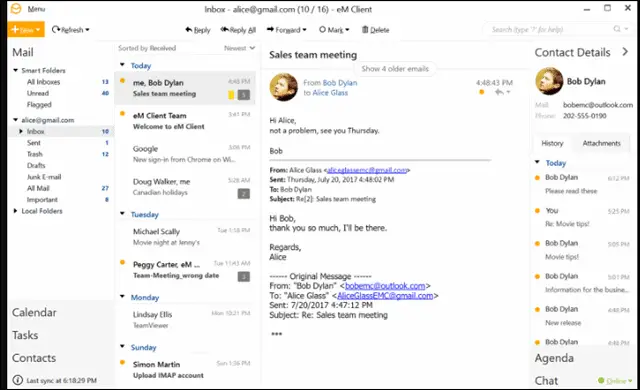 Starting the list with a top-rated Gmail app for Windows, eM Client has been flawlessly serving its clients for more than a decade. The UI is fresh, clean, and easy-to-use with all the essential features required to well-organize your emails.
It offers tasks, calendars, contacts, and chats so that you never miss an important event. eM Client supports almost all the popular services, including Gmail, Exchange, iCloud, and Outlook.
This Gmail desktop app also imports data from other email clients like Microsoft Outlook, Outlook Express, Windows Mail, and Thunderbird. Apart from rendering some rich features, eM Client also takes care of its appearance that includes a dark theme.
You can start with the free version, but if you want advanced features like VIP support and unlimited accounts, eM Client Pro won't disappoint you.
What do we like about eM Client?
Very fast and easy to use
Allows multiple Google Calendars to sync into one overall calendar
It has a clean interface
What can be better about eM Client?
It doesn't have a task manager.
Pricing: $40 one-time payment per user
2. Mailbird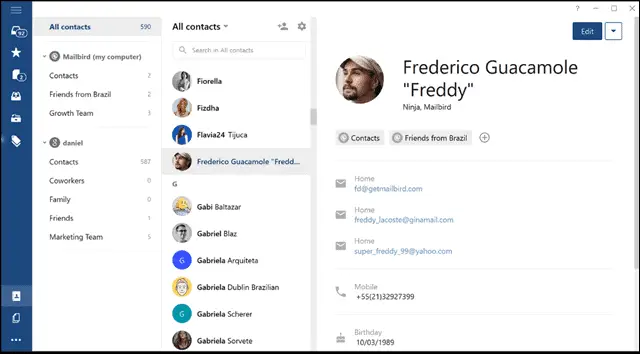 If you have already been a user of Outlook, the interface of Mailbird will not surprise you. This Gmail Windows app is one of the most preferred tools worldwide due to its intuitive UI easy controls.
If managing multiple accounts has become a mess, this Gmail desktop app will handle all your emails and contacts from various accounts in a unified Inbox and make it an easy task for you. Moreover, the app integration to Facebook, Twitter, Whatsapp, Dropbox, and Google Calendar makes it a diligent Gmail app for Windows 10.
Features like Snooze, Speed Reader, Attachment Search are sure to make you happy.
What do we know about Mailbird?
Straightforward design and user interface
Multiple integrations with apps in one place
What can be better in Mailbird?
Mailbird doesn't have a mobile version.
Pricing: $29 per year
3. Thunderbird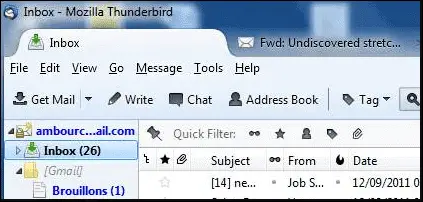 Thunderbird can easily be considered as the best Gmail app for Windows 10. Earlier, it was owned by web browser Mozilla, but now the app's development is being taken care of by its users.
Thunderbird comes with great features that bring privacy, customization, and the latest technology altogether. This Gmail app for PC sets a personalized email address for you. It also supports add-ons and extensions that sync with all of the email accounts you have. The Multiple-channel chat allows you to make real-time conversations with your contacts.
The Tabbed email feature lets you load multiple emails at once to switch between any of them quickly. You can also check the guide to know how to install Thunderbird in Mozilla Firefox.
What do we like about Thunderbird?
What could be better in Thunderbird?
It doesn't have a categorization of emails like Thunderbird.
Pricing: $39 one-time payment per user
4. Claws Mail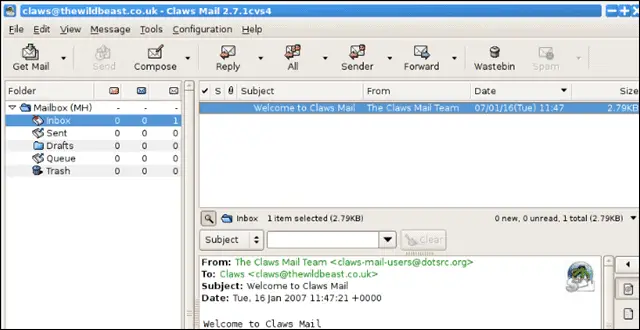 If you want to use Claws Mail, you must be prepared to do some manual configuration for yourself. If you prefer speed over advanced glittering UI, this Gmail app for Windows might just be the answer for you.
Claws Mail requires you to configure your mailbox; it does not support HTML email. This app also assures data security and gives fast access using the standard MH format for message handling.
It includes all the significant features that you would expect from an email client, such as filtering, user-defined headers, and multiple MH folder support. As it supports POP3 and GnuPG, it can handle Gmail as well. Claws Mail is the most responsive and intuitive Gmail desktop app for Windows 10.
What do we like about Claws Mail?
Allows integration with all email clients
Manage multiple email accounts
What can be better in Claws Mail?
Unfriendly user interface
Pricing: Free
5. Inky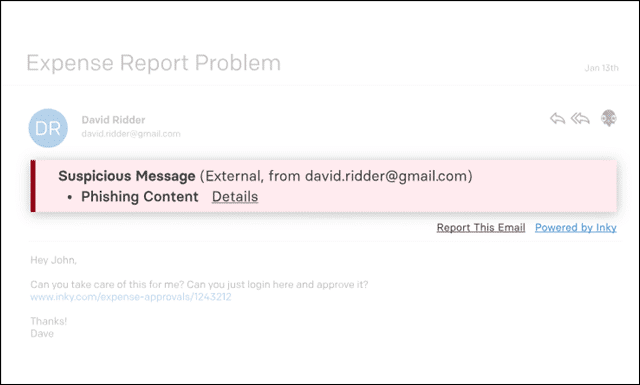 Inky is a good-looking Gmail Windows app that ensures security with end-to-end encryption. It has acquired artificial intelligence and machine learning to detect any phishing attacks.
You can see that it has a friendly UI that syncs with both desktop and mobile. Inky integrates into Office 365 organization and is even compatible with Exchange and G Suite.
The Gmail Windows 10 app is a good option and supports Outlook, Gmail, iCloud, and all the major email clients.
What do we like about Inky?
Aggregates all the email addresses
The simple and straightforward layout
What can be better in Inky?
No mobile applications available
Pricing: Free
6. Touchmail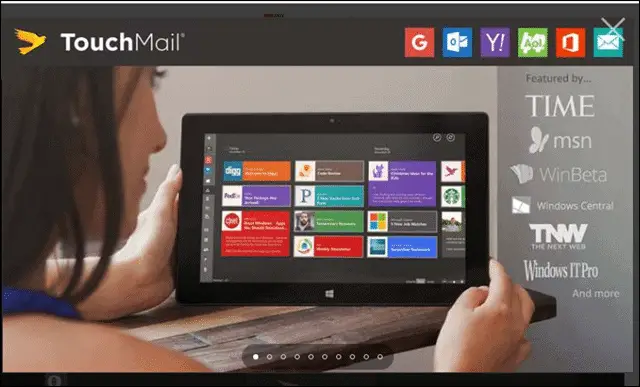 TouchMail is the best way to filter what is essential for you while cleaning up your various email boxes like Gmail, Yahoo Mail, iCloud, or even Outlook.com. If you are looking for a visually appealing application, TouchMail should be your first-choice Gmail desktop app.
The Gmail app for Windows has a stylish UI where each sender is provided with an individual tile. Primarily, TouchMail is designed for touch uses and works average with a mouse and keyboard. If you have a touch device and want to explore a colorful way of using emails, TouchMail allows you to do that freely with even two accounts.
What do we like about TouchMail?
Nice and user-friendly design
Helps in managing multiple email accounts
What can be better in TouchMail?
It is limited only to IMAP email providers.
Pricing: $9.99 one-time payment
7. Zimbra Desktop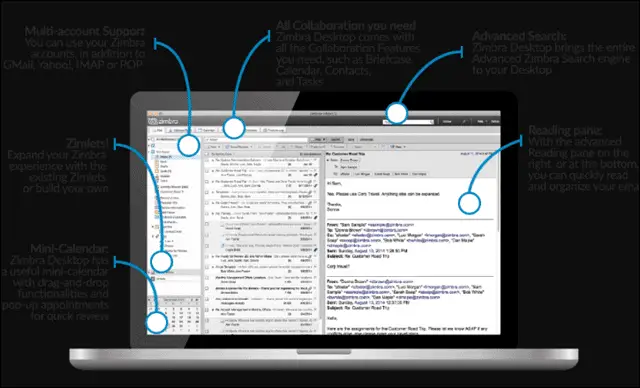 Zimbra Desktop is one of the best free and open-source Gmail apps for Windows 10 that efficiently manages your email accounts.
With a sturdy interface, this Gmail app for Windows syncs emails, contacts, and calendar data between user's mailboxes stored in the Cloud. Moreover, you can use it offline too, when you are not connected to the internet. If you need collaboration, Zimbra comes with features like Briefcase, Calendar, Contacts, and Tasks.
The Mini-calendar comes with a drag-and-drop function and also facilitates pop-up appointments so that you get a quick review of everything necessary in your routine. In all, this Gmail app for PC will make sure you don't have to keep a constant vigil over your emails.
What do we like about Zimbra Desktop?
Friendly user-interface
Multiple email providers are supported.
What can be better in Zimbra Desktop?
Pricing: Free
8. EasyMail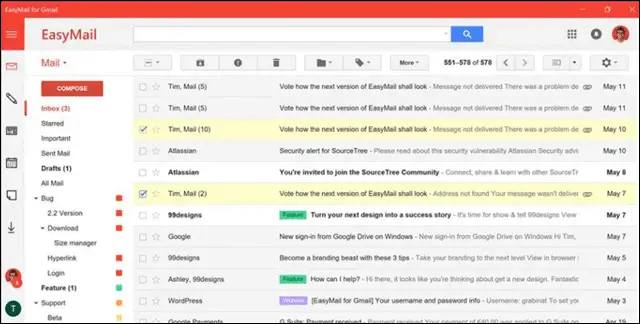 EasyMail is almost like using Gmail with the extra functionality of handling multiple accounts. Yes, it brings Gmail directly to your desktop. It lets you easily access emails, notes, and calendars in a single app.
This Gmail app for Windows allows you to switch between multiple accounts using a single click. You can see all the unread emails on your lock screen and taskbar. EasyMail is specifically designed for Windows 10 users to give them a convenient way to be vigilant about important emails from different accounts.
The live-tile lets you see a preview of your latest emails. It makes your work more comfortable and more productive.
What do we like about EasyMail?
Integrates Google Calendar and Gmail
Clean and comfortable user interface
What can be better in EasyMail?
Pricing: Free
9. MailSpring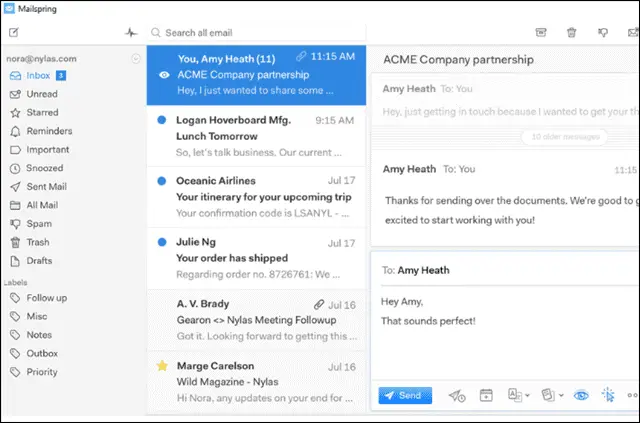 Do you want to take your productivity to the next level? MailSpring will help you do that easily by bringing all the labor on a single platform.
The unified inbox in MailSpring supports every primary email service, including Gmail, iCloud, Office 365, and Outlook.com. Signatures are an eternal part of any email; Mailspring comes with a beautiful signature editor to use custom signatures.
If the recipient understands languages other than English, the translator can convert your email into Spanish, Russian, Chinese, French, and German. The automatic language checker auto-detects the language you are using and spell-checks every word. In all, this Gmail app for Windows is the best solution for managing your emails.
What do we like about MailSpring?
Unified inbox
User-friendly interface
Read receipts and link tracking available
What can be better in MailSpring?
Slow updates
No address book
Pricing: Free version available; MailSpring Pro costs $8 per month
10. Opera Mail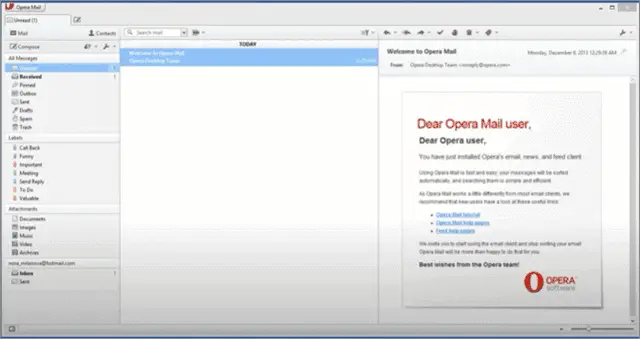 If you are looking for a fast and reliable Gmail desktop app for Windows 10 that can help you manage your emails in one place, Opera Mail is an option worth checking out. The Windows desktop app has multiple benefits that will surely help you manage your multiple email accounts efficiently.
Opera Mail supports both IMAP and POP, along with Atom and RSS feeds. The best thing about Opera Mail is that it is available on an indexed database. So, users can easily read, label, and filter their emails.
However, if you are switching to this Gmail app for Windows from another email client, the data transfer isn't going to be an easy process. Importing data and configuring the Opera Mail is always a challenging task.
What do we like about Opera Mail?
Free for use
Supports both IMAP and POP accounts
The indexed database helps in retrieving and filtering emails quickly.
What can be better in Opera Mail?
Pricing: Free
Final Thoughts on Best Gmail App For Windows
As days pass by, email is becoming an essential part of our professional and personal lives. Be it for personal or professional purposes, it is always regarded as one of the most trusted mediums of interaction and communication.
A majority of the population has become mobile-centric when it comes to sending and receiving emails. But for all those who still like having a PC to use for accessing and working on emails, it's necessary to find out the best Gmail app for Windows.
There are many email apps for Windows that can help you manage your emails efficiently and avoid the clutter. The choice to use the application depends on an individual's needs and requirements.