If any technology has enabled human beings to capture memories and stay closer to their loved ones, it's the camera. Many of us love capturing moments and storing them as souvenirs. For those who have photography as a hobby or are busy clicking pictures on their smartphones, the best Android camera app ensures top-grade picture quality.
With a good camera app for Android, you can easily take snaps and start learning this skill all by yourself. Several camera apps make it easy for a beginner to start learning the art of photography.
Best Android Camera App To Ensure Premium Picture Quality
When it comes to the best picture quality, nothing beats the DSLR. However, specific applications offer picture quality close to that of a DSLR. However, if you want to be a professional photographer, having the best Android camera app isn't enough.
If you love taking photos or shooting videos casually, check the best camera apps for Android to enhance your snaps.
1. Cymera Camera
Cymera is one of the oldest Android camera apps you will ever come across. It is designed to guarantee quality and also one of the most trusted camera apps worldwide. If you are looking to polish your pictures for uploading them on social media, this is probably the best camera app for Android to download.
Features:
Collage maker and live filter options available
You can use body and face editor to beautify your profile pictures.
Various types of filters, such as Lomo, Film, Vintage, Natural, or Sketch, are available.
Users can take instant selfies with 130+ filters.
You can remove wrinkles, pimples, and dark circles on your face in a photo.
2. Google Camera
Google Camera is one of the best Android camera apps you will ever come across on the Play Store. It is usually a built-in app for most of Google phones. If you want to install this application, make sure your version is Android 7.1.1 or higher.
Features:
The Night Sight mode will enable you to click photos with fantastic clarity without using a flashlight.
The Top Shot feature allows users to get suggestions on the best photos.
The HDR+ feature helps in taking clear and top-quality photos in low-lit backgrounds.
The Portrait feature helps in using the best background for your photos.
3. SnapSeed
Google always provides quality apps, doesn't it? SnapSeed pretty much lives up to the expectations when it comes to editing photos. Suppose you are looking for a professional camera app with useful post-processing features. In that case, SnapSeed is probably the best Android camera app that you will help you learn and understand the process.
Features:
There are 29 tools and filters for various purposes.
SnapSeed also offers an HDR feature and allows styling with accurate control.
White balancing is available in this camera app.
Various other effects, such as Retrolux, Noir, Grunge, Vintage, etc., help users in making the best possible editing choices.
4. Camera MX
Old applications are often trustworthy, and the same goes for Camera MX. It is the best Android camera app to opt for if you are searching for a full-fledged camera application. The features include all the necessities that would be expected of a useful camera application.
Features:
Camera MX supports all resolutions and ratios.
The JPEG quality is customizable and ensures that the users get the required quality.
Auto-optimization is available for low-lit backgrounds.
Shoot-The-Past burst mode allows users to browse images before taking a snap.
5. Filmic Pro – B
est Android Camera App To Download
Filmic Pro is one of the best professional camera apps available for Android devices. However, with the premium features it offers, you will have to pay $14.99 to use them. It also happens to be the most expensive Android camera app on this list with a bunch of unique features.
Features:
Filmic Pro has a dual arc and slide control for adjusting focus and exposure.
It also offers a Live Analytics suite.
Users get a matrix for adjusting for white balance with custom presets.
A content management system for proper organization of photo gallery
Various Foundation Features expected of every videocam are available in Filmic Pro.
6. Footej Camera 2
If you have used Footej Camera, here's the perfect successor to live up to your expectations. Footej Camera 2 offers top-notch manual controls and some classic photography features. It is one of the best new Android camera apps available on the Play Store.
Features:
The user-friendly interface ensures an easy learning curve for beginners.
You can use the Burst Mode as well as created animated GIFs using this app.
The shutter speed control is reasonable; it is available only if supported by the device.
Footej Camera 2 has an excellent front camera app with many selfie features.
It enables high frame-rate recording if accepted by the device.
7. SayCheese
Now, this is a unique application you have come across. SayCheese isn't a camera app for Android per se; it helps you connect your phone to someone else's device and use their camera to take pictures on your Android phone. In case you don't have a good camera, you can just 'borrow' your friend's phone camera using this app!
Features:
SayCheese is a handy app to have while clicking group photos.
It is a remote Android camera app that helps you build connections and operate two phones.
SayCheese is also regarded as the best security camera app for Android.
Apart from remote camera control, users can also avail of the built-in benefits of this application.
HD Camera, IP Camera, Live Video, and Material designing is also available in the application.
8. Bacon Camera
Camera apps offering total manual controls often require Google's Camera2 API. However, you don't need to have that for using Bacon Camera. Jam-packed with some of the most powerful features, this is the best Android camera app in terms of DSLR-quality pictures.
Features:
Excellent Manual control options
The Timed Shots feature allows users to capture amazing time-lapse videos.
Bacon Camera comes with a unique multi-exposure algorithm that ensures maxim resolution and better picture quality.
You can also click good panorama photos using this Android camera app.
Other useful features include Live Histogram, GIFs, Virtual Horizon, and much more.
9. Open Camera
Open Camera is one of those rare camera apps that will be loved by both videographers and photographers alike. To start with, it offers a bunch of exciting features free of cost. If you are looking to exert total control over photography and editing, Open Camera is the best application to download.
Features:
Users can auto-stabilize their pictures using Open Camera.
The remote control feature allows you to take pictures by saying specific commands.
Panorama also supports the front camera.
Noise reduction and dynamic range optimization ensure better photo quality.
Geotagging for photos and videos is also available.
10. Snap Camera
If you have already surpassed the rookie-level in photography, you might want to use a better camera app that provides flexibility with features. Snap Camera is the best Android camera app in such cases. It is a befitting app for amateur and professional photographers.
Features:
Offers a bunch of manual control functions
Panorama mode, flash mode, burst mode, silent shutter, self-timer, white balance, exposure, and many other features are available in this Android camera app.
Users can also capture photos during video recording.
The Auto torch mode enables sound video recording in low light areas.
You can enhance details, add color effects, and do all the other basic editing stuff using Snap Camera.
11. Zoom Camera FX
Zoom Camera FX is one of the best Android camera apps boasting a clean and user-friendly interface. It is also an excellent professional camera app for beginners. Blessed with a set of multiple features, you will have to shell out $3.99 to get this application.
Features:
The app uses Camera API2 and enables full manual DSLR controls.
Raw capture is available only for a few supported devices.
There are more than 100 effects, such as Vignette, Retro, Holga, etc.
Zoom Camera FX also provides a widget for your photos for quick access.
Other standard features such as time-lapse, burst mode, grid overlays, and multiple flash modes are also available.
Users can also avail of the selfie flash for taking better quality selfies.
12. VSCO – B
est Android Camera App For Social Media Platforms
If you are a social media enthusiast and fond of uploading images on Instagram and videos consistently, VSCO could help you enhance your hobby. As they define it, VSCO is a place where expression matters the most, and this camera app provides every feature to express yourselves in the best manner possible.
Features:
You can get featured by VSCO for the content you create by sharing your work with #VSCO on social media.
The VSCO camera app for Android provides ten free presets for enhancing your photos.
VSCO is the best Android camera app for making vintage videos; you can use the Film X feature for this purpose
The VSCO Montage feature can help you make story-telling videos for effective marketing purposes.
You can also connect with the community of like-minded enthusiasts and share your work.
VSCO has a 7-day free trial, after which you will have to purchase a subscription plan.
13. ProShot
Another good professional camera app for users looking to foray into photography is ProShot. The app performed magnificently on the Windows platform before being introduced to Android. You will have to shell out $3.99 for using ProShot.
Features:
ProShot has an Auto mode, Program mode, Manual mode, and two fully customizable modes like a DSLR.
ISO, Flash Focus, shutter speed, and white balance features are also available in this camera app.
Burst mode and time-lapse mode have full manual controls.
The front camera has exposure control.
There are many shortcuts for screen brightness, GPS, camera shutter, and more.
14. ProCapture
We often look for good photo processing options while choosing the best Android camera app for our smartphones. In such cases, you wouldn't be too impressed with ProCapture. However, if you want useful features used while capturing photos, this camera app is one of the best solutions. You can use the free version or buy the pro version for $3.99
Features:
ProCapture offers various modes for photo capture, such as Panorama mode, Wide Shot mode, Reduced Noise mode.
Users can easily control focus settings, white balance, and exposure while taking snaps.
ProCapture's UI is user-friendly and straightforward.
You can also configure volume buttons for zooming or capturing photos.
15. Camera FV-5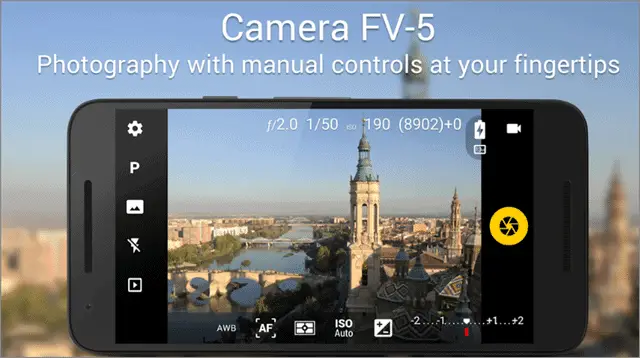 If you are looking to get DSLR manual controls on Android, Camera FV-5 is the best professional camera app. Also, it is regarded as one of the best free camera apps on the Play Store.
Features:
Photo capturing features such as focus mode, white balance, ISO, light-metering mode, and exposure compensation are at your fingertips.
Camera Fv-5's view display is just like a DSLR; it can display many statistics in real-time.
The intervalometer helps in making quality time-lapse videos.
Users can also click night pictures and light trails because this camera app offers extended exposure support.
There are various focus modes, such as Autofocus, macro, manual, and infinity focus.
16. A Better Camera
You don't get too many all-featured camera apps on the Play Store, and if you do, hardly any of those is as good as A Better Camera. Let the casual name not fool you; this camera app can enhance the quality of your photos beyond your wildest expectations.
Features:
The pictures are bright and have rich detailing.
It is the best Android camera app that holds all the major features such as HDR, Multishot, and Panorama in one place.
The pre-shot feature allows you to take pictures before clicking the Capture button.
Focus and shutter speed are priority features, along with the availability of manual controls.
A Better Camera also provides ISO and Night mode.
Burst mode and different focusing modes are also available.
17. Retrica
Retrica is more of a photo processing application than one that helps in capturing quality photos. Also, if you are habitual with taking selfies wherever you go, this camera app will never disappoint you with its features.
Features:
Retrica provides timestamps and various blur effects.
There are 190+ filters to enhance and beautify your photos.
Users can also give their photos a vintage film look to their pictures.
The user interface is friendly and makes the app is to understand
18. SODA – Natural Beauty Camera
SODA is somewhat similar to Retrica; it is one of those camera apps that offer photo capture features but focuses on photo-processing features. If you are looking for a camera app to just play around with, SODA is an excellent option.
Features:
There are multiple trendy filters for clicking cool selfies.
The High-Resolution mode ensures users can take top-notch selfies for social media.
Users can capture different moods and express them accurately using loads of filter options in the application.
19. Z Camera
For those who love spending time editing their photos and beautifying them, Z Camera offers oodles of filters and other effects you will love it. This Android camera app also gives you the option to try it out in the Play Store before installing it.
Features:
Z Camera can change your entire look with the number of options has in terms of filters and photo effects.
There are real-time effects, stickers, face-swap features, hairstyle editor, and much more.
Users can also go for 3D tattoo effects if they want to show a tattoo on their skin in a picture.
Z Camera also provides real-time aging effects and Motion AR stickers while capturing photos.
There's an entire makeup collection for beautifying your selfies.
20. Pixtica
If you are looking for some latest camera apps for Android, don't forget to try out Pixtica. Manual controls, exposure control, night mode, slow-motion mode, and much more, the app have all the basic set of features you would love to have in a camera app.
Features:
Pixtica has a user-friendly interface, which makes it the best Android camera app for beginners.
Users can create GIF animations by using different capture modes.
Wide pictures are easy to shoot using the Panorama mode.
The time-lapse and hyper-lapse feature allows users to accelerate slow videos.
You can also make automatic collages using the Photobooth feature.
Basic features, such as video editor, photo editor, gallery, QR scanner, are also available.
You can also scan documents and make high-quality memes with the stickers this camera app provides.
21. ProCam X
When you've made up your mind to take up photography seriously as a profession, you should install ProCam X on your smartphone. With a wide range of features packed in this professional camera app, you can begin learning the basic techniques of clicking photos and setting the base for a photography career.
Features:
Manual shutter speed, manual ISO, and manual Focus are available on camera2api-supported devices.
ProCam C is one of the fastest camera apps available on the Play Store.
Users can maintain exposure and white-balance control using this app.
ProCam X is the best Android camera app in terms of creating stop motion or time-lapse videos.
Geotagging and Anti-Shake features are available; the Anti-Shake feature allows users to shoot photos at slow shutter speeds.
22. LINE Camera
There is an abundance of photo editor applications on the Google Play Store. However, few can match the easy user interface and the powerful editing features packed in LINE Camera. If you are looking to play around with photo editing, this is the best Android camera app for you.
Features:
Many unique filters to make your selfies more attractive and appealing.
LINE Camera comes with time flash, grid, mirror mode, and many other features to help you take the perfect picture.
You can also add fancy text to your pictures.
Twenty thousand unique stamps will make sure you can edit each photo with no repetition in creative editing.
LINE Camera offers multilingual support; it is available in 9+ languages.
23. Camera360
Beautifying photos after you click them is no less than a mandatory norm. And, Camera 360 knows the importance of this need for too well. You will get a bunch of features related to styling your photos in this front and best Android camera app.
Features:
Camera360 is a lightweight app that performs on all Android devices.
There are dozens of beauty presets, filters, and effects to beautify your pictures.
Users can also remove blemishes and polish their skin color to give it a brighter look.
The filters and effects are designed for Landscape photo editing.
Final Thoughts
Camera apps are primarily used for improving the quality of photos. You can also use them to add fancy stuff to your photos, such as filters and various effects. While a camera app is a great way to upgrade photo quality, it isn't mandatory to have one on your phone.
The use of camera apps is dependent on the needs and requirements of the user. Additionally, some apps suit specific purposes and different kinds of people. If you just want to play around while taking snaps and experiment with different things, you can use Retrica or SODA to enhance your photos.
Suppose you are serious about taking up photography as a career, and you need a useful application packed with multiple high-end features. In that case, Filmic Pro or Zoom Camera FX can be an excellent option to go with. ProShot is the best Android camera app for those who want to learn the technical aspects of photography.
Related: Best Android Cleaner Apps For A Bloat-Free Smartphone