Although Photoshop is considered the most popular image editing software for professional use, GIMP is not less in any terms. GIMP often beats Photoshop in multiple functionalities, and many users prefer GIMP over Photoshop. GIMP is the perfect image editing app, and adding a few plugins can improve the user-experience vastly. Have you ever tried to install and use GIMP plugins before?
GIMP is widely used and the go-to choice in the open-source category. The fact that the software is available entirely for free works in its favor. Although the common belief is that it is primarily used in Linux systems, GIMP can be downloaded on Windows and Mac and does all the work flawlessly. The appearance might look a bit Gothic, but GIMP plugins only add to the variety of stuff that can be done with the application.
18 GIMP Plugins To Enhance Your Editing Skills
We have looked for the best picks and listed the top 18 GIMP plugins to help you be more creative and artistic. GIMP works great on all operating software, irrespective of whether you are using it on Mac, Linux, or Windows.
1. Pandora
Pandora is one of the best GIMP plugins for people who love to take panorama photos. Panorama photos are photos where you stitch multiple images to make it a panorama image, and Pandora does it to perfection. You can create a large image where your images are loaded in as individual layers. Use Pandora by loading images, delete background layers, set overlap and direction, tune each image's position, fine-tune the layer masks, etc.
2. Liquid Rescale
Liquid Rescale is among those GIMP plugins that allow you to resize your image without compromising the quality. You can remove unwanted parts of your image. It is similar to Photoshop's Content-Aware Scaling feature. There is a preview window in this plugin that helps you view the effects before saving it for the final. After you successfully install it, you can access the Liquid Scale under the "Layers" menu.
3. Resynthesizer
Resynthesizer is one of the most potent GIMP plugins you must not miss out on. Using this plugin, you can remove objects from photos. It allows you to create multiple textures of a picture (like creating tileable texture) and create themed images by applying logos similar to the Content-Aware Fill tool in Photoshop.
4. Wavelet Denoise
Wavelet Denoise lets you remove noise from your photos generated by an imbalance in light and incorrect camera settings. You can easily apply multiple parameters and preview it in the dialog box. Its processing time is speedy and independent of the amount of denoising you have used.
Very different from the regular GIMP plugins, Wavelet Denoise is an added feature you must get your hands on.
5. Script-Fu Bundle and GIMPressionist
Script-Fu Bundle is a collection of various effects to help you turn your photo into a painting. You can add beautiful frames to your pictures, make them sharper, configure saturation, etc.
GIMPressionist is a GIMP plugin with artistic filters and presets, and scripts from the Script-Fu bundle can be imported and controlled from it. It works on the active layer. It has a dialog window with a small preview area where you can see your edits without saving it. Download and install these GIMP plugins and make your pictures look 10x better.
Download Script-Fu Bundle and GIMPressionist
6. Layer via Copy/Cut
If you like to play with layers, then Layer via Copy/Cut is for you. With Layer via Copy/Cut, you can copy, move, and cut a portion from one layer or layers. This function is available in Photoshop too and it does the same work as in Photoshop. The difference between the Layer via Copy / Cut function in GIMP and Photoshop is that it can only copy/cut from one layer in Photoshop, but in GIMP, it can copy/cut from the layer groups.
7. Beautify
Beautify adds multiple photo effects and editing options in a single frame and is one of our favorite GIMP plugins. You can give your photo a touch of elegance and style with the contrast adjustment and definition adjustment tools that enhance your picture quality. It has skin whitening, rip border, texture border, and much more in its menu.
8. Lensfun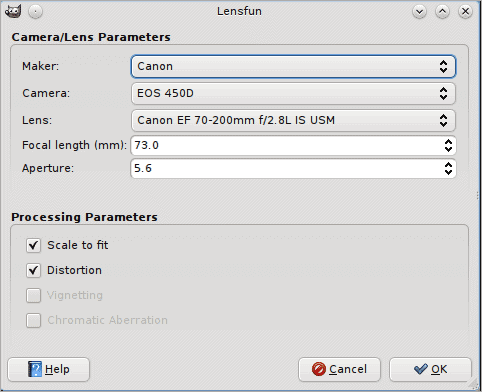 Need to fix lens distortion of your image? Lensfun is there to help you out. It improves the lens distortion of your photo and makes it more clear. Lensfun quickly detects what type of camera and the lens you used by reading the EXIF data embedded in the image file. Once you install this GIMP plugin, you will get Lensfun in the Filters-Enhance menu.
9. UFRaw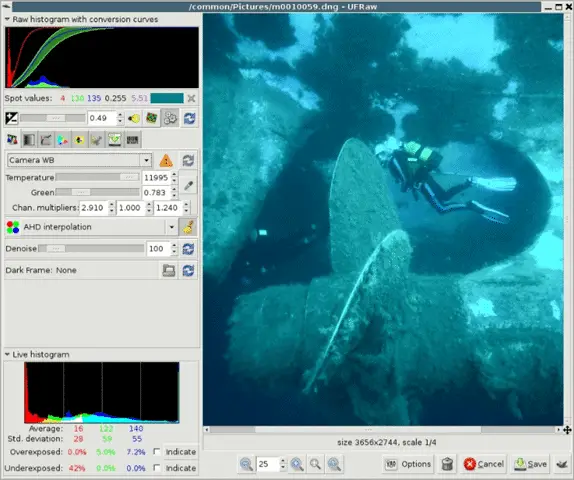 UFRaw is for professional photographers to edit RAW images in GIMP. It has an auto-crop option, and it allows up to 400% zoom. It has JPEG optimization to reduce the file size without affecting the quality of the image.
If you are looking out for GIMP plugins used by experts in the profession, try out UFRaw.
10. FX Foundry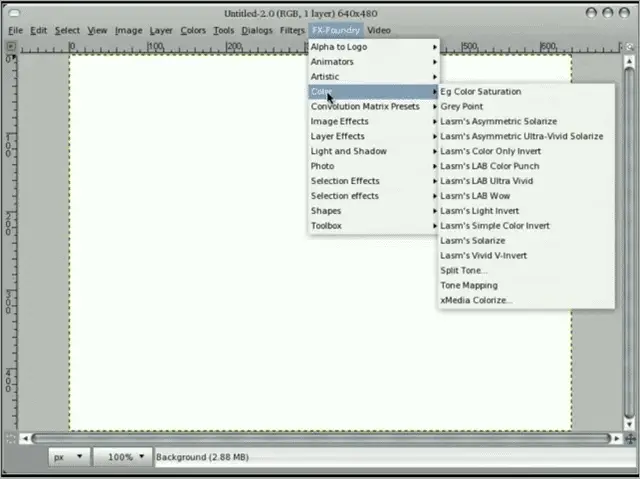 FX Foundry is one of the most functional GIMP plugins which offers a vast collection of effects and scripts to edit your pictures. Once you install it, FX Foundry has its menu at the top of the window of GIMP. Every single effect has its dialog box with settings.
11. BIMP – Batch Image Manipulation Plugin
Bimp is one of the most useful and powerful GIMP plugins as it allows you to apply multiple effects to an entire group of images. You can flip and rotate the image, crop it, resize it, blur it,  make it sharp, watermark it, rename it, and much more. You can preview the changes you made in the dialog box.
Download BIMP – Batch Image Manipulation Plugin
12. Contrast Fix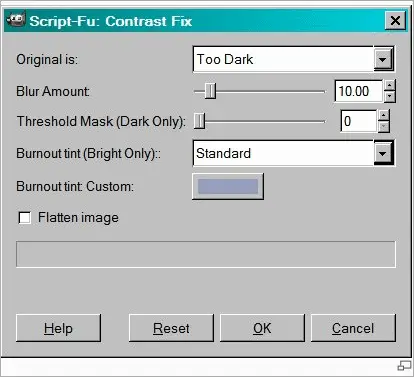 When you click pictures, sometimes they are too bright, and other times, they are too dark. Contrast Fix is one of those handy GIMP plugins which fixes this issue. You can try various settings and which match your requirements. With the Contrast Fix plugin, you can run the script more than once on your photo.
13. Refocus – One of the Best GIMP plugins
Refocus helps you fine-tune your blurry images. Sometimes while image processing, photos get blurry because image pixels are averaged with their neighbors since they don't have fine boundaries. It looks as if the images are clicked from an unfocused camera. Refocus has a preview that lets you select the best parameters.
14. G'MIC (GREYC's Magic for Image Computing)
G'MIC is the most useful GIMP plugin which helps you turn your photo into a piece of art. You can use it from the Filters menu. It contains several presets, effects, and filters to enhance your simple picture. If you don't want to install the plugin without testing, you can run its online version on your browser and check if it suits your requirements.
Let's avail of one of the most fully-featured GIMP plugins and take our craft to the next level.
Download G'MIC (GREYC's Magic for Image Computing)
15. Elsamuko's Filters
Elsamuko's Filters is a vast collection of filters for Gimp. Even if you are not a pro in photo editing, it will help you get the perfect effect. You can download all the scripts at once, and if you don't want the whole collection, you can select according to your choice. It has effects like the Sprocket Hole effect, which aligns rectangular holes near the image's boundary.
16. Palette Generator
This plugin is for designers who like to play with colors. As the name suggests, the Palette Generator lets you generate color palettes with the required adjustments. As you can see in the screenshots, you can adjust the hue and saturation of the color. Mix it up and light up your imagination into beautiful art.
Palette Generator is one of the most extensively used GIMP plugins by graphic designers, illustrators, and artists.
17. GAP (Gimp Animation Package)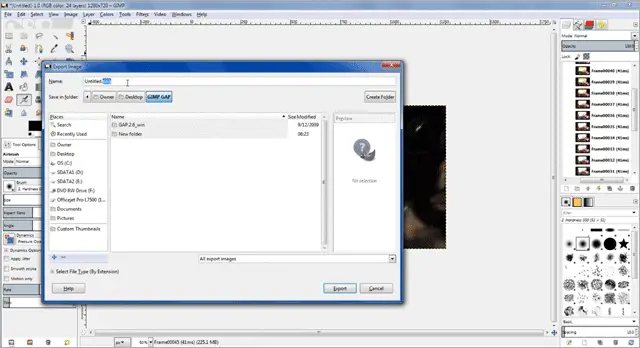 Gimp Animation Package is a GIMP plugin made for designers who are interested in animation. It is not a full-featured animation pack, but if you are simply looking to create some easy and quick animations, then this plugin is perfect for you.
Download GAP (Gimp Animation Package)
18. GIMP Extensions Pack for Windows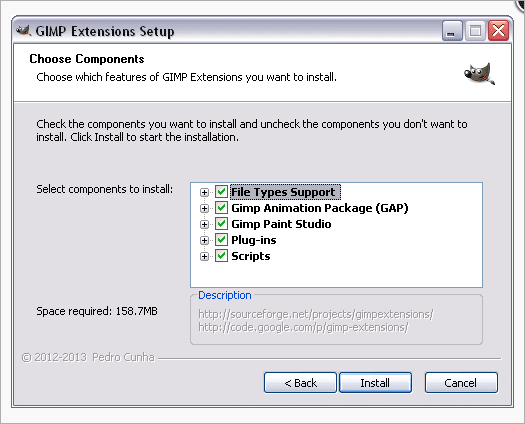 The last one to make it to our list of the best GIMP plugins is Extensions Pack for Windows. It is primarily meant for all Windows users. GIMP Extensions Pack for Windows contains all the plugins required to edit the image in GIMP. When you install this pack, you don't have to install each plugin one by one. It's the easiest way to get all the plugins instead of searching for each plugin and installing it.
Download GIMP Extensions Pack for Windows
Conclusion
If you find Photoshop costly, switch to GIMP, a pocket-friendly alternative. The open-source, free image editing application works well on all operating systems and does the work perfectly. It is extensively used by graphic designers and artists worldwide to edit, enhance, and improve image quality. If you think GIMP lacks some features, go ahead and install GIMP plugins.
We have enlisted the options that make up for what the original software lacks. These are feature-rich and easy to use. You can beat the best designs with these GIMP plugins and give a tough competition to the professionals. Add the ones you need to bridge between what you want and GIMP's default options and see the magic it creates.
Related: Best GIMP Tutorials To Help You Master This Photo Editing Software