With the advent of technology, several things have been made convenient, especially reading. Thanks to the Google Play Store, which has multiple choices, you can select the best eBook reader app on Android smartphones and continue reading without any disturbance.
The Android reading apps also enable you to bookmark a page, support various formats, and come with configurable settings. You can indulge in reading your favorite books and novels from your smartphones without splurging on a dedicated eBook reader.
Note: If you want, you can also use the epub reader for windows 10, where you can view epub books, and helps to read with ease.
23 Best eBook Reader App For Android Readers
Finding the best eBook reader app can be an intimidating task since the choices on the Google Play Store are plentiful. Most ebook apps and free audiobooks websites and apps support multiple formats. Having access to a good eReader is essential for an uncomplicated experience. Let's check out the best eBook reader app that you can use:
1. Amazon Kindle – Best eReader app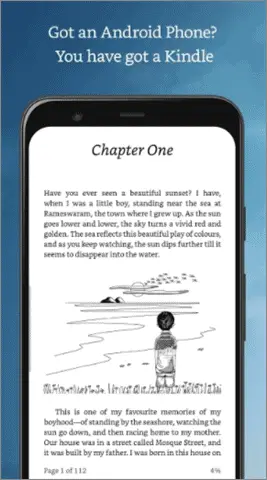 No points for guessing the first name on our list, Amazon Kindle, without a doubt, is the best eBook reader app. It boasts an exquisite collection of books, and there will not be a name you want to read but not there on Kindle. The largest eBook store also gives readers various customization settings and easy browsing options. Amazon Kindle app for Android includes cross-device syncing, to start reading from the same page from any of the devices.
The library is ever-growing, and the most consistent eReader app incorporates tons of exciting reading features. Kindle for Android is a rock-solid option for all book lovers, and you will be fascinated by the massive choices. You can read offline and also get your hands on magazines and newspapers.
Top Features:
You may know more about any subject in detail from Wikipedia while reading.
Customize settings, highlight margins, make notes, search keywords
Read and shop for books without facing any issues.
Easy to use interface and search options
Comes with a built-in dictionary, offline functionality
Cross-device syncing and link it to your social media handles, for instance, Twitter or Facebook.
High definition zoom-in with bookmark pages
Read eBooks in five languages.
Track your reading progress
2. Serial Box – Best For Latest Titles And Unique Collection
Unpopular yet exceptional, Serial Box might come as a surprise entry for the second spot, but the best eBook reader app rightly deserves this place. The app includes both eBook and audiobook facilities, so you can either read the book or listen to it in the background while doing other chores. The most striking feature that we love about Serial Box is that it contains an excellent collection of books in all the genres you can think of. Science fiction, drama, mystery, fantasy, or period novels; you name it, and they have it.
The app tracks your reading progress on its own. You will find Doctor Who, Marvel's Black Widow, and Dark Shadows in the newly added section. The text is divided into bite-sized chunks, so it doesn't feel like you are bombarded with pages of written matter at any time.
Top Features
Conveniently switch between reading the eBook to listening to the audiobook.
Download and read offline
Get to listen to the original theme music and sound effects and immerse yourself in excellent quality audio.
Avail of a diverse collection comprising of all genres
Choose the narration speed.
Pick between scrolling or swiping options when it comes to the reading style.
Customize the app's background-color
3. Scribd – Most Customizable
eBook Reader App
Scribd is the best eBook reader app that gives users unlimited access to free content. What Netflix is to films, Scribd is to books. The Android EPUB reader boasts a vast library consisting of more than 500,000 books ranging across various genres. This includes books from over 900 publishers, so you will find everything under the sun, be it old or new. You can download your favorite novels for offline reading as well.
Scribd enables you to have a customizable display. Anyone looking for a reading app that includes functionality beyond a regular eBook reader must install Scribd. You can also become a part of the Scribd community and share your thoughts. The community allows you to suggest books and check out what the other book lovers have recommended.
Top Features
Read and listen to thousands of books for free.
Browser through the catalog comprising of millions of choices before zeroing on one
Become a member of the Scribd community and enjoy premium benefits
Sync your app across multiple devices
Choose between vertical or horizontal scrolling options.
Read offline, add bookmarks, and make notes.
Change background color and customize font type and size.
4. Aldiko – All Best-Sellers Under One Roof
If you are looking for old-school reading apps that have been doing the rounds for quite some time now, Aldiko is a perfect choice. The best eBook reader app is meant for everyone hunting for a simple option that serves the essential needs well. It supports EPUB and PDF formats and boasts a clean interface. Aldiko also includes Adobe DRM encrypted eBooks and can be downloaded and used on all Android smartphones and tablets.
The customizable options are handy, and you can avail of the eBook rental library services. The look of the app feels slightly gothic, but it does not lack rich features. If you want to get rid of the advertisements, you can buy the paid version. Otherwise, the free version works fine. Aldiko's most unique feature is that it allows users to indulge in global text searches while reading a book.
Top Features
Supports multiple formats
Gives you a fully customizable reading experience
Quicker update facility
Advanced library management system
Import and export footnote
Easy to handle interface
Facilitates rapid shifting from one chunk of text to another
Remembers the last page you read
Global text search in eBooks
5. Libby, by Overdrive – Best Digital Rental Library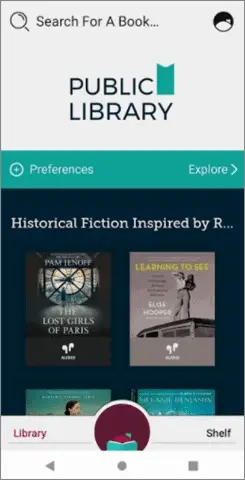 Libby offers an incredible service to its users by facilitating them to borrow audiobooks and eBooks from digital libraries. Libby has several online libraries registered, and you can get your hands on whichever eBook you like from all the participating libraries. You need not spend money on buying eBooks anymore since the best eBook reader app makes available an excellent digital media rental system. So, you can pick and select the much-coveted options.
Sign in with your library card and browse through the massive collection. Hunt for titles, set holds, and borrow your favorites with a single tap. You can return the borrowed eBook with ease and extend the tenure for which you wish to have the book without any issue. You can stream app content on your tablet or smartphone if there are space issues on your device. New York Times best-sellers or classics, which genre will you check out first?
Top Features
Zoom-in comic books and magazines
Choose to read or listen to the eBooks and audiobooks
Customize book design and adjust text size
Search for words and phrases
Rent eBooks from all digital libraries across the U.S.
Add bookmarks and notes
Avail of a vast catalog of eBooks ranging in various genres
Use the sleep timer
Download titles for offline streaming
Keep your status synced across multiple devices.
6. FullReader – Best eBook Reader App To Support All Formats
FullReader was initially known as FReader and is the best eBook reader app that is modern and widely known. It supports various eBook formats, including CBZ for comic books and CBR, both are otherwise very rarely available with other similar reading apps. Since FullReader enables users to listen to audiobooks, there is, of course, MP3 format support. The app's layout is fundamental, and the user-interface is simple, giving the app a classic vintage feel.
FullReader is packed with exciting and useful features, and even the first-time users will have no issues while using it. There is cloud backup support, so you can save your titles on Dropbox and Google Drive. The app has an in-built translator that works in over 95 different languages. If you want to help FullReader's developments and upgrades, you can send donations for the free reading app.
Top Features
Create book shortcuts and widgets
Get your hands on the audiobooks version as well
A dedicated section which includes detailed information about all the books
Customizable settings, for example, brightness control
Create notes and add bookmarks
Day and night modes
Cloud storage with Dropbox and Google Drive
Allows you to personalize the toolbar according to your preferences
Convenient to browse interface
7. FBReader
An old reader app, which is an excellent choice for fulfilling the primary needs, FBReader deserves a rightful spot in the top 10. Every feature that makes for the best eBook reader app is present in FBReader, yet the simplicity will surprise you. You can sync FBReader across multiple devices. The app comes with Google Drive cloud support.
The user-interface is simple and looks slightly gothic. Effective and soothing text style that is easy on the eyes; simplicity never goes out of trend. FBReader supports multiple formats, for example, RTF, HTML, EPUB, and AZW3. The AZW3 reader enables you to search for your eBooks by title, genre, author, tag, or series.
Top Features
Download eBooks and have them saved in your Android devices.
Simple to use with convenient browsing options
Fast and highly customizable
The app is integrated with external dictionaries.
Synchronize your reading positions across various devices
Add bookmarks and adjust screen brightness.
Choose between multiple day and night color themes.
Customize backgrounds
8. Kobo Books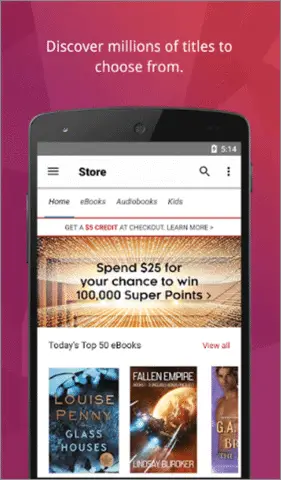 Like Amazon Kindle, Kobo is an online bookstore where you will find all that you have been waiting to read. You purchase an eBook from them, have it saved in your device, and read it at your convenience. Apart from eBooks, Kobo boasts an exquisite collection of audiobooks as well and is one of the best eBook reader app. You can read content offline and also synchronize it with other devices. Want to read at night? No worries. Switch on the night mode reading, and you are good to go.
Switching between an eBook and an audiobook is also easy. You can do it with one click and toggle as and when you want. There are over 5 million titles to pick from, and the collection is carefully crafted, keeping various genres in mind. The app enables users to sort, filter, organize, and categorize books according to series and author.
Top Features
Choose from millions of titles
Get notified when an eBook that you have been waiting for makes it to their collection
Customize your reading preferences, for instance, portrait or landscape mode, night mode, and bigger text size
Get your hands on free eBook previews
Start reading on one gadget and pick up reading from where you left in the other
Read in multiple languages
Add reviews and give ratings to eBooks
9. Moon+ Reader – Innovative, Old-School, and Feature-Rich
Yet another reading app that supports various formats, Moon+ is packed with features and worthy enough to be considered as the best eBook reader app. The formats include comic book style, MOBI, EPUB, OPDS, and PDF. You can choose from among the 10 theme options available and get your hands on gesture controls. You also get a cross-device syncing facility and EPUB3 support. The auto-scrolling function is particularly useful and allows you to control speed.
The nifty app includes a highly customizable interface. Its UI stands out from the rest and incorporates viewing modes, various font sizes, types, and background choices. Other exciting features include paging modes and text spacing personalization. The app is free, however, you can avail of the paid version to get rid of advertisements.
Top Features
Compatible with all digital eBook libraries
Page-turning effects that include five kinds of page flip animations
Select themes, change the background, and use the day and night mode
Cloud storage facility with Dropbox
Activate the unique 'keep your eyes healthy' option
Make the best use of the text alignment option
Supports a wide variety of formats
10. Google Play Books – Most Popular One-Stop-Shop For All Genres
A tough competitor to Amazon Kindle, Google Play Books rightly fits in the best eBook reader app category. The massive collection includes books in various genres, magazines, audiobooks, comics, and textbooks. Google Play Books support multiple eBook formats and also allows users to upload their favorites to the cloud. Once you have uploaded a book, you can read it anywhere, any time, and from any device. It gives book lovers an excellent storage option and the ability to read on the go without an internet connection.
You can subscribe to a book on rent. The app enables you to start reading from the point you last left at. Although the app is free, individual books might require you to shell out some cash. Some unique features include Quick Bookmarks and Rapid Skim Mode.
Top Features
Preview book samples without any cost
Get options from a catalog of millions of eBooks
Upload on any cloud service and read offline
Use the night light setting
Start reading from where you left
Adjust brightness and change background-color
Take notes
11. AIReader
Compared to the other reading apps that we have listed, AIReader is relatively new. It supports all the older versions of Android, so anyone with an old phone need not worry. These days, most apps need an updated Android version to function smoothly, so AIReader's rare feature makes it stand out from the rest. The best eBook reader app supports both common and uncommon formats, such as PRC, EPUB, MOTI, and RTF, to name a few.
The interface gives users some attractive customization options. You can check out the various reading modes and choose the one which comforts you the most. The other cool features include page-turning animations and auto-scrolling. The app is free to use; however, you can contribute in the form of donations.
Top Features
Works fine in old Android version
Supports the rarest eBook formats
The collection ranges from old to new and across multiple genres
Supports text to speech
Get your hands on the local library facility and hunt for your favorite authors and titles
Adjust and change font, color, and brightness
Includes external dictionaries
Configure display style
Interface boasts various languages
3D page animation
Clock behind the text
Auto-scroll slide and wave
Text labeling, bookmarks, and quotes
Add eBook shortcuts on your home screen
12. Media365 – eBooks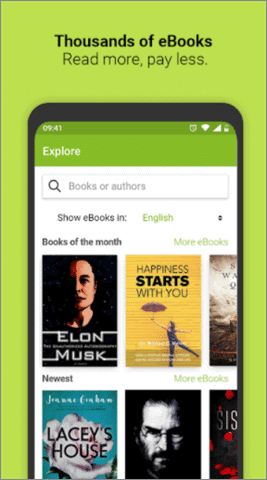 Media365 is the best eBook reader app that is popular, awesome, yet simple to use. Taking its name pretty seriously, the reading app offers users all sorts of reading material, including articles, unique pieces, comic books, and magazines. Media365 supports more than three dozen file formats, incorporating rare ones like PSD, WEBP, and PPTX.
The user interface is pleasing to the eyes. It is colorful, raw, and easy to navigate. You can also listen to your favorite eBooks. Media365 gives you personalized recommendations based on your browsing habits.
Top Features
Pick from the thousands of options covering all genres.
Get recommendations from the app.
Avail of text to speech technology
Listen to the best quality audiobooks.
Adjust screen brightness and change font size and type
Switch to alternatives that are soothing to the eyes, for instance, dark reading mode and eye comfort mode
Read stories in 17 different languages.
13. Comics by ComiXology
Are you a comic book reader? If we talk about genres, which will be your favorite? For all the comic book fans we have over here, ComiXology is a blessing. It is very different from the other options listed in the best eBook reader app category. This one boasts an exquisite collection of more than 100,000 manga, comics, and graphic novels. Comics by ComiXology is a highly popular digital platform that sports the maximum variety in this genre. You will find the work of publishers like Image, DC, and Marvel, among many others.
Users can download their comic book purchases and save it for reading later. The guided view mode is an excellent option when you are reading the eBook on a small screen. You can sync it across all devices and start reading from where you left. You can create smart lists, which tell you which ones have you completed and the names pending to be read.
Top Features
Unlimited subscription avid readers
Create smart lists and keep track of your reading
Download and save to offline reading
Cross-device syncing
Switch on the guided view mode if you are reading from a small screen
Immersive and cinematic reading experience
14. Wattpad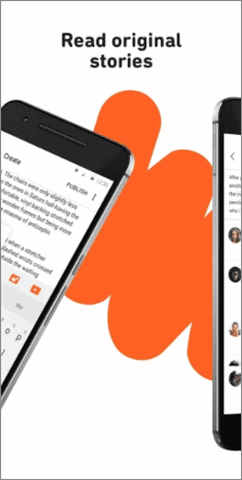 Do you love indie content? If yes, you must definitely check out Wattpad, the best eBook reader app. You will find books on Wattpad that are not present anywhere else. So, if you are wondering where to avail of the rarest of the rare collection, you know your go-to option now. If you are a writer or an author wanting to publish his/her story, Wattpad is the perfect medium.
By joining the Wattpad community, you will become a part of the group of 80 million readers. The app includes over 20 eBook categories, thereby having something for everyone. You can sync Wattpad across multiple devices and commence reading a story from the paragraph you last stopped at.
Top Features
Cross-device syncing and offline reading
Enables you to publish your work and check out what other fellow writers have written
More than 20 eBook categories to browse
Connect to a global community and discover the power of the written word
Start your own free online library
15. Hoopla Digital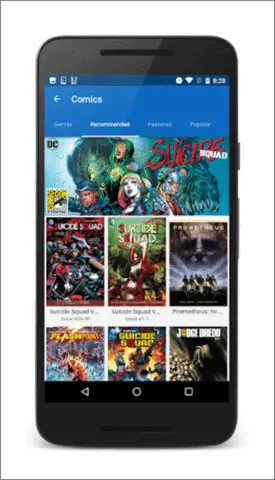 Hoopla Digital is yet another best eBook reader app for your Android devices, which integrates with your local library. You get access to over 800,000 titles that range across all genres. Audiobook, comics, eBooks, and even TV shows, you find them all under one roof on this online platform. Hoopla Digital aims to provide all end-to-end needs when it comes to online reading material.
Your reading progress gets automatically synced across all devices. The app does not charge any late fees. The interface is easy to navigate, and all the eBooks are arranged in categories. This facilitates users in discovering gems by randomly coming across books; they were not even looking for in the first place. You will find some rare unheard-of titles with Hoopla Digital. So, let's start reading.
Top Features
Borrow eBooks, comics, and audiobooks for free
The digital library does not charge any late fees
Browse the collection via categories and explore new titles
Synchronize borrowed reading material across other devices
Download content and read offline
16. Goodreads
Very different from the other best eBook reader app options that we have listed, Goodreads is a social community for book lovers you would love to be a part of. Not the best place to find the latest titles you have been waiting to read, Goodreads enables you to come in contact with other bibliophiles and share recommendations.
You can create multiple lists and save the names of the books you wish to read next. The app suggests interesting picks based on your choices. If your friends and family are not into reading and you can't wait to share your views on books and discuss what's on your bookshelf, install Goodreads, and you won't be disappointed.
The social community has crossed 75 million members. The book collection boasts a massive collection of 2.2 billion eBooks.
Top Features
Keep a handy track of what you have read and what's next.
Add status updates about the books you are currently reading.
Get personalized recommendations
Borrow, share, discuss, and engage in book-related conversations with fellow book lovers worldwide
Rate and review any book
17. Nook
A tough competitor to Google Play Books and Amazon Kindle, Nook has all the features worthy enough to categorize it as the best eBook reader app. Nook has physical book locations. The parent company Barnes & Noble is known to give users the best reading experience. The eBook reader incorporates every feature that you would find in a standard app of this genre. It includes support for comic books and manga. Nook allows you to customize your reading options as well.
It comes with cross-device syncing, so you pick from where you left and whichever device you want. You can also get your hands on reading magazines and newspapers. Explore the unique collection and explore excellent titles.
Top Features
Customize your reading experience
Change page style and adjust the font size
Change reading the position and take notes
Use bookmarks and highlights
Adjust screen brightness and alter the background color
Download the in-app dictionary
Organize your library with custom lists and collection
18. PocketBook Reader
With way too many outstanding features, an incredible collection, and an exquisite look, PocketBook Reader has made it to our best eBook reader app options. It supports books in various formats, including PDF, CBR, Adobe DRM. You can lock your screen orientation, listen to audiobooks, export notes, highlight text and resort to offline reading. The app also boasts OPDS support for whoever needs it.
Apart from eBooks, you will find magazines, comics, and textbooks. The audiobook feature comes with text to speech functionality and covers 26 audio formats. Use the cloud storage facility by Google Drive or Dropbox and save your eBooks on your device. The interface is intuitive and offers tons of personalization and customization options.
Top Features
Supports various eBook formats, thereby enabling you to read all sorts of e-content
Listen to audiobooks with text to speech functionality.
Cloud service synchronizing
Built-in translator and dictionary
Create notes and share them with your friends
Easy Google search options
Night reading modes
Create home screen widgets and adjust the spacing, style, margin, and spacing
19. eReader Prestigio
Infamous for changing its name quite frequently, Prestigio is the best eBook reader app that allows you to have multiple themes bookshop. eReader Prestigio supports content in more than 25 languages. You can choose between 50,000 eBook options and pick romance novels, classic thrillers, or children-oriented drama. The user-interface is decently modern, and the customization features give you a smooth reading experience.
Other noteworthy attributes include text to speech functionality and cross-device syncing. The app is free. However, you can avail of the paid version to get rid of the advertisements. Apart from supporting the standard formats, the app incorporates various rare ones such as DJVU, FB2, FB2.zip, and HTML.
Top Features
Multiple shelf themes
Speech to text functionality
In-built dictionary
Night mode and cross device support
Includes a massive collection of all e-reading material formats
Various eBook formats and multiple languages
Convenient navigation options
Quick scan the library, find what you want to read, and explore unique titles
20. ReadEra
The best eBook reader app, ReadEra, is popular and supports formats like EPUB, HTML, PDF, MOBI, TXT, and DJVU. It includes various reading modes, and there are no advertisements at all. The most striking feature about ReadEra is that you can use the split-screen mode. This enables users to open more than one document, file, or book at the same time. We recommend you to use the multi-tasker app only with Android devices with large phone screens or tablets.
For book lovers wanting to get their hands on timeless classics, ReadEra is your go-to app.
Top Features
Supports multiple eBook reading formats
No registration required
Free of advertisements
Split-screen mode
Quick access to reading settings
Make notes, text highlights, add quotes to your favorites
Pick between interesting day and night reading mode options
Customize your reading experience like never before
Economized memory usage
21. Foxit PDF Reader
The best eBook reader app, Foxit PDF Reader, comes with efficient document management facilities. The well-known app is a perfect blend of reading and productivity. It supports all types of PDF files.
One of the good reading apps that offer excellent quality audio and video features, Foxit is famous for the right reasons. You get various annotations and form filling features as well. A unique attribute called ConnectedPDF ensures privacy and keeps the history of what you are reading securely. Foxit PDF Reader offers exceptional cross-platform support. You can download, install, and use the app on Mac, Linux, iOS, and Windows, apart from Android.
You can freely edit PDF files and indulge in a smooth reading experience.
Top Features
Lightweight, easy to use, fast, and secure
You have full control over your content
Included e-content in 12 languages
Easy document management with rich annotations and bookmarks
View and manage PDF files
Good quality audio and video services
Cross-platform support
22. Cool Reader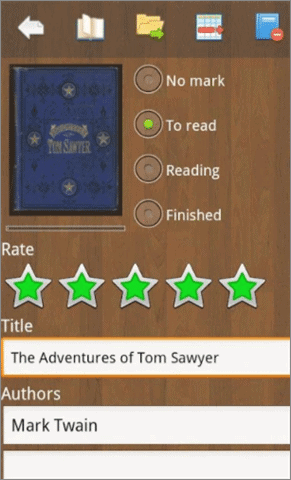 The best eBook reader app, Cool Reader, supports various formats, such as RTF, HTML, FB2, PRC, and MOBI. You get the text to speech functionality for free, which is fantastic. To ensure that every reader has a pleasurable experience, the app gives you smooth scrolling options and the ability to change the text's size. You can choose between the day and night modes and also change the background color.
Adjusting the backlight makes way for convenient reading. You also get information on the number of pages you have read so far, the number of pages still left, and what percentage of the eBook you have already covered.
Top Features
Page flipping animation
Built-in file browser and dictionary
Text search and table of contents
Bookmarks and customized reading styles
Customized key controls and shortcuts
Day and night profiles
eBooks in all various formats with additional fonts
Brightness adjustment
Change the background texture
23. Libera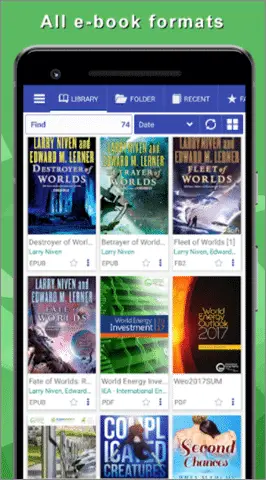 One of the best eBook reader app options for Android devices, Libera, boasts an exquisite interface and is extremely feature-rich. The modern-looking app gives readers various customization options to feel comfortable while browsing the content and reading their favorite eBooks. Switch to the night mode for giving less strain to your eyes and change the background color to suit your palette.
Look for the books you have been eyeing with easy search options. You can also enter specific words while reading and hunt for them on a particular page. The app highlights them for you. Libera gives you a handy file manager and supports all possible eBook formats.
Top Features
Built-in File manager
PDF reader which enables you to edit text
Day and night reading modes
Auto-scroll and bookmark
Customizable background and widget
Table of contents
Musician's mode
Adjust brightness, spacing, margins, and font
Dictionary and translator facilitating you to learn foreign languages
Conclusion
Reading apps are an excellent way to get your hands on the titles you have been waiting to read. You no longer need to buy or carry physically tangible books, thanks to the advent of technology. The best eBook reader app listed above are available on the Google Play Store for download.
These apps are convenient and easy to use. Each of them gives readers multiple customization options, so you can change how content is presented to you. You also end up saving a lot of space on your phone because of these eBook readers. The flexibility that these apps provide ensures that readers indulge in a smooth reading experience.
(Article Updated on 25th February 2021)