Do you have creativity hidden up your sleeve, love to doodle, and animate? Giving a shot to 2D animation might just work for you. From funny cartoons to informative explainers to post online, the best 2D animation software gives you an edge. With the correct software at your disposal, you can do wonders.
The 2D animation software provides you with the aid you need to create intricate and exciting stories. It helps you in making a connection with your audience. Whether you are introducing a new product, aiming to elicit a response from people, showing employees how to do a specific job, or teaching kids, 2D animation programs can be beneficial.
Note: Our list of the best 2D animation software includes options that are both free and paid.
Top 11 Free and Best 2D Animation Software
Are you ready to unleash your imagination and build funny characters, storyboards, and more? You can also use your creations in advertisements, presentations, or add them to your website.
1. Synfig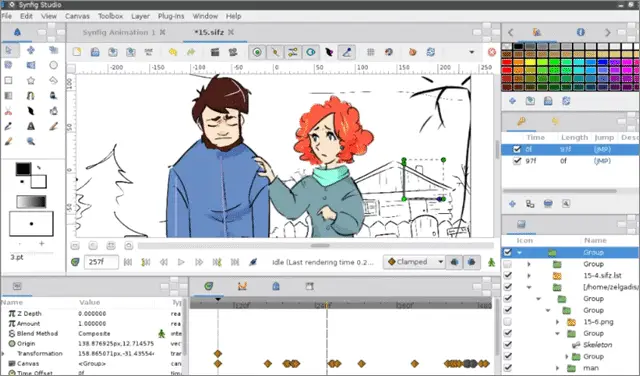 This free animation software is open-source and ideal for beginners. With Synfig, you can make beautiful animations easily and fast. The 2D animator gives you powerful tools to ensure that you have full control over your vector artwork. You only need to set the key positions, and the in-between frames will be automatically calculated.
You get more than 50 layers to create animation and artwork of any complexity. Synfig allows users to create both front end and back-end design. It indicates that users can design their content at the appearance level without being restricted to code only behind them. If you've used Flash earlier, you will quickly learn how to use this software.
2. Pencil2D
This free 2D animation software uses a simple design and eliminates all the elements that would intimidate amateurs. It offers a no-frills kind of experience in a minimalistic-style workspace.
Pencil2D takes into account a traditional approach. It uses frame-by-frame animation, where every frame is created from scratch. The light-weight software does not consume large amounts of RAM. It is an ideal animation software for beginners who wish to draw and create videos.
If you find the software slightly tricky to use, there are tutorials on the website that will guide you.
3. TupiTube
TupiTube is an animation software that focuses on children, teenagers, and amateurs. Made for the young generation's animation market, this is a comparatively simple animation software available for free.
The interface is one of the simplest for this kind of software, making it very easy to access. You will not face any issues using it. TupiTube enables you to create an animation frame-by-frame or by using the cut-out style by tweening. It supports essential tools for vector illustrations. You can export finished animations to various file formats.
Even if you're clueless about what you're doing, trust TupiTube for not steering you wrong.
4. Opentoonz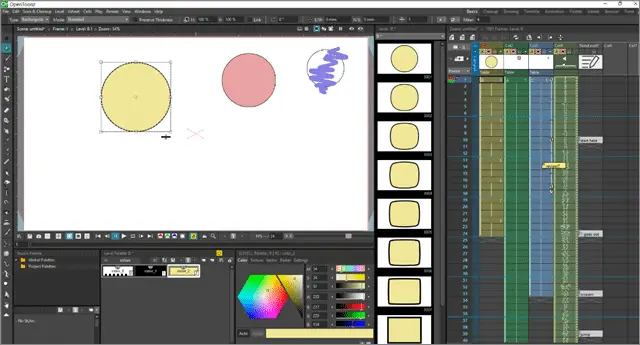 One of the best free animation software, Opentoonz, is open-source and powerful.
It includes a wide range of some tremendous in-house effects that can be effortlessly used to create your animations. The 2D animator allows for extensive editing of the code, as well. So, once you ace the art of creating beautiful animations, you can bend the toons to your whim and try your hands at editing.
Opentoonz offers many features that you otherwise find in professional animation software. It combines the traditional method of drawing with 2D animation. Users can scan their drawings and start animating it. It is compatible with four types of scanning – black and white, colored, and with or without binarization.
5. PowToon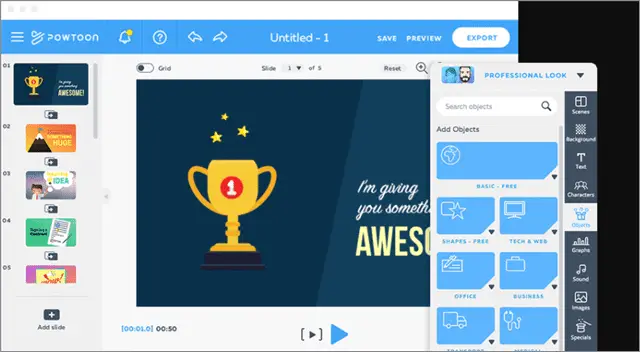 PowToon is a 2D animation software available for free and is entirely web-based. This nifty little browser gem enables users to move scenery, characters, and props around.
PowToon is ideal for making short videos and presentations. It also comes in handy when you want to bring some life to boring meetings. You can upload your content or choose from the software's library of royalty-free content.
You can customize the already existing templates to suit your needs. The free plan also gives you the option of creating videos that are three minutes long. You can directly export your creations to various social media platforms.
6. Animaker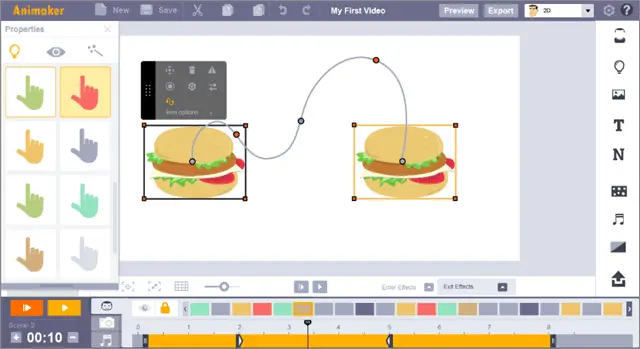 One of the best 2D animation software, Animaker, is less technical than many other animation programs. It is similar to PowToon when it comes to creating a storyboard and animating props and characters in a scene.
Animaker is a drag-and-drop online animation program and an ideal tool for video-making. With six animation video styles, giants like Verizon, Pepsi, and Google use this free animation software. It is excellent for placing advertisements on websites and considered an easy to use animation program for beginners. Animaker has a massive library of animated pre-created templates.
Are you ready to use this simple infographic creator for motion typography, infographics, 2D cartoons, and whiteboards?
7. Plastic Animation Paper
Plastic Animation Paper is a bit different from the other animation programs that you get for free. It mostly deals with the idea of pencil drawing.
The software consists of essential drawing tools and enables users to organize a workflow with setup and marking menus. It is designed for quick access and is easy to use. The program boasts of having a supreme and exact resolution.
Users can mold, change, and create their drawings in whichever way they wish. Plastic Animation Paper can be used to elevate your creations to the next level. You get to zoom and rotate a sheet, and the layering feature is available as well.
Download Plastic Animation Paper
8. Pencil Project
Are you looking for the best free animation software, 2D? How about getting your hands on the Pencil Project?
Pencil Project allows users to bring their drawings to life. It gives an edge to their creations by enabling users to insert different layers of an image to their pictures. The 2D animation software also integrates sound and various cartoon features.
If you've used Photoshop or GIMP, Pencil will remind you of them. The only difference lies in the fact that the Pencil Project emphasizes the actual drawing. So, whether you love drawing or simply want to tool around on the program, Pencil Project is a must-try.
9. Adobe Flash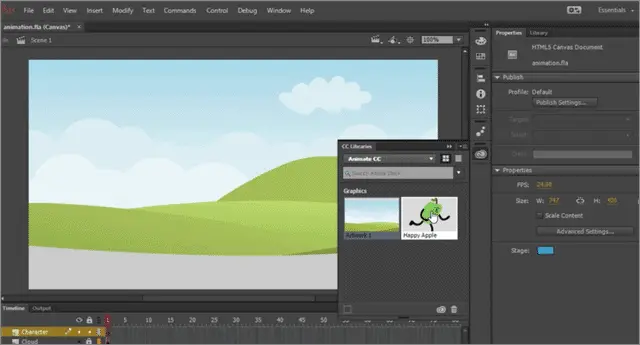 Adobe Flash is a classic and has ruled the world of animation for beginners. Be it spending the entire day on cartoon series, giving life to the creative media ideas, or indulging in fun games, Adobe Flash has earned a reputation through its long history.
Even though newer and more unique animation programs have come up, this robust software is still going strong. Flash is an easy to use vector animation software. Small file size and interactivity have also been the key selling points.
The recent much-needed updates reflect the software's willingness to support more long-form cartoons in the future. If all you want is animated elements for websites, Adobe Flash is a no brainer.
10. Krita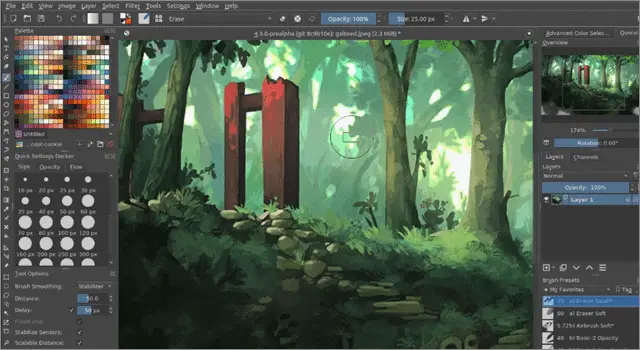 One of the best free 2D animation software, Krita is simple to use and allows you to customize your workflow. It is a little gem created by a team of passionate artists who want advanced art tools to be accessible to everyone.
The software gives you the option of choosing from more than a hundred professionally made brushes. Users can create comic panels with the help of vector drawing tools that are in-built in Krita. By making image reference on the x and y-axis, you can create seamless textures and patterns.
You can even import texture and packs of brushes from the palette of any other artists you like. Top-quality, free, accessible interface, handy drawing aids, and well-designed tools and brushes, what more could you ask for?
11. Moovly
Moovly is a cloud-based online video animation maker. Be it social media, explainer videos, whiteboard videos, presentations, or advertising, Moovly comes in handy for creating all types of animated videos.
One of the best 2D animation software, Moovly, is ideal for animators of all levels, including small and big businesses. The tool provides you with a library of templates that includes images, audio, and video files to choose from. The graphical libraries contain more than 1 million assets.
Moovly is easy to work with and comes with a user-friendly drag and drop interface. You can easily upload media, and they give you download and sharing options, as well.
The base version is free. You can purchase the Pro version for $24.92/month.
Top 12 Paid and Best 2D Animation Software
The hand-picked list of paid 2d animation programs has a rich array of functions and consists of tools that will enable you to create meaningful animation projects.
1. Moho
Moho is a comprehensive program that combines animation technology with professional tools. It allows animators to create unique effects and textures for their characters.
The software is changing the animation game by including state-of-the-art tools. It means that your best animation projects can now come to life more comfortable and faster. Moho comes with bitmap and freehand drawing capabilities, the revolutionary bone-rigging system, and powerful vector animation tools. You also get to avail of a custom bitmap brush tool. The program simplifies the workflow and makes it more efficient.
Professionals and digital artists have been using this animation software to create beautiful works of art and elevate their projects to the next level. When it comes to the paid options, Moho is undoubtedly one of the best 2D animation software available.
Price: $399.99
2. Cartoon Animator 4
One of the best animation programs, Cartoon Animator 4, is designed for practical use and productivity. The software was previously known as CrazyTalk Animator, and the makers claim it requires almost zero effort to create cool animations using it.
You can turn images into fully-animated characters. You can also make cartoon-style human and four-legged characters. How about customizing talking heads for both human and non-human characters? You can control characters from your expressions and create lip-sync animation from audio.
Let's give a life-like feel to props, texts, images, and logos with the help of Elastic motions. Cartoon Animator 4 also converts PSD artworks into animations quickly.
Price:
Pro for $99
Pipeline for $169
3. Toon Boom Harmony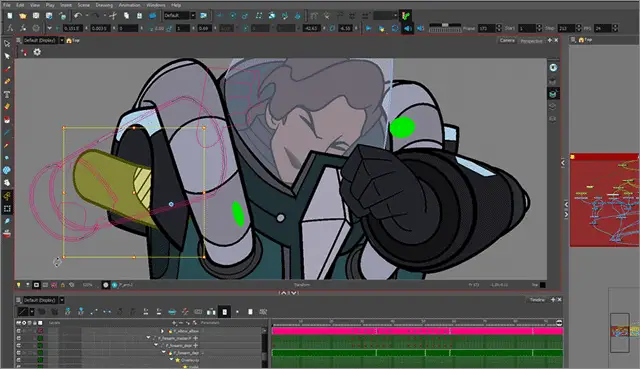 Toon Boom Harmony is a 'good for everyone' kind of an animation program. And why do we say that? It is a robust tool for professionals and, at the same time, ideal animation software for beginners.
It is the right mix of having a user-friendly interface with advanced animation potential. Used by the top-notch names in the industry like Disney, Warner Bros, and Pixar, we can easily say that this is the biggest name in animation.
The number of tools and extensive features available is insane. Be it detailed painting and drawing, pipeline, 3D, and 2D integration, or vector drawing; you get all of this is one package. The software mostly uses the traditional approach of frame-to-frame animation. However, you can also use the cut-out method.
Harmony also makes available a full range of properties for brushes and pencils and special features like post-production special effects and camera angles. There is also a lip-sync feature that can be used to match the voice with the animated creations.
Advanced yet uncomplicated, where would you find this combination? Try your hands on Toon Boom Harmony, the best 2D animation software now!
Price:
Harmony Essentials (Annual): $15/month
Harmony Advanced (Annual): $39/month
Harmony Premium (Annual): $75/month
Lifetime Essentials: $390
Lifetime Advanced: $1,005
Lifetime Premium: $2,035
4. CelAction2D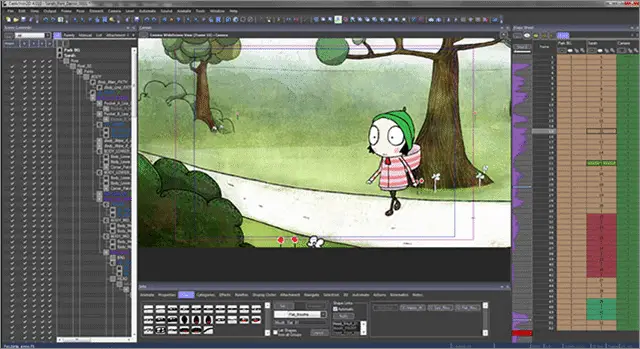 CelAction2D is a professional animation software that enables users to create unique projects. It is ideal for making films, TV series, and commercials.
The interface is easy to use, and the controls are simple to pick up. So, even the new animators will have no issues using the program. CelAction includes all the features you'd find in any of the best 2D animation software.
You can rig character models into a skeleton so that animation can be reused quickly and changed whenever you like. You can also add effects to a scene and choose from the 60 options available. This makes the scene more dynamic and visually richer without too much effort.
CelAction2D has no drawing tools. You create the assets in your preferred software and therefore get to decide how exactly you wish to make your images. The price that it charges you is not easy on the pocket, but given the fact that it makes available various state-of-art-features leading to high-quality results, the cost is justifiable.
Price:
PlusOne Module: $1599
Professional Edition: $949
Studio Edition: $1350
5. Stop Motion Studio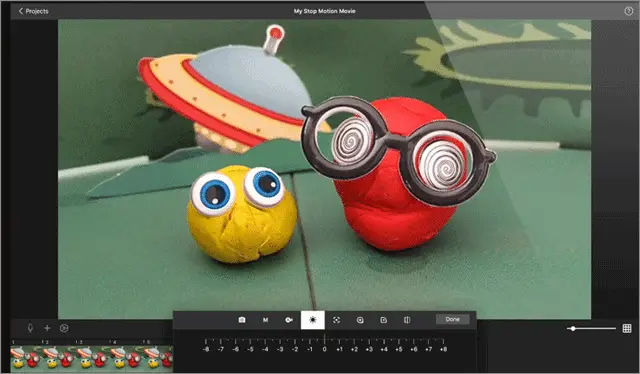 One of the best animation programs, Stop Motion Studio, is a must-use software if you want to create fantastic stop-action movies. It is easy to use and has some remarkable features. You can avail of the program across all devices.
Stop Motion Studio captures perfect pictures and supports digital cameras from every top seller. You can also use live view to control movements and objects. The unique frame-by-frame perspective enables you to see all the images in serial order. So, you can indulge in desktop-class movie editing by adding audio clips, filter effects, titles, and credits.
You can also use composition guides for perfect positioning and bring everything to life by adding significant sound effects. How about discovering the ease of animation by quickly setting In and Out points?
Price:
iOS: $4.99
Mac: $9.99
Windows: $1.99
Android: $4.99
6. FlipBook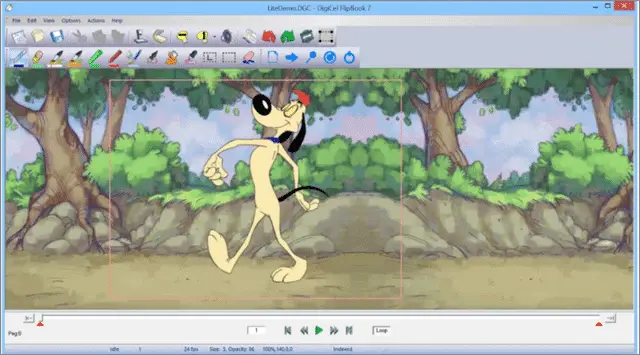 One of the most sought-after 2D animation programs, FlipBook, can be easily picked up by beginners. It teaches the new entrants the fundamentals of simple animation while trying their hands to create new projects.
It is meant for actual artists. If you like drawing and have always wanted to create a Disney-like cartoon, FlipBook should suit you well.
The program enables users to import images from their scanner. It is not made around bones animation technology, which is why artists need to animate everything manually. This, of course, is not a problem for anyone who loves to draw.
FlipBook is extremely fast. If you make changes while a scene is looping, you will see the new changes reflecting the next time the loop starts over. Easy, powerful, and fast; what more can you ask for?
Price:
Lite: $19
Studio: $49
Pro: $99
ProHD: $149
7. Toonz Premium
If you are an avid sketch artist who loves pencil drawings, Toonz Premium will take you back to your old days. The software bridges the gap between the right old traditional approach and today's paperless animation production workflows.
Toonz Premium makes state-of-the-art features and tools available for the old and the new approach, making room for countless creative possibilities. You can also follow your personal technique to computer-assisted animation and fast-forward steps that are tedious and consume a lot of time.
The software gives you advanced scan and cleanup functions and drawing tools that make it feasible to draw using several formats. You also get advanced inknpaint features that allow full control of color changes. They have animation tools that are very useful for puppet animation and a wide collection of special effects.
You cannot have a list of the best 2D animation software and not include Toonz Premium.
Price: You will have to get in touch with their sales department to know the price.
8. DP Animation Maker
Compared to the other names we have on our list, DP Animation Maker is a little simpler in its aims. Users can pick any 2D image of their choice, animate it, and bring it to life. It provides non-professional artists with robust tools that convert 2D art into a beautiful animation.
The program has an easy to use interface and no complicated code or jargon to wrack your brains with. It includes a multitude of effects and brushes that can be added to your images. This feature will remind you of the various photo editing software we've all used.
DP Animation Maker ensures that you make animated pictures for multimedia products, animated footages and background, and animated introductions for games with minimum effort. Good enough to qualify as one of the best 2D animation software, right?
Price: $37.77
9. Spriter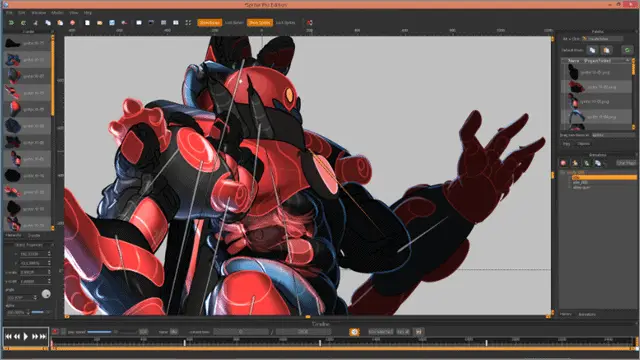 One of the best animation software, Spriter, makes it easy for everyone, irrespective of whether you are a first-timer or an expert.
Unlike traditional animation, Spriter animations comprise of individual sprite pieces that can be tweened, rotated, and transformed along an animation timeline. Spriter also takes advantage of skeleton animation and is an excellent choice for animating characters, power-ups, and user-interfaces.
If you are into animating games, Spriter is the program you should go for. You can use keyframes to layout significant frame changes quickly and edit individual frames as you like to ensure that your creations stand out.
Price:
10. RETAS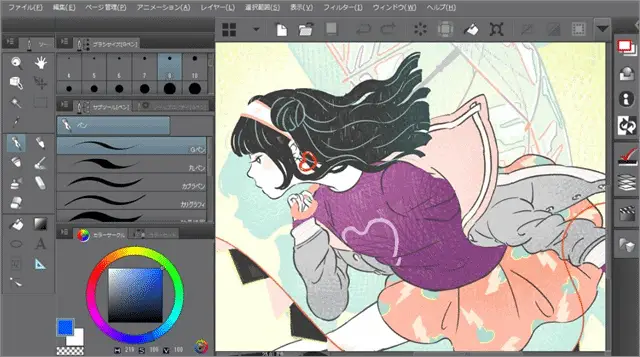 If you've worked with some of the best 2D animation software or with industry professionals, we are sure you've heard of RETAS before.
RETAS is a distinct suite of programs that primarily deals with creating and animating anime. It is highly used in Japan and considered one of the best software to create, color, and bring to life animation projects.
The software series takes care of every aspect of animation production, starting from digitally drawing to exporting. It is highly valued in the anime industry of Japan. It is different from the regular image editing software and offers ease of drawing. There are multiple setting items for pens and brushes, making it possible to create what you've imagined.
The software includes 3D drawing dolls that can be used to alter the shape of the body or head. RETAS facilitates quick and clean filling of colors, and you can also create the color you want. How about indulging in elaborate drawings using the ruler?
Price: You will have to contact the company.
11. Vyond
Vyond Studio is an online animation tool that is suitable for users of all skill levels wanting to make professional animations, including explainer and whiteboard videos.
It is enriched with handy features and enables users to create animations based on characters. Vyond comes with a convenient drag-and-drop tool. It consists of a rich library of pre-built assets and templates.
You can import pictures and MP4s. You also get to use a library of characters that can be fully customized. How about availing the 14-day free trial before purchasing the tool to see if it works for you or not? We think Vyond classifies as one of the best 2D animation software.
Price:
Personal: $49/month or $299/year
Business: $89/month or $649/year
Enterprise: $159/month or $999/year
12. Wideo
Wideo is an excellent online tool for animation that does not require any prior experience in the field. It is also one of the best 2D animation software to work on. The tool enables users to create animated videos of different kinds, such as data videos, promotional videos, and explainer videos.
It comes with HD and full HD support. You get a library of scene templates and graphic assets. You can add music and soundtracks to your creations and also upload the same on YouTube.
Users can customize every detail, and the drag-and-drop feature makes this even more convenient. You no longer need to spend hours on creating an animation as Wideo gives you professional results in minutes. You can avail of the free trial for a week and then buy the tool.
Price:
Basic: $19/month billed annually
Pro: $39/month billed annually
Enterprise: $70/month annually
Final Thoughts on Best 2D Animation Software
We've listed the best 2D animation software for you that is both free and paid. Irrespective of whether you are a beginner or an expert, you'll find the program that suits your needs. The best animation software for beginners, in our opinion, would be Stop Motion Studio, Moho, TupiTube, and FlipBook. If you're looking for a professional program, get your hands on Toon Boom Harmony, CelAction2D, Synfig, Opentoonz, Pencil2D, and Spriter.
We've listed some online options as well that include Moovly, Wideo, and Vyond. These cool tools are fun and easy to use. Each of the tools have something valuable to offer. So, are you ready to take the plunge? How about sharpening your skills as an expert and trying your hands at the multiple options available?
Related: Best GIMP Plugins To Use in 2020