eSignatures have become an essential part of the lives of corporate workers. The ability to sign documents online enables users to speed up the paperwork process and avoid delays in completing the tasks.
As easy as it seems today, the condition wasn't this good before eSignatures came into existence. Users were required to format a document, print it, sign it manually, and then scan it again to make an electronic copy with a signature of approval. This is where the electronic signatures have come in and reduced the hassle for all computer users.
Best Signature Tools To Sign Documents Online
Yes, you can sign electronically and declare your consent for anything that requires your approval. Many software providers offer stringent security by having multiple levels of authentication in place. That being said, let's look at some trustworthy eSignature tools that will allow you to cut the detour and sign documents online easily.
1. HelloSign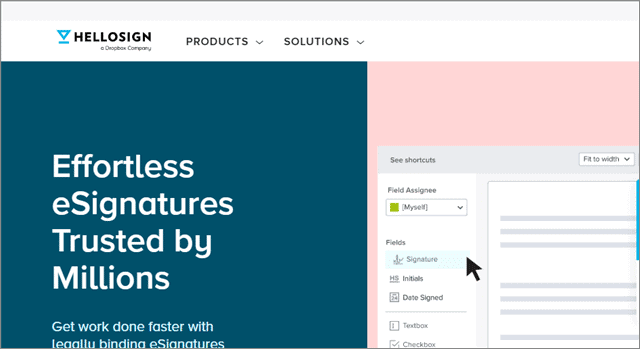 HelloSign is one of the most renowned online signature tools in the market to sign documents online. Known for its flexible signing process, the online document signing tool also offers email reminders. The user-friendly interface promises an easy learning curve, which ensures faster completion of the paperwork online.
HelloSign also complies with all the eSignature laws, so you need not worry about security issues while signing essential documents. Overall, the tool has massively helped businesses increase their efficiency of completing paperwork with their clients authentically.
The free plan allows users to sign and send three documents per month; the Pro plan costs $13 per month and allows five senders.
What do we like about HelloSign?
Compliant with all the laws
Ensures top-notch security
Easy learning curve
Many customization options for branding
Where can HelloSign be better?
It lacks signature features and options.
2. AdobeSign
Adobe has already built a massive reputation as a pdf reader tool throughout the globe. However, does the company offer any features to sign pdf online? Sure it does. AdobeSign was one of the first players to enter the eSignature tool market space. It is one of the oldest and reliable tools that help users sign documents online and provide eSignatures for various documents.
Packed with many impressive features, AdobeSign also offers integrations with multiple third-party tools like Microsoft, Workday, and more. AdobeSign comes with a 14-day free trial. Post that, the small business plan starts from $24.99 per user per month. The enterprise and business plans start from $39 per user per month.
What do we like about AdobeSign?
A trustworthy tool to sign documents online
Superb design workflows enabling faster speed of operation
Offers integrations with many other tools
Where can AdobeSign be better?
Customer support needs improvement.
3. SignNow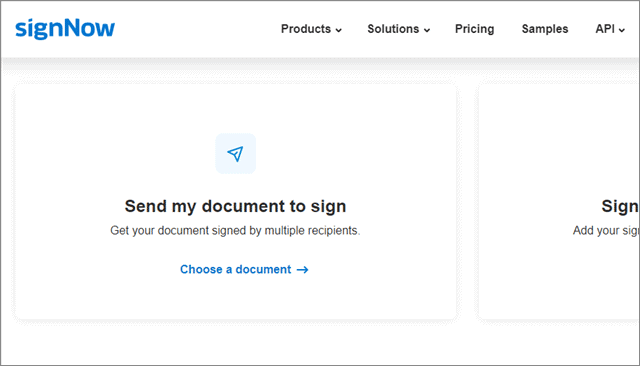 About 40% of the Fortune 1000 companies use the SignNow tool ought to convince you to consider this tool. As much as this fact stands to be a shining testimony, coupled with numerous performance awards, SignNow still has a slew of features that impress its users.
To sign documents online, this electronic document signing tool offers user-friendly mobile apps for both Android and iOS. Added to that, there are a couple of integrations that make SignNow one of the best tools for small businesses.
If you are looking for a cost-effective and feature-friendly solution for eSignatures, look no further than SignNow. The pricing starts at $8 per user per month. The full feature plan starts at $15 per user/month, while the enterprise plans begin at $30 per user/month.
What do we like about SignNow?
Trusted by the world's biggest brands
The mobile app offers easy user-interface
Cost-effective
Where can SignNow be better?
A document cannot be modified after it is uploaded.
4. PandaDoc
PandaDoc isn't your ideal eSignature tool; it can also be used as a proper document management tool given its features. PandaDoc has a user-friendly interface when it comes to online document signing.
In terms of integrations, PandaDoc allows users to use the drag-and-drop functionality. Audit histories and automated workflows help you achieve faster ROIs by cutting out the hassle of sending approved documents.
Overall, PandaDoc is a remarkable document management tool that contains a unique electronic document signing tool. The pricing plans start with the Professional plan, which charges $19.99 per user/month. The Business plan starts with $39 per user/month. All payment plans offer a two-week free trial.
What do we like about PandaDoc?
Drag-and-drop integration functionality
Help achieve faster ROIs
Multiple integrations along with file storage and CRM payment apps
Great tool for dynamic proposal creation and pitch decks
Where can PandaDoc be better?
Mobile proposal creation needs improvement.
5. DocuSign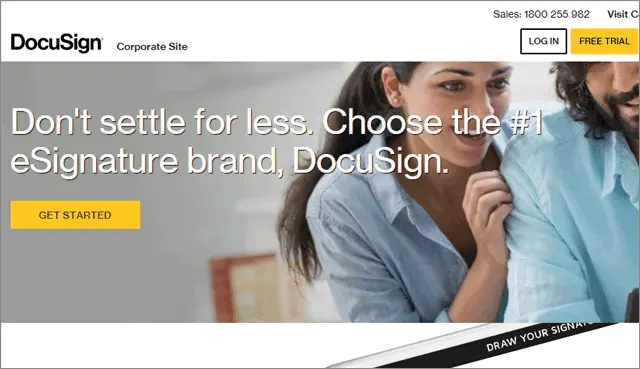 DocuSign is yet another online signing tool that doesn't disappoint when it comes to integrations. If you are looking for custom integrations with your system, make sure you choose the DocuSign APIs. Added to that, the software has an easy learning curve with an intuitive user interface, which makes it a popular eSignature tool.
DocuSign also puts a prime focus on security; it has high certifications for confidential data both in the US and Europe. It offers extensive file support ranging from Microsoft Word to Powerpoint files. The automatic tag placing feature ensures the tags appear in the right place even if the document is changed.
Following a 30-day free trial, the standard plan costs $25 per user/month while the advanced plans start at $40 per user/month.
What do we like about DocuSign?
Powerful APIs that allow custom integration
Top-notch security levels and features
Automatic Tag Placing feature
Where can DocuSign be better?
Tad bit expensive
More features can be added to the free version.
6. RightSignature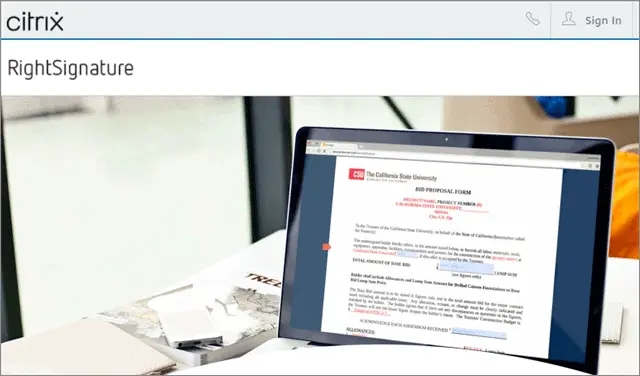 Created by Citrix, RightSignature is a cross-platform tool and one of the best to sign documents online. It offers noteworthy features in terms of security, while also allowing the users to upload and sign documents in just a few simple clicks. An integration suite and API is also available for use.
Users can password-protect the documents to be signed and send them to their counterparts. It ensures that the papers are signed only by those meant to sign it. You can also set expiration dates or cancel documents whenever needed.
The personal plan starts with $12 per user per month. Additional plans start with $60 per user/month.
What do we like about RightSignature?
Integration suite
Security features
Where can RightSignature be better?
The user interface gets clunky at times.
7. eversign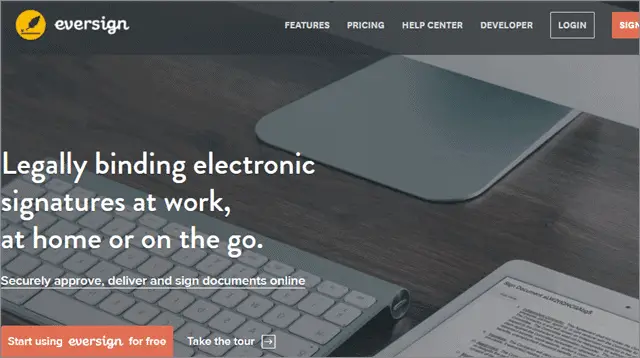 If you are looking out for an effective document management solution with an online document signing tool, look no further than eversign. Designed to provide seamless documentation and management, this eSignature software has a straightforward process for sending documents to your contacts for signatures.
With flexible workflows and a prime focus on-time efficiency, eversign aims to provide a robust solution that helps small and medium-sized businesses get their contracts, and other paperwork jobs were done in the blink of an eye. Since the tool is well-monitored, security isn't an issue when it comes to using eversign.
Users can send five documents per month in the free plan. Monthly paid plans start at $9.99 for unlimited documents.
What do we like about eversign?
Document management
Easy process for sending documents
The free plan feature is excellent for beginners
Contract status tracking
Where can eversign be better?
More templates can be added
8. Docsketch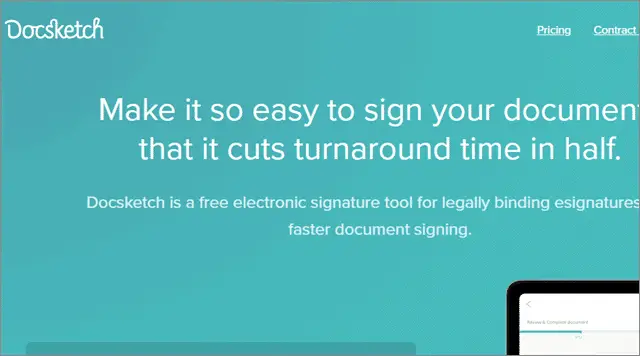 If you are a beginner and are looking for an excellent eSignature tool to sign documents online, make sure you give Docsketch a try. This tool has many impressive features in the free plan that allows users to sign online with ease, thanks to flexible document workflows.
One of the best features of Docsketch is that it has guidelines for signing various types of documents. Be it sales documents or legal paperwork, you can guide your contacts throughout the document and ensure the signatures are made at the places required.
Apart from the free plan, the Pro plan starts at $15 per user/month. This plan offers unlimited documents and many branding options.
What do we like about Docsketch?
Provision of guidelines for proper signings
A generous forever free plan
Document tracking and reminders
Where can Docsketch be better?
The tool doesn't have mobile apps for any mobile OS.
9. EasySign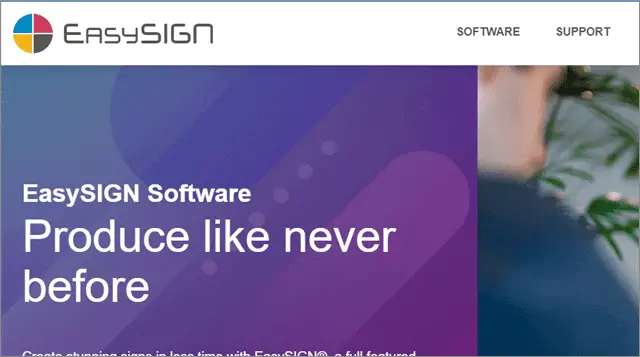 EasySign lives up to the promise it offers in its name; users have to go through no hassle for signing documents quickly and sending them over with this online document signing tool. Just upload a document, sign it, and send it to your contacts for having their signatures and approval.
EasySign offers integration with many third-party tools using drag-and-drop functionality. You can also create documents within the software itself. Self-signing and remote signing features are also available.
The standard plan begins at $15 per month. The small business plan has $20 per month. The premium plan is for $75 per month for up to 3 users; any additional user will cost $25 per month for each user.
What do we like about EasySign?
Intuitive interface
Easy learning curve
Affordable pricing options
Where can EasySign be better?
Lack of workflow management
10. Contractbook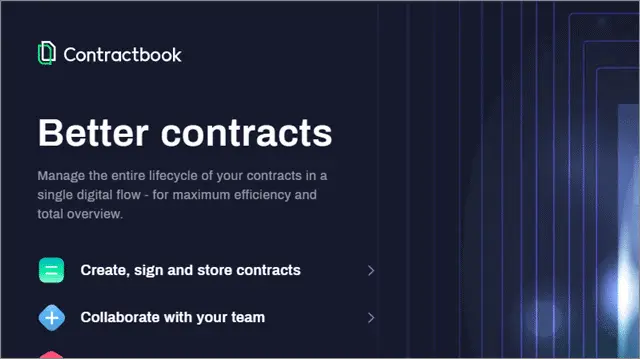 As its name suggests, Contractbook is more than just a tool that allows you to sign documents online; it is a contract management tool designed to offer seamless workflows and integrations for managing your contracts. Businesses often work with many legally binding documents; in this case, document management becomes crucial if they wish to avoid chaos. Contractbook helps its users achieve seamless management.
One of the most intuitive features of the Contractbook is that it allows users to separate the documents according to their status. You can separate documents that are signed, pending, rejected, and much more. These features come handy when you work with papers that require extensive legal processes for approval.
The pricing starts from €4 per user for a standard plan with a single user. You can also avail of the free plan for Conteactbook with limited features.
What do we like about Contractbook?
All-in-one contract management tool
Contracts can be separated as per their status
Seamless workflow management
Where can Contractbook be better?
Layout options for contracts aren't user-friendly.
Provides no mobile apps for on-the-go use
11. Secured Signing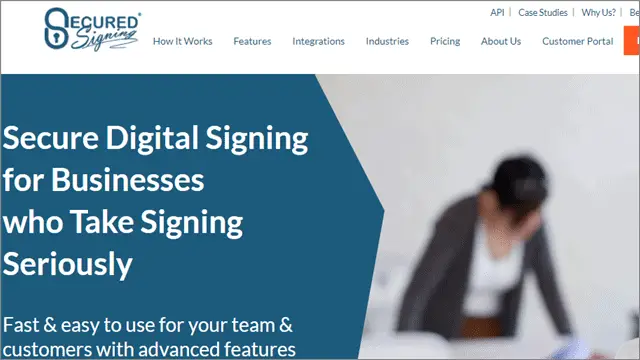 Secured Signing is the best tool to go for if you are looking for a tool to sign PDF online. A cost-effective and cloud-based eSignature tool, this software is a cross-platform device allowing users to sign electronically.
The most striking feature in the Secured Signing is the video confirmation feature. Users can check the recipients through video to ensure that the document is being signed by the right person, thus preventing document tampering.
Secured Signing also has a negotiation feature that allows users to attend to the finer details of documents and get the dotted line signed as fast as possible. The pricing starts from £9.95 per user/month.
What do we like about Secured Singing?
Video confirmation feature
Negotiation feature
A good tool to sign PDF online
Where can Secured Signing be better?
The user interface can be clunky at times.
Final Thoughts on
Tools To Sign Documents Online
Moving closer to total digitization, electronic signature enables users to sign documents online and grant the required approval. There are many factors to look for while choosing the perfect document signing tool that caters to your requirements. Ranging from integrations to security features, every user has different needs when using an eSignature tool.
Many online document signing tools also offer additional services like document storage and management. Choosing such software for your purpose also provides an extra perk in various ways.
Related: How To Insert A Signature In Google Docs