Since the last decade or more, InDesign has been the comfortable winner as far as desktop publishing software applications are concerned. Designers, artists, publishers, and marketing professionals now have more options for their creativity and budgets. Have you ever considered using an InDesign alternative?
InDesign is a desktop publishing software application used to create promotional material like flyers, brochures, magazines, newspapers, and even booklets. It is developed and produced by Adobe Systems and is available individually or as part of the Adobe Creative Cloud. InDesign was previously available as part of the Creative Suite. Projects created using InDesign can be shared in both digital and print formats.
Explore The Top InDesign Alternative Options
Although Lucidpress is considered one of the best InDesign alternatives, there are many other challengers for the title now. So, if you have to create flyovers, brochures, magazines, newspapers, or even print books, you may want a good InDesign alternative other than Lucidpress.
Free InDesign Alternative Options
1. Scribus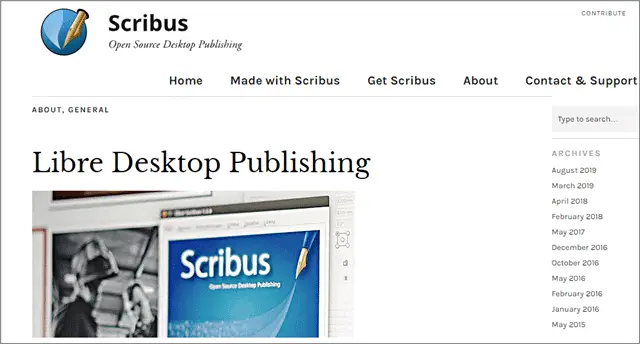 Scribus is undoubtedly an InDesign alternative known for its reliability and flexibility.  It is designed for layout, typesetting, and other presentations.
The desktop publishing application was released under the GNU General Public License as free software. Users can create animated and interactive PDF presentations and forms like brochures, newsletters, and posters. Similarly, Scribus supports almost all the major bitmap formats like TIFF, JPEG, including Adobe Photoshop. Scribus gets constant upgrades and updates to enhance the overall user experience.
2. Lucidpress
LucidPress is a simple and easy InDesign alternative to start creating beautiful content for your brand. There is nothing to install, and you can directly use it from any browser. Its Drag and Drop feature may look like an easy game for professionals, but the software is designed to intuitively make every aspect of the design process.
It integrates all useful tools that help you to access your content from anywhere. You can import from Adobe InDesign, transfer text from Google Docs, or upload photos from Facebook and Dropbox.
Whatever you design on LucidPress, you can export all those as a PDF, JPG, or PNG. The tool is free to use; however, you need to go for the paid version to unlock a few features. The Real-Time Collaboration, Customizable Permissions, and Analytics feature make this desktop designing tool a perfect pick if you want a good deal while replacing InDesign.
3. VivaDesigner
VivaDesigner can be considered to be a potential option as an InDesign alternative due to its flexibility to work on Web and Desktop both.
The user interface is easy, and VivaDesigner is an innovative and conceptual way to improve your working process and documentation. The collaboration between end-users, companies, and their employees is achieved in a simplified manner.
4. Canva
Canva is no less than Adobe InDesign and a popular designing tool that has an intuitive and stunning interface. It is not a full-fledged publishing tool but is more into designing. You don't need any practice to use Canva as the functions will seem familiar, and in just a few clicks, all your creations like posters and images will be done.
The free version itself is good, although the paid version has a broad scope of usage. Comparing InDesign and Canva will not make sense as InDesign is quite complicated and useful for highly professional firms. In contrast, Canva suits people who are into designing attractive and colorful graphics. However, you can consider Canva as a suitable replacement for other desktop publishing apps.
5. Spring Publishers
SpringPublisher is simple but used by professionals. This desktop publishing software comes with many templates, a multi-layer editor, and comprehensive help-files options.
You can quickly design business cards, flyers, postcards, letterheads, and labels with SpringPublisher. These creations are generated in high-resolution artwork with an output of 350 dpi. There are a lot of image effects that you can use, like shadows, opacity, adjustments, rotation, and image filters. If you are looking for a good InDesign alternative that is also free, then Spring Publisher is an option.
6. Desygner
Desygner is an online and free design solution, which is the simplest way to replace expensive and complex designer tools. This incredible tool has over 5,000 designer templates for free. The templates are professionally designed to give you more exposure while creating banners, posters, invitations, business cards, and much more. No matter where you are, Desygner allows you to edit from a computer, tablet, and phone.
There are thousands of free backgrounds, stickers, and text to use. If you are looking for free publishing software or merely an InDesign alternative, choose Desygner.
7. DesignBold
DesignBold is an online graphic design tool that offers you the liberty of working with multiple devices. You can access it anytime and from anywhere.
The UI is quite similar to Canva. If you are even looking for a Canva alternative, DesignBold can be a smart choice. For now, we will only talk about InDesign alternatives. Well, it is not as sophisticated as InDesign, but DesignBold saves your time with its drag-and-drop feature where you can start designing right away. These include anything from Letterhead, Resume, Flyer, to Poster and Infographic.
The tool will motivate you to design more and more with its on-go templates. The free version is enough for primary users.
8. Crello
Do you want to create unique designs for social media posts, digital ads, print materials, or animated posts? Then, Crello is an all-in-one stop for every designing purpose. It simplifies the way you design while creating visual graphics. Right now, they have 33 formats, 12000 templates, and 240 fonts to choose from.
The 65-million file image library helps your design stand out from the rest. It is a free and online-based web application that just takes a few simple steps to create any design you want. The InDesign alternative gets all the work done effortlessly, and you will have no complaints.
Top Paid InDesign Alternative Options
9. Affinity Designer
Affinity Designer is a complete solution for creating some great graphics. It is fast, smooth, and precise software available for vector graphic design.
The InDesign alternative gives you complete control over curves, colors, and performance, ensuring the best creative results. One feature that amazes is its ability to switch into a pixel environment instantly. You get incredible speed, real-time adjustments, and smooth panning that keeps you moving, and it never stops.
Unlimited options to set up grids, full control over spacing, subdivisions, gutters, angles, and much more make this multi-tasking software a worth to replace InDesign. Affinity also has its publisher in beta version to use. It promises to revolutionize the way you use desktop publishing software. They believe in rendering the same reliability in the publisher, just like their two products have given; Affinity Photo, Affinity Designer.
10. QuarkXPress
QuarkXpress can be more to Adobe InDesign, but it can never be less in terms of features and everything you need to create page layouts. Some innovative features like creating HTML5, PDF editable, Digital-Print Conversion assure you the best quality while fulfilling your daily work demands.
It supports Color Fonts in SVG, SBIX, and COLR formats to use them in print, PDF, and digital outputs. You can purchase it for permanent use with no subscription. QuarkXpress is undoubtedly the most intuitive and advanced application to adequately replace InDesign. QuarkXPress is an InDesign alternative you must not miss out on.
11. Microsoft Office Publisher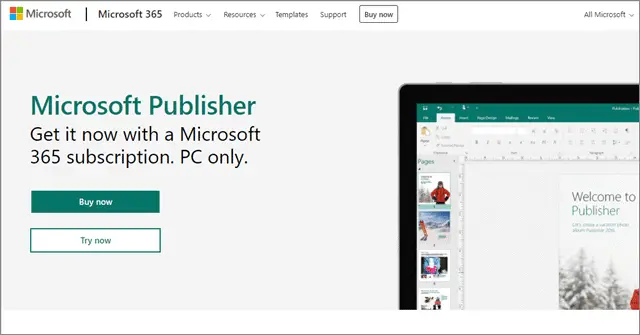 Do you want to grab the attention of the stunning photos of your brand? Microsoft Office Publisher is an InDesign alternative which imports all your pictures to a canvas where you can swap them in and out of your design with simple drag and drop.
You get various professional-looking effects for texts, shapes, and pictures along with some OpenType features like ligatures. One can even use the publisher to search your online albums on Facebook, Flickr, and other services and add those pictures directly to the documents.
You can personalize and customize your publications using familiar tools like Mail Merge and Mailing tabs. Mail Merge helps you include links and photos and boost your newsletters, cards, and emails, whereas Mailing Tab keeps all your personalization in a single tab.
Get Microsoft Office Publisher
12. Swift Publisher
Swift Publisher is an inexpensive page layout and desktop publishing app for Mac users. The InDesign alternative has all the features you will need to create elegant and professional-looking documents like Magazines, Catalogs, Booklets, Flyers, Newsletters, Calendars, Posters, Facebook, and Twitter Covers.
The tool is straightforward and easy to use, which suits best for primary users. Although it is not packed with all that complicated and advanced features as InDesign, Swift Publisher will get the job was done that is best at its price.
13. Page Stream
PageStream is an innovative, creative, feature-rich desktop publishing/page layout program where you can interactively design pages. The InDesign alternative supports almost all popular platforms, including Mac, Windows, and Linux. This was initially launched under the name Publishing Partner in 1986.
Collaborate texts, images, and drawing to produce something phenomenal, whether in a business card or postage stamp, or a billboard. The UI is quite old, but it gets the task done.
14. Piktochart
Piktochart does not come with all those complex set of capabilities, but you can consider it a stable platform to design infographics, presentations, and printable stuff. Infographics are always a great medium of representing points in an interactive visual way.
Then comes a detailed presentation that takes a vast bunch of slides, but with this InDesign alternative, you can deliver your points in a simplified manner. You can choose from a library of 600 professionally designed infographics, presentations, and print templates if you don't want to create from scratch. The interactive charts, animated icons, images, and videos bring life to your content.
Conclusion
InDesign has dominated the designing world since its release in 1999. It made an indelible mark for itself in the niche and was extensively used by many artists, publishers, and graphic designers. It is generally believed that most Adobe Products are hard to replace. Thus if InDesign costs are prohibitive for you, then we suggest you pick something like Lucidpress. Fortunately, there are various InDesign alternative options too that will do the job just as efficiently.
We have carefully chosen the top options for you, which include both free and paid options. They get the work done efficiently and serve the same purpose as the predecessor. If you wish to learn the tricks of the trade as a hobby, go for the free InDesign alternatives. However, we recommend the paid choices for the professionals who wish their work to stand out from the crowd. The extra features and tools that they offer give you an edge above the competition!