Gameboy Advance games are one of the most popular games in the gaming community. Although the Gameboy Advance handheld device isn't available anymore, users still love to play GBA games. That's when users start looking for the best GBA emulator for PC and Android to play games.
Since the Gameboy Advance handheld is no more available, there is no scope for gamers to carry a portable game player and play games as and when they wish. However, they can still enjoy the bliss of playing their favorite GBA games with GBA emulators.
Best GBA Emulator For PC And Android Devices
The first and most crucial factor to look for in an android GBA emulator is the ease of use. Also, be sure you check if the emulator has multiplayer support if you want to play your favorite games with your friends. Joystick and gamepad support is also a crucial factor for judging good GBA emulators.
Also, be sure the emulator you choose supports an extensive catalog of GBA games. On that note, let's start with the best GBA emulator for PC and Android devices.
1. RetroArch
Rather than being a full-fledged Android GBA emulator, RetroArch is an open-source project that utilizes Libretro. Libretro is the developmental interface that allows you to make cross-platform applications with rich features, including OpenGL, cross-platform camera support, and location support.
RetroArch has its built-in collection of applications. By combining Libretro and RetroArch, you can create games, emulators, and multimedia programs. This PC GBA emulator allows you to interact with other emulators as well.
RetroArch can also work with the 'cores' found in Game Boy, Game Boy Color, and GameBoy Advanced. These cores help the users to play all the games in a single application.  
Pros:
High compatibility rate
Open source and free emulator
No advertisements promise an excellent user experience.
Cons:
It has a steep learning curve.
2. My Boy! Free – GBA Emulator
My Boy is the perfect niche for some of the best GBA emulators for Android. It offers a super-fast speed that runs GameBoy Advance very well on low-end phones to modern tablets. My Boy is also the only emulator that supports link cable emulation.
The OpenGL rendering promises impressive graphics for games. Some of the most liked features of My Boy are the keyboard customization and cheat-code support. This GBA emulator for Android also supports external controllers like gamepad and joystick. The premium version for $4.99 is free from ads and allows you to sync with Google Drive to save your games to one device and continue in the other.
Pros:
Screen layout editor
Cheat-code support
Fast forward and slow down modes
Cons:
A lot of ad pop-ups in the free version
3. ClassicBoy (Emulator)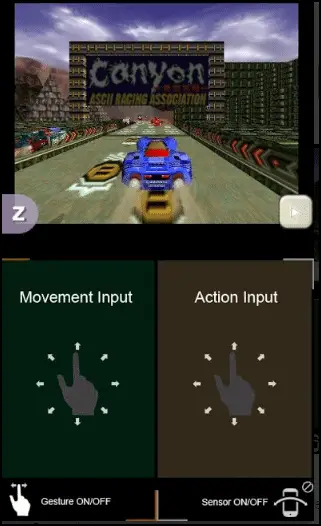 ClassicBoy GBA emulator does exactly what a reliable emulator should do. It runs on almost all the popular consoles, including PlayStation 1 (PS1), Nintendo 64 (N64), GameBoy Advance (GBA), GameBoy Classic (GB), GameBoy Color (GBC). If you are an arcade games fan, this is the best GBA emulator to go for.
ClassicBoy comes with a gesture controller mode; the left side on the screen is for movements, and the right side is for actions. You can customize the appearance by adjusting style, scale, animation, and opacity. Added to that, users can play multiplayer games up to 4 players and attach external joysticks. Some of the features you can enjoy in the premium version are Game state auto-load and slot load, Gestures controller, and the Sensor controller.
Pros:
Multiplayer support
Multi-platform support
Gesture and Sensor controllers are available.
Cons:
4. EmuBox – Fast Retro Emulator
EmuBox is an all-in-one GBA emulator for Windows that features an NDS emulator, PSX, SNES, and a lot more. Although it's new in the GBA emulators list, it can run all your old game ROMs. You can take your game screenshot anytime you want. It does not include any game ROM but is intended to apply your private ROM backup only. The performance can be optimized by tweaking some settings.
EmuBox has hardware controller support, just like ClassicBoy. It works well despite being a new entry and is perfect for users looking for free emulators with no in-app purchases.
Pros:
Free emulator
Hardware support
Cons:
Needs additional features
5. GBA.emu
GBA.emu is an advanced open-source emulator based on VBA-M r1097, designed and tested on the Xoom, Galaxy S2, Nexus 4, Nexus 7, NVidia Shield, and Xperia Tablet Z platforms.
You can play virtually on any device with similar specs. This Android GBA emulator has all the features of the best GBA emulator that includes high-level BIOS emulation, cheat code support, multi-touch controls, HID Bluetooth/USB gamepad, and keyboard support. With GBA.emu, you can save the game at any level you wish. Although it is not free, you do have a refund option if it doesn't suit your tastes. GBA.emu costs $4.99.
Pros:
BIOS emulation
Multi-touch controls
External gamepad support
Cons:
No free version available
6. GBC.emu
GBC.emu is one of the best GBA emulators for Android. It is an open-source Game Boy (Color) emulator based on Gambatte 0.5-wip.
GBC.emu is designed and tested on Droid/Milestone, Xoom, Galaxy S2, Nexus 4, and Nexus 7. Regarded as the best GBA emulator, it works virtually on any device with similar specs. SInce it's a cross-platform game, you can play on any device from the point you left off. GBC.emu supports .gb and .gbc formats and has multi-touch controls. You can even find cheat codes in Game Genie & Gameshark formats. The emulator costs $2.99.
Pros:
Backup and state save support
Works in portrait and landscape view
Cons:
No free or demo version available for testing
7. John GBAC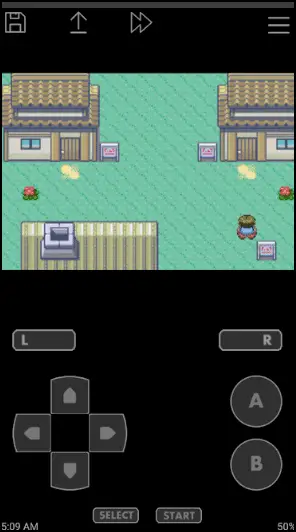 John GBAC emulator supports Android 2.3+. It is regarded as one of the best GBA emulators for Android that supports almost every game you want to play. The app doesn't work with your own game files. It is recommended to try the lite version of the app before going for the paid version.
John GBAC features a virtual on-screen keypad, turbo buttons, Dropbox support, customizable keys, fast forward and slow down, and much more that altogether makes this emulator worth a try. John GBAC also supports cheat codes by Game Genie, Game Shark, and PAR, apart from delivering an ads-free experience.
Pros:
Cheat code support available
Fast forward and slow down feature
Reliable performance
Cons:
The virtual control capacity cannot be changed.
8. My OldBoy GBC Emulator
Having the same developer as My Boy, My OldBoy shares many features with My Boy GBA emulator. If you're searching for the best GBA emulator that is feature-packed and fast, this is the best GBA emulator to go for. The State save feature allows you to save the game's progress at any time and return to it instantly. The ARM assembly code ensures the fastest emulation where you get 60FPS without frame skips even on the low-end devices.
You can fast-forward to skip long stories and also slow down the game. The My OldBoy emulator allows you to create and switch to different screen-layout and key-mapping files. You have the option to first try the free version and then decide whether to opt for the paid ones.
Pros:
Fast and slow forward feature
State save and backup feature available.
Screen layout editor
Cons:
Link cable doesn't work very often.
9. Nostalgia.GBC Pro
Not so popular, Nostalgia GBC is one of the good Game Boy Advance emulators known for its cool and user-friendly user interface. This GBA emulator for Android is so customizable that you can adjust the size and position of each button to suit all your requirements.
There are a total of 8 manual slots with screenshots and an autosave slot to save the game progress. It even supports rewinding the game in case a bad guy kills you. Additionally, this GBA emulator for Android offers turbo buttons and high game compatibility.  Nostalgia supports GB, GBC, and ZIP files. It also has a free version, along with a paid version for $1.49.
Pros:
High game compatibility
Rewind feature
Customizable buttons
Cons:
Cheats don't work on this emulator.
10. Max GBA Emulator
Last but not least, Max GBA is finally the all-in-one best GBA emulator for PC that makes it easy for you to get more than 300+ games ROM. It features a fast and smooth GBA emulation with no BIOS file needed. It supports a cheat code using VBA-M-compatible files.
The Max GBA Emulator comes with no game included in the app, and you will have to get your own ones. You have to place the games onto the SD card and browse them from within the app. The recent updates have resolved crashes and made it faster than before.
Pros:
No BIOS file is required.
State save and backup feature available.
Cheat code support available
Cons:
Link cable doesn't work very often.
11. mGBA
mGBA Emulator for Windows was launched in April 2013 and was designed to work with older hardware systems without affecting performance. It accurately emulates Game Boy games on PC and is one of the best options of GameBoy Advance emulators. 
The developers of mGBA have made it in a way that it supports Homebrew package management software. If you are a fan of the traditional system, mGBA is undoubtedly a must-try. It is open-source and can be tweaked to suit your requirement. You can find its source code on GitHub.
Pros
Open-source software
Regularly updated
Supports cheat codes
Cons:
12. VisualBoyAdvance
VisualBoyAdvance is a basic Game Boy Advance emulator that is simple and basic and does its job well. You can save the game to re-use it later. Also, it supports multiple controllers so that users will have no issues in multiplayer gaming.
VisualBoyAdvance even supports controllers and button remapping. Whenever you want to capture a moment of gameplay, simply take screenshots or record it. Cheat codes are available in case you want to have more fun. If you are a retro gamer, this is the best GBA emulator for PC that you can opt for.
Pros:
Users can save games at any level and take screenshots of gameplay.
Supports controllers
Cheat code support available
Cons:
Audio and video recording features cause the emulator to crash frequently.
13. Higan GBA Emulator
Higan is the most feasible option to emulate Super Nintendo. If you are hunting for the best GBA emulator for PC that can effortlessly emulate your favorite Super Nintendo games, Higan can be your first choice.
It supports consoles, including Nintendo Famicom (NES), Nintendo Game Boy/Color, and Nintendo Game Boy/Advance. Along with Windows, Higan is available even for OS X and Linux, but you have to compile it yourself.
The way Higan works is a bit different from other similar emulators. It copies every ROM you load with it to an 'Emulation' folder in your home folder. Then, it will put each game into its folder. Features like save states and save games will be stored alongside in that folder.  
Pros:
Users can save games at any level and take screenshots of gameplay.
Supports controllers
Cheat code support available
Cons:
Audio and video recording features cause the emulator to crash frequently.
14. No$GBA Emulator
O$GBA initially was a Gameboy Advance debugger, but later it was released as a basic emulator. Most probably, it is the best GBA emulator for PC that supports multiplayer games on the same PC. You need to have a high-capacity PC if you want to emulate more GameBoys versions.
Along with running GBA games, No$GBA also runs Nintendo DS games. You can configure the game according to your requirements. It also supports controllers and offers impressive quality and optimization.
Pros:
Supports GBA and Nintendo DS games
Multiplayer support available
Offers good stability and optimization
Cons:
Supports only handpicked Nintendo DS games
15. BatGBA
BatGBA does the unthinkable despite being a lightweight GBA emulator without having any complicated features. It is the simplest and best GBA emulator for PC on this list with all the required features.
BatGBA can run almost on any hardware with ease. It supports all the commercial and non-commercial GBA games. Plus, you don't need to be a pro in using emulators as BatGBA renders outstanding performance with simplicity.
Pros:
Simple to operate
Supports all types of GBA games
Reliable performance
Cons:
The user interface is outdated.
16. DreamGBA
DreamGBA is from the author of DreamGBC and runs games like Castlevania and Tactics Ogre-with sound. It is lightweight and can run almost all your favorite GBA games. Although it does not strike out with an exceptional feature, its simplicity and the ability to get the basic job done allows us to keep this on our list of best GBA Emulators for Windows. 
It is a command-line application that is started by a loader application. It is better to choose the other emulators from this list if you are looking to do something extra with advanced features.
Pros:
Simple to operate
Runs on all Windows OS versions
Cons:
No unique features available
Conclusion         
The Gameboy Advance games are known to have a large fanbase throughout the world. However, given the gaming industry's advent, the handheld GBA device has died out, albeit millions still love the games.
You can easily enjoy games the best GBA emulator for PC and Android. Before downloading an emulator, it is crucial to check the benefits and see whether they fulfill your gaming requirements. With so many options to choose from the list of GBA emulators, you can easily play your favorite GBA games on the Android and the PC.