Data analysis is a massive industry and the very first step to it probably begins with data collection and collation. Microsoft Excel is a mandatory tool for every business. If you want the same data to be analyzed differently, experimenting with different excel templates would be a good idea.
Excel sheets are widely used everywhere and for different personal as well as professional purposes. Although the software has many options and features, it lacks readability and the perfect layout for various sectors.
11 Best Websites For Free Excel Templates
Let's check out some websites that contain calendar templates, management templates, chart templates, business plans, calculator templates, Excel spreadsheet templates, Gantt charts, and other exciting templates.
1. SpreadsheetZONE
SpreadsheetZONE has a variety of templates for regular use, specific interest, or even a hobby. You can also upload your templates and use them around the web. Users can browse by categories that include Industries, Functional Areas, and Application Type. All these are alphabetically arranged. You can find new excel templates on SpreadsheetZONE every day as the collection is updated continuously.
The best examples of excel spreadsheet templates on this website are Invoice & Inventory Management Tool, Temperature Conversion, Professional Invoice, and Global Industry vs. Agriculture Dashboard.
Pros:
Download stats are provided for each template.
Large previews available
No website ads
Cons:
Signups are required for using the templates.
Templates cannot be sorted in different criteria.
2. Free Excel Templates at Vertex42
Vertex42 is one of the biggest repositories of Excel templates with an extensive collection. It covers almost all categories, from the elementary ones to the professional ones.
Vertex42 has templates for calendars & schedules, home & family, project management, invoice & forms, teachers & students. The subcategories include weekly planners, wedding budget, home budget worksheet, account register, employee payroll template, expense report, and invoice tracking template.
The Vertex42 templates have detailed download pages, which enables you to get a clear idea of how the templates can be used.
Pros:
The website offers a lot of options for templates.
Detailed download pages
Excel alternatives are available.
Cons:
There are ads on the website.
3. Microsoft's Excel Templates
Microsoft has many free Excel templates that you can download for any purpose. You can browse by categories such as agendas, business cards, newsletters, and photo albums. It features templates where you can get some new, popular, and enhanced options. You can also find templates for events and occasions such as birthdays, Christmas, or graduation.
The previews are large enough for you to judge whether a particular template will be the right fit for you. The files are downloaded directly in XLTX format. You need not create a user account to download these templates, which simplifies the process further and allows users to download templates in no time.
Pros:
No website ads
A user account is not required.
Previews are large and clear.
Cons:
Sorting options aren't available at all.
4. Excel Templates
Excel Templates website has all the categories that you will need for personal or office use. You can forget about other regular ones with these specially designed templates. There are free Excel templates for academic, financial, leasing, mortgage, loan, taxes, etc.
Most of the templates are for daily use, but you can find a few professional templates too. There are wedding templates, sports templates, and many more for personal use. You can also use the Excel guides on this website if you are using the software for the first time.
Pros:
Different categories of templates are available.
Excel guides for first-time users
Instant downloads are available.
Download Excel Templates here
5. WinCalendar Templates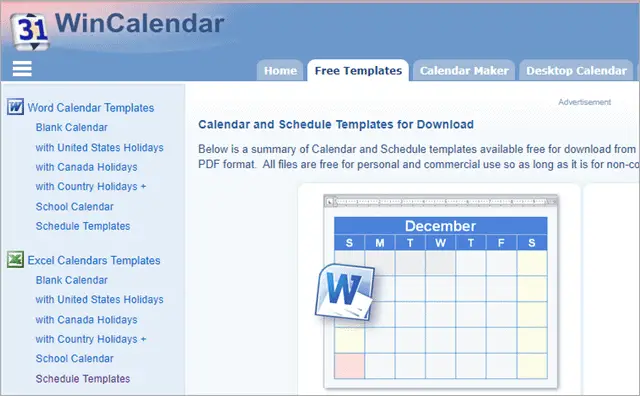 As the name suggests, Wincalendar has calendar Excel templates where the user can download Excel sheets in the form of schedule-makers and calendars. You can easily edit them as per your requirements.
The calendar templates have dates and weeks included whereas the schedulers are blank. These templates even include US holidays, Canada holidays and other country holidays excel sheets. It also has a school schedule calendar for students.
Pros:
Instant downloads are available.
Users can download templates in the form of calendars and schedule-makers
Cons:
Previews need to be larger.
6. Brainy Betty at Free Excel Templates
Whether you are a teacher, homemaker, or a businessman, Brainy Betty has something for everyone. The collection contains everything from a graph paper template, teacher's weekly class template, checkbook register template to fitness charts for men and women, and even a weekly meal planner.
The interface of the website is simple and easy to scroll through different categories. The files come in ZIP format on Brain Betty. So, simply unzip and extract the files after downloading it. The Excel templates for business on this website have templates such as customer management lists, packing slip template, payroll calculator template, and much more.
Pros:
Fast downloads available
Easy to browse
Cons:
No image previews available
7. Calculate Hours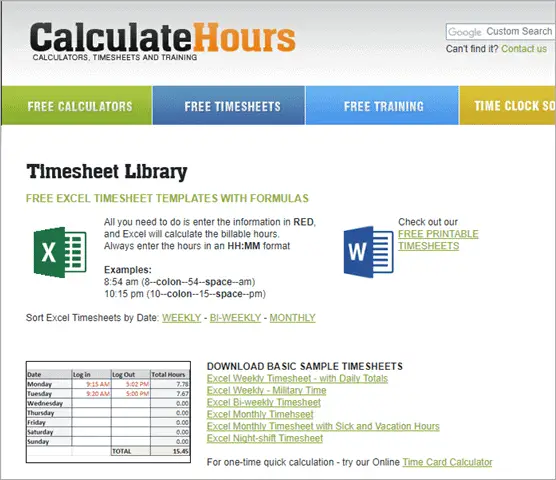 Calculate Hours provides free Excel timesheet templates with formulas to sort timesheets by date (weekly, bi-weekly, monthly). You can download necessary timesheets, templates with unpaid lunch breaks, and overtime timesheets.
One can also download timesheets with sick and vacation hours. Calculate Hours is all about calculating and maintaining records in the form of timesheets. You can even suggest new Microsoft Excel templates where you help the website in developing the Excel sheet templates for tracking billable hours.
Pros:
Instant downloading available
Templates are specific
Cons:
Sorting options are very few.
8. Spreadsheet123
If you are looking for budget excel templates, then you cannot miss this. Spreadsheet123 has a comprehensive list of Excel templates and calculators. Whatever the occasion is, from moving home to financial planning to save money, managing your growing business to placing kids to college, Spreadsheet123 is the best option to go for.
The collection features family budget planners, personal budget spreadsheets, simple invoice templates, weekly timesheet templates, etc. You will see tons of options and categories for you to select from. The website also has project planners, Project Gantt Charts as well.
Pros:
Large previews
Works with a variety of programs
Cons:
Too many website ads
9. Templates on Adnia Solutions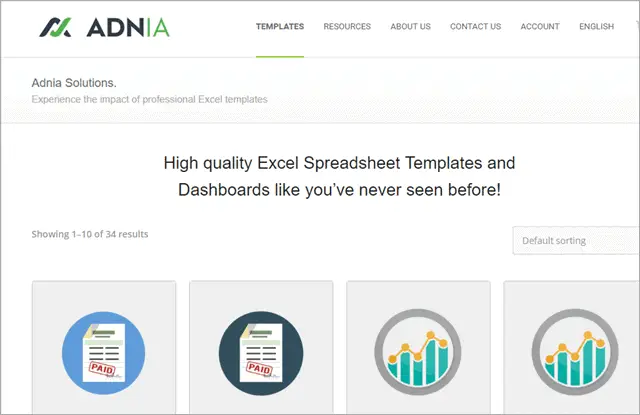 There are no free templates on Adnia Solutions; the website has high-quality Excel spreadsheet templates and dashboards. Whether you are looking for task management Excel templates, personal budget, finance, or mileage trackers, Adnia has everything.
Experts create all the templates, and they are smart, innovative, and easy-to-use Excel templates and dashboards. However, you have to shell out cash for any template that you wish to download.
Pros:
Templates are available in different business categories.
Easy to use and download
Cons:
Templates are expensive
10. WPS Templates
WPS is one of the most widely used file readers for Android devices. It also provides various Excel templates for several purposes; most of them are invoice and calendar templates. There are over 50 templates with different designs, colors, layouts, and backgrounds.
The best thing is, users don't need to download the WPS app to view Excel spreadsheet templates downloaded from these files. Since they are stored in Excel format, they can be downloaded directly in the .XLSX format.
Pros:
Template variations are useful.
Direct downloads in .XLSX format
Cons:
Users need to signup to use the templates.
11. Trump Excel Templates
If you are searching for a set of unique Microsoft Excel templates, the Trump Excel templates won't disappoint you. These Excel spreadsheet templates come on a single page. There's a list of templates for the users to choose from; you can browse any list that fits your needs.
One striking thing about the Trump Templates is that they provide GIFs to help users understand how to use the spreadsheets. Also, the download pages have enough information for the users to understand how to work around with spreadsheets. In all, these templates can be downloaded quickly and with ease.
Pros:
GIFs for explaining how templates work
Quick downloads available
Detailed download pages
Cons:
Filtering options are not available.
Get Trump Excel Templates
Conclusion
Suppose you are finding it challenging to calculate billing hours, home budget, business plans, invoice calculations, tax calculation, and other tasks that take a lot of time. In that case, this list of Excel templates is sure to ease your burden. The ready Excel spreadsheet templates are easy to use, where all you have to do is input data, and the rest is done for you. These templates are user-friendly, easy to read, and gives your files an organized layout that looks good.
Microsoft Excel templates come in different files and formats. So, make sure you check thoroughly if a particular set has the required template you need. The excel templates can be used for personal and professional purposes, depending upon the needs and requirements of the users.