Podcasts are back in the mainstream as a primary source of information. Well, it is an excellent way to listen to expert opinions on the ongoing issues and learn too. Every Android podcast app might vary in presentation style and allow users to organize their listings and podcasts. So, it becomes tough to find out the best Android Podcast app.
Best Android Podcast App To Bookmark Right Away
Podcasting is ideal for people who do not wish to download content on their smartphones and adore the concept of talk radio. The immense popularity of podcasts has widened the domain, with more people these days wanting to listen to what the experts say. 
We have listed the best Android Podcast app options for you to indulge in.
1. RadioPublic
The best Android podcast app, RadioPublic, has got something for everyone. It is free and allows users to download or stream if they wish to avail of the offline listening feature. They claim to protect your data and online identity by not asking you to create an account for getting full access to the app resources.
They have a massive collection of over 500,000 podcasts. RadioPublic's library also includes music podcasts, private RSS feeds, and audiobooks. Bookmark any episode to come back to it the next time you open the app. Share what you like with friends and receive notifications when fresh content is added to your favorite podcasts.
Price: Free
2. Pocket Casts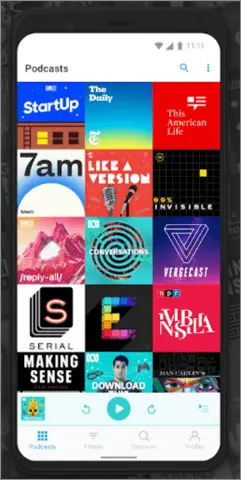 Elegant and efficient, Pocket Casts is easy on the eye and a pleasure to navigate. The best Android podcast app is created by the listeners and for the listeners. You will find the latest collection here with convenient one-click download options. The grid-based look is a visual delight, and the exciting options are sure to leave you spoilt for choice.
Pocket Casts boasts a unique 'trending section,' which includes titles currently grabbing the maximum attention. You can create and customize your categories and use the filter options to ease your search procedure. This queue add-up feature works well for users with never-ending wishlists.
The colorful theme and the vibrant display style put together with the beautiful collection make Pocket Casts an unmissable pick.
Price: Free
3. Castbox
You rarely come across an app that makes millions of titles available for free, thereby making Castbox the best Android podcast app we have today. Some of Castbox's most exciting picks are sourced from iTunes, and you will now be able to get your hands on all that you have been eyeing. The app includes more than 70 different languages, so there is hardly anything you will not find here.
Castbox comes with Amazon Echo support and Chromecast support. It received the best podcast award app from Google Play in 2016 and has been the Editor's choice app in this category. Users are not bombarded with unwanted advertisements, even in the free version, which deserves a special mention. Music-related, talk shows, news broadcasts, or games, and hobbies, which section will you reach out to first?
Price: Free
4. DoggCatcher
If you are looking for the best Android podcast app, which is doing the rounds for quite some time, consider using Doggcatcher. The app is old in the niche and still going strong because of the frequent updates and ever-increasing collection. They have different audio and video content sections, and you can browse the news feeds as per your preferences.
With extensive customization options and automation features, Doggcatcher successfully maintains pace with the newly released podcast apps. You can choose between the light or dark theme for your app display and subscribe to your favorites to receive a notification each time a new one is added to the list.
Price: $2.99
5. Spotify
An immensely popular music app, did you know Spotify boasts an exquisite collection of podcasts as well? It ventured into the podcast niche in 2016, and there has been no looking back. The number of podcasts available with the app right now is not as massive as iTunes. With the availability of excellent-quality podcasts skyrocketing now and then, Spotify has carved a tight spot for itself.
The best Android podcast app enables you to listen to your favorites without incurring any costs. You can, however, pay to get rid of the constant advertisements. Well, if you already have the app installed to fulfill your music needs, installing a second one for podcasts will be redundant. Discover the new entrants and find your picks. Trust the app recommendations to bring you excellent choices you didn't even know you were looking for. The interface is convenient to navigate and peppy-looking, keeping in mind the music theme.
Price: Free
6. Google Podcasts
If you thought the search giant would not find representation in the podcast niche, you are mistaken. Google Podcasts is a standard podcast app that includes your favorite shows, special episodes from the most famous broadcasts, and worth trying recommendations. Users can skip silence segments and customize their listening experience. Every podcast comes with playback speed controls, and you can add them to your list of favorites.
The best Android podcast app adds fresh content to its library, with users from across the world uploading stuff daily or weekly. You can subscribe to your preferred podcasts for free and get notified whenever they have something new added. Film and TV, education, news, history, and comedy, check out podcasts in each of these categories and always stay updated.
Price: Free
7. Anchor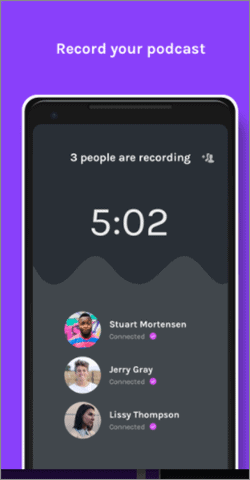 All the other apps on the list enable you to hunt for the top podcasts, but Anchor is different since it allows users to record their own. The best Android podcast app offers unlimited hosting and is an excellent platform for people who wish to record and host their content in the form of podcasts. Since Anchor goes a step beyond the regular streaming and downloading, it has received several accolades.  
You can record your audio, irrespective of the topic, and publish it on various other platforms. You can also import audio content from different devices and upload them. The premise is neat, and the medium facilitates you to grow your audience. Users can make money out of the episodes they upload and become successful if they are good at what they are doing.
Since the hosting does not cost anything and you do not see any unwanted advertisements, Anchor is a must-try.
Price: Free
8. Podbean
Popular and user-friendly, Podbean is the best Android podcast app for those who are new to the genre and wish to listen to a few for the first time. The collection is massive and well-organized into various categories. You can stream, listen, or download for offline access. Podbean includes special audio effects and comes with Android Auto support. The app offers integration with Amazon's voice assistant, Alexa, implying users can listen to podcasts from anywhere. Other useful features include Chromecast support and lock screen controls.
Podbean is trending on the Google Play Store because of excellent ratings and positive reviews. The ease to use app boasts a clean layout and intuitive interface. Podbean has also been bestowed with several awards in 2019 for being an impeccable specimen in the podcast domain. Customize your playlist, use the volume boost feature, and avail of the intelligent speed attributes for a seamless listening experience. You can also subscribe to the top news channels like the BBC and NPR and never miss out on the news feeds.
Price: Free
9. Podcast Addict
Podcast Addict is free and feature-rich. The layout of the app enables users to hunt for the newly added podcasts easily and quickly. The best Android podcast app sources content from RSS feeds and YouTube. They make available more than 1 million podcasts and over 35 million episodes without any cost, and the number is increasing as we write this. The multiple device support and syncing feature allow you to start listening to the podcast anywhere and anytime.
The app's custom recommendations are based on your searches and will never disappoint you. With more than 500K reviews and an exceptional rating on the Google Play Store, Podcast Addict is sure to get you addicted to the genre and the app.  
Price: Free
10. Stitcher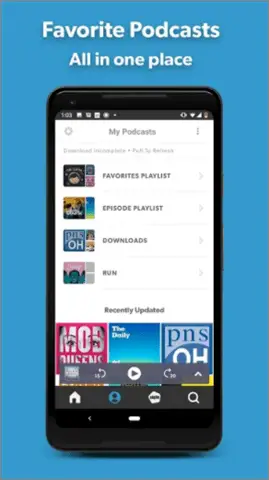 Popular and trustworthy, Stitcher is an old favorite. The best Android podcast app is easy to navigate and a one-stop solution for locating all your favorite podcasts and keeping them organized under a roof. While the base app is free and works exceptionally well, you can opt for the premium version for an ad-free browsing experience. The freshly added podcasts are carefully placed right in the app home page, so you can skim through those as soon as you open Stitcher.
You will find feeds from popular sources like The New York Times and NPR. The colorful theme display is very soothing to the eyes, and the interface is easily understandable for first-timers. Stitcher offers integration with Sonos speaker and Amazon Alexa, thus increasing the app's functionality even further.
Price: Free
11. Laughable
Who had thought there would be a dedicated podcast app for making you laugh, but here you go. The best Android podcast app, Laughable, aims at providing comic relief to its users by making light-hearted content available. It boasts of fun podcasts from famous public personalities as well, so you can sit back, relax, and enjoy.
A dream come true for comedy fans; the app is sure to leave a wide smile on your face. Download the episodes for offline listening and adjust the listening speed as per your choice. Search for artists or specific episodes by directly entering the names in the search bar, and you are good to go.
You get to view detailed artist profiles as well. So, fans who want to grab more information about a particular performer can directly view their details, social media handles, and tour updates directly from Laughable.
Price: Free
12. Podcast Go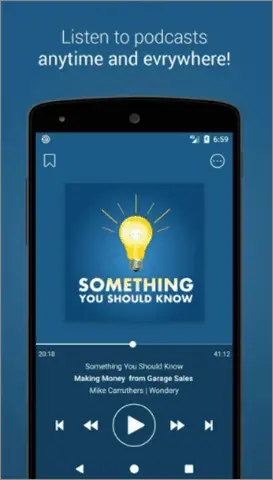 New-age and growing, Podcast Go has confirmed a firm spot for itself in the top podcast apps list in no time. You can skim through the massive collection of over 300,000 podcasts and download your favorites for offline access. They have a sleep timer to stop users from over-indulging and the handy variable speed playback feature.
Search for whichever title you want by directly entering the podcast name, subscribe to the most-awaited ones, and listen to them in your leisure time. Podcast Go is the best Android podcast app which offers you a fairly basic experience, but the elegance and simplicity make it worth it. The free version hoards advertisements, so you can pay a nominal amount and go ad-free. Podcast Go supports integration with Chromecast as well.
If you are running out of phone memory space, you can save the podcasts to your SD card. With more than 800,000 episodes to select from, you will never run out of content.
Price: Free
13. TuneIn Radio
Very different from the other podcasts apps we have listed so far, TuneIn Radio is primarily a radio and music app that doubles as a podcast app exceptionally well. The best Android podcast app emphasizes live talk radio and brings you radio channels from nearly 200 countries. So, you can listen to what's happening around the world without any boundaries. TuneIn Radio includes a library where you will find a unique collection of audiobooks and podcasts. The serviceable podcast app covers live sporting events as well.
TuneIn Radio is an excellent choice for people who love listening to the radio, both FM and AM, and sports enthusiasts who would love to lend their ears to live broadcasts. The app integrates with Google Home, Amazon Alexa, Roku, and Apple watch. It also offers Chromecast support and can be synced with Sonos speakers. Be it classic favorites like Ted Talks, new trending podcasts, or top-rated hits and chartbusters like The Joe Rogan Experience; you will get them all here.
Price: Free
14. Podcast Republic
Podcast Republic boasts a massive collection of more than 1 million podcasts. The best Android podcast app gives you the option to choose from over 500 million episodes, and the number is ever-increasing. The robust app offers top-quality service and seamless listening experience. Users can also get their hands on RSS feeds, tons of blogs, and online radio streaming. Podcast Republic is highly customizable and comes with an in-built media player.
Other exciting app features include the facility to trim silences while listening to the podcasts and variable playback speed. The smart queue feature allows users to line up the next podcast they wish to play, and it will start automatically once the current one is over. Podcast Republic comes with Android Auto and Chromecast support. Avail of the sleep timer to prevent yourself from over-indulging.
Price: Free
15. BeyondPod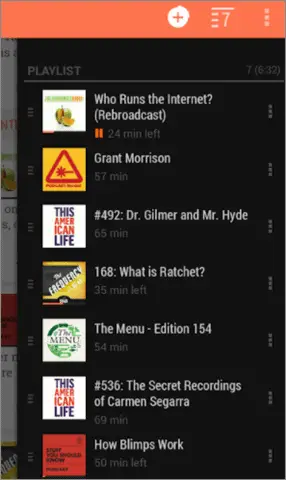 BeyondPod boasts over 3 million downloads and brings you podcasts from both small and giant publishers under one roof. You can try the one-week free trial version of the best Android podcast app and then upgrade to the premium version by paying subscription charges. Additional features like device synchronization and Chromecast support are only accessible permanently if you pay for the upgrade.
To justify the amount it charges you, BeyondPod goes beyond the attributes of a regular podcast app. The unique preview feature allows you to check out snippets of a podcast before you subscribe to it. The search categories make finding what you are looking for effortless and quick. Discover some new genres, add them to your favorites and listen to them using the variable playback speed.
Price: 7-day free trial, upgrade for $6.99
16. Player FM
If you are a light podcast user and wish to get your hands on something new, Player FM is the best Android podcast app for you. With a vibrant display and easy navigation options, the app is ideal for first-time users as well. Customize themes, avail of the auto volume boost characteristic, and use the sleep timer to stop playing the podcast when you have dozed off.
Player FM integrates with Android Auto and Chromecast. The collection is divided into carefully crafted categories like comedy, education, music, sports, productivity, and technology. Be it listening to Ted Talks or lending your ears to what Joe Rogan is saying, Player FM enables you to do it all.
Price: Free
17. AntennaPod
The last one to make it to our list, AntennaPod, is a podcast manager that is gaining popularity for all the right reasons. You can choose to listen to the millions of options available from both big publishing houses like CNN and BBC and new entrants in the field. It makes to the list of the best Android podcast app as it is open-source, free, and gives users an exceptional ad-free experience. Avail of the sleep timer to automatically turn off the podcast play button when you are fast asleep.
An additional feature that we loved about AntennaPod is password protection. The app allows users to password protect certain episodes and specific feeds if they so wish. Mark your favorites, organize your next reads into categories, and keep a handy track of what you are reading by viewing the playback history.
Price: Free
Conclusion
Whether you are commuting or running everyday house errands, listening to podcasts in the background is an excellent idea. The best Android podcast app listed above are carefully selected and available on the Google Play Store. The basic versions are free and make most of the features available. However, you can upgrade to avail of some extra attributes and get an ad-free experience.
Be it in-depth storytelling or sports stories; you get it all. Listen to the comedy shows by the best comedians in the business, subscribe to their podcasts, and receive a notification each time they add something new. Never miss out on crucial news bulletins from the top news channels and always stay well informed.
Related: 15 Best Podcast Hosting Websites for 2020 (Free, Freemium and Paid)