While cooking is a mundane chore for some, others derive pleasure and find it therapeutic. Whether international cuisines dominate your taste buds, or you are on the lookout for basic home-cooked meal recipes, these cooking apps today have you sorted. Simply download the best recipe app on your Android and iOS phones and find life-changing cooking hacks.
20 Best Recipe App Options To Get You Cooking
Some of these recipe apps display exciting new ideas and help you graduate from amateur to become a professional. Each of them boasts thousands of interesting recipes and inspires you to cook. Whether you are preparing a full course meal, wish to make a dish with the leftover ingredients quickly, or searching for traditional cuisines, these apps find you a solution for everything. From simple food to detailed recipes, you will find them all.
We have got you some excellent options in the best recipe app niche, which can be downloaded on your smartphones hassle-free. These allow you to check out step-by-step instructions on how to make your favorite food.
1. Tasty
Bored of eating those regular dishes and want to try your hands at delicious recipes? Tasty is the best recipe app to download to master the art of cooking. It will become your new kitchen coach and covers over 3000 recipes. This all-new mobile cookbook is all that you need to cook a great meal. Your phone screen is lit up until you finish your cooking.
If you are a vegetarian, simply customize the app to hide the recipes that contain meat. You can also filter what really is of your interest like low carb, gluten-free, healthy, and comfort food. All over the app has step-by-step instructions with beautiful pictures, a perfect place to start learning cooking.
Download Tasty on Android | iOS
2. Oh She Glows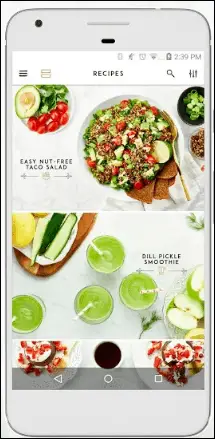 While the vibrant photography is enough to impress you to try one of the recipes by Oh She Glows, it will help you overcome the most sudden demands of family and friends who drop in anytime. Definitely, the best recipe app, Oh She Glows includes 140 plant-based recipes along with 120 gluten-free ones. If you like a recipe and want to make it once again, there is an option to keep a note of it.
You can also filter your recipes based on season, dish type, allergy, and more. The anti-lock feature does not let the device sleep or shut off when you are cooking.
Download Oh She Glows on Android | iOS 
3. BigOven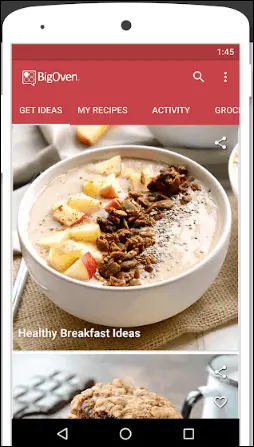 Make cooking simple by following BigOven. The app includes a great number of recipes with a menu planner. The most striking thing about BigOven is that you can get to watch and get inspired by your family, friends, and bloggers. Other features that need to be highlighted are its option of uploading your own food pictures, organizing your favorite recipes to a folder, and filtering the recipe by category.
Once you post a recipe on BigOven, it notifies you when you receive any comments or questions on your recipe. If you are worried about the leftovers of your food, BigOven has a solution for that as well. You have to type up to 3 ingredients of your leftovers, and the app will show you what you can make.
Hence if ever wanted an app where you can enter ingredients and get a recipe, look no further; as BigOven is the best recipe app.
Download BigOven on Android | iOS
4. Food Network Kitchen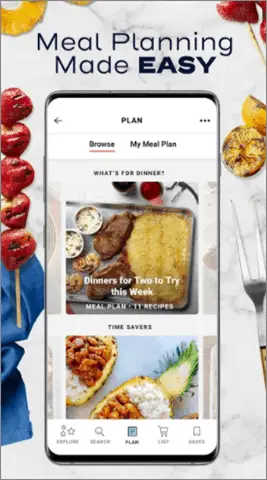 Food Network Kitchen is a well thought out app that brings your favorite chefs from popular TV shows onto one platform. Quick access to all your favorite food network chefs was never this easy until Food Network In the Kitchen showed up. No matter if you are craving a lovely dessert or a festive cocktail, a variety of recipe collections by the app is just what you may need.
The all-new slideshow feature lets you explore some unique recipes, tips, tricks, videos, and how-tos. These unique features make, the Food Network Kitchen is the best recipe app available today.
Download Food Network Kitchen on Android | iOS
5. Yummly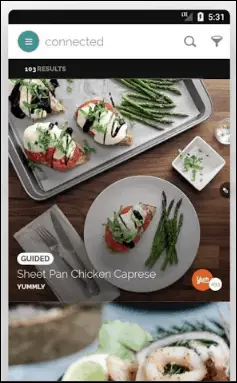 Not only your phones but some apps are also getting smarter by offering you some great solutions when you get stuck while cooking. Yummly includes everything you need to add a delicious smell to your kitchen, from having a variety of recipes to helpful videos that guide you to cook a sumptuous meal.
If you have an allergy to peanuts or seafood or hate non-veg, Yummly will filter the recipes based on your taste, allergy, and diets. Once you start using the best recipe app, Yummly, it starts mapping out your tastes, and accordingly, it recommends recipes that may suit you most.
A single tap "Yum" and your favorite recipes are stashed.
Download Yummly on Android | iOS
6. Allrecipes Dinner Spinner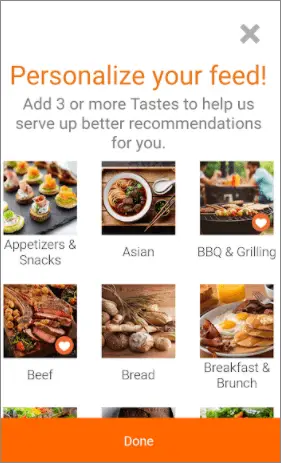 Allrecipes Dinner Spinner is the best recipe app that blends recipes from a community with more than 30 million people sharing their cooking skills. Filter the results according to your diet, taste, and save the favorite ones for quick access.
The basic features include a shopping list where you can add entire recipes or ingredients. More than 1000 recipe videos with step-by-step instructions are put up. The 'I Made It' Feature lets you share your cooking achievements with friends on the app as well as on your Facebook feed.
Download Allrecipes Dinner Spinner on Android | iOS
7. SideChef
An exceptional app that enables you to look for recipes by specifically entering the list of ingredients you have, SideChef is a must-have. Sidechef is the best recipe app and has received the Editor's choice award for being excellent in the niche and has been applauded by the New York Times. They present dynamic and detailed recipes with clear instructions. Be it serving a meal full of carbs to your friends and family or making a healthy dish, SideChef has got innumerable options.
The cooking app includes an extensive library of more than 18K recipes and enables you to plan your meals. You get your hands on exotic recipes from food bloggers across the world and try creating something new. SideChef gives you personalized recommendations based on your food preferences and choice of cuisines. You also get handy cooking tips from renowned chefs.
Download SideChef on Android | iOS
8. CookPad
Cookpad is the best recipe app that doubles as a social cooking app. People upload their own recipes to Cookpad, and then the app shares these with everyone. If cooking and enjoying your own meal alone does not suffice, then you can find and share recipes with your family, friends, and even strangers.
If you are more of a private person, you can share the recipes privately with your family instead of publishing them publicly. Whether you want a recipe for a main dish, appetizer, drink, dessert, diet food, or ethnic soup, Cookpad has got it all.
Not only can you make your regular dinner a delight, but also cover special occasions like Thanksgiving or Christmas, cooking a delicious treat for everyone. The private recipes section is helpful when you don't want to publish a recipe but save it for your own; simply click on Save.
Download Cookpad on Android | iOS
9. Epicurious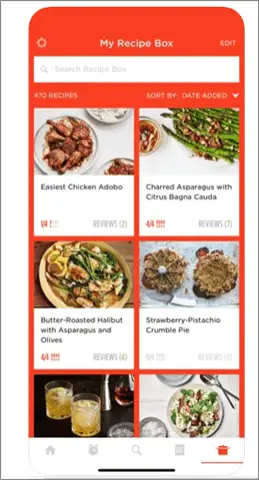 Epicurious includes the world's best recipes with weekly content updates. There are over 35,000 recipes from Gourmet, Bon Appetit, HarperCollins, and many more popular publishers to explore. They have a shopping list feature to help you buy ingredients on the go.
The Smart Kitchen Timer guides you skilfully so that you know how much time exactly it takes to cook salmon, chicken, and 40 other items. The Seasonal Ingredients Finder is helpful in finding out what fresh foods are available at the farms near you. If you hate scrolling, again and again, the Ingredients Toggle lets you view the ingredients with a tap of a button.  
The best recipe app for all iOS users, Epicurious, is unmissable and will get you addicted to cooking.
10. Weber Grills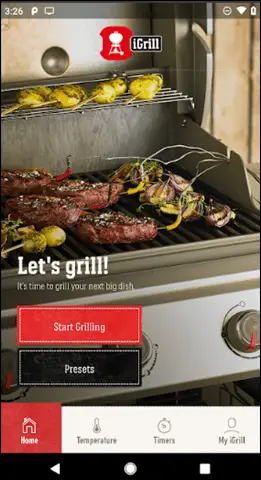 If you are fond of grilling, you will absolutely love Weber Grills. You get more than 300 delicious grilling recipes with the click of a single button, along with detailed explanations and pictures. If you are confused about the grilling time and temperature, just enter the thickness of the meat, and the best recipe app will automatically set the timer for you.
The built-in timer of the Weber Grills app is compatible with Apple Watch so that you don't have to free your hands to check whether it is the time to check on the grilling meat. You can also check out the reminder apps on Android to help you with it. How awesome is that?
Download Weber Grills on Android | iOS
11. Kitchen Stories
Kitchen stories recipe app is more of a photo-video cooking app where the focus is on great visuals. Of course, the best recipe comes with step-by-step instructions as well. The search gets easier with filter options like all-time classics, pasta variations, or 20-minute dishes. The easy-to-follow instructions in the picture form make it convenient and pleasing to the eyes.
There are also some useful 'How-To videos' that bring some tips and tricks so that handling the kitchen becomes a cakewalk for you. Hence, if you are comfortable with just watching the photos of food being processed, then Kitchen Stories is the best recipe app for you.
Download Kitchen Stories on Android | iOS
12. Green Kitchen
Green Kitchen has a good recipe list if you are a full time vegetarian and prefer using more greens in your food. Green Kitchen is the best recipe app as it supplies a variety of main courses, snacks, healthy drinks with 159 handpicked premium recipes. If you find some recipes interesting on the app, simply save them in your favorites list to get back to them quickly.
While following the step-by-step instructions, you can tap on the step to mark it as completed. Sharing your cookery over Facebook and Twitter and special recipes with friends and family over Airdrop are found under the socializing functions of the Green Kitchen recipe app.
13. ChefTap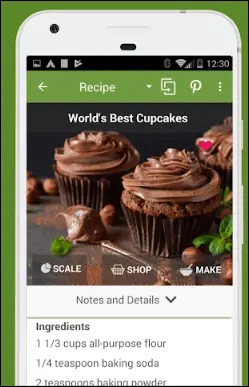 ChefTap is a relatively new app that automatically clips recipes from any website. It also helps to sort out your recipes as "favorites", "new recipes", "recently prepared", "recently viewed" to edit the recipes on your device.
To enable this best recipe app, one needs to share the webpage on it. Once done, the ChefTap takes care of the rest by importing recipes from websites and saving them in your permanent archive. If you work on multiple devices, the app can adjust the text size that suits your reading style. One does not need the internet to view or read the clipped recipes.
The smart shopping list automatically creates a grocery list based on the recipe. The free account allows you to clip 100 recipes, whereas the pro paid version lets you clip as many recipes as your device can store.
Download ChefTap on Android | iOS
14. KptnCook
KptnCook is relatively new compared to the best recipe app options listed so far, yet managed to garner a good amount of attention. The reason behind its uniqueness is its friendly interactiveness. Once you search for something, it recommends different and new recipes.
The stunning pictures, shopping list, and easy-to-follow instructions are some of the basic features of this recipe app, apart from including a search function with emojis. The app ensures you have fun while cooking and gives you several dish options that can be prepared in half an hour. They add three new recipes daily, and you save them to your list of favorites.
Download KptnCook on Android | iOS
15. Paprika Recipe Manager 3
Do you have too many recipes saved and clueless about keeping them organized and saved in one place? Get your hands on Paprika, the best recipe app, which doubles as an excellent recipe manager. You can customize your digital cookbook and have all the recipes divided into categories. The app's built-in browser enables you to search for the recipes you want from anywhere. You can save whatever you like from the multiple websites under one roof. You can either manually type in notes and pointers or simply clip the recipe to the app.
Paprika includes a cooking timer, which can be used to keep an eye on how much time is spent in preparing a particular dish. The app generates grocery lists based on your food menu. They have a pantry log to maintain a handy list of ingredients and a meal planner. Paprika also scales ingredients for you if you reduce or increase the portion size of a meal. Your perfect cooking companion, avail of Paprika to spice things up.
Download Paprika Recipe Manager 3 on Android | iOS
16. Cookmate
Cookmate was previously called My CookBook. While Google Play store calls it Cookmate now, the iOS store sticks to the app's old name. It is the best recipe app that focuses on bookmarks as it searches and imports data from other writers. If you want to have your own digital cookbook by gathering the recipe data from all over the web, Cookmate helps you.
Other basic features include the shopping list based on your recipe ingredients, speech feature to read recipes, and the ability to open recipes on Android Wear Watch. The app's UI is customizable where you can personalize using a variety of themes, font size, and categories.
Download Cookmate on Android | iOS
17. Healthy Recipes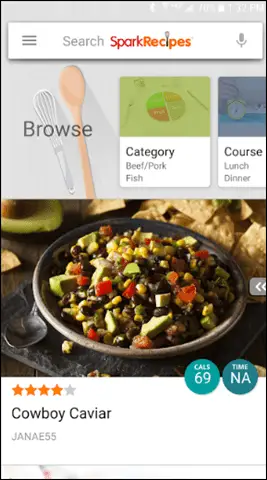 Healthy Recipes is a good pick if you are on a diet as it includes information for over 500,000 recipes from nutritional websites. Also, as the best recipe app, it contains a variety of search options that make it easy to scan through the web of recipes.
Worried about calorie count? Limit your recipes based on that with the Healthy Recipes app. The app integrates with your fitness tracking app to get a better idea of what you are eating and how healthy it is. If you have got a set of your favorite recipes and want to share them with your friends, the app allows you to do that via Pinterest, Facebook, Twitter, or email.
Download Healthy Recipes on Android | iOS
18. Drop Recipes
Well, the reason we mention Drop Recipe on our list, even if it is not as popular, is the user interface with smart features. If you want to make cooking easier, you can pair the app with Drop Scale or connected ovens from GE appliances so that it can resize recipes by ingredients. It can preheat the oven with a single tap of a button.
The recipes are tried and tested from the founders' kitchen, while some are picked from the recipe partners like Good Housekeeping and Food52. Searching recipes by meal type, prep time, diet, and occasion make your cooking process easier and time-saving.
Effortless home cooking, guided recipes, food to meet your dietary needs, and ingredients substitution, Drop Recipes is the best recipe app to provides all this and even more.
Download Drop Recipes on Android | iOS
19. Tastemade
Tastemade is an incredible cooking app that provides entertainment and recipes in a single platform. It is the best recipe app as it supports fresh talent where young chefs participate and engage you in their unique cooking skills. If you are looking for some healthy recipes, cake recipes, or Breakfast recipes, you just have to install the Tastemade app on your phone.
The popular Tastemakers like Julie Nolke, Jen Phanomrat, Erwan Heussaff, Frankie Celenza, and some young chefs have their recipes here. How often do you come across a recipe app which makes streaming content possible? Go ahead and watch your favorite shows or download them for offline viewing. Tastemade is an unmissable all-in-one app.
Download Tastemade on Android | iOS
20. Hippie Lane
Hippie Lane attracts people who are diet-conscious and need a well-thought-out recipe choice. It is the best recipe app that revolves around sweet treats that are 100% vegan and gluten-free. It has a premium pack of 50+ recipes for people craving a sweet treat without any guilt.
Each recipe has gone through a health test that makes it nutritious and consists of unprocessed and natural ingredients. No matter if you are a rookie or an experienced baker, Hippie Lane will win with everyone with its stunning photography and easy to follow recipe format.
Download Hippie Lane on Android | iOS
Final Thoughts On The Best Recipe App
Our smartphones are equipped with too many right apps, which make everyday lives easy. Getting your hands on the best recipe app for your Android and iOS devices takes you a step closer to fulfilling your dream of preparing that perfect dish. Irrespective of whether you are a thorough professional in the cooking niche or a beginner, these apps widen your horizons and provide valuable information about food that everyone must know. Be it creating shopping lists, planning meals, or organizing all your recipes in one place; these cooking apps do it all.
From exotic cuisines and mouth-watering desserts to nutritious meals and calorie-conscious dishes, you learn to prepare them all. Use the timer to check how much time is spent preparing a full course meal and jot down points in the form of handy notes. Clip recipes from other web pages and bookmark them for easy location. Create a list of your favorites and never miss out on a newly added recipe.