You need to activate Windows every time you upgrade from a previous version or change your system's hardware. The process is relatively simple, but in some cases, there is a 0x803f7001 error popping up during Windows activation.
Usually, there is an error message saying, 'We can't activate Windows on this device because you don't have a valid digital license or product key. Go to the store to buy genuine Windows. Error code: 0x803F7001.' However, it is not always because of an invalid license or product key. You can experience this Windows error code due to various other reasons.
What Causes Windows Error 0x803f7001?
As mentioned above, you can have the Windows activation error due to many reasons. Some of them include:-
Unstable Internet Connection
Hardware changes on your computer
Installing the wrong edition of Windows 10
The device drivers or operating system is outdated.
Virus or malware issues
Error in system's registry
You can conveniently fix activation error issues mentioned above with the solutions discussed below.
11 Solutions To Fix 0x803f7001 Error
The following list of solutions can help you get rid of the Windows 10 activation error code. You can then activate Windows OS without any errors and issues. Make sure you have a valid product/license activation key before you proceed with the fixes.
1. Purchase the License and Activate Windows
You need a 25 character valid digital license to activate Windows operating system. If you are activating Microsoft Windows 10 for the first time on your computer, you need to purchase the license first.
Press Windows key + I to open the Settings app and then click on Update & Security. Now, go to the Activation section from the left panel in Update & Security.
Next, click on Go to Microsoft Store. You then need to follow the instructions wizard to complete the purchase.
Once you buy the Windows 10 license from the Microsoft Store, you can enter the valid product key again in the Activation settings.
2. Check your Internet Connection
Windows activation needs a strong and stable Internet connection. If you are getting Windows 10 error code while activating Windows, even with the right product key, the first thing you should do is check your Internet connection.
Once you have a stable connection, you can restart the activation process. It is a simple solution to fix activation error.
3. Scan for Virus and Malware
The virus and malware can prevent you from completing the Windows 10 activation. You can scan and remove viruses residing in your computer using Windows Security. If you are using any third-party malware removal tool, you can check their site to know how to perform a scan on the PC.
To perform a scan using Windows Security, open the Settings app and go to Update & Security. Navigate to the Windows Security section from the left frame and click on Virus & threat protection.
Click on the Scan options link and then choose Full scan as an option. Click on Scan now button to start scanning.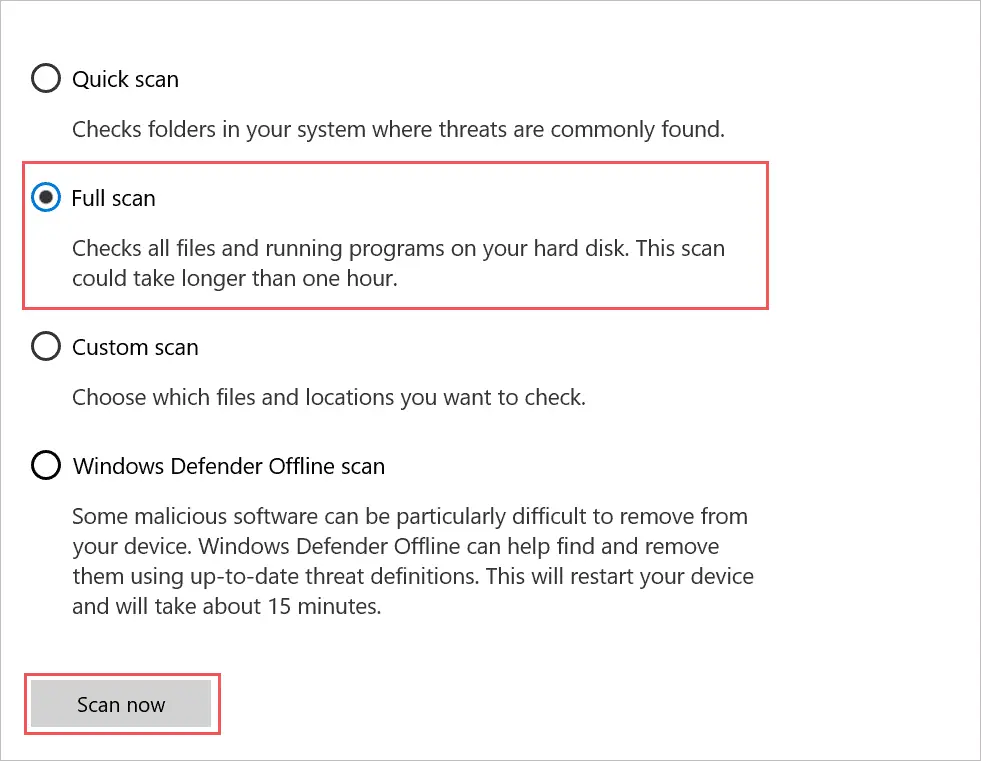 If there are any threats or viruses on your Windows PC, the scan will remove them. You will be able to activate Windows OS after this and fix Windows 10 activation error 0x803f7001.
4. Perform a Windows Update
If there are temporary bugs in Windows OS and it prevents you from activating Windows 10, you need to check if Microsoft released any new updates regarding this.
You can update Microsoft Windows even when it is not activated. All you need to do is click on Skip for now when asked for activation.
To update Windows, go to Settings ➜ Update & Security. Click on Check for updates under Windows Update.
Download and install the latest Windows version and updates if available.
5. Troubleshoot the Activation Process
You can use Windows 10 troubleshooter to fix activation error 0x803f7001. If you have installed the wrong edition of Microsoft Windows or changed crucial hardware, the troubleshooting will help you detect it.
To run the activation screen, go to Settings ➜ Update & Security ➜ Activation. Once you are in the Activation process settings, click on Troubleshoot.
Windows will troubleshoot the issue and try to fix error 0x803f7001, if possible.
6. Wait for Some Days
Well, this solution may sound weird, but people resolved the Windows error code by simply waiting for some days. If you recently did a hardware change like the motherboard, the error can be because of an unregistered hardware component. Microsoft takes some time to register the hardware change.
The original Windows license is for software as well as hardware of your computer. So, make sure you wait for a few days and then try other solutions to fix the activation error code 0x803f7001.
7. Update Device Drivers
As mentioned above, one of the reasons for Windows activation error is outdated device drivers. You can update the drivers manually or use third-party software like Driver Booster to do it for you. In case you opt to do it manually, you need to download the device driver software as per your Windows version from the official website and then proceed.
The third-party software can download and install the driver software automatically for you.
8. Fix the Registry
If there are any registry errors, you won't be able to activate Windows 10. The Windows registry stores crucial settings and data. You need to fix the registry errors in order to get rid of the 0x803f7001 error.
9. Activate Windows using Mobile Phone
If you cannot activate Windows via the Settings app, you can try it via mobile phone. Many users fixed the 0x803f7001 error by activating Windows using their phone.
Step 1: Press Windows key + R to open Run and type Slui 4 there. Press Enter.
Step 2: Select country/region from the drop-down menu.
Step 3: On the next screen, you will see a toll-free number, call on it and simultaneously enter the Installation ID.
Step 4: Enter the Confirmation ID you received on the call and then click on Activate.
This procedure will activate the Windows easily.
10. Activate Windows using Commands
You can also activate Windows via Command Prompt terminal.
Type cmd in the Start menu and Run Command Prompt as administrator.
Now, execute the below-mentioned commands one by one.
slmgr -upk
slmgr -cpky
slmgr -ipk XXXXX-XXXXX-XXXXX-XXXXX-XXXXX
Make sure you add product/license key instead of XXXX
slmgr -ato
The commands will uninstall the previous product key, clear the product key registry, and activate Windows.
11. Upgrade to Windows 10
If nothing from above works, you need to install Windows 7 or 8.1 and then upgrade to Windows 10. Well, this process may sound lengthy, but this is the only way you can activate Windows 10 without getting the error 0x803f7001.
You need to install Windows 7 or 8.1 and then activate it. Once the older version of Windows is activated, upgrade it to Windows 10 and try activating it again.
Conclusion
You can not use many of the Windows features unless you finish the activation. Windows is activated easily via the Settings app, but it can become annoying if there is an error popping up. The error 0x803f7001 is a Windows activation error that many users experienced while activating Windows.
The solutions mentioned above can help eliminate the Windows error code 0x803f7001 and activate Windows without any issues. If the problem is not that severe, you will be able to activate Windows after performing some simple workarounds. However, in some cases, you may need to complete the entire upgrade process again.