If you need to watch videos all the time, here are some great suggestions for the best Android video player for you.
Watching videos is becoming an almost compulsive past time for most people nowadays. While the habit is self-educating and absolutely entertaining, it may be limited by the space that your Android media player gets.
The internet is full of interesting content and this is available both offline and online. Whether you want to watch a tutorial, a movie or a TV show, you can easily watch it on your Android media player.
So if space is a constraint, then streaming or accessing the cloud content is the answer.
See More: How To Automatically Download Movie Subtitles On Android
The Master List of The Best Android Video Player Apps
1. MX Player
MX Player is one of the best Android video player apps that has many professional features. That means you have hardware acceleration and multi-core decoding, and even pinch to zoom at your fingertips.
It supports subtitle gestures where you can scroll forward/ backward to move to next/previous text. There is a child lock where your children can enjoy watching their favorite movie or show on your mobile phone without interruptions.
Once the child lock is on, they will not be able to make calls or open other apps. It supports old and new video formats. Plus, you can add plugins to enhance its functionality as you need.
2. VLC
VLC is the most versatile and top-rated video player for Android. The best part is that it is absolutely free and is an open source cross-platform multimedia player.
You can stream video if you have the correct URL. This app can play almost all local video and audio files, including DVD ISOs.
All the codecs are already included in the app and it does not need a separate download. The support for subtitles and options like Teletext and Closed Captions makes this app very popular.
It has the support for multi-track audio and subtitles. This is in addition to auto-rotation, aspect-ratio adjustment, and gestures to control volume brightness and seeking.
3. FX Player
FX Player is an all-new media player that hosts most of the features that an advanced video player has. Right from supporting all the popular video and audio format, you have the option to manage and edit videos within the app.
You can multitask while browsing the web and watching the video at the same time with its Floating Video (pop-up player). Be it a subtitle in SMI, SSA, or IDX format, FX Player covers all.
4. AllCast – A Good Option As The Best Android Video Player
AllCast is different from other video players as it casts the content of your phone to your Chromecast, Amazon Fire TV, Apple TV, and other DLNA Renderers.
The viewing limit for the free version is 5 minutes but you can update to the premium version after that.
AllCast is not only a good video player but also supports other media files. It helps you make your Android phone an AllCast receiver with the AllCast Receiver app.
5. BSPlayer
BSPlayer is top-rated hardware accelerated Android video player which supports multiple audio streams and subtitles. You can create your own playlist.
One can even lock the screen to prevent accidental change of videos. Its multi-core HW decoding improves playback speed.
The free version of BSPlayer has all the features, except for the fact that it contains ads. You can add plugins to increase functionality.
The paid version is ad-free and costs $5.99. This app is made for Android Smartphones and tablet PCs as well.
6. Local Cast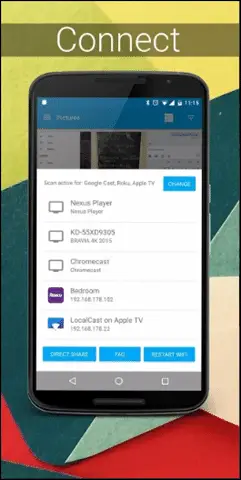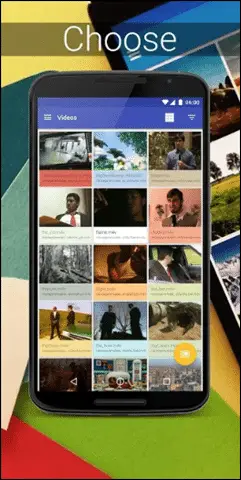 Just like AllCast, LocalCast also streams media from the device like a phone, tablet, apps, and Google Drive to Chromecast, Smart TVs, Roku, or Nexus Player.
It has integration with Opensubtitle.org for subtitles. The subtitles only work with Chromecast and Apple TV 4.
It only supports Chromecast codecs. This app works best with Chromecast where you can rotate, zoom and pan pictures from the "Now Playing" screen.
7. Mobo Player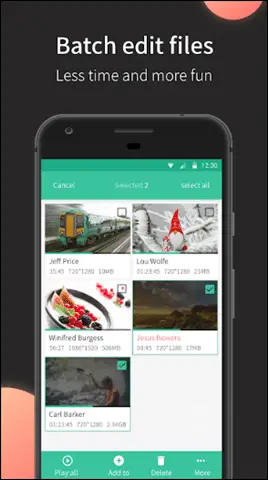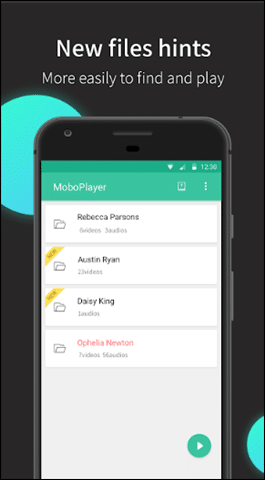 MoboPlayer supports all video formats, though sometimes you need to choose the "software decoding" mode. The popular subtitle formats like SRT, ASS, and SAA are supported by MoboPlayer.
You can create your own playlists and you can also sort videos by type for easy access. One can stream videos through HTTP, RTSP protocols.
Overall MoboPlayer is one of the most popular, powerful and best Android video player where you can play videos without having to convert the format.
8. Plex – Try Out This As The Best Android Video Player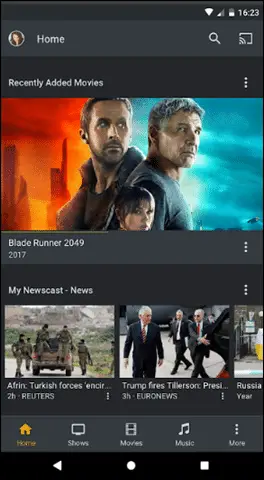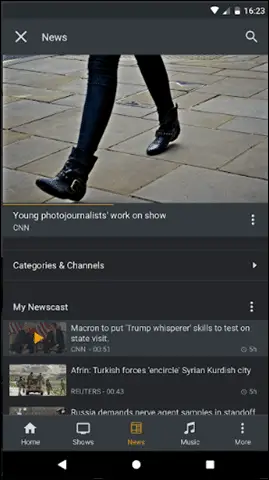 Plex is extremely popular because it offers the user a lot of storage. If you are one of those people who have tons of videos to watch but limited storage on the Android media player.
Plex helps you set up a server on your PC/laptop and streams content from that PC to your Android phone. Since the content is not on your device, it saves up a lot of precious storage space for other important things.
It plays almost any video file and automatically organizes your TV shows and movies with relevant pictures and descriptions. This makes it a good option as the best Android video player.
Along with support for popular subtitles formats, it also streams videos from cloud storage including Dropbox, Google Drive, and OneDrive.
9. Video Player All Formats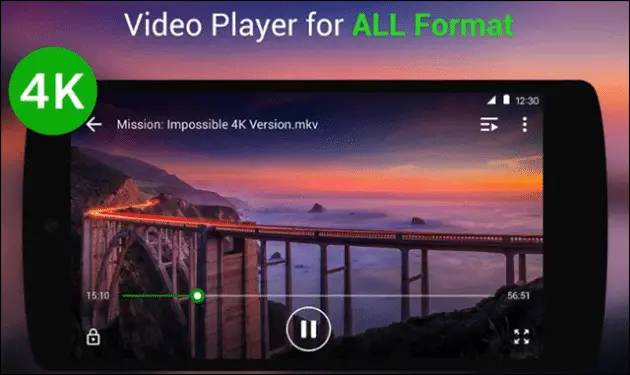 Video Player All Format is a basic app that supports almost all the video formats including  MKV, MP4, M4V, AVI, MOV, 3GP, FLV, etc. It has Ultra HD video player that supports 4K videos as well.
Along with common features like hardware acceleration, subtitle support, managing videos, it also has a night mode, quick mute, and playback speed control.
Moreover, the support to Chromecast makes it stand in the competition with similar apps.
You get this app for free with ads, but you can always opt for its premium version just for $4, which is without ads.  
10. PlayerXtreme
After achieving huge popularity among iOS users, PlayerXtreme is now also available on Android.
And just like on iOS, the app delivers quality with a huge bunch of features and supports almost all video formats including 3gp, asf, avi, divx, dv, dat, flv, gxf, m2p, etc.
Along with the support to play streaming video content stored on your PC or any website, it also has AirPlay and Chromecast support. That means you can watch your favorite video on your big TV screen.
It features screen rotation, video aspect ratio, subtitle delay, gesture control, and library organization. Bundled with all the basic and advanced features just like any of the best Android video player app, PlayerXtreme is an option you must try out.
11. KM Player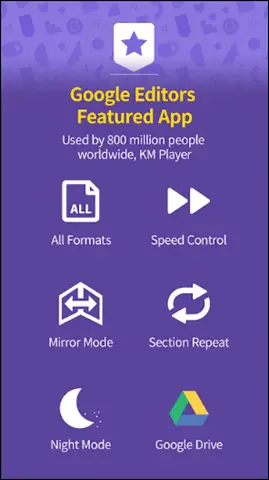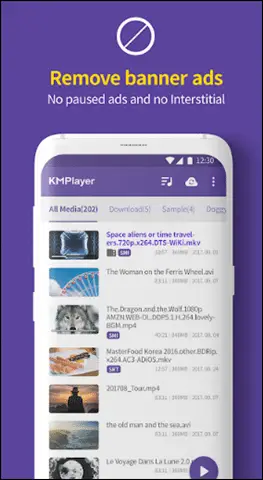 KMPlayer is a very popular app with over 300 million users. Watch your favorite show, movie, or animation in high quality on KMPlayer. It features subtitle controls, control over playback speed, and even a floating screen.
The floating screen allows you multitask; continue watching videos while sending texts or browsing the web. You can also play content stored on Google Drive.
12. Video Player HD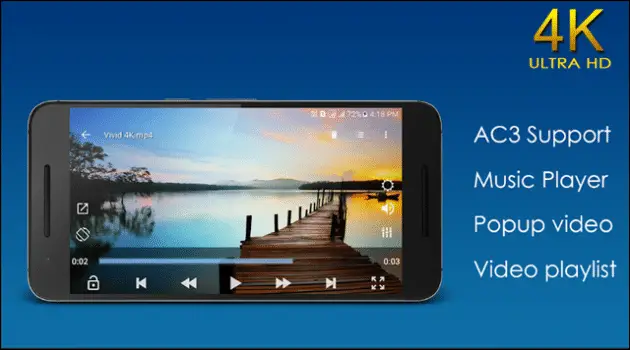 Video Player HD is one of the best HD video players for Android with around 50 million users till now. It supports almost all video and audio formats, including AC3 support which is a huge bonus.
The list of videos is properly organized by the app, and the music player comes with an equalizer and presets to enhance your listening experience.
It can also stream content for you. Along with quick start, it resumes the video exactly where you left off last time.
13. GPlayer – One Of The Best Android Video Player
GPlayer is a powerful video player and perhaps, its best feature is its ability to show multiple videos at the same time. That is why it stands out as one of the top contenders for the best Android video player.

It has multiple-window and floating pop-up features. You can play videos in multiple windows.
The theme is customizable. Its floating feature lets you move the window position and window boundary according to your personal requirements.
With GPlayer, you can resize, move windows and share videos using the group sharing feature. The Group Media Sharing feature allows devices on the same network to share media files.
14. Archos Video Player
Archos Video player is a great app which enhances your video watching experience on tablets, phones, and Android TV devices.
You can play videos from your computer and external USB storage. It also supports automatic online retrieval of Movie and TV show descriptions with the poster.
This features hardware accelerated video decoding which is a plus point and multi-audio track and multi-subtitles support.
It also supports 3D with side-by-side and top-bottom playback modes for 3D TVs. You can browse movies by name, genre, year, duration, and rating.
15. Wondershare Video Player
Wondershare is a vast, versatile and one of the best free video players for Android. It is also a video discovery app. This means you can discover the latest videos to watch online and offline.
It is compatible with multiple devices and you can switch between screens. This supports streaming content from websites, and you can browse and play media files shared on the computer on Android phones.
The basic features include support to almost all audio and video files, subtitles, resume the video where last you left off, etc. It supports HTTP, MMS, RTMP, and RTSP/RTP streaming media protocols.
Conclusion
These are 15 of the best Android video player apps where you can seamlessly watch videos in multiple formats. You can play videos stored on your device, or stream your favorite movie or TV show from a website or any other device. There are thousands of similar apps online, but we have chosen the very best in this selection.  
Further Reading: How to Preload and Buffer Entire YouTube Videos