If you are tired of using Microsoft Excel and looking out for a suitable alternative that can help you access your sheets anywhere any time, look no further beyond Google Sheets. The Google Sheets tool can handle large chunks of data, and you can access it through your Google account. Users can increase their efficiency and speed while working on data by adding different Google Sheets add-ons.
Add-ons are powerful external tools that you can install in Sheets to make your work a breeze. Most of the add-ons present on the Google Marketplace aim at providing top-notch convenience so that users can wrap up their work as soon as possible.
23 Best Google Sheets Add-Ons To Simplify Your Work
Add-ons in Google Sheets come in different niches. Some might help you import data, improve spellings, perform complex tasks, and do much more. Let's have a peek into the best add ons available for Google Sheets.
1. Google Analytics
Digital marketing geeks will be pretty well-acquainted with Google Analytics. For the uninitiated, this add-on helps website owners analyze the data of visitors using their website. Google Analytics is one of the most potent Android add ons that allows owners to pull the entire data into Google Sheets, which in turn eases the process of doing a custom calculation and analysis.
Google Sheets allows you to customize the unlimited data as per your preferences by creating different types of reports in the Google Analytics spreadsheet. Having such editing facilities also helps in making crucial business decisions quicker and faster. Users can also do a data backup with the help of Google Analytics API.
2. Search Analytics for Sheets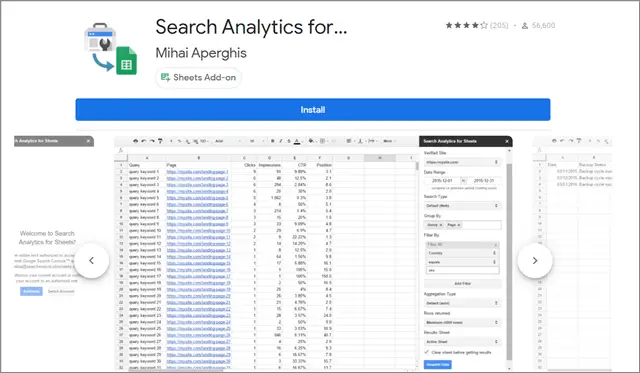 If you are a frequent Google Search Console user, this is one of the best Google Sheets add-ons. As we saw in the Google Analytics add-on, this add-on allows you to pull the data from the Google Search Console into Google Sheets.
The add-on also offers the same benefits as the Google Analytics add-on. Once you import the data on a sheet, you won't need to switch between the sheet and the Search Console now and then for referring to values and performing calculations.
3. AdStage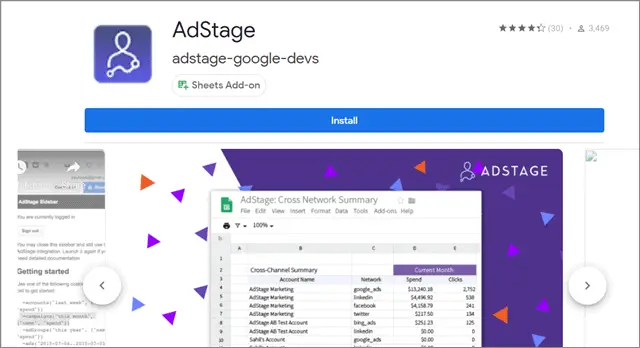 AdStage is one of the best Google Sheets and Android add-ons to go for if you are a PPC marketer. Doing campaign analysis and optimizing them according to the received data is the most crucial part for a PPC marketer. And doing that is way more manageable if you have all the data from multiple sources in one place.
AdStage allows you to import your advertising statistics from multiple platforms like Facebook Ads, Google AdWords, Bing Ads, Twitter Ads, LinkedIn Ads, and Quora Ads directly into Google Sheets spreadsheet cells. This helps you create a smooth workflow and eliminates the time-consuming manual work for pulling all the data in a Google Sheet.
4. Autocrat
Autocrat is nothing short of a boon if you are into the email marketing sphere. This tool helps users merge data from Google Sheets to a Google document. You can create the entire data in PDFs, and it allows you to share it the way you wish to.
Autocrat is an excellent add-on for automating the process of creating personalized documents from a spreadsheet, which is the cynosure of successful email campaigns. All you have to do is follow the instructions that Autocrat provides and merge your data successfully to create personalized emails. If you are an email marketer or even aspiring to be one, make sure you give these Google Sheets add-ons a try.
5. Tweet Archiver
If you have chosen Twitter as a marketing channel, Tweet Archiver can offer loads of help in gathering the relevant hashtags that you can use to market your products. Hashtags hold cardinal importance in getting your tweets in front of the right audience, which is why Tweet Archiver is a necessary tool.
Once you search for this add-on in the search bar and install it, you can type in a keyword or a trending hashtag, and all the related tweets will be pulled into a Google Sheets spreadsheet. Not just that, but the tool will also update this list of tweets on a timely basis so that your data doesn't get outdated.
6. Google Forms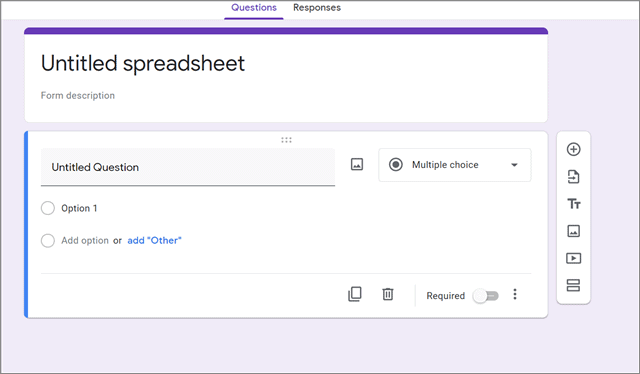 Feedback is indispensable for any business that wants to make consumer-driven decisions and make profits. Whether you are selling a product or a service, having proper feedback allows you to gauge the crevices in your product and rectify it accordingly. Google Forms is one of the best Google Sheets add-ons to help you gain all the evaluation from your consumers using the Google form response.
Everyone using Google is well-acquainted with Google Forms – Google's tool for collecting contact information from recipients. Few are aware that Google Sheets has a built-in path for creating a Google form in a spreadsheet.
Go to Tools and select Create a Form; when the form editor opens, create the required questions and share the form with your recipients. The results of the forms will appear in the Google Sheets automatically.
7. Wolfram – Alpha for Sheets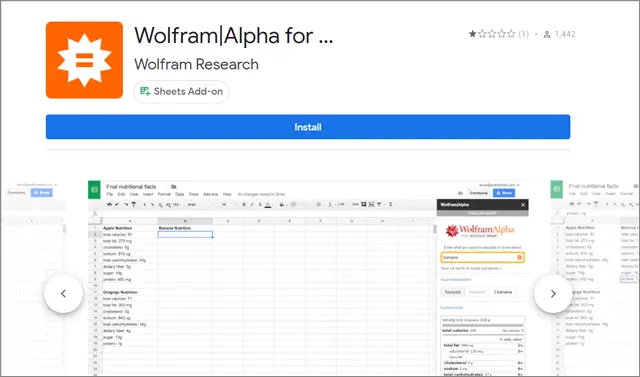 If you need to research specific numerical statistics while number crunching on a spreadsheet, Wolfram is one of the best Google Sheets add-ons to use in these circumstances. It's like having Siri's Apple inside your Google Sheets.
Just type any question in the Wolfram sidebar, and it will be replaced with the answer you are looking for! Wolfram Alpha can disseminate data on finance, population, nutrition, and many other topics. You can directly import the resulting charts and graphs into your spreadsheet using this tool instead of making a graph in Google Sheets.
Install Wolfram – Alpha for Sheets
8. ClassReporter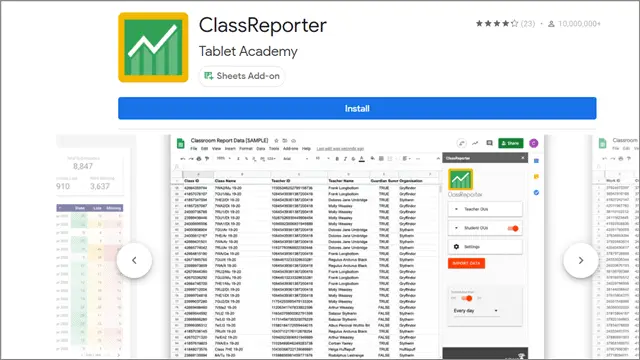 Suppose you are a teacher working from home and teaching students online. In that case, Google Classroom is the only best place for sharing assignments, activities, and other announcements with fellow teachers and students. It is one of the best Google Sheets add-ons. The ClassReporter is a helpful tool that allows users to import all the essential data from Google Classroom into Google Sheets for better analysis.
The imported data includes attendance, questions and assignments, records of students who have completed the projects, and much more. The trial license allows teachers to use all the features to a limited 20 classes.
9. Knoema DataFinder
Knoema DataFinder is similar to Wolfram; this tool allows users to search and import vital statistics on different topics like population, crime, land use, and much more. You will also get to use the Knoema sidebar on the right side for searching all the facts that you want to insert into your data.
Knoema DataFinder's database is updated regularly, so no matter whenever you import data, you will get the latest and fresh information regarding your search queries. One of the best Google Sheets add-ons, you can insert various charts and statistics into your spreadsheet for enhancing your data as per your preferences.
10. Translate My Sheet
Language barrier is one of the most common hurdles for users if you work on data spreadsheets with foreign professionals. If your colleague has added data in a language that you can't read, Translate My Sheet is one of the best Google Sheets add-ons to opt for in such circumstances.
After installing this add-on, you can choose the source and target languages or have the tool detect foreign language automatically and get it translated in a split second. In all, Translate My Sheet is one of the best Google Sheets add-ons that certainly won't disappoint you.
11. Geocode by Awesome Table
Entering the coordinates of addresses manually is a monotonous task, irrespective of how it is being performed. If you want to cut out on the labor, Geocode can come to your aid. This Google Sheets add-on can import longitudes and latitudes for addresses from Google into the spreadsheet.
What's more, if you have parts of addresses entered in different columns, Geocode will amalgamate them and then find the latitude and longitude of each address. You also get a Google Maps map in the Geocode in the Awesome Table app.
12. Power Tools: One of the best Google Sheets Add-ons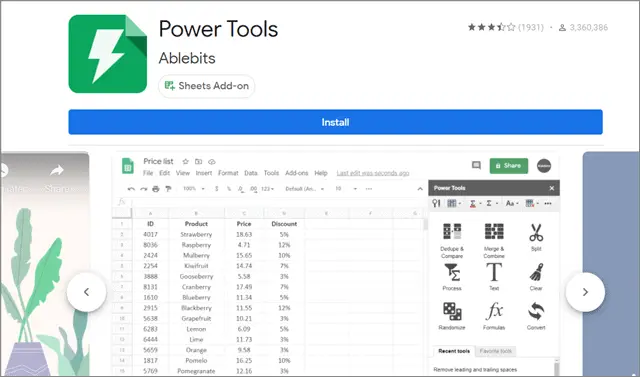 When it comes to working on a Google spreadsheet, we need to carry multiple formatting actions to ensure the entered data is correct and authentic. If you need to clean up things or eliminate specific values from Sheets, Power Tools is one of the best Google Sheets add-ons for this purpose.
Whether you want to merge sheets, find and replace data, or remove duplicates in spreadsheets, Power Tools is the perfect one-stop shop for these activities. It lets you clean your sheet, reformat it, combine or split text to columns, customize formulas in bulk, and do much more.
Power Tools also offers free individual add-ons like Merge Values, Split Names, Random Generator, Find Fuzzy Matches, and much more.
13. Solver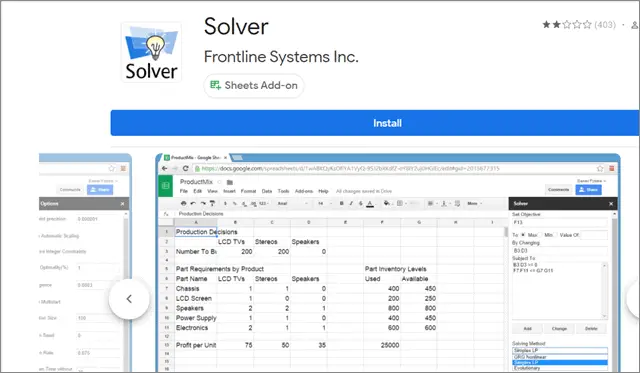 Solver is an efficient tool and Google app used for data modeling and calculation; the Solver set of add-ons has also been a popular mainstay with Microsoft Excel before offering its services to Google Sheets.
You can use the Solver add-ons for statistical data analysis, linear programming and optimization, and risk analysis.
Once you install the add-on, enter the details of how you want to model your data. Solver will perform the necessary calculations on its servers and send the results back to Google Sheets. One of the best Google Sheets add-ons, most calculations are free on this trial, but you will have to shell out cash to use advanced calculation facilities offered by Solver.
14. Supermetrics
If you are searching for a single solution to help you pull the data from multiple data sources for reporting, look no further than Supermetrics. Over half a million marketers use this tool, making it one of the best Google Sheets add-ons for marketing purposes.
Supermetrics is a powerful tool that supports dozens of SEM, PPC, SEO, social and display advertising, performance marketing, web analytics tools, e-commerce, and payment platforms. It also provides 30+ reporting templates.
One of the best Google Sheets add-ons, Supermetrics comes with a 14-day free trial. The best reason why you should even opt for a paid version is that this Google Sheets add-on saves you the precious time required to copy and paste data from various sources into Google Sheets for data analysis and reporting.
15. AppSheet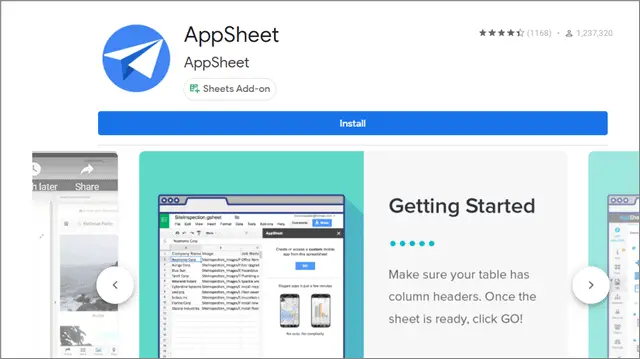 If you are running an e-commerce store online on mobile, AppSheet is a handy tool for you. This Google Sheets add-on makes it effortless for store owners to build a mobile app using a spreadsheet.
All you have to do is list your products, inventory, contacts, and anything else that you wish to track in your app on a spreadsheet and connect that sheet to the AppSheet add-on. Further, you can add images from Dropbox or your PC. You can also gather form submissions, texts, and signatures for analytical purposes.
If you are a DIY enthusiast, you can save loads of cash by using this add-on to build a mobile app for your website.
16. Email Studio for Gmail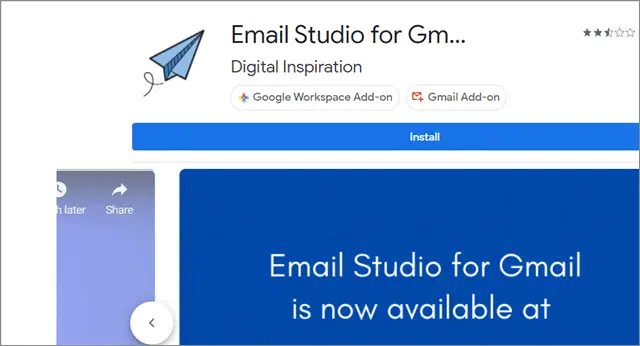 Email Studio for Gmail is a set of powerful add-ons that helps you automate essential email-related functions. It has a Draft Cloner for duplicating emails, an Email Scheduler for sending emails later, Autoresponder for sending automatic replies, and Email Forwarder for forwarding emails.
The Gmail Purger tool in this Studio helps users clear redundant emails and junk from time to time. An Email Unsubscriber tool enables you to unsubscribe from the mailing list of content you don't want to consume. This tool works for Gmail on both PC and Android.
Install Email Studio for Gmail 
17. Mail Merge with Attachments
We have already seen Google Sheets add-ons that help you create a mail merge for emails with text messages. But, Mail Merge with Attachments allows users to attach files from your Google Drive or any other storage device and send it to your contacts using Google Sheets. The process of using this add-on might appear tedious theoretically, but it's a cakewalk once you know how to do it.
To begin with, import your Google Contacts or email addresses list into a spreadsheet. Then, select a file that you want to send to each recipient; you can also choose different files for each recipient.
Next, you need to write an HTML email or plain text or use a draft email with text, and Mail Merge will send these emails with the selected email attachment to your recipient email addresses. You can also use the built-in HTML editor to create an email template for this purpose.
Users can send 50 free emails with attachments using this add-on; the premium version of $29.99 allows sending 100 emails per day.
Install Mail Merge with Attachments
18. instagReader
Copying data from Instagram accounts is a tiresome process if you approach it manually. It also consumes a substantial amount of time that could otherwise be invested in other marketing activities. But what if we tell you there is a Google Sheets add-on to help you with this issue?
Well, instagReader allows marketers to extract data from selected Instagram accounts and save it in a spreadsheet. You can extract the basic information of Instagram accounts, like the number of posts and followers in a click.
Users can also connect Google Sheets to this add-on and extract data related to posts in a selected time span using instagReader. In all, this Google Sheets add-on is the best if you want to find and collect data pertaining to influencers on Instagram.
19. pdfFiller for Google Sheets

Many users might not be aware of this highly useful tool; the pdfFiller is one of the best Google Sheets add-ons for filling PDF forms. The usual method to fill a PDF document is to convert it into Google Docs or Microsoft Word file and then edit it. pdfFiller for Google Sheets saves you all this hassle.
All you have to do is transfer a PDF file into your pdfFiller account and convert it into an interactive fillable form. You can Merge the data collected from spreadsheet fields with specific fillable fields of a document template in one click. Once completed, you can safeguard your forms by moving them to the encrypted folder of the pdfFiller account.
20. Table Styles
You may have created tables in spreadsheets many times, right? However, if you wish to apply the same table formatting to each spreadsheet, it's tedious to do so. Table Styles can help you in this case.
Just add your favorite formatting to a spreadsheet and select the formatted area. Next, click on Table Styles and choose 'Create style from selection' in the Add-ons menu. This add-on also allows you to add custom colors to the templates and create a formatting style as per your preferences.
Users can also add borders and change the font or the background color in a spreadsheet. There are 24-pre-built templates available in this add-on.
21. Lucidchart Diagrams
Mind maps are one of the best ways to organize and shape the ideas and plans you have in your mind. Having a well-planned layout of the tasks helps in better management and allocation of time and resources to complete a given job. Lucidchart Diagrams is one of the best Google Sheets add ons to watch out for if you wish to improve your productivity.
This tool allows users to create mind maps and offers a variety of shapes to do so. You can build flowcharts and UML diagrams as well for data visualization. Lucidchart is perfect for teams who want to collaborate in real-time and work on a single mind map, flowchart, or any other type of diagram. This tool also has a Google Docs add-on available on the marketplace.
You can check out an alternative list of mindmaps if Lucidchart doesn't fit your bill of requirements or it doesn't have a particular feature that you are looking for. However, there is no guarantee if each of these alternatives will have an add-on for Google Sheets.
22. QR Code Generator
QR codes are one of the best ways to disseminate information quickly to your peers. The moment you scan a QR code, you get all the necessary information you are looking for. QR codes can be used for multiple purposes, such as, calling, making payments, adding contact details, revealing discounts, adding calendar events, and much more.
If you feel generating a QR Code is complex, the QR Code Generator add-on can come to your rescue. Once you have installed this add-on and opened it from the add-ons menu, enter the information in the blank rows on a new sheet and click on Generate in the right sidebar; the QR code will be generated in a Google Doc.
You can create only 20 QR codes in the trial version; you need to buy a 30-day pass to create unlimited QR codes. You can also use the QR code Chrome extension to generate barcodes for various purposes.
23. Text Analysis by MonkeyLearn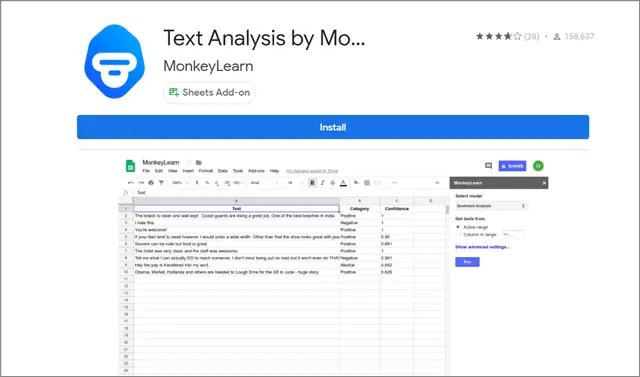 Text Analysis is a powerful tool that allows users and businesses to analyze their text using Machine Learning in Google Sheets. You can easily classify your text using various categories like a topic, sentiment, intent, keyword, names, etc.
Businesses and companies usually receive a massive amount of unstructured data in the form of text. Executives need to sort this data to gain meaningful insights that later help in decision-making. It is one of the best Google Sheets add-ons.
Since manual processing of data takes too much time and can also lead to errors, the Text Analysis add-on provides an AI-based solution that allows users to extract the required information accurately and on time.  If you wish to know or have any queries about how text analysis is performed, check the guide on Text Analysis details.
Conclusion
Google Workspace Marketplace houses a massive variety of Google Sheets add-ons that aim at helping users with several different tasks while working on spreadsheet data. These add-ons can ease the burden of having to spend too much time completing complex and simple processes.
The suggestions mentioned above are some of the most exciting add-ons available on the Google Workspace Marketplace. The choice of add-ons depends on the type of work or task the user wishes to accomplish on Google Sheets. If you have complex tasks at hand, make sure you go and search for add-ons that can make it easy for you to complete them as soon as possible.