With the two Apple Watch Series 7 sizes, users might find it hard to choose the one better suitable for their wrist because there is something more exciting than the previous model. However, considering the larger display features and color variants, this GPS + Cellular smart watch is all set to give a seamless experience. Announced on 14th September last year, the watch was released to the market on 15th October in two sizes.
Those with an iPhone 6s or newer model having the latest iOS version can easily configure the watch with their mobile phone after checking out the Apple Watch 7 sizes. What is better? The watch will never fail to set a fashion statement, be it the water resistance rating, the glass front, sapphire crystal or ceramic back, or the stainless steel frame. Users can also understand the Apple Watch size guide and select the right size.
All About The Apple Watch Series 7 Sizes
The Apple Watch Series 7 watch is slightly larger and 20% faster than the Apple Watch SE. One can check the Apple Watch SE size options too. Let's check out the specifications of this Apple Watch edition.
Color Variants For Apple Watch Series 7 Sizes
The GPS + Cellular variant has narrow borders for display, comes with Aluminum, Stainless Steel, and Titanium finishes for innovative design. For Aluminum models, you will get Midnight, Starlight, Red, Blue, and Green. There are Graphite, Gold, and Silver colors for the Stainless Steel models, and for Titanium, there are black Titanium and Space Black color variants.
Among the GPS Apple Watch Series 7 sizes, you get only an Aluminum finish and colors like Midnight, Starlight, Red, Blue, and Green in a flat-edged design. For Apple Watch Nike, only Aluminum finish is available with Starlight and Midnight color variants. For Apple Watch Hermès, only Stainless Steel models are available in Silver and Space Black colors. For leather bands, too, the Apple watch band colors will definitely seem attractive. You can also check the band compatibility and band combination at the online or offline Apple store.
Advanced Display 41mm vs. 45mm Apple Watch Series 7
In terms of innovative design display, the Apple Watch Series 7 Sizes are 45mm (396 x 484 pixels) with 1143 square meters of flat display area and 41mm (352 x 430 pixels) with 904 square meters of display area with rounded corners. The Retina display in this Apple Watch is always on with a 1000-nits brighter display, and the LTPO OLED technology brings unmatched clarity.
So, if you are confused about which Apple Watch 7 sizes will be correct, it can be said that you should consider the advanced display size that is best suited for your wrist. Well, some might argue that a larger stunning display and an increase in screen size on Apple Watch with flat edges brings in more detail. It is entirely wrong because, like smartphones, the screen size increase is optimized according to the interface. Some users prefer larger displays for refined designs on Apple Watch, while some prefer a more compact display –choose according to your preferences and wrist size.
If you choose 41mm Apple Watch 7 sizes, the height will be 41mm and width 35mm, while for the 45 mm watch on wrist the height will be 45mm and width 38mm –the depth of both these variants is 10.7mm.
However, for the 41mm variant, the weight of the one with the aluminum finish is 32 grams, while that for the stainless steel finish is 42.3 grams and 37 grams for the titanium finish. If you choose the 45 mm watch on wrist, aluminum will weigh 38.8 grams, 51.5 grams for stainless steel, and 45.1 grams for titanium finish.
Here are the best features regarding the advanced display –
Thinner borders and flat-edged design for more screen area
Rounded corners with a refractive edge for full screen view
User-friendly always-on display, personalized experience, and great readability in larger size display.
Two watch faces, namely Modular Duo and Contour, with a brighter display.
Features For Different Apple Watch Series 7 Sizes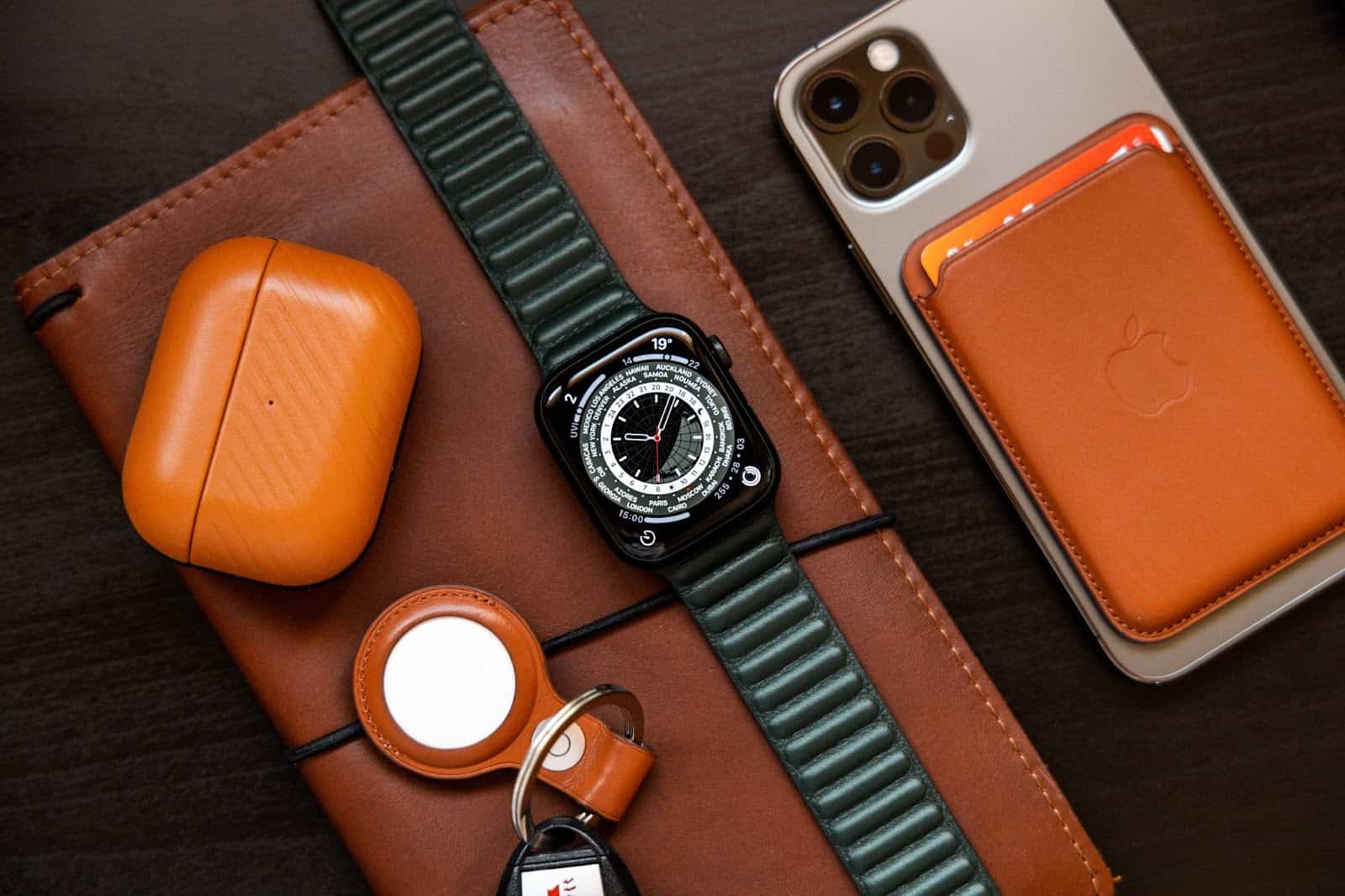 With 32GB capacity and thinner borders, the GPS + Cellular Apple Watch Series 7 has navigation satellite features like GPS, Galileo, BeiDou, QZSS, and GLONASS. Apple Watch Series 7 size 41mm and 45mm are water resistant. The water resistance is up to 50 meters underwater (suitable for snorkeling, shallow-water activities, and scuba-diving in both high-velocity water and shallow depth), and it also is dust resistance. Apple Watch's Accelerometer can detect falls with up to 32 g-forces, therefore having crack resistance for falls during different workout types.
Once you select the Apple Watch Series 7 sizes with refined design, check out the safety features like an altimeter that is always turned on, tools for health like the blood oxygen app measurements for blood oxygen level, and electrical heart sensor that are compatible with their respective apps, 3rd gen optical heart sensor (sending heart rate notifications) as health features and ambient light sensor.
Apart from the generic features like a compass, gyroscope, speaker, and microphone, the Apple watch has the GymKit fitness service for wellness purposes and healthy life. Users can work out and check the various tools for health with Apple Fitness+. It is the first fitness service designed around Apple Watch. You can maximize and measure your workout with automatic Workout reminders. You can track everything: cycling workouts, running, hiking, lifting, or excellent swimming performance.
In addition to the improved display, users will benefit from longer 18-hour battery life and 33 percent faster charging. Featuring the stronger, more crack-resistant front crystal ever, the Apple Watch Series 7 is the most durable Apple Watch to date. It also has emergency services like international emergency calling and Emergency SOS. However, there are no significant performance improvements yet, but speed is never an issue with Apple Watches.
Connectivity And Power For Apple Watch Series 7
Once you have chosen the Apple watch sizes series 7, you will be offered both cellular service LTE and UMTS connectivity (subject to network availability) for GPS + Cellular models. The 2.4 GHz and 5 GHz Wi-Fi connectivity and Bluetooth 5.0 support seamless data sharing with the Apple Watch. As for charge time and power, you will get the in-built Lithium-ion rechargeable battery. For a day, 18 hours of battery life with faster charging is guaranteed. Once the Apple Watch power is exhausted, use the magnetic USB C cable (fast power cords) for faster charging.
Apple Watch Series 7 Sizes Are Eco-friendly
Once you are done with the Apple watch sizing guide, you should understand the environmental factors. The Apple watch is energy-efficient and free of mercury, PVC, BFR, and beryllium. With responsible packaging, the watch features display glass devoid of arsenic. The aluminum used in the case, recycled tungsten used in the Taptic engine, tin used in SiP, and rare earth materials in the magnets are all hundred percent recycled and a hundred percent carbon neutral. Therefore, the materials will always be environment-friendly, no matter which size you choose.
Conclusion
With the U1 chip in the leather bands, the watch has a W3 wireless Apple chip and a dual-core 64-bit processor. Once you are sure about the Apple Watch Series 7 Sizes, check out the connectivity and other features that are not subject to the size of the display. You can also check the various customization options and aluminum case colors.
In terms of the all-new design, narrower borders, dimensions, weight, and color variants only, the size of your Apple Watch Series 7 will matter – follow your guts and choose what looks better on your wrist.