Key Takeaways
Any malicious content shared with you over the cloud platform is called Google Drive spam.
Google has introduced a block feature to block any user who sends spam messages.
Users should take care not to open any spam files or click on links inside them.
Anyone who has been using the internet for some time needs no introduction to phishing attacks and regular spam, as they are all over the web. These are not limited to spam emails but also take the form of Google Drive spam. Unfortunately, the cloud storage service with the best collaboration features had no option until recently other than deleting these spam items containing dodgy links as and when they came. But now, the good news has spread, much to the relief of billions of people.
Google has introduced a block feature to answer the question of 'how to stop getting spam on google Drive' as posed by annoyed individual users. The perfect solution comes from the ability to block nefarious users from the Google Drive interface itself. Every Google Workspace user can benefit from this feature release that controls spam attacks to an extent. If you wish for a comfortable experience working on the drive, you can enable Google Drive dark mode.
What is Google Drive Spam?
Like every other service on the internet, Google Drive is also exposed to spammy content affecting numerous people. A surge in porn spam is proof of how far the malicious users have gone with Google Drive spam. When people share cloud documents with you, there is no option to ask for permission. So, the file or folder gets the links into people's drive space.
When you receive a drive item, you get email and push notifications. Such notifications often catch people off guard. Thinking of it as a genuine share with a layer of legitimacy, you will open and fall for tempting links. Even if you remove the file, it will still be present in the Shared with me section.
One way to fight this kind of spam is to right-click on the shared file and select "Report Abuse" to report it to Google. Google saw scores of people reporting spam, but there were no concrete steps to find a solution. But the newly introduced feature has been of great help in blocking users who send spam. After the success of email spam filters, this is a welcome move.
How To Stop Google Drive Spam
You can block Google Drive spam whether you are logged in from your computer or mobile device. Remember that when you use Google Drive's block feature to avoid bad content, you are blocking that person's Google account altogether. Therefore, you cannot transfer ownership of Google Drive folder with the person again. But luckily, there is an option to unblock a user if you want to do it in the future. Here are ways to block/unblock a user on your PC and Android device.
Learn How To Block a User
Blocking a user ensures that you will not receive Google Drive spam from that person again. For that matter, your communication with the person over online documents will be cut off. So, be careful while using this security measure to combat abusive content. Let us see how to block a user on a PC and mobile phone.
How To Block a User on a PC
Open Google Drive on your browser and go to the Shared with me tab in the left panel.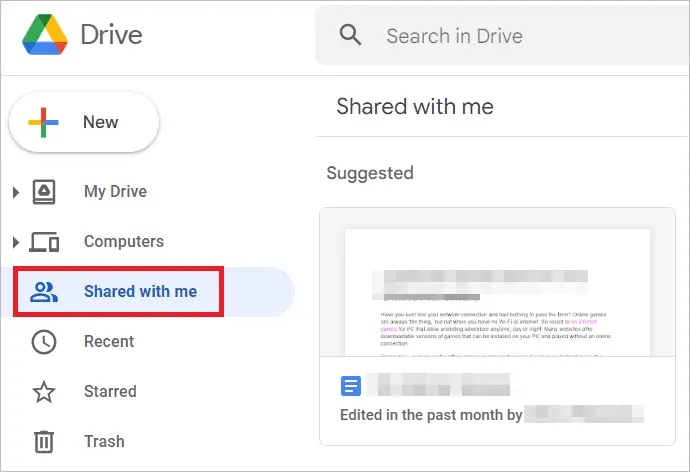 Right-click on the item suspected as spam, and select Block [email address].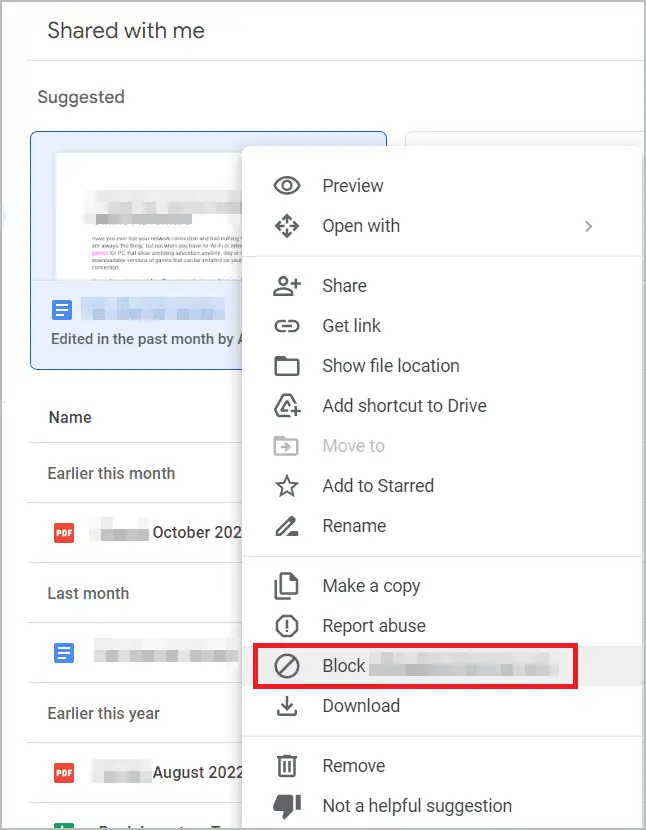 In the pop-up window asking for confirmation, click "Block."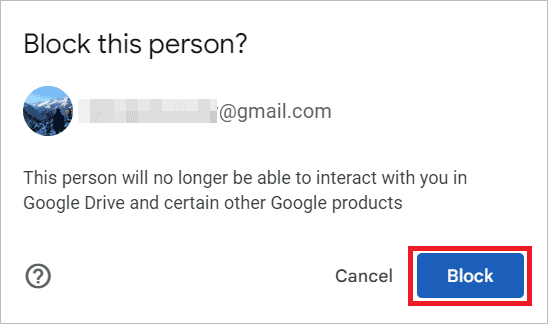 Now the user is blocked for you.
How To Block a User on Android Smartphone
Open the Google Drive app on your Android Phone. Select "Shared" from the menu at the bottom and locate the spam file. Next, tap on the three-dotted menu button near the file.
In the menu that opens up, select Block [email address] at the extreme bottom.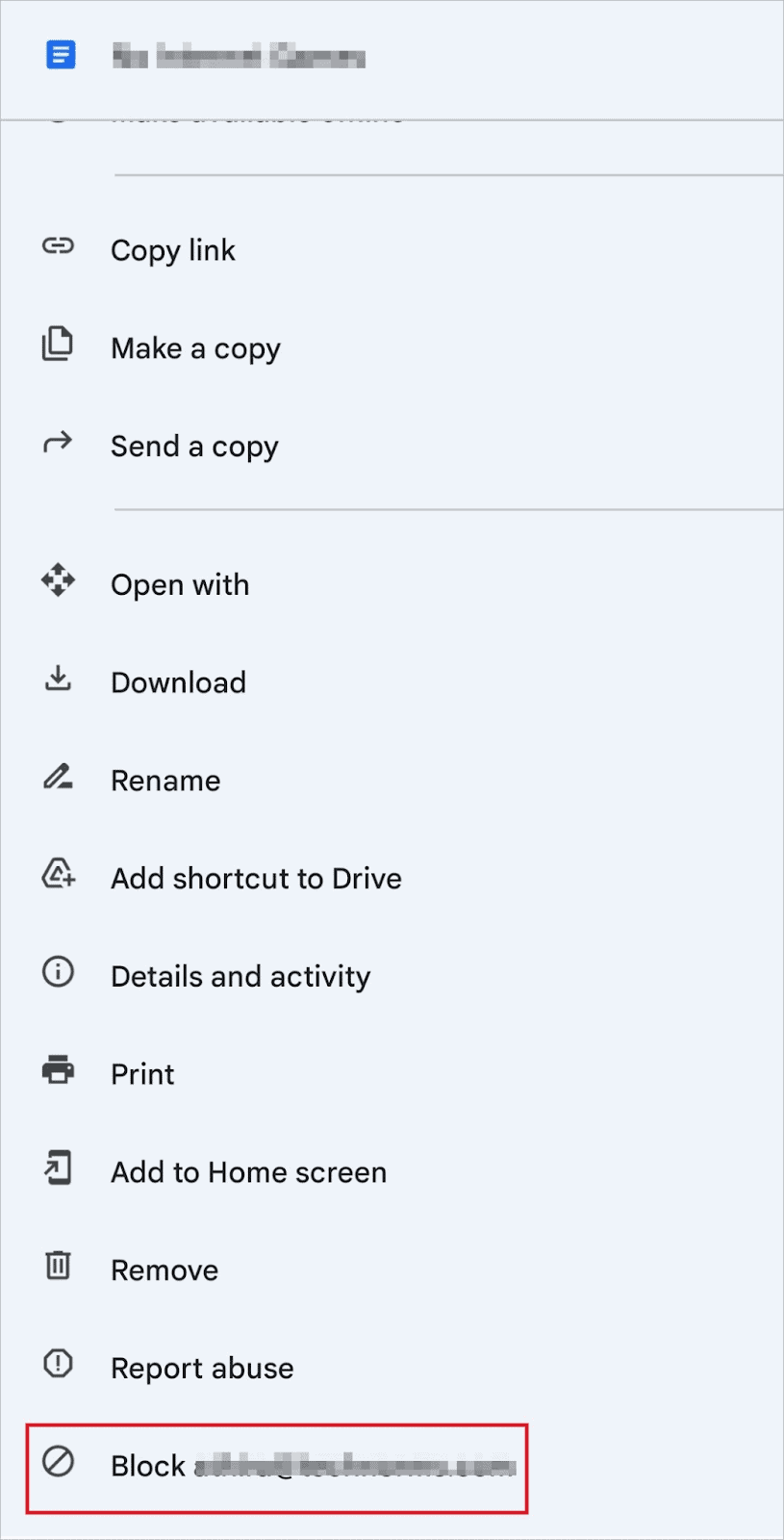 In the confirmation window, click "Block" to block the user.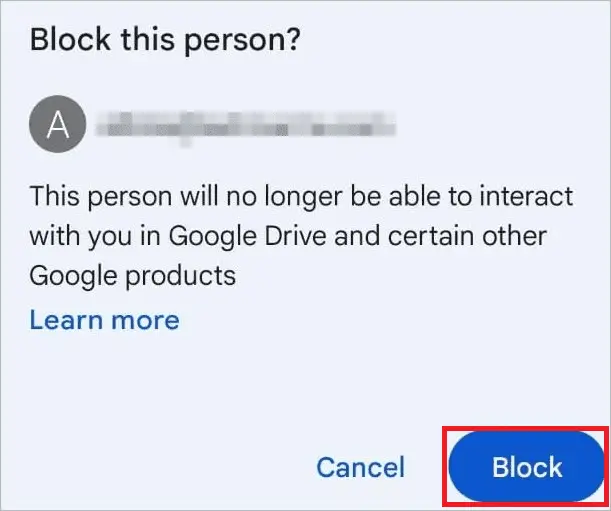 How To Unblock a User
If you blocked a user to stop Google Drive spam and want to reverse it at some point, Google provides an option to unblock the account. When unblocked, you can once again collaborate on the online file storage service. Check out the steps you can follow to unblock someone on your PC and mobile phone.
Unblock a User on a PC
Click on your profile picture in the top right corner of your browser, and click "Manage your Google Account."
In the window that opens, select "People & sharing" in the left menu and "Blocked" in the right under Contacts.
You can now see the users who are blocked. Click the X sign near the user you want to unblock.

Now, the particular user is unblocked and can share files with you.
Unblock a User on Android Phone
Open the Google Drive app on your Android Phone, and select "Shared" from the menu at the bottom. Next, tap on the profile picture in the top right corner.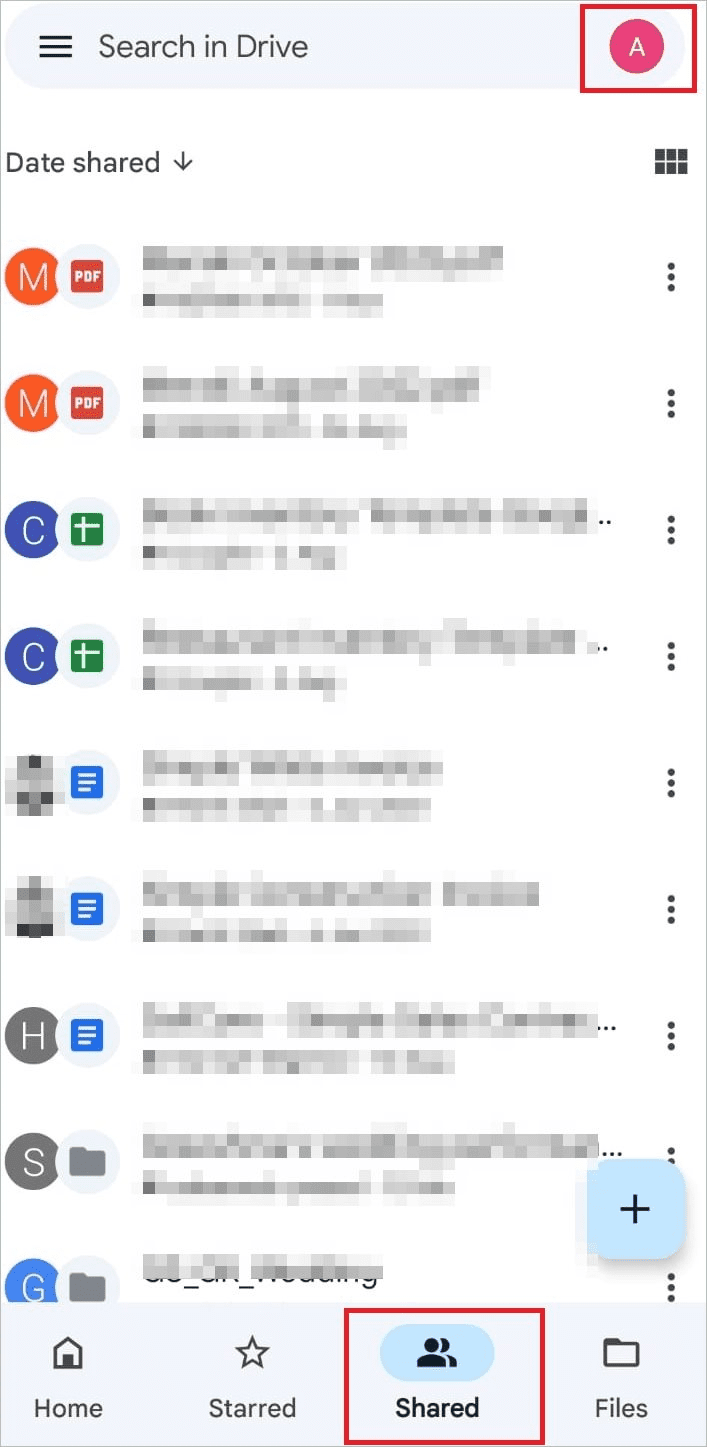 In the pop-up window, tap on "Manage your Google Account."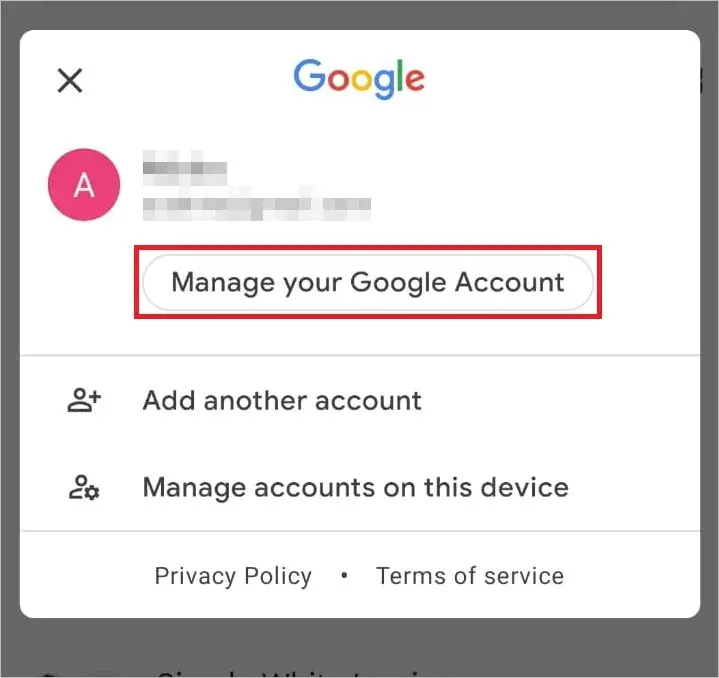 Select "People & sharing" from the menu items at the top. Next, scroll down and tap on "Blocked."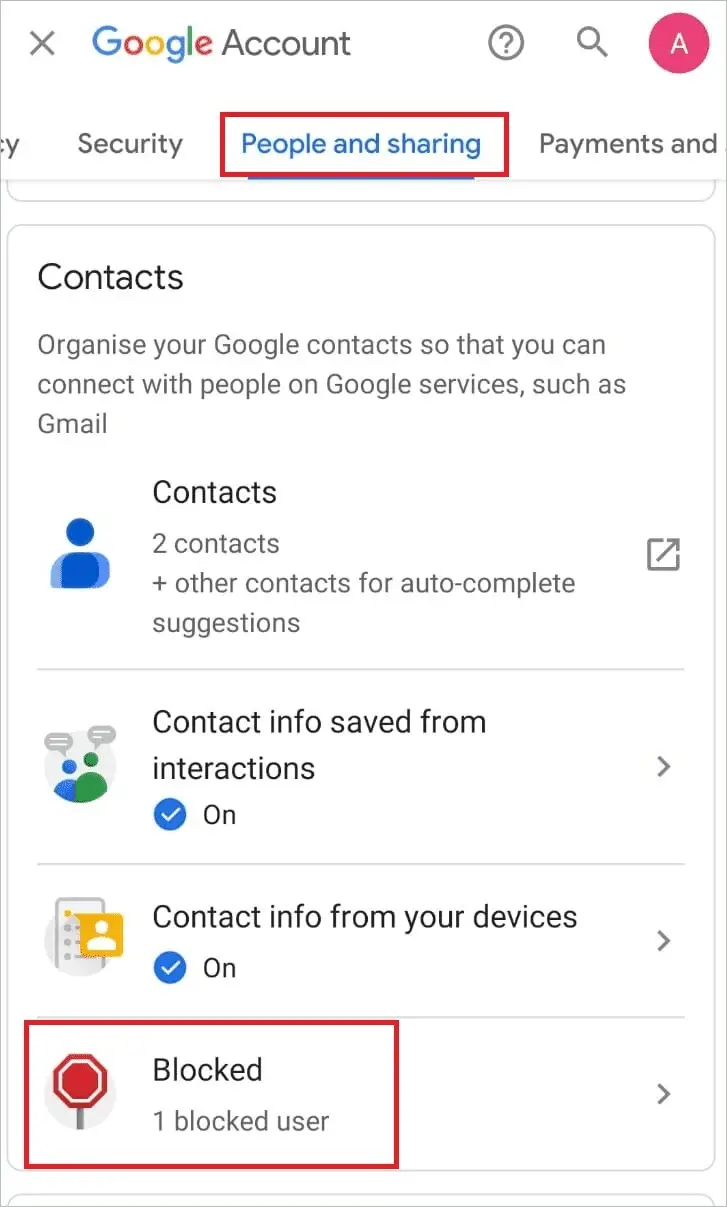 The blocked users will be listed here. Click the X sign near the user you want to unblock.
The user is now unblocked, and you can interact without any hindrance.
What Happens When you Block a User in Google Drive
It is not possible to block a user within your domain. So, you will not be able to block someone in your organization as it is assumed that the person will not send you Google Drive spam. The aftereffects of blocking someone in your Google Drive are given below.
A blocked user cannot share any more Google Drive items with you
The items under the ownership of the blocked person will no longer be shareable with you
If the person has shared files or folders with you previously, these get deleted automatically
All your items will be inaccessible to the user even if you have shared the same with the person before
Blocking someone would mean that you cannot interact with the person on other apps and services like Google Photos, Google Chat, and many others
The specific Google account gets blocked
Blocking in Google Drive will not block the email address in Gmail or phone numbers
You will no longer receive comment notification messages from the blocked person in Google Docs, Google Sheets, and Slides. However, you can subscribe to the notifications if you wish.
How to be Careful when Dealing with Spam in Google Drive
Keep these points in mind concerning Google Drive spam-
Do not open files and folders shared by unfamiliar sources
Never open unsolicited links unless you know their legitimacy
Refrain from accepting invitations from unknown sources
Organizations can use phishing simulation tools to create employee phishing awareness
Final Thoughts
Google mail has many security controls to keep a check on incoming spam, like email spam filters. In the first of its kind, Google Drive spam control has taken over to end the phishing threats like dodgy links that users receive. Both individual and business users can now use the block feature to prevent spammers from sending illegal content along with phishing scams.
As a responsible user, you may always keep an eye open for phishing campaigns targeting Google Drive lately. When you realize that some unwanted file or phishing link is shared with you, block the sender immediately without opening it or clicking any suspicious link for malicious websites. This will work to end the drive-sharing spam.