Key Takeaways
Google drive movies are available free of cost to anyone with a Google account.
You can find the movies using the Google search engines.
Once your favorite movies are found, you can add them to your drive or download them to your PC.
Watching movies has lately been a favorite pastime of many, now that one can have access to unlimited movie video files! How about watching Google Drive movies and that too free of cost? With the cloud service, you can share movies with your acquaintances or the general public over the internet. There are many online communities and sites where you can find such movies to download.
When you download movies on your drive, you can be sure of the safety it offers. The only condition is that you will need internet access and specific permissions to share and download content on the drive. If you add a shortcut to the movie on your drive, it can be found under My Drive and not on Google shared drives. You can watch it then and there or download it on your computer.
How To Download And Watch Google Drive Movies
The first step in downloading your choice of movie is to find it on the web. Once you have found the movie using the search engine, you can save it to your drive or download it on your system and watch the offline file later. Drive for Desktop is also a viable option for watching movies offline. Let us delve deeper into the whole downloading and watching movie adventure.
How to Find Movies on Google Drive and Play Them
There are two methods to find your favorite Google Drive movies. First, you can use a general search term in Google to list all the available movies. Or, you can specify the movie name and hit the search button. Here are the steps to find Google Drive free movies.
Type "site:drive.google.com movies" in the Google search engine to get the movies shared publicly. Then, click on the link that says Movies – Google Drive.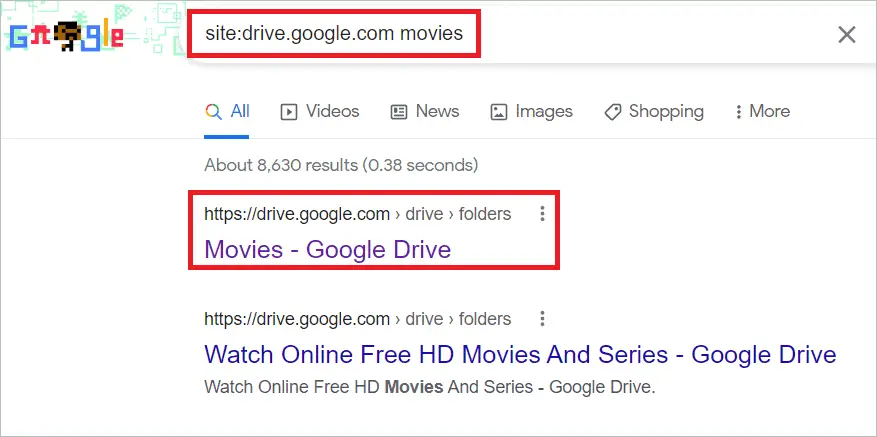 You will see a list of movies. Click on anyone to open it on the player screen.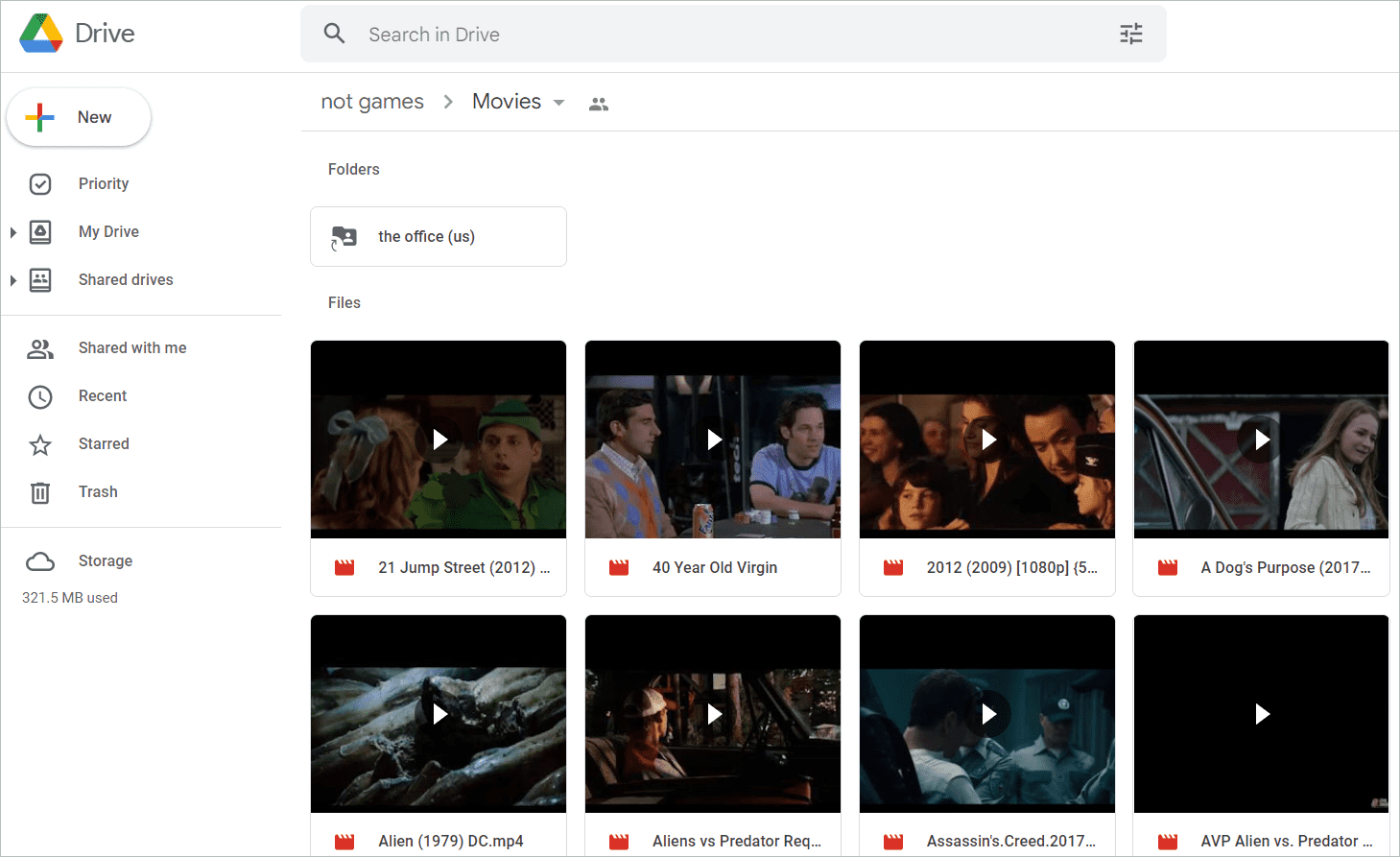 You will see a Play button. Click on it to start playing the movie.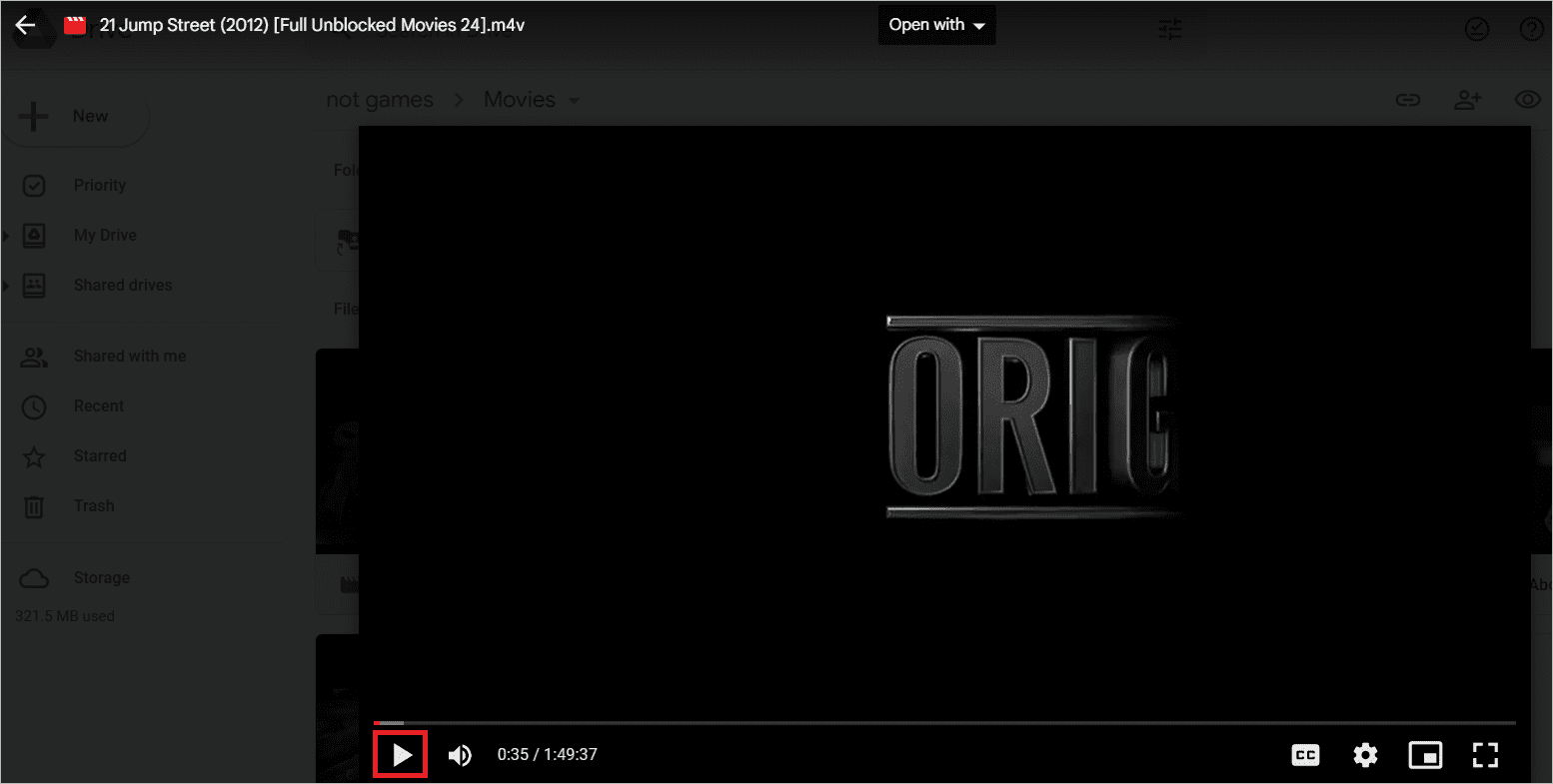 You can also type "site:drive.google.com [movie name]" to specify the name of the movie you want to watch and get the individual file.
If you are lucky, a link to the movie will be listed in the search results. Click on the link to open the movie and play it.
How to Add Movies to your Google Drive
You can add Google Drive movies to your drive so that it is always available for viewing. So, any time you want to watch them, there is no need to go to the search engine. Find here the steps to add a movie to your drive.
Find your movie using the first method and go to the player screen. Next, click the Add shortcut to Drive icon on the top right.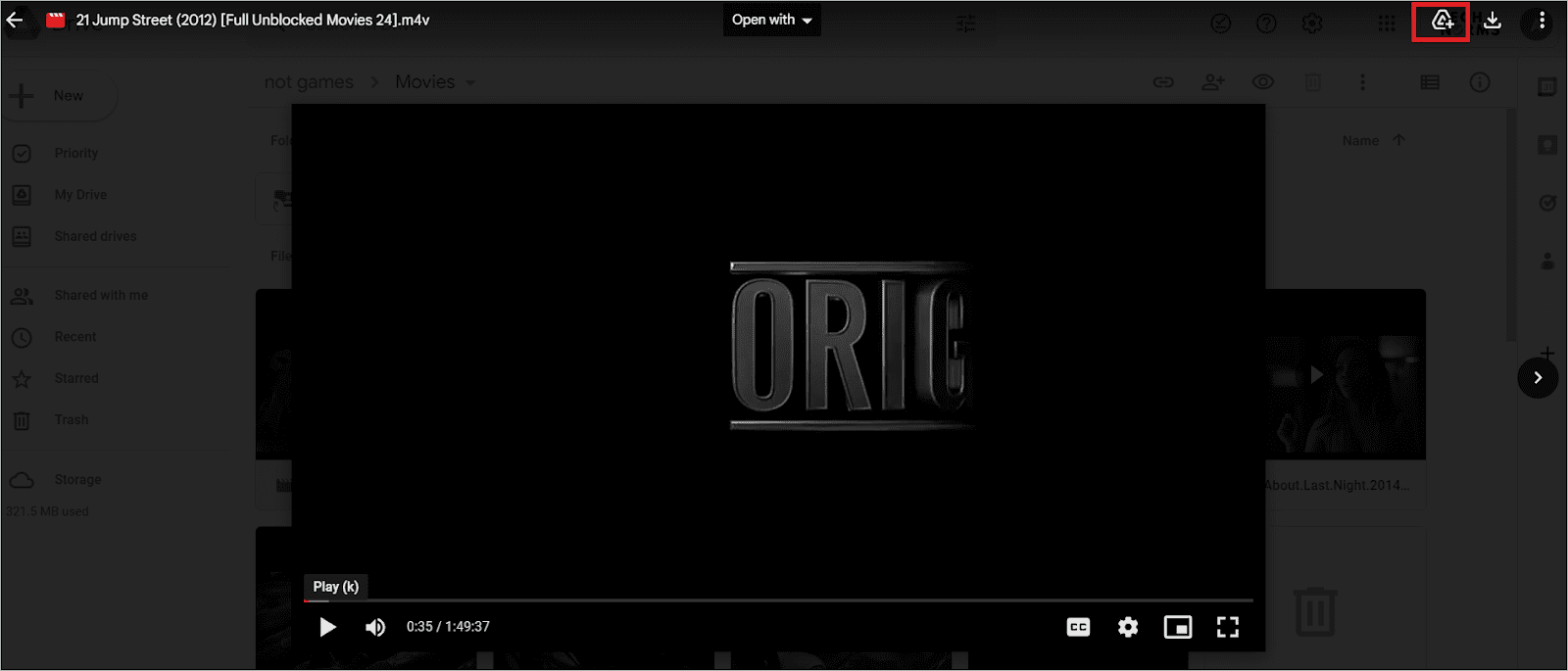 Choose a location and click "Add shortcut."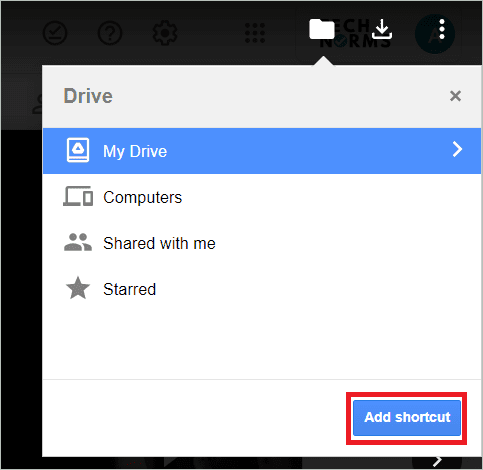 Once you have added a movie to your drive, you can open the shortcut on your drive on the PC or the Google Drive app on your Android device to watch it.
Open the Google Drive app and locate the shortcut by typing the search term in the drive search field. You will find it among the files in drive. Then, tap on it to start playing the movie.
If you want, you can download it later to your PC.
Right-click on the movie you added to open the additional options menu. Select "Download" from the context menu and give a location to save it on your computer.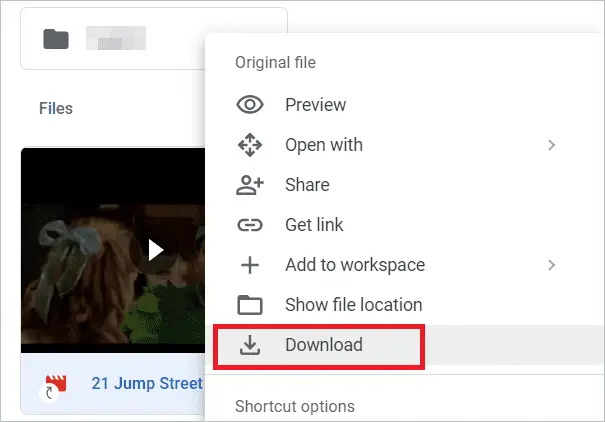 Note: If you want to download multiple movies added to your drive on the PC, press Ctrl and then select the files to download. You could get a "quota exceeded" message when you try to download a movie due to more people downloading it.
How to Download Google Drive movies
When you have downloaded versions of Google Drive movies, you can watch them anytime, even offline. Even though this takes up your disk space, it is a good option if you regularly watch selected movies. So let us see how you can download free movies on Google Drive and watch them whenever you wish.
Find your movie using the first method and go to the player screen. Next, click on the Download icon on the upper right side of the screen.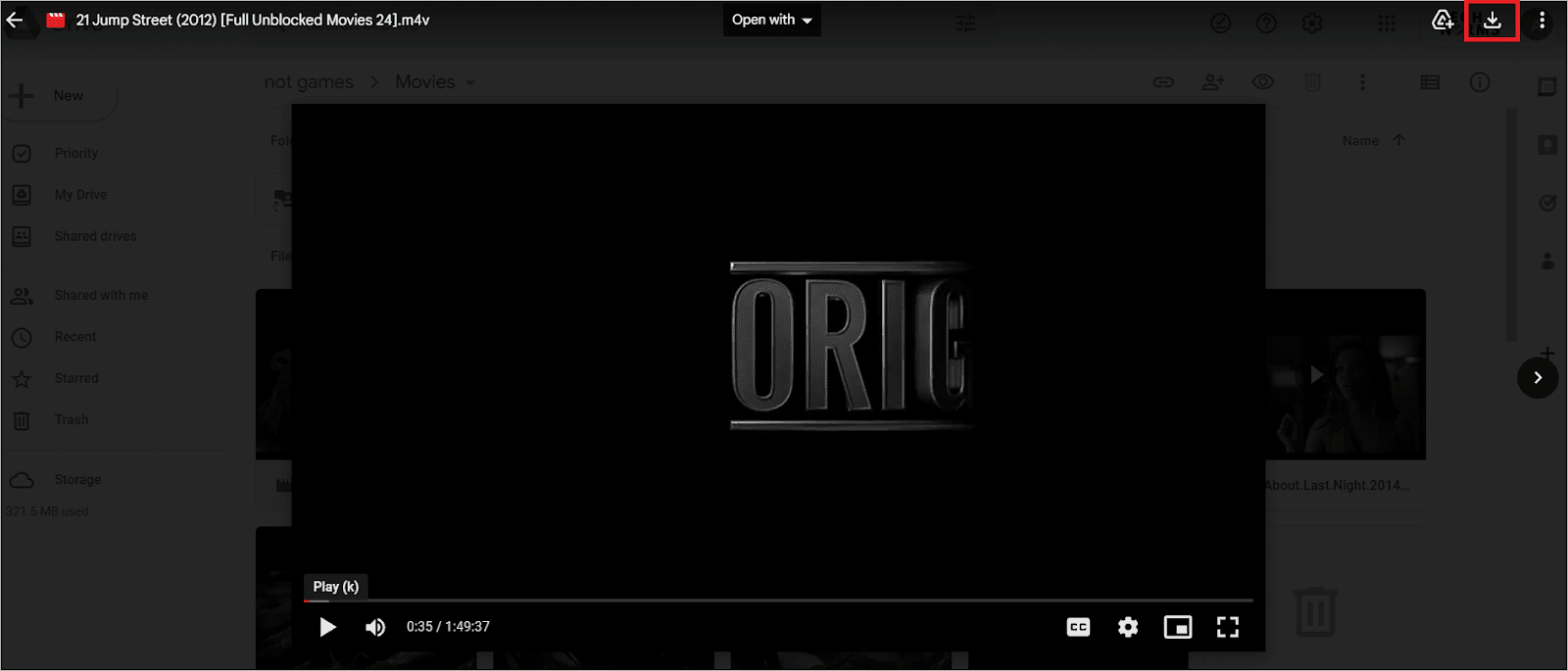 Now, the movie is downloaded to your personal storage space.
On your mobile device, find the movie using the mobile browser and tap on it to open it. Then, tap on the Download icon to download it to your device.
How To Download Drive for Desktop
Google Drive for Desktop is the desktop client for Google Drive. When the application is installed on your computer, it will sync automatically with your Drive. So, whatever changes you make on the cloud will be synced with the app. For example, if you have added shortcuts to Google Drive movies, they can also be played from the desktop app.
Install Drive for desktop by clicking on the Download Drive for desktop button.
Once you have downloaded the app, you will see the Drive icon on your desktop. Double-click on it to view your drive file list.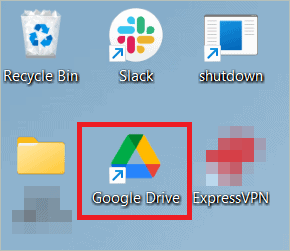 Locate the movie, and right-click on it to see the menu of options. Select "Open with" and select the app on which you want to play the movie. You can choose your default video player or another from the list. This method lets you play the movie even if you are offline.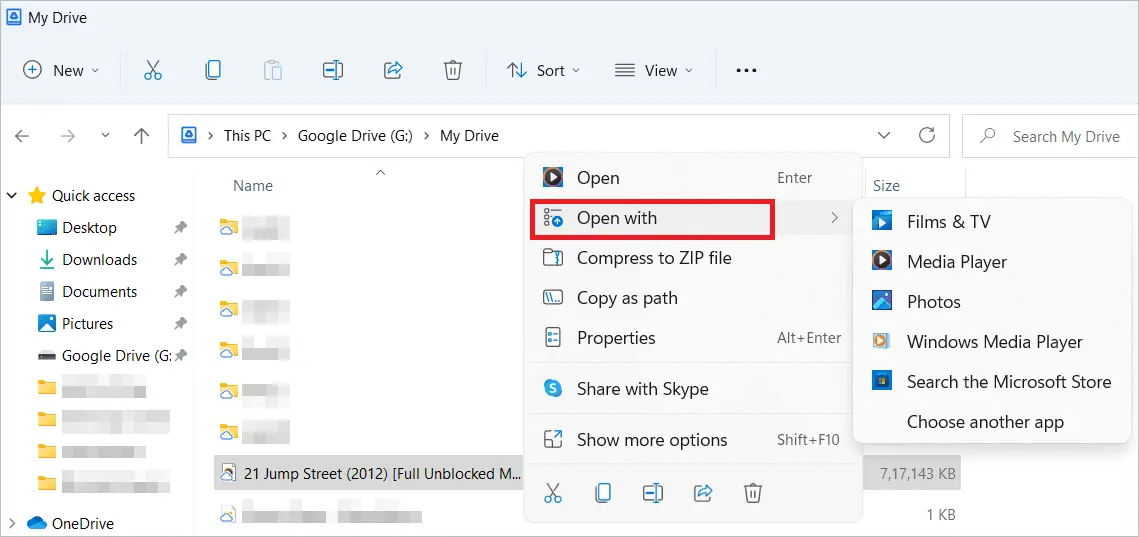 Note: You can download the VLC player and play your movies on it instead of the desktop media players. The advantage is that the feature-rich media player supports several digital media file formats.
Final Thoughts
Downloading and watching Google Drive movies is a pretty straightforward process. There is no need for Google TV or Google Drive extension. All you need is a stable internet connection and an active Google account. If you know how to find the movies, then there is no limit to how much fun you have watching all your favorite movies.
When you download files, keep an eye out for suspicious files. Trying to get a copy of these will result in a warning message. Also, not all movie files may be available for download. You will have to explore the Google Drive movie collection to find out what is in store.