There are many smart TVs available in the market, and Android TV stands apart with the Android OS. Besides streaming games and watching shows, the TV lets you browse the web. But the unavailability of a pre-installed browser on your Android TV makes you search for the best browser for Android TV. We believe your TV web browser must be as intuitive as the browser on your PC.
You will find many compatible browsers that work well with the Android TV operating system. But not all are available on Google Play Store. As a result, the pages will not be optimized for a TV screen. But the sideloaded Android TV apps will have all the basic features that make them usable on your smart TV.
15 Best Browser For Android TV
Android TV users can get many dedicated Android TV web browsers here that can be downloaded from the Play Store or sideloaded from a third-party website. But we promise that the best browser for Android TV you choose will deliver the best results as far as your browsing journey is concerned. If you just have a regular TV, use an Android TV box to make it a smart TV and enjoy the browsing experience. So, dive into the list of the best browsers for Android TV.
1. Puffin TV
Puffin TV browser is the best browser for Android TV, specially tailored for it. Many users prefer it as it works with Android TV remote, making navigation easier. Moreover, it has a version designed specifically for Android TV where the interface works at its best to deliver fast results.
Creating QR codes and sending them to the TV is one way to reduce the time consumed in typing URLs to search. You can also use the search bar on the home page of the Puffin browser if you prefer typing. The interface has cards depicting apps and shows, so finding the one you want is just a matter of scrolling through.
The free evaluation comes with ads and can be used for only an hour daily. You can get a paid subscription to the app on your Android TV if you want to enjoy all its smart features.
2. Mozilla Firefox
The fact that Mozilla Firefox is unavailable on Play Store may pull you back, but not if you get to know its features. You can sideload Firefox for Android TV and use all the browser extensions on it. In addition, the browser prioritizes user privacy so that you can take advantage of it.
Getting the TV version of Firefox on your Android TV enables syncing the Firefox account. So anything you have saved, including passwords and bookmarks, become available on the home page. The browser has many features like cookie blocking, ad blocking, password management, and more.
3. TVWeb
The best browser for Android TV need not have all the features in the world. TVWeb is a simple browser with limited features, but being an exclusive Android TV app makes it to our list. Moreover, it is fully compatible with Android TV, with navigation being possible with the Android remote.
You can access your history, bookmarks, and search engines from the left-hand menu of TVWeb browser. Features like bookmarking, voice search, and customizable search engines make TVWeb different from other browsers. Customized for Android TV, the interface allows you to access what you want within seconds.
TVWeb web browser tool is free for all its users.
4. Google Chrome
A popular browser like Chrome may not be the best choice as a browser for Android TV box as it is not available in Android TV Play Store. But you can install it using a third-party app store or get a copy of Chrome APK. Whichever you choose, we admit that installing Google Chrome on Android TV OS is worth it if you have a Google account.
People who always use Google can make maximum use of the Chrome browser on Android TV as they can access bookmarks, search history, and more by signing into the Google account. This brings your preferred content to your fingertips without any delay. However, remember that the Android TV remote may not work with the browser.
5. TV Bro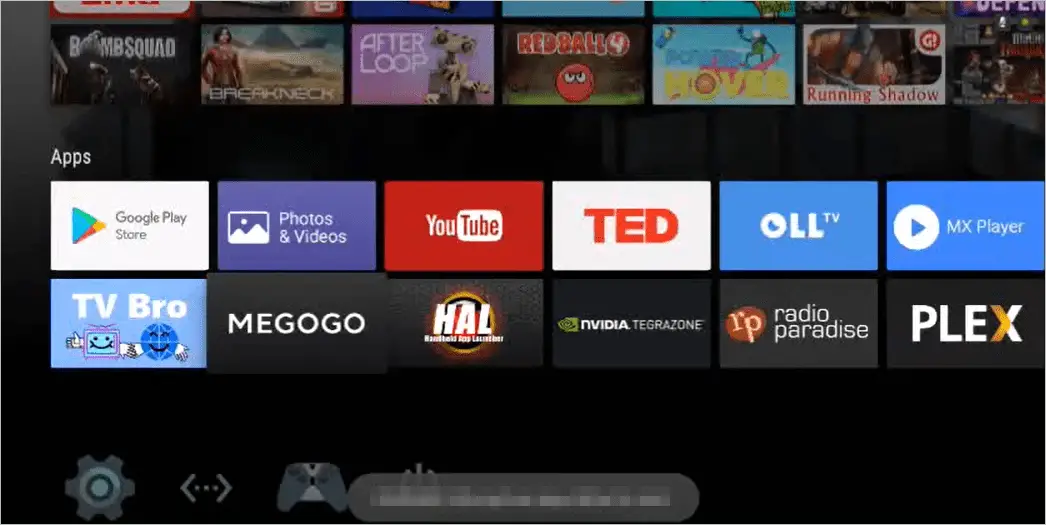 TV Bro is the best browser for Android TV if you are used to plenty of supported features. It is available in the Play Store for download and is designed to give a seamless browsing experience on your Android TV. In addition, it is open source, meaning you can actually code in there.
Talking about the features of TV Bro, it comes with a download manager. It also features tabs, voice support, bookmarks, shortcuts, and more. Your browsing history is saved so that you can get a personalized experience each time.
TV Bro web browser, specifically designed for your Android TV, is absolutely free to use.
6. Samsung Internet Browser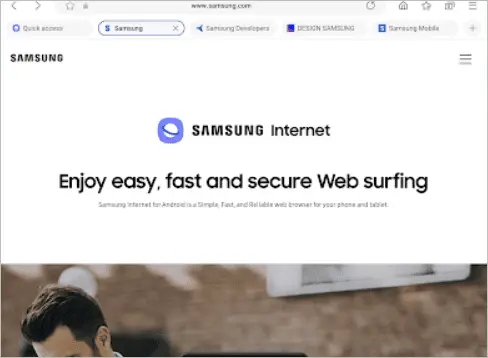 Whether you own a Samsung Android TV or not, Samsung Internet Browser will amaze you with its top-grade features. It has a built-in ad blocker which makes loading sites faster. There is a high contrast mode that gives superior-quality pictures on your smart TV.
Some brands of Android TV make the browser compatible with Bluetooth mouse and keyboard. As a result, searching for your favorite apps, shows, and sites becomes super effortless. In addition, Samsung Internet Browser has features like a customized menu, video assistant, extensions, and many more. The good news for people having Samsung Android TV is that the browser comes pre-installed.
7. DuckDuckGo
If privacy is your top concern, look nowhere else than DuckDuckGo. You may call it the best browser for Android TV, including most features that made it a hit as a smartphone browser. In addition, it claims that your personal information will be safe, irrespective of what websites you visit while browsing.
DuckDuckGo blocks trackers for you, so no data is collected. Unlike other browsers, it doesn't keep track of your search history, thanks to the history-clearing feature to clear the browsing history automatically. The only drawback is that you won't get the browser for your Android TV on Play Store. You can get the APK file at any time and install it.
8. Kiwi Browser
Kiwi browser is fast and quiet; that's what the developers claim. And we must believe what they say because Kiwi is indeed fast on an Android TV. Moreover, it has an impressive ad-blocking feature, creating a focused and quick browsing experience. The user interface is also designed to facilitate the same.
Like DuckDuckGo, Kiwi also gives priority to users' privacy. You can adjust the privacy settings to enjoy a private session. In addition, it supports many Chrome desktop extensions. So, if you use these on your other devices, you can also use them on your Android TV. With the dark mode and the built-in translator app, Kiwi is not behind in offering useful features.
9. Opera
If you want the best browser for Android TV that loads sites at lightning speed, Opera is the one. Its Android TV version is optimized for the TV specifications. It has a speed dial feature that stores all your favorite websites with a single click to add pages.
The light interface of Opera is easy to look at and navigate. Users opine that many sites work best in the browser than in others. It works with a TV remote with D-pad. You must sideload the browser as it is not available otherwise. But note that the version we have included only works with Sony Android TVs.
10. Vivaldi
Vivaldi is another private browser with a simple interface with all the necessary features. The tab management system, ad blocker, and private translator are smart features that contribute to a seamless browsing experience. It is also a browser that supports many customizations.
Vivaldi is a private and secure browser because it does not track your browsing behavior. Nor does it allow other trackers on the internet to peek into your browser. You can get it by sideloading and using a keyboard and mouse to browse the internet.
11. Brave
The best browser for Android TV guards users' privacy, and Brave browser falls into that category. It works super fast with an ad blocker to avoid disturbing ads. The Form autofill and password manager are features of Brave rarely found in other browsers. It also has a pop-up blocker to keep the distracting pop-ups away.
Brave lets you earn rewards if you are using Google services on Android TV. With the new night mode, you can change the look of the sites to enable readability at night. You must sideload the APK file to get the browser installed. Many versions are available for download, each suited to different TV models.
12. Amazon Silk
You can easily guess that the Amazon Silk browser works best with Fire Sticks and Amazon smart TVs. The good news is it works with Android TV if you sideload the APK file. Streaming online content becomes absolutely possible with the Android version, but all the features may not work.
That said, you will still be able to enjoy many features, including Alexa, the voice assistant. You can give commands to Alexa while browsing, and it will fetch what you requested. Additionally, you can add bookmarks, access media, and find out the content that interests you.
13. Microsoft Edge
If you have a Microsoft account, Edge is the best browser for Android TV you can get. It is available on the Play Store. As you must be aware, it works excellently on a PC. You can also get most of its features on Android TV. So, browsing on your TV is more fun now.
Features like adding your favorite sites to your Favorites and ad blocker to block annoying ads are available on the Android TV version of the browser. When you sync with the Microsoft account, you can access most of your settings and data on the TV.
14. Open Browser
If you are still in search of a browser that gives you more features than a regular Android TV browser, use this browser called Open Browser. The home page has a quick link section to get to your favorite sites quickly. You can also search using the search bar for your favorite content.
An exciting feature available in Open Browser is the live TV channels you can watch free of cost. You will also find many games which kids and adults can enjoy. To add to it, there is an incognito mode and a download manager. But there are ads that interfere with your gaming and other sessions. So, you can decide for yourself.
15. Odin Browser

Odin is the best browser for Android TV that gives you a browser experience similar to a PC. Like Puffin TV, it has a dedicated Android TV version. It lets you open more than one tab for opening multiple sites at the same time. It comes with some popular features like an incognito mode and bookmarks support.
You can view your browsing history in Odin Browser by opening the browsing history page. You may use the Android TV remote or an external keyboard and mouse if you can work faster with those. The zoom functionality is also a notable feature of the browser optimized for Android TV.
You will get Odin for your Android TV for free.
Final Thoughts
Android TVs come with several unique functionalities that make them more popular than others. To make complete use of its internet browsing feature, nothing less than the best browser for Android TV will suffice. You may consider many factors before deciding which one is for you.
The choice of the best web browser will vary depending on how long and how deep you browse the internet. If you are a casual internet user, you can choose one with the basic functionalities; else, go for the feature-rich ones. As Android TVs don't ship with a dedicated browser, consider one from our list of best Android TV browsers.