It happens to the best of us. When we're caught up in a moment recording a video on our tablets or smartphones, we don't realize until afterward that we shot it the wrong way. The video is now sideways or at another rotation and may have diminished the magic of that moment. It can ruin a video in some cases but it doesn't have to.
Luckily, there are several ways out there to rotate a video, and we'll show you how to do it just to watch it the right way and how to save it permanently with the help of VLC and Windows Movie Maker. This can be an essential way to share a video with others or just watch it the right way on your PC or mobile device. Let's get started.
Note about Windows Movie Maker: Unfortunately, Windows Movie Maker that was a part of Windows Essentials 2012, has been discontinued by Microsoft and is no longer available for official download. Microsoft further warns that you may find websites offering free download for the tool but they are not the real thing and contain malware, viruses and other threats or hidden costs. 
If you still want to use a Microsoft app for making movies then you can try the Photos app that is a part of Windows 10. With its latest version, you can create and edit videos, add music, texts, motion, filters, 3D effects. You cannot rotate videos using the Photos app. 
However, if you already have Windows Essential 2012, you can follow the instructions given in the section of Windows Movie Maker that explains you the process of rotating a video in the app. We also have some good recommendations later in the article for you if you are looking for some good alternatives to Windows Movie Maker. 
How To Rotate A Video Temporarily Using VLC
If the rotation of the video doesn't really bother you and you want to show someone it, you can do so using VLC Media Player. VLC Media Player lets you rotate a video, but it doesn't let you save it that way. As long as you watch it in VLC, you can see it the way you rotated it but if you open the video elsewhere, it'll still be the wrong orientation.
We are using VLC Media Player version 3.0.8 for these instructions. They may vary if you are using an older version of VLC. VLC is currently unavailable in a Windows 8 app form, but VideoLAN is trying to change that.
Open your video in VLC Media Player. Once opened, click on Tools.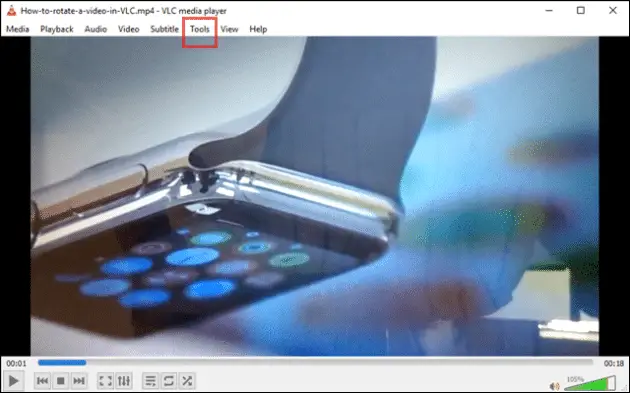 Then, click on Effects and Filters.
Click the Video Effects tab, then click on Geometry.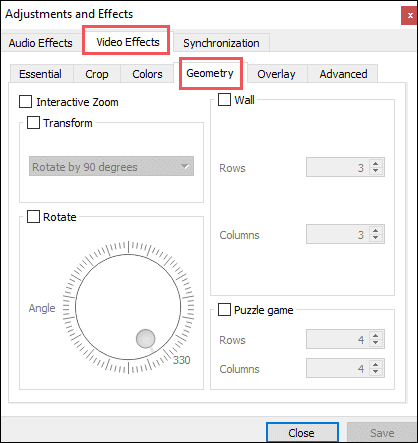 You can rotate your video in two ways: Transform or Rotate.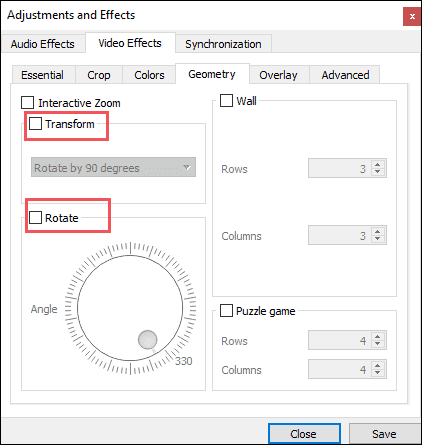 Transform allows you to utilize pre-sets to rotate your video, such as rotating it 90, 180 or 270 degrees or even to flip it horizontally or vertically.
Click Transform, then click the desired effect.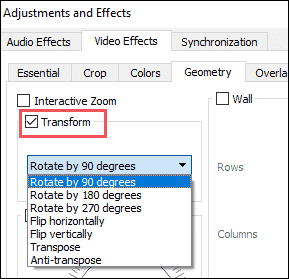 Your video will automatically adjust which you'll see in the background.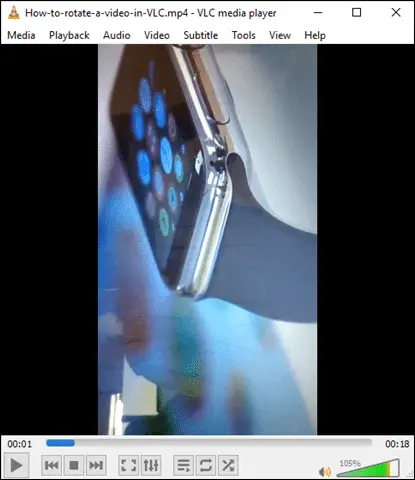 If you want more control over rotating your video in VLC Media Player, click Rotate instead.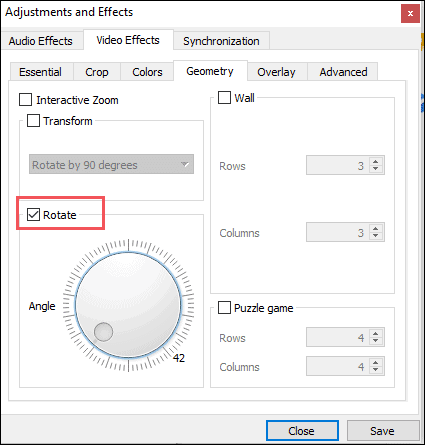 This will allow you to choose the exact angle you want to rotate the video to for optimal effect.
Again, as you make the rotation, the video will change to match up.
When you've rotated your video in VLC Media Player and found the right rotation, click Close and you'll be able to watch the video as you set it.
If you close VLC, you'll need to reset the rotation to where you had it if you want to watch the video again.
That's where using Windows Movie Maker comes in handy. With Windows Movie Maker, you can save the video to your desired rotation.
Permanently rotate a video with Windows Movie Maker
If you want to share the video or are just obsessive compulsive and need the video to be upright, you can use Windows Movie Maker to rotate it to the right direction and save it that way.  This is the best way to permanently rotate the video for sharing it with others, saving it for yourself or just to have the proper orientation for your video.
If you don't have Windows Movie Maker on your PC, you'll want to install Windows Live Essentials to have access to it.  You can learn more about Windows Live Essentials with our guide.
Open Windows Movie Maker. Drag and drop your video into the program or use the "Add videos and photos" option in the Home toolbar.

Once added, scroll to the right to the Editing options within the Home tab.

Click on "Rotate left" or "Rotate right" depending on the original orientation of your video.
These changes will take effect immediately.
You can continue rotating until you find the right orientation for your video.
When you've rotated your video properly, click on the "File Icon" in the top right-hand corner of Windows Movie Maker.
Now, click "Save movie."
Windows Movie Maker gives you a variety of ways to save your video. The easiest way to do so is to save it "For computer."
However, if you'd like to save it in another format for sharing, you can hover over each option to see what type of settings it'll have once saved.
Once you've chosen your format, you'll be prompted to save your video somewhere on your PC.
Depending on the size of the video, it may take a few seconds to minutes to save it.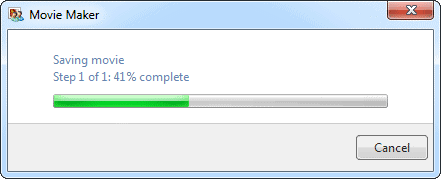 When finished, Windows Movie Maker will give you the option of viewing the video immediately, opening the folder where you saved it or closing the save options.

You now have a permanently rotated video to watch, share or further edit as you see fit.
Alternatives to Windows Movie Maker
What if you don't have Windows Movie Maker when you want to rotate a video? There are some excellent online and free options that make rotating a video a breeze. These tools are not as great as Windows Movie Maker since they come with limited options, you can still consider them if you specifically want to rotate a video and nothing more than that.
Ezgif
One of the good options to rotate videos on Windows 10 or even other operating systems is this online video editor Ezgif. Whether you want to flip videos horizontally or vertically, rotate them 90, 180, or 270 degrees, Ezgif is a master tool that supports popular video formats including MP4, WebM, MOV. Make sure when you rotate videos on Ezgif, the file size is not more than 100MB. 
How to rotate a video using Ezgif
Go to Ezgif video rotator. Under Rotate video, you can either select a video file from your PC with Choose File button or paste a video URL that you want to rotate. Once you have selected the video, click on Upload video! that will load your video to the site.
Next, select your rotation preference Flip (vertical), flip (horizontal), rotate 90 degrees, rotate 180 degrees, rotate 270 degrees.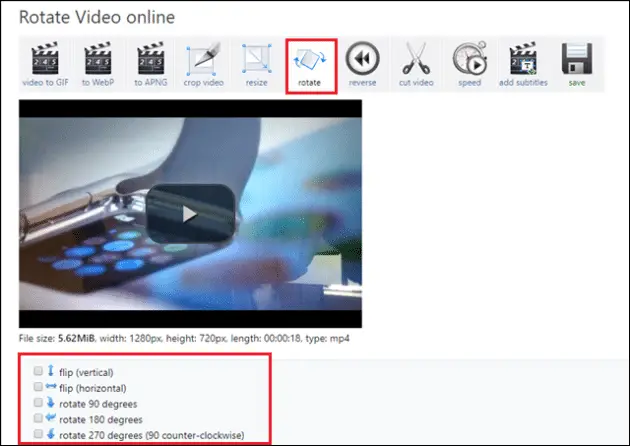 Once you have decided your rotation or flip angle, click on Rotate video. This will show you how your video looks after rotation.
Finally click on Save to download your rotated video.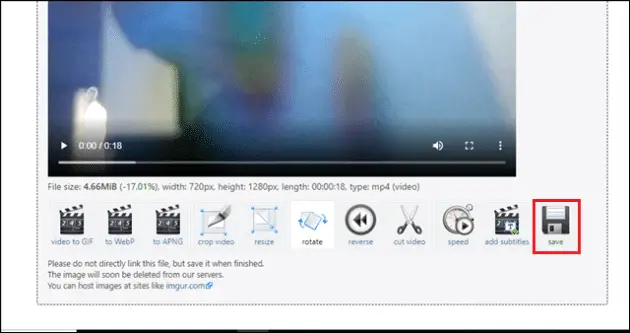 Other Good Online Alternatives to Rotate Videos
Rotate Video.org
Wondering how to rotate a video? We have got you covered with this amazing alternative to windows movie maker to rotate videos on Windows 10 or any other platform. If you have a movie or a video that is shot with wrong orientation, you can easily rotate it using Rotatevideo.org. The process is simple; you have to select a file from your PC or enter a video URL and select your Rotation direction. 
Video Rotate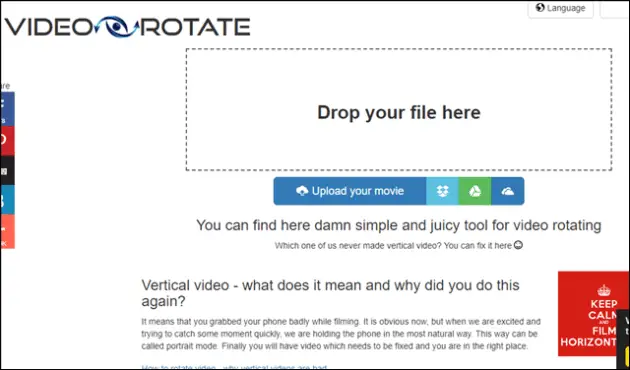 It is so easy to be holding your mobile at a wrong angle while shooting something incredible! That does not mean your awesome video needs to be tilted forever. Video Rotate is a perfect fix for your badly filmed video. 
Drop your file directly from your PC or upload it from the Cloud services like Dropbox, Google Drive or OneDRive. No matter where your video is stored, upload it to Video Rotate site and get it perfectly oriented to watch it with a suitable angle. 
Rotate my Video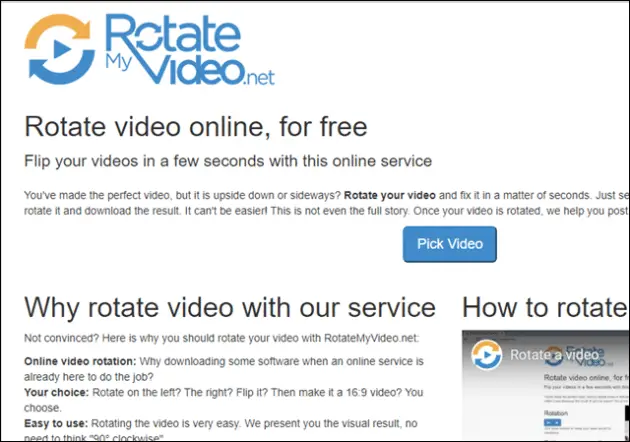 Another great Windows Movie Maker alternative to rotate videos on Windows 10 is Rotate my Video. Rotate my Videos gives you many reasons to go for it like its easy to use interface, options for sharing the video on Facebook and YouTube, and security. 
Your videos are private with Rotate my Video as they get automatically deleted from the servers of this online tool. 
What's The Purpose of Rotating A Video?
Rotating a video can come in handy if you shot it wrong to begin with and want to watch it comfortably. If you were going for an artistic effect, you may want to leave it the way it is but if you want to change it permanently, using Windows Movie Maker on your PC, if available, is the quickest way to do so. 
If you don't have Windows Movie Maker, one of the online services mentioned here ought to do the job for you. If you just want to watch the video, go with VLC and save yourself the hassle of having to edit the video. Either way, you can quickly rotate a video to your liking using any of the options above. 
Updated on 8 November 2019
SEE ALSO: Plex Media Center Is An Awesome Alternative to Windows Media Player