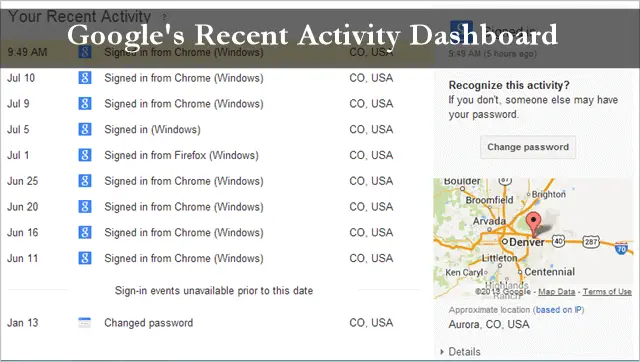 Every so often Google adds something useful to its Dashboard. The "Recent Activity" addition to the Google Dashboard helps you find patterns that could indicate security loopholes in your Google Account by monitoring your Google Account login pattern. We'll show you how to use Google's Recent Activity Dashboard to keep your Google Account secure by keeping an eye on you login details.
Privacy should be a top concern for every Internet user. Google takes privacy seriously and has worked tediously to ensure that user's Google Accounts aren't not only secure but stay private – unless you choose otherwise. The Recent Activity Dashboard helps users see just where they log in from, what they're logging in from and helps them identify potential security and privacy intrusions.
Remember: If you think something is off with any of your Google Accounts or Services, changing your password immediately should be your first step. While tools like the Recent Activity Dashboard are useful if you ever think you've been hacked, phished or otherwise compromised, change your password first, then investigate the cause of the intrusion.
Monitor Your Google Account Login History
Log into any Google Service you actively use.
Then, click on the "Drop Down Arrow" next to your account picture.
Now, click on "Account."
In the left-hand menu, click on "Security," then click on "Recent Activity."
You can also access the Recent Activity Dashboard directly from this link.
You may or may not be prompted to login to your Google Account again. If prompted, enter your e-mail address and password to continue.
If you aren't prompted, you'll be redirected to the Google Recent Activity Dashboard.
The first thing you'll see, other than the Recent Activity Dashboard itself, is a highlighted link to change your password if you see something odd.
If you, even for a second, think something is off. Don't ignore your gut instinct when looking at the data presented in the Google Recent Activity Dashboard. Change your password. Use this link to do so.
It'll direct you to enter your current password and your new password. You'll also need to confirm your new password to continue.
This will reset your password as well as log you out of all Google Services.
Now, back to the Recent Activity Dashboard.
Your Recent Activity lists all your logins to Google Services in general, along with the time if it occurred the same day you're looking at the Dashboard and the general location.
It'll tell you what browser or OS you logged in from, too.
To the right of that, you'll be able to click on anything in Your Recent Activity to get more details, such as exact time, approximate location based on the IP address, browser type, and platform. You'll even be given the full IP address for the login.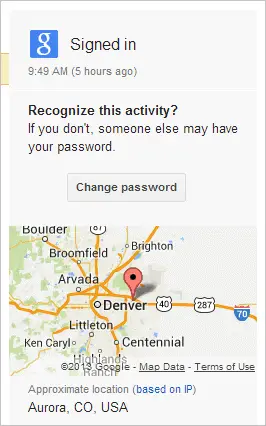 Since the Recent Activity Dashboard only just launched, you won't have too many details available, yet. But it will keep track of every login going forward for your Google Services.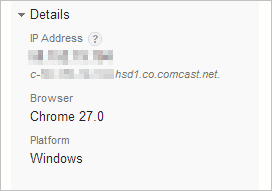 This can be a powerful way to stay on top of your google account logins, especially if you notice something fishy may be happening, but can't quite spot a pattern. If you're anything like me, who uses a number of Google services for work and personal use, it'll make good sense to keep a tab of your Google account login activity from time to time.
By looking at the Recent Activity Dashboard, you can determine if you've been the only one logging into Google Services and quickly put a stop to it by changing your password on the fly.
You'll also be able to track where those login's are coming from which can be beneficial to know if you travel a lot, have a family who share Google Services, or might suspect something not quite as sinister is happening with your login patterns.
Overall, the Google Recent Activity Dashboard is a welcome addition to Google's other dashboards and account services.
You should also check out tips for keeping your Gmail account secure as well as how to use the Google Account Activity Dashboard to prevent any security breaches online.
Conclusion
If you use Google Services, account security and privacy should be a top priority in this hostile Web environment. It seems every few days, a new web site or service is being hacked. Don't let that be you. By monitoring your Google Account activity from the Recent Activity Dashboard, you can ensure you're the only one accessing Google. Staying on top of this type of activity is another way to prevent yourself from being a hacking victim on the Web.