If you're too bored watching comedy movies or surfing the web? Well, the only remaining logical thing to do is play games, for which the options are endless. There are tons of online game websites out there that have a large collection of exciting picks. These are fun to play, addictive, and save you from the ordeal of setting up a gaming machine.
21 Top
Online Game Websites
You Must Check Out Now
Some game sites provide free online games, some are fit for kids while others are open to playing games for all ages. Be it an adventure game, flash game, card game, free game, or multiplayer game, the list has it all. Some games involve shooting while others require a different player skill like puzzle-solving. 
The list below gives you the top online game websites that are fun and free!
1) Kongregate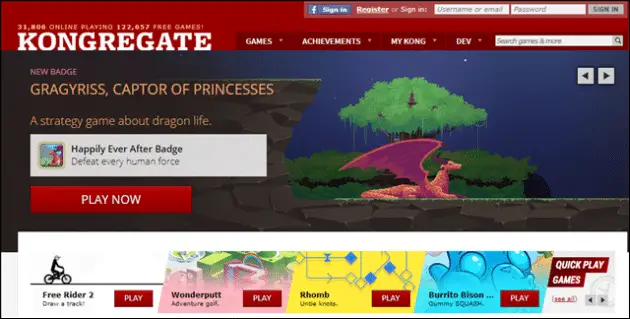 Undoubtedly Kongregate hosts some of the most exciting and free PC games to play online. Play games at Kongregate and get rewarded with points when you complete different games and challenges.
Competition is fierce with many multiplayer games at your disposal. It is one of the best online game websites that enables you to play directly from your browser. The site displays a list of the browser games you've recently played so it becomes convenient for you to select your favorite game again. 
2) FOG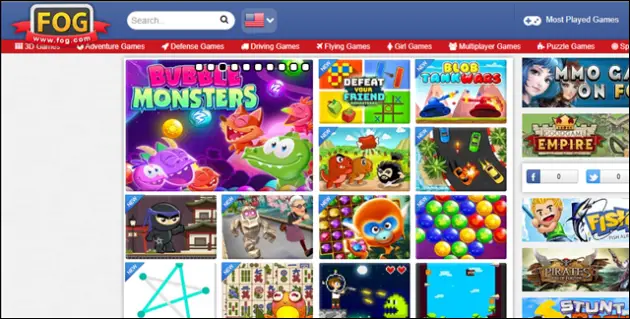 FOG (FreeOnlineGames) has a ton of online interactive games categorized by over 100 tags. Some of these include Logic Games, Shape Games, Motorbike Games, Superhero Games, and Sniper Games.
If you are an enthusiastic gamer in the hunt for a one-shop stop for online game websites, FOG is the ideal choice. 
3) Pogo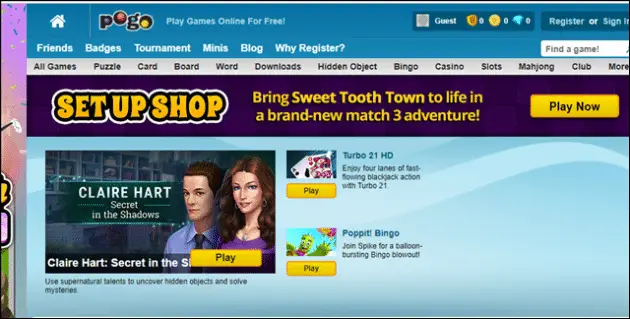 Pogo offers some of the top online games and lots of nice gaming categories. You can also make a custom avatar called a Pogo Mini and chat with your friends.
When compared to the other online game websites, Pogo hosts the most varied range of games. From word-based ones to the games that require you to go on clicking like Boggle Bash; you will find them all. 
4) AOL games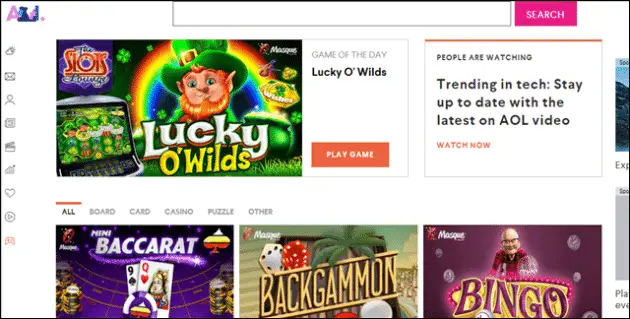 Solitaire Racing game or Bird Word by Mahjongg? AOL has all sorts of exciting games to explore. A wide variety of games keeps you hooked to your PC screens for hours.
It may not have that large collection like other online game websites, but you'll find some cool games to play for sure and excellent choices to kill boredom. Sign in with your email, get updates about any new game the site adds, and try any interactive game you like.
5) Cartoon Network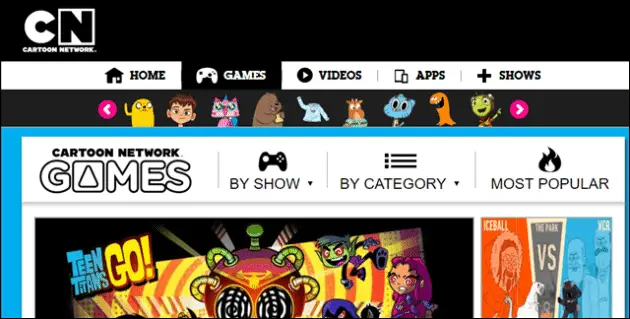 Cartoon Network has always been a place where the majority of children spent their childhood watching some incredible cartoon shows. Well, there is more to do on the Cartoon Network website than just watching old cartoons – it has a nice collection of online games for kids and all other age groups.
To play games by your favorite character or cartoon, simply click on the "By Show" drop-down menu and choose the one you like. It is one of the best online game websites that takes you on a trip down memory lane. Cartoon Network also includes a few language arts games that are both fun and educational for the little ones. 
6) Shockwave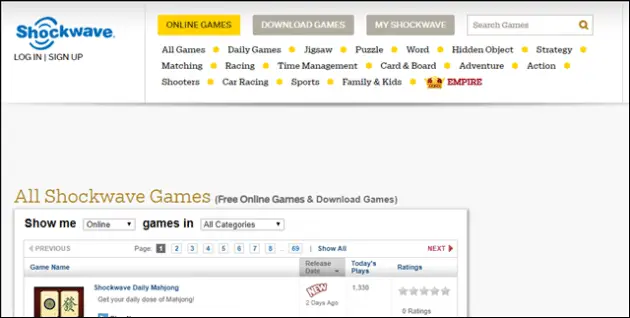 Search through all 16+ categories at Shockwave to find the most thrilling online games. Play with friends, earn tokens to win prizes, take part in online competitions, and create and share your own games when you make an account. They have some incredible categories like Car Racing games, Shooting, Jigsaw puzzle, and Adventure.
One of the best online game websites, Shockwave boasts the best collection when it comes to variety. Players can either decide to play it online or download the mobile game version on their smartphones. The only drawback is that you have to bear with the advertisements. 
7) MiniClip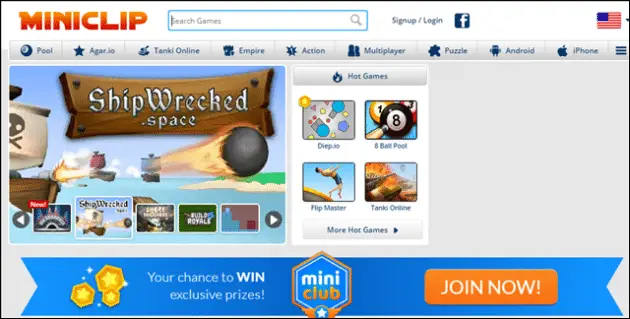 Miniclip is immensely popular and every gamer's go-to site because of the massive 100+ categories. Sign up to save your high scores, win game awards, play with your friends, and earn free credits for redeemable value.
The website is known for hosting original games, which means you will not spot them anywhere else. The strategy and word games section include addictive and unique free online games. Filter the options depending on the grade level and start playing now! 
8) FreeArcade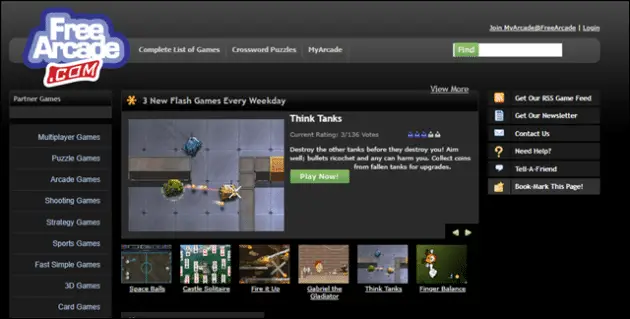 FreeArcade has a massive list of the best free computer games to play online which include Graphic Adventures, Casino, Text Adventures, and Puzzle tags. This site also has nice crossword puzzles every week.
Gamers looking for the top-notch picks in the arcade game genre must consider FreeArcade, as one of the best online game websites. They also have a great collection of card games, sports games, multiplayer games, and shooting games for online gaming.
9) Armor Games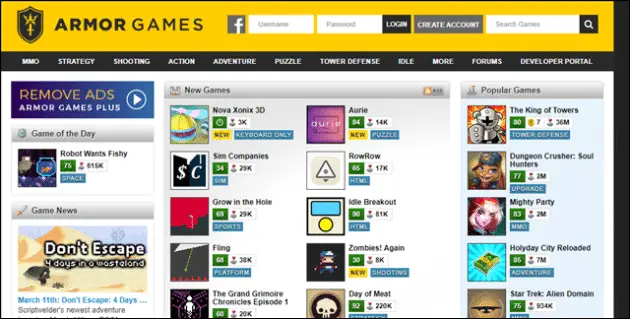 ArmorGames includes some very popular online PC games, evident by a play count next to each one. Kingdom Rush, for example, has been played nearly 46 million times.
10 main categories separate the games with a prominent one being MMO (Massively Multiplayer Online). The best sections are shooting, arcade, puzzle, and strategy games. If you sign up with the website, you will spot fewer advertisements.
10) King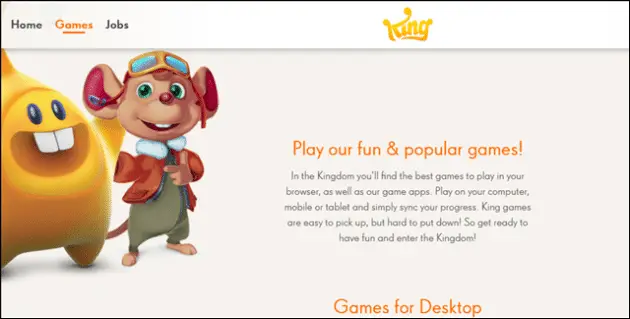 King is known for its cash prize awards for playing tournaments. There are lots of games to choose from like Puzzle, Actions, Word, and Card games. Go to Select Games and click on the name of the game you wish to play. 
One of the best online game websites for the little ones, King, is sure to keep children engaged in fun activities for hours. You can play the games directly on the browser or download them on the Android and iOS app store. 
11) Y8 – Free Online Games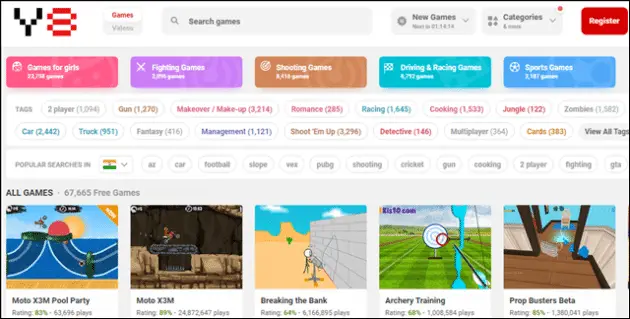 Y8 gives you the option to choose single or multiplayer games as soon as you open the gaming site. Y8 has over 5,000 free online games that have tags for easy searching. 
You can also sign up for their RSS feed for new game alerts here. A colorful bar at the top of the homepage consists of the names of all the game categories along with the number of games in each section.
12) Addicting Games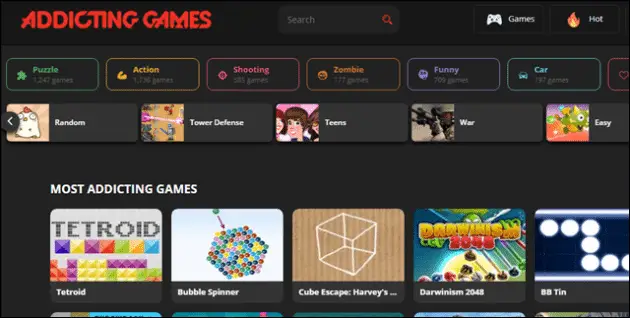 One of the most popular online game websites, Addicting Games, boasts a massive collection of games. There are tons of categories to choose from at Addicting Games like Scary, Funny, War, and Flying. Players will find some really cool 3D multiplayer games here.
You can create an account, review games as well as challenge your friends. You will rarely come across a gaming site with such a varied collection in the multiplayer games category. Addicting Games includes a rare selection of car and escape games as well. 
13) Agame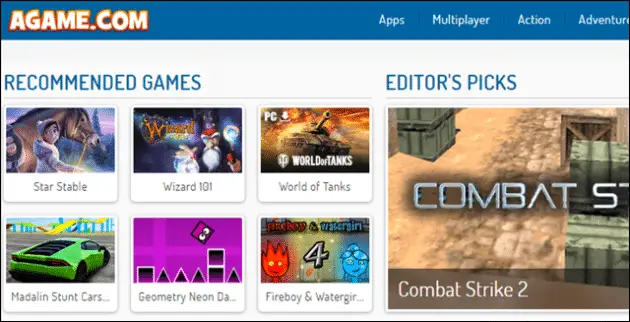 Agame has games in 13 categories, of which some include MMO, Girls, War Games, and Social Games. Hence it can be a good pick to explore some free to play PC games without downloading them. Create an account with Agame to add friends and save your favorite games to your account.
As soon as you open the homepage, you will come across recommended games, editor's picks, the recently added ones, and the must-try games. If you are a fan of the video game genre, you will love Agame. 
14) Games House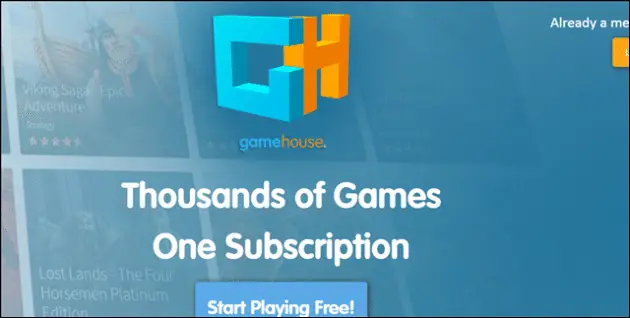 Not only Game House allows you to enjoy some best online games, but you also get to enjoy some unique game categories like Hidden Object, Time Management, Strategy, Puzzle, Card, Mahjong, and much more. Games House boasts some top-notch educational video games and online learning resources as well. 
The free online games can be played only for 60 minutes. Post that, you need a paid subscription with unlimited access to more than 2500 games.
15) Arkadium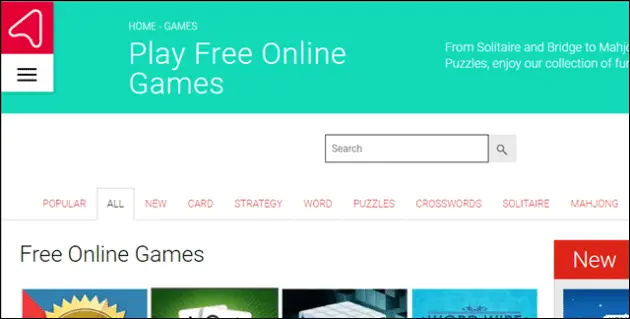 When it comes to playing some of the most thrilling free online games, very few online game websites come close to the choices provided by Arkadium. With an excellent and well-sorted user interface, it delivers never-ending gameplay with a huge collection of top online games.
One of the cool features that Arkadium provides is any of the games listed can be added to your computer desktop as a shortcut. You can directly fire it up using the game shortcut. 
16) A10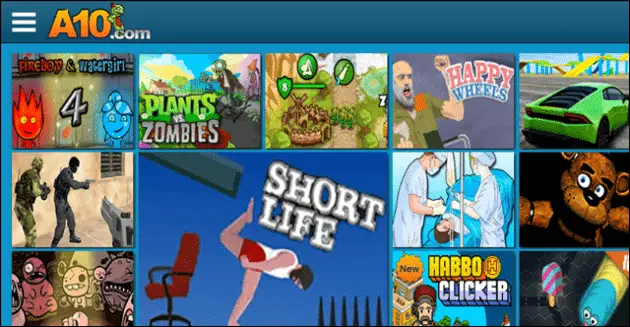 A10 gaming website defines versatility having almost all the popular game genres. One of the best online game websites, it includes Adventure, Multiplayer, Shooting, Skill, Driving, Sports, Simulations, and many more.
Gaming enthusiasts looking for the best online games for PC can play them without downloading. You can hunt for the games by category or by entering the name in the search bar. The collection is massive and includes both old and new games.
17) Big Fish Games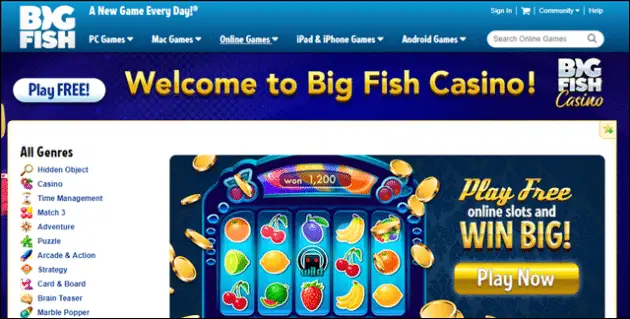 Big Fish Games has 12 main game categories. The best variety of categories are Puzzle games, Hidden Object Games, and Strategy games. These rare gems make the platform one of the most sought-after options in the free online game websites niche.
Big Fish has the best collection of card and board games that can be played on all iOS and Android devices as well. The most attractive feature of Big Fish Games is that you do not see too many advertisements so there's minimum interruption while playing.
18) 247 Games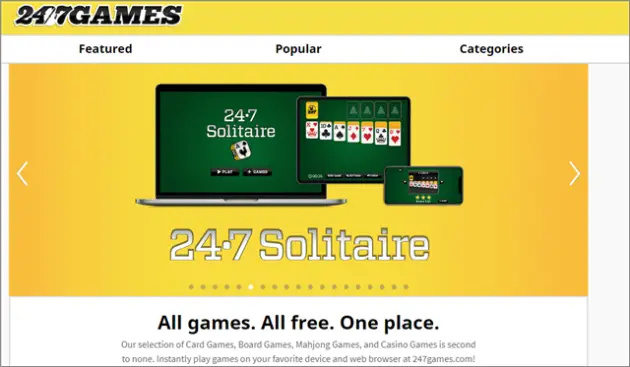 247 Games is among the most popular online game websites when it comes to providing the good old classic games. Solitaire, Sudoku, Chess, Blackjack, Checkers, and many more; you will find them all under one roof. You will be delighted to find the classic game Mahjong and Backgammon as well.
One of the best online game websites that sports very few advertisements, 247 Games, is simple to navigate. You can play the free online games from your browser or download the app store version on your tablets. You can also check some fun learning games as well. 
247 Games is a treasure trove for all puzzle game fans and you will find the much-loved Helicopter Game as well. 
19) MSN Games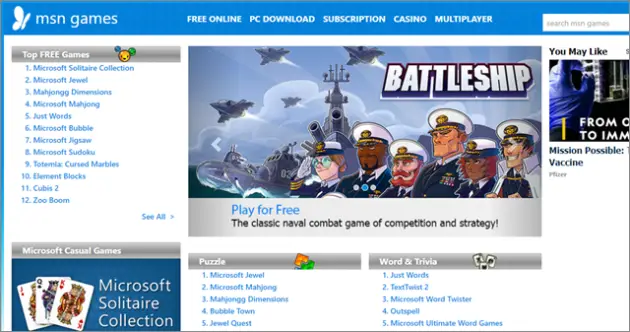 MSN Games includes single and multiplayer games in carefully divided categories. Card games, trivia-based, puzzles, and board game arena boast the most massive collection. Players will find interesting picks in the action games, arcade, and word game categories. The interface is interactive and displays all the game sections right as you open the homepage.
You can skim through the options available in the Poker & Casino genre to explore your luck and indulge in online championships. MSN Games is one of the best online game websites that does not bombard you with video ads and the user experience is smooth to operate.
20) Play Retro Games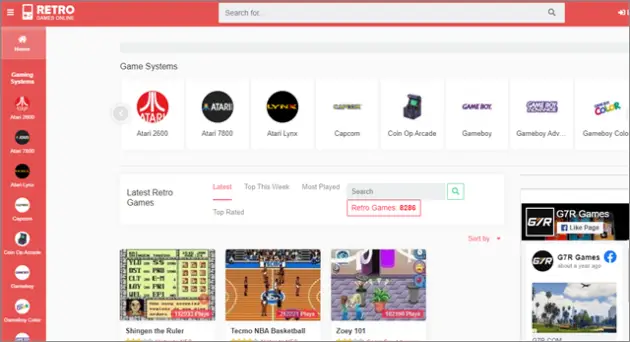 Play Retro Games is one of the most trusted online game websites when it comes to getting your hands on all your old favorites. The site consists of the best collection of classic games and online versions of the games you'd play as kids. We particularly loved the arcade games available on the site.
To start playing a game, the player simply has to click on the name of the game to play. However, the first step might require you to bear with an advertisement first.
21) MMO Games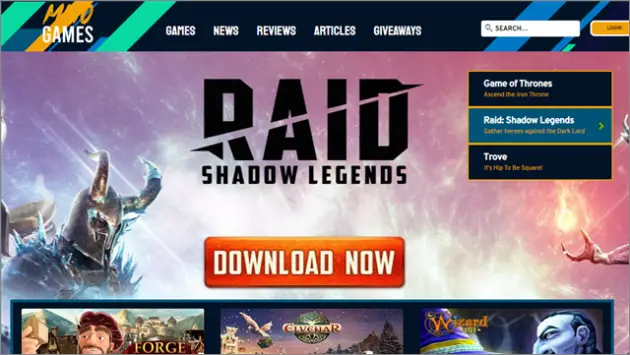 If you are looking for the most adventurous MMO games to play, you must visit the MMO Games website for a thrilling gaming experience. They have a huge selection of Massively Multiplayer Online games, a list of new titles, and official trailers of the upcoming games. MMO Games also includes MMO news and the latest articles in connection with the gaming world.
All of the site's content is free. You can choose to play the games online via your browser or download the app. MMO Games is also one of the best online game websites to consider for gaming enthusiasts in the hunt for addictive RPG games. 
Conclusion
Irrespective of how many new pastimes we indulge in, playing online games never goes out of trend. People of all age groups resort to the best online game websites for getting their hands on some exciting picks to kill boredom.
You can choose to sign in with the gaming website or play without registering. Get your brain working, participate in thrilling competitions, and relax while you indulge in playing the free online games.