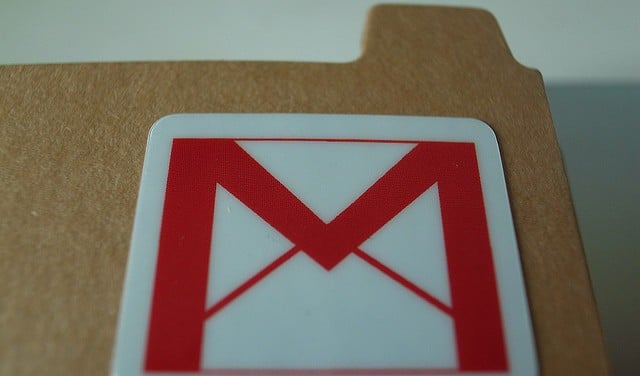 Export Gmail Contacts
The most important thing to take care of before you change your email account or create a new one (or cancel it altogether!) is making sure you export and store a list of your contacts first. After all, you will probably need them later at some point. Even if you don't plan to change email accounts (or shut it down), it's always a good idea to have a backup of your email contacts on your computer or to have a printed hard copy at hand in case of emergencies.
If you are a Gmail user, the process of exporting email addresses is fairly easy. You can store these email addresses in the CSV format on your computer and open or edit them with applications like MS Excel. There are two ways to export email addresses from Gmail.
Exporting Email Contacts From Gmail Itself (CSV Format)
To export email addresses from Gmail, you will need to login to your Gmail account. Then, follow this procedure:
First, click on the red "Gmail" logo above the compose button on the top-left corner of your screen.
In the drop-down menu, click on the "Contacts" selection.
At the top, click on the "More" menu.
In the drop-down menu, choose the "Export" option.
Now, you have the option of exporting your contacts to another Gmail account, to an application like Microsoft Outlook or Excel, or even to export them to an Apple Address Book. You can choose to export them in groups or to export all of them at once. The group feature is useful if you want to sort your contacts, that is, if you want to leave some contacts out before exporting them.
The Google CSV format should be selected if you want to export your contacts to a Google account.
The Outlook CSV format should be selected if you want to export to other prominent email services, like Hotmail or Yahoo!
The vCard format should be selected for use with Apple address books or other compatible applications
Once the selection is made:
Click on the "Export" button
Click on the "Save to Disk" option
Then, after you choose the disk location to save your contacts, click on the "Ok" option.
Once you're done saving the file, you may edit it before importing it into a program of your choice.
Exporting Email Addresses with FullContact (Sync Contacts Across Services)
We recommend that you try out FullContact if you use more than two email accounts or multiple social media accounts. FullContact is a contact import, export and synchronization service that works with a large number of email services as well as social media accounts like Facebook, Twitter, Yahoo!, Google and Linked In. It lets you store contacts from all these services in your FullContact address book.
If you make a change to any contact in this address book, this change will carry over to all these other services. FullContact helps you keep your contacts updated with very little input from you. It also does things like "cleaning" your contacts (automatically correcting formatting errors from phone numbers, for example) and deleting duplicate contacts. It has other useful features like a card reader and an update contact utility. All in all, it's a pretty useful service.
Once you sign up for a (free) FullContact account, you can export email addresses from Gmail this way:
Go to FullContact and login with your Google account or sign in with your Gmail account
Once logged in, you have the option to link your other social accounts like Facebook, Twitter, Instagram etc
The left menu bar displays all connected accounts.
Click on the 'Gear' icon to display menu option for that account.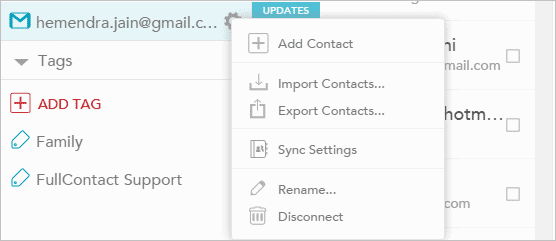 You can now let FullContact import your contacts into its address book. You are now free to edit and export these contacts, as you see fit
FullContact is currently running in Beta, but they have a pretty good service nonetheless. They also have a solid privacy policy, so you don't have to worry about them selling you out to advertisers.
See Also: Easily Clean Up Duplicate Contacts From Gmail & Outlook With Scrubly
Final Thoughts
To sum it up, if you want to quickly export addresses form your Gmail account, you should follow the first method. If you're looking for a long-term option to export, import, edit and update your email addresses across all your accounts, take a look at the FullContact service! Either ways, it is a good idea to have a back up of your email contacts.