Windows 8 changed the way Safe Mode was accessed and Windows 10 has improved upon that with its release. Safe Mode allows users to troubleshoot everything from driver issues to software problems and more.
It's a powerful tool for consumers who want to troubleshoot Windows issues on their own before turning to professional help. It's also a great way to narrow down issues you may not be able to see when running Windows normally.
Let's look at the different ways to start Safe Mode in Windows 10.
Starting Windows 10 in Safe Mode
There are several different ways to start Windows 10 in Safe Mode. Depending on how comfortable you are with Windows, one of these methods may be better suited for you than others.
#1 Use the System Configuration Tool to Automatically Boot into Safe Mode in Windows 10
The System Configuration Tool can be opened one of two ways:
Either search for "Run," then type in "msconfig" before clicking "Enter" to open it.
Or, the easier way, is to just search for "System Configuration Tool" in Cortana and open it.
From there, click on the "Boot" tab.
In the lower left-hand corner, you'll see the sub-menu for Boot Options.
Click on "Safe boot" and "Minimal."
You'll be prompted to confirm your settings, then simply restart your PC to automatically boot into Safe Mode in Windows 10.
When finished with your diagnostics, you'll want to head back to the tool to turn off Safe Boot to boot into Windows 10 normally.
---
#2 Use 'Shift + Restart' to Boot into Windows 10 Safe Mode
This trick is relatively easy to get Windows 10 to boot into Safe Mode.
Open the "Start Menu" and click on "Power."
Then, hold down the "Shift" key and click "Restart."
Your PC will restart and ask you to choose an option for starting Windows 10.
Click on "Troubleshoot" once rebooted.
Then, click "Advanced Options."
You'll click "Startup Settings," then "Next."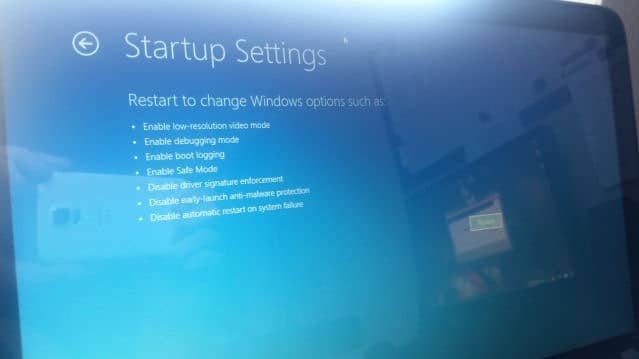 Click "F4" to enable Safe Mode. Some computers might have different instructions for this screen so make sure to read them before clicking anything to choose "Enable Safe Mode."
You'll boot up and be asked to enter your password before booting into Safe Mode.
---
#3 Use a Recovery Media or Drive to Boot Into Windows 10 Safe Mode
If you created recovery media or have a recovery drive, you can often boot into Safe Mode from it if you can't get into it any other way after a computer crash.
Depending on your system's boot structure, you may need to dive into your BIOS to change the boot order. Those instructions will vary from computer to computer, so refer to your manufacturer's instructions for booting into the BIOS and for changing the boot order.
Once your boot order is changed, pop in your recovery drive or media, and follow the instructions for the Shift + Restart way to boot into Safe Mode starting from the Troubleshoot menu.
---
Safe Mode is a crucial way to troubleshoot issues in Windows anyone can do. If you're not familiar with Safe Mode, we recommend getting to know how it works and what it can do.
After all, you invested in a Window 10 PC, why not learn how to do basic troubleshooting to save you the frustration of having to pay for help when you can do it yourself?
(Updated on July 07, 2019)