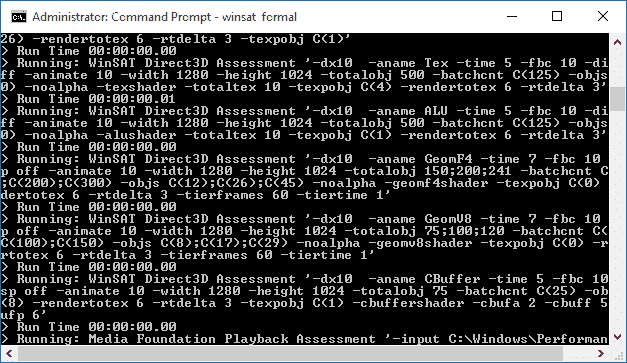 For years, the Windows Experience Index (WEI) has been an easy way to determine just how powerful your PC really is.
For consumers who don't know how to benchmark a machine, the WEI allowed them to see just how their PC stacked up against other computers on the market. In Windows 10, the WEI still exists, it just takes a few secret steps to run.
Let's look at how to use the WEI in Windows 10 and what you can do with the score once finished.
Using the Windows Experience Index in Windows 10
Windows 8 removed running the WEI, too, although it's still hidden deep within the system to be used by savvy web users. Thanks to the folks at WinAero, you can run the WEI in Windows 10 and use the results to improve your computer performance.
To get started, close all apps and programs. You want as little to be running as possible when WEI runs for the best results.
These instructions will also work in Windows 8.1. If you want to run WEI in Windows 8, read our guide here.
Open Run from Cortana or the Win+X Menu.
Type in the following:
This will open the Games folder, wherein the right-hand side of the window, you'll find your WEI score. If you haven't run one before, you won't see anything here, yet.
If you click "Learn more," you'll be sent in circles so just follow the instructions below:
Open an administrator-elevated Command Prompt.
Use the following command:
This will take some time, so step away from your computer while it runs and let it do its thing.
When finished, you won't understand the results as they appear on your screen.
Instead, re-open the Games folder via the shell command we showed you above.
You'll now see your WEI score for Windows 10 in the Games Folder.
There are many third-party tools out there that give you benchmarks or performance results for your computer. If you're looking for ways to improve computer performance, we recommend investing in third-party software to see just where you can improve and what you can do to make your PC experience more enjoyable.
There is now a freeware tool for displaying the internally calculated WEI scores on systems where the UI has been removed. Here's how it looks: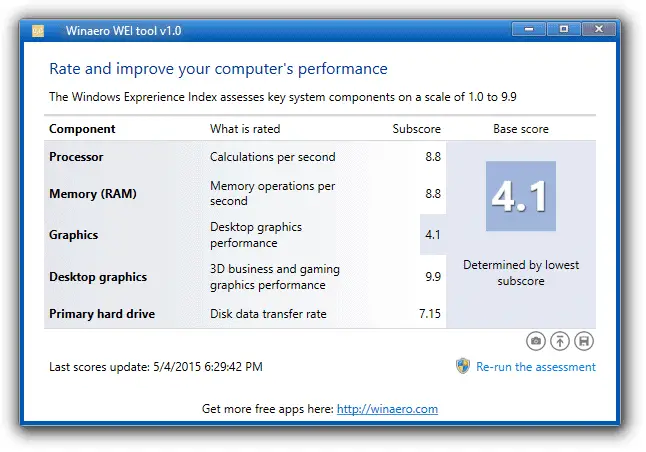 Conclusion
While WEI functionality was removed in Windows 8, as you can see it still exists in its basic forms in Windows 10. If you want to see how your computer stacks, give it a run and see what you score. In Windows 7, the highest score possible was 7.9; in Windows Vista, it was 5.9.
Since the tool is "unsupported" in Windows 8 and 10, we're not sure what the high score is when run but if you're below 5, chances are there are things you can do to improve your PC performance.