If you've ever used Microsoft Office for your document needs, you've no doubt been frustrated by Protected View. Protected View is a built-in security feature in the Office productivity suite that helps keep you safe from documents you didn't create, you downloaded online, or are shared with you from others.
In some cases, Protected View will also flag a document, spreadsheet, or file when it comes from a previous version of Office compared to what you're currently using.
Let's look at how to disable protected view in Office and what this means for security.
Disabling Protected View in Office
Note: Protected View in Office software is designed to protect you. If you aren't sure where the document came from or who the sender is, it can protect you from viruses, macro attacks, and more. Proceed with caution when disabling Protected View in Office.
For each program you use within Office, you'll need to turn Protected View off individually. We recommend leaving it on for any program you don't use, such as PowerPoint or Access and disable it for the programs you might use more frequently, like Office and Excel.
For this walkthrough, we're using Outlook to show you the steps.
Click on "File" in the top navigation of an open document or Office program.

Then, click on "Options."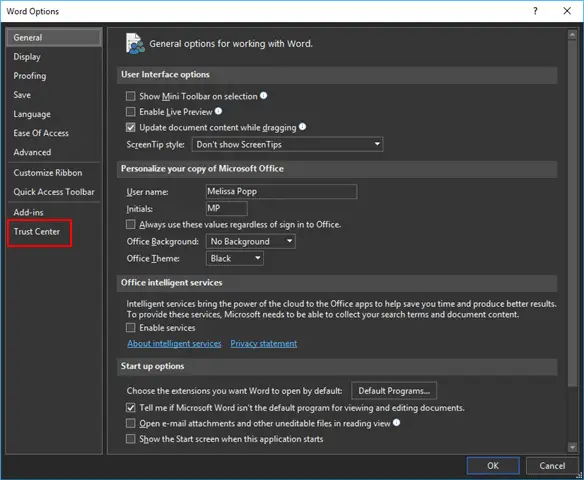 Next, find "Trust Center" and click on it.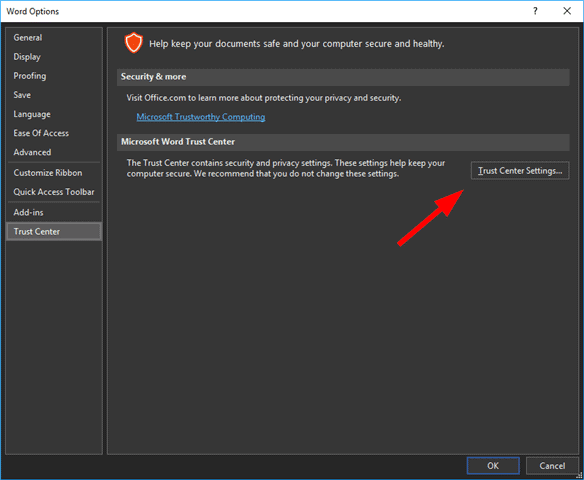 Click on "Protected View" and this will open up the settings related to its functionality.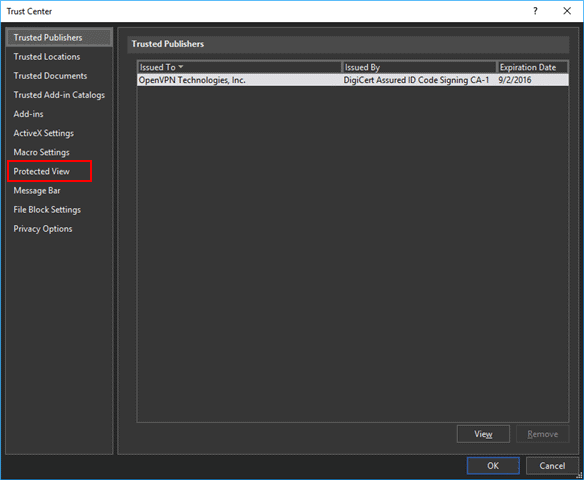 By default, all three options will be checked for your safety. Uncheck each box, then click "OK" and Protected View in your given program will be turned off.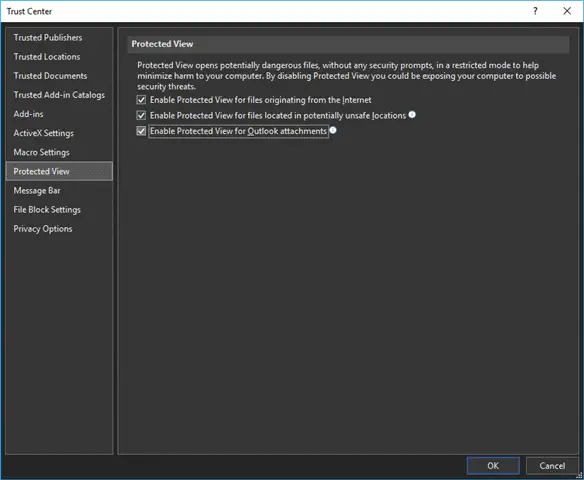 Repeat these steps for each Office program you use, and you will have disabled Protected View. Anything you open going forward will not require you to enable editing first.
If you wish to enable it again, simply repeat the above steps and check the boxes for Protected View options once more.
Whenever you download a file you'll use in Office, use an anti-virus program to scan it first. While this won't protect all threats after disabling Protected View in Office, it'll help mitigate some of the risks. Never just blindly open a file, especially when it comes from a source you're unfamiliar with.
Conclusion
After the Melissa virus (not named after me, luckily) in 1999, Microsoft stepped up its security game and looked for ways to truly protect users. From that motivation came Protected View and other Trust Center features into the Office suite.
Protected View is meant to protect you and clicking enable to begin using a document Office isn't quite sure where it came from. If you want to disable Protected View in Office, be vigilant on what you open and where it originated from when using Microsoft Office.