Google Assistant, an extension of Google Now, is your own personal digital assistant on your phone. Initially launched for the Pixel line of smartphones, Google Assistant is now available on all Android phones running on Marshmallow and Nougat. Soon it will be available to download on iPhones too.
Google Assistant is not just efficient; it is a lot of fun too. However, if you are not a fan, you can disable Google Assistant on your Android device. Google Assistant is Android's answer to Apple Siri, Amazon Alexa, and Microsoft's Cortana. Android fans can't get enough of Google Assistant because of the sheer range of tasks that it can perform.
GA is rated smarter than the other digital assistants because of its ability to supply what Google terms 'appropriate, contextually-aware smart suggestions for quick replies.' In this article, we list some of the best features of Google Assistant and how you can make the best use of it.
How do I set up Google Assistant?
To access Google Assistant on your phone, long-press the home button. This will pull up the Google Assistant, all ready for your questions. Google Assistant is voice-activated. Just saying OK Google will activate it. You can also go to Google Settings and choose Voice and OK Google detection to train your voice model.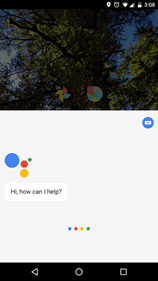 Which phones support Google Assistant?
Google Assistant runs on phones that have the following specifications:
1.        Android 6.0 or higher
2.        Google app 6.13 or higher
3.        Google Play Services
4.        1.5 GB of memory and 720p screen resolution
5.        Phone's language set to English.
Currently, Google's Pixel phones come preloaded with GA. However, other Android and iOS devices can download it from the Play Store and App Store respectively.
Google Allo has some features of Google Assistant but it works only inside the app. If you are wondering how to install Google Assistant – it would already be on the phone if is running on Nougat or later versions of Marshmallow (6.0.1 and later).
Just long-press the home button to launch or say OK Google.
A Look at Google Assistant Features
What can Google Assistant do?
Google Assistant can do a whole range of tasks for you. It is your digital assistant, helping you wade through the day with efficiency and a dose of fun. Here are some of the really awesome tasks you can accomplish using your Google Assistant App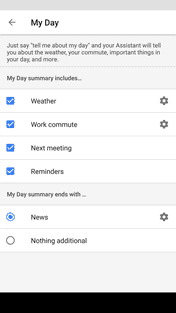 1. It's Your Personal Assistant: Use GA as your personal assistant to help you with your daily tasks. Google Assistant will check your calendar for the day's meetings and events and brief you on your day. Use it to schedule meetings, check travel information, weather information and much more.
There is a nifty My Day feature where your Assistant will tell you about the weather, your commute, important things in your day, and much more.
To ask Assistant for your daily briefing, say "OK Google" followed by "good morning", "good afternoon", or "good evening", etc.
2. It's Your Educational resource: Use your GA for facts and information on just about anything. Just say OK Google and ask your question – How far is the moon? Or Who was Da Vinci?
The Google Assistant will read out your answer or give out links to read about it.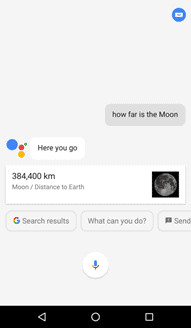 3. It Enables Better communication: Use GA to make calls, send texts, send messages on messaging apps like WhatsApp, Hangouts, Viber etc.
Google Assistant can also do real-time translations for you, making it easy when you are traveling abroad.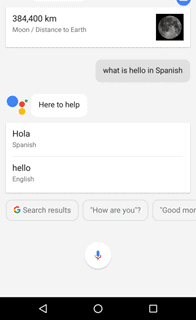 4. It's About Fun and games: GA brings a dose of humor into your mundane life with its quirky features. Use the Assistant to play games; ask for jokes and trivia, poems and songs. One of the best features is using Google's famous I'm feeling lucky phrase with the Assistant.
Say 'Ok Google I'm feeling lucky' and take part in fun games and contests that will keep you entertained. You can say 'I'm bored' to the assistant and a whole lot of games will come up. You ask the Assistant to 'toss a coin', 'sing the happy birthday song' and tell you 'a joke' – and it will comply. Expect hours of mindless entertainment here!
5. It Helps you With Shopping: Create shopping lists on Keep and ask for nearby shopping destinations. Get directions to shops, malls, and stores in your locality.
6. It Manages Your Music and Videos: Your GA can play songs from your playlist and from Google Play Music. It can play videos from YouTube and suggest videos too. You can also set shortcuts to your favorite playlists.
7. Keeps You Updated With Latest News: The GA is an extension of Google Now; it creates a personalized news feed based on your interests and browsing history. Ask Google Assistant to read you the latest news or news according to your interests.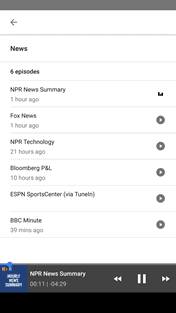 8. It Takes Care of Reminders and alarms: GA is very handy when you want to store reminders and alarms. Open Google Assistant and say 'Remind me to call Mom in 15 minutes' or 'Set alarm for 7 AM tomorrow'.
9. It Lets You Open any app: GA is a great tool to use when your hands are full. Use the voice-activated assistant to launch any app and execute commands. For example, say 'Open Pokemon Go' or 'Send WhatsApp message to Mom'.
10. Enables Searching Play Store for apps: GA can search Play Store for particular apps and give app suggestions based on your request.
11. Makes Taking a selfie easy: Just say 'OK Google, Take a Selfie' and the front camera will open and start a timer before clicking the perfect selfie.
12. Help You Get directions: Trying to find your way to a restaurant? Just say 'Ok Google get directions to Joe's Burgers'. GA will plot your way on Google Maps.
13. It Helps With Important Decisions: Having difficulty in making an important decision? Sometimes a coin toss can help. Just say 'OK Google, toss a coin' and your helpful assistant will do that for you, with appropriate sound effects too, I must add.
Personalized Answers with Google Assistant
Google Assistant's nifty screen context gives you information about whatever is on your screen. Long press the home button from any screen for information on what you are looking at.
For instance, if you are reading about a movie on your screen and want more details about the movie, simply launch Google Assistant and click on the 'What's on my screen'.
GA will then throw up all the information cards that you need.

Google Assistant is constantly evolving and learning from your queries. The more you use it, the more it learns from your browsing history, giving you better and more relevant results. The best thing about Google Assistant is the ability to understand the context and the conversational style of interaction.
For example, if you are chatting with someone about a restaurant and about going shopping, GA will know to relate the two together and give you information about both them.
Google Assistant Vs Google Home
Google Home is Google's voice assistant for the home. It comes preloaded with Google Assistant and can do many of the tasks your phone can. The advantage that Google Assistant has over Google Home is that it can do phone-related tasks.
However, Google Home can be connected to smart appliances at home to voice activate the appliances. Google Assistant on your phone is an extension of the assistant on Google Home, both really useful for a number of voice-activated tasks.
Google Assistant connects to other smart home apps like Philips Hue, Samsung SmartThings, Nest, WeMo, HomeSeer, and others to give you control of your smart home.
Create Shortcuts on Google Assistant
An incredibly useful feature of GA is that it lets you create your own shortcuts. It's simple and very, very useful. Shortcuts let you create faster, easier ways to do your favorite things. Instead of giving a long command like 'Play my workout playlist' or 'Text I'm running late to Mom', you can create a shortcut specific to that operation.
For example, you can create a shortcut called Workout and every time you say 'OK Google Workout', it'll automatically play your workout playlist. You can create a running late template shortcut called late that will send a text saying that you are running late to the designated person when you say 'OK Google Send late to Mom'.
These are time-saving hacks that will make your day easier and more productive. To set a shortcut, go to Google Assistant setting on your phone. Click on Shortcuts to create your own or use any of the suggested shortcuts. It's very, simple and super convenient.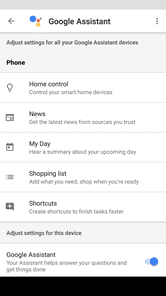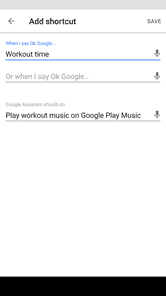 Final Thoughts

Google Assistant is a great digital companion and scores overall its competition in a big way. Where it is screen context or voice recognition or relevant answers, GA is simply way ahead of the others. With Google building in newer functionalities all the time, the sky is truly the limit for what you can do with Google Assistant.
(Article updated on 2nd December 2019)